This peach crisp is the perfect summer dessert. It's rich, fresh, and decadent, but also vegan and gluten-free!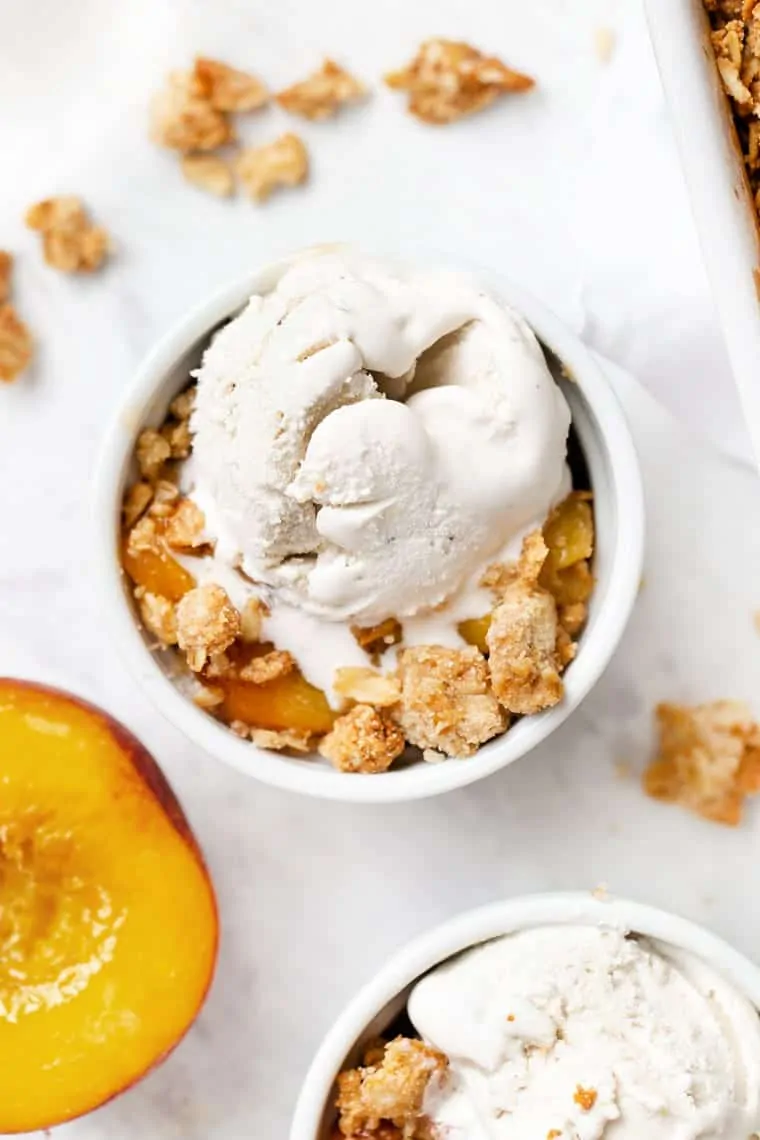 Is there anything in the world better than perfectly-ripe peaches? I don't think so. And in my opinion, there's nothing better to do with peaches than make a peach crisp. This is my favorite peach crisp recipe because the peaches are the star of the show. Plus, the oat topping has so much flavor from vanilla, cinnamon, and maple syrup.
Unlike most desserts, this peach crisp is really easy to make. It doesn't use too many ingredients, and it's done in well under an hour. The next time you need a fruity dessert this summer, you've got to try this peach crisp.
Why You'll Love This Easy Peach Crisp Recipe
This is one of my go-to dessert recipes. I'm certain you'll love this peach crisp as much as I do, and here's why.
A healthy dessert. As far as desserts go, this is one of the healthiest ones you'll find. There's not much sweetener, and there's no dairy at all. Every ingredient in this recipe is one that you'll feel good about putting in your body.
Easy to make. A lot of people say they don't like to make dessert because it's too hard or complicated. But not this recipe! It only has 10 ingredients, and all of the steps are quick, easy, and straightforward. The entire thing only takes 40 minutes to make!
Vegan and gluten-free. If you're vegan or gluten-free, it can sometimes be difficult to find good desserts for you. Well, I've got the perfect recipe. This crisp doesn't have any gluten or animal products in it, and it's just as delicious as any recipe that does.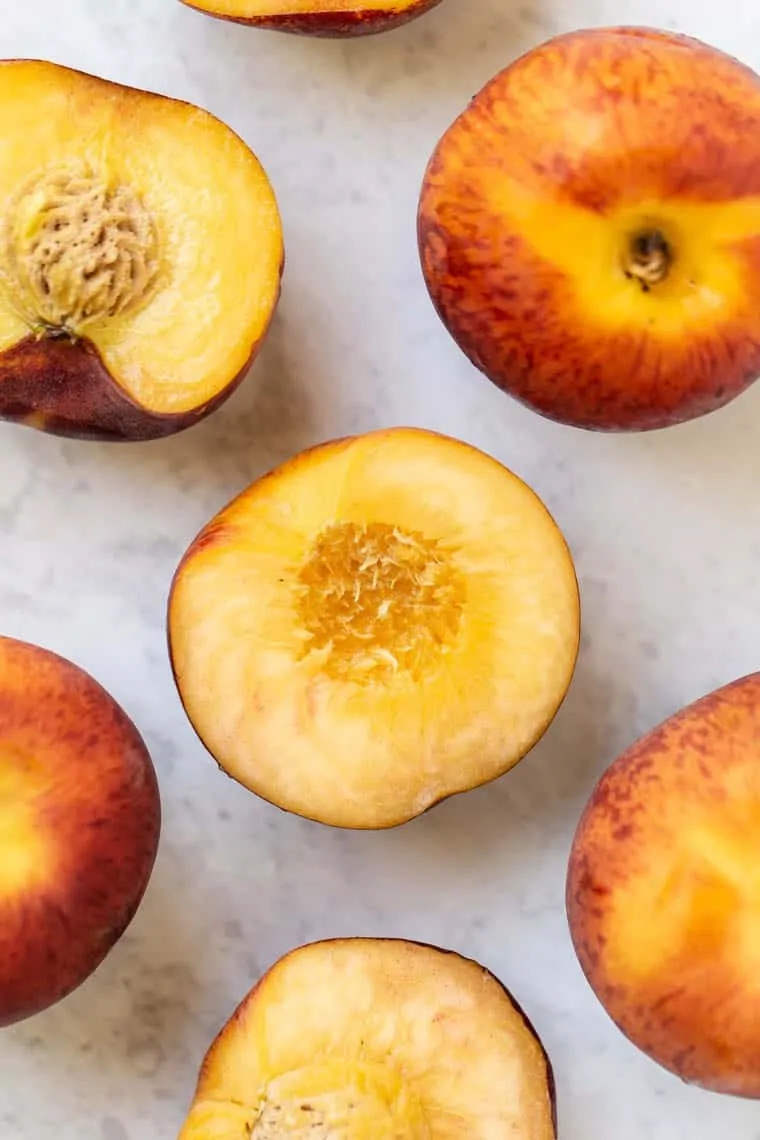 Ingredients Needed
Here are all the ingredients you'll need for this rich summer dessert. Make sure to look at the recipe card to get the exact amounts for each of the ingredients.
For the Peaches:
Yellow peaches
Coconut sugar
Arrowroot
For the Topping:
Oats
Brown rice flour
Almond flour
Coconut oil
Maple syrup – Always use pure maple syrup.
Vanilla extract – Make sure to use 100% pure extract.
Cinnamon
How to Make Peach Crisp
Here's how to make this 40-minute vegan peach crisp. It's so easy!
Heat the oven. Preheat your oven to 350F.
Cut your peaches. Cut all of the peaches into slices, then add them to a baking dish.
Add the sweetener. Put the coconut sugar and arrowroot on top of the peaches, then toss until everything is mixed.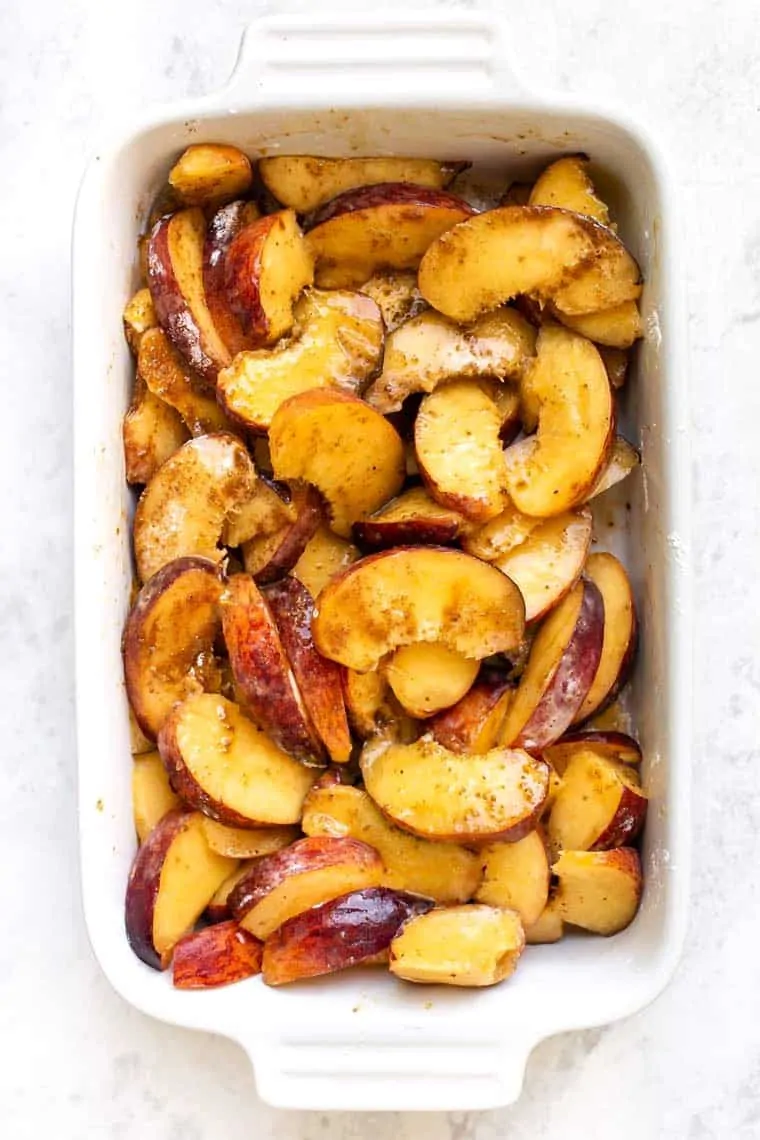 Make the crisp topping. Add the ingredients for the topping into a bowl. Use a spoon or your hands to mix it all together.
Assemble. Sprinkle all of the crisp topping over the peaches.
Bake. Place the peach crisp in the oven and bake until it's golden brown, and the peaches are starting to bubble. It should take 25-35 minutes. Let it cool for a few minutes before serving.
Tips For Success
Here are some tricks and tips to help you make the best gluten-free peach crisp ever.
Use ripe peaches. There are some recipes where you don't need to use ripe fruit, but this is not one of them. It's really important that the peaches be ripe, or else the crisp will not be sweet enough, and it won't have the right texture. It's OK if the peaches are a day or two past being the perfect amount of ripeness, but don't use peaches that are underripe.
Sprinkle from above. When you put the crisp topping on the peaches, sprinkle it from high above the dish. That way the topping will more evenly be spread out over the peaches. If you add the topping from right above the peaches, it probably won't be very even.
Let it cool. This peach crisp recipe smells absolutely incredible, so it's tempting to eat it as soon as it comes out of the oven. But make sure you show some restraint, and let it rest for at least 5 minutes and preferably 10 before you serve it. That will allow the crisp to firm up a little bit, and also keep it from melting any ice cream that you put on top.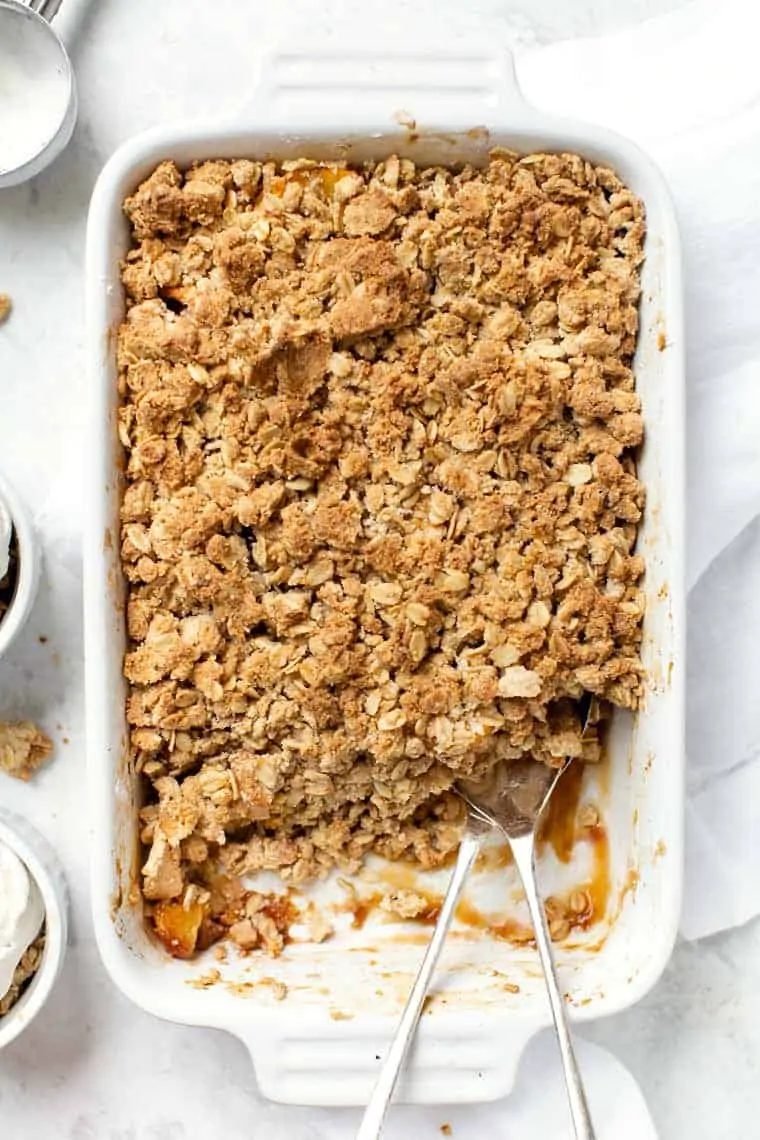 Serving Suggestions
In my opinion, there's only one way to eat a fruit crisp: with ice cream. Here are some of my favorite vegan ice creams to serve on top of this peach dessert.
How to Store and Reheat Leftover Peach Crisp
Leftover peach crisp can be stored in an airtight container in the fridge for 4 days. To reheat, place it in an oven-safe dish and cover with aluminum foil. Reheat in a 350F oven for 15 minutes.
Can You Freeze Peach Crisp?
You can absolutely freeze this easy crisp! This crisp will last for 6 months in the freezer, as long as you store it in an airtight container. Make sure to let it thaw completely before reheating.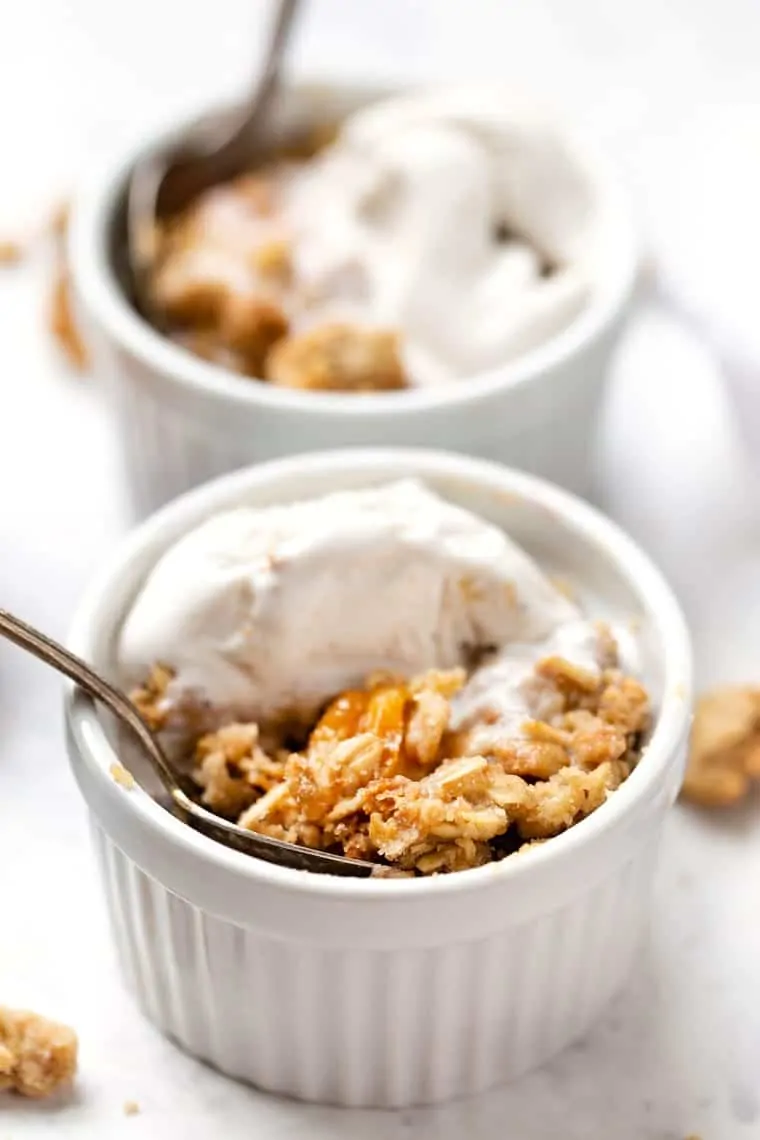 More Easy Peach Recipes
Want more easy and delicious peach recipes to make this summer? Here are a few of my favorites.
Peach Crisp
This healthy peach crisp sweet, rich, and perfect for summer. It's vegan, gluten-free, and so easy to make.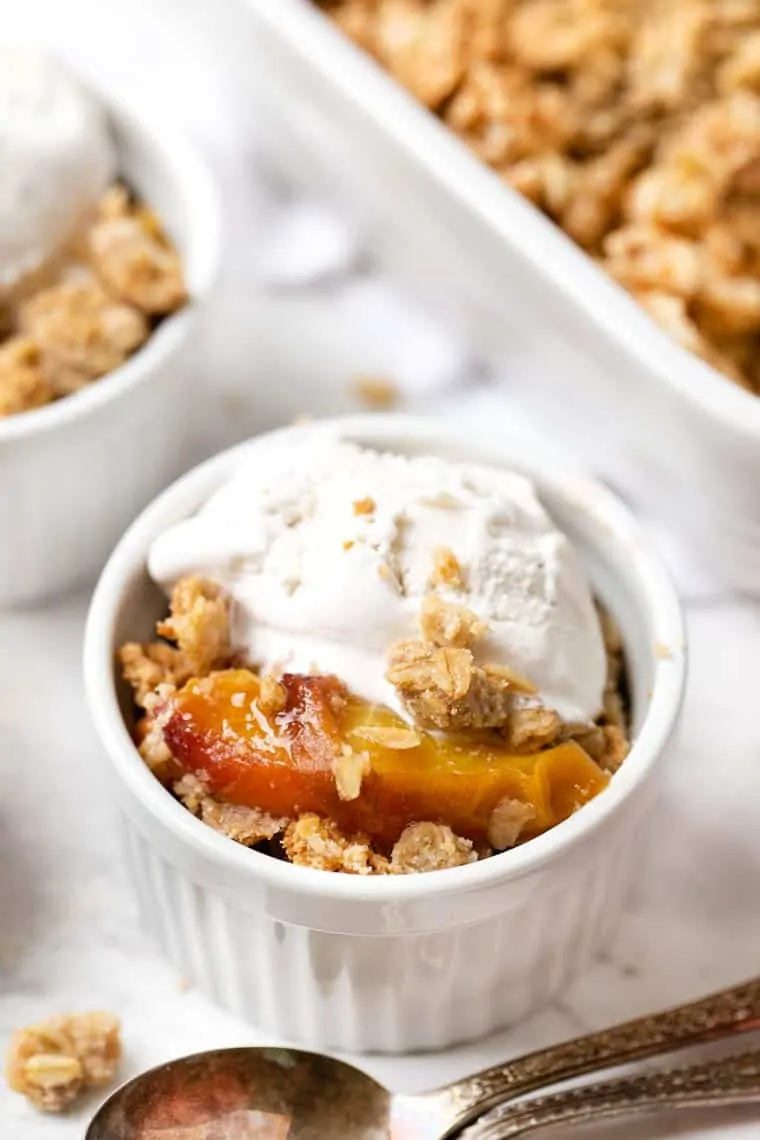 Instructions
Preheat the oven to 350ºF.

Slice the peaches and remove the pits. Add them to a baking dish and top with coconut sugar and arrowroot. Stir until well coated.

In a mixing bowl, combine all of the topping ingredients. Stir together until a sticky mixture forms.

Sprinkle the topping over the peaches.

Bake for 25-35 minutes until the topping is golden brown and the peaches are bubbling.

Allow crisp to cool for 5-10 minutes, then serve with a dollop of your favorite vegan ice cream.
Notes
Leftover peach crisp can be stored in an airtight container in the fridge for 4 days. Reheat in an oven-safe dish, covered in aluminum foil, for 15 minutes at 350F.
You can freeze peach crisp for 6 months in an airtight container. 
Nutrition
Calories:
214
kcal
|
Carbohydrates:
27
g
|
Protein:
4
g
|
Fat:
11
g
|
Saturated Fat:
6
g
|
Polyunsaturated Fat:
0.4
g
|
Monounsaturated Fat:
1
g
|
Sodium:
9
mg
|
Potassium:
90
mg
|
Fiber:
2
g
|
Sugar:
9
g
|
Vitamin A:
3
IU
|
Vitamin C:
0.04
mg
|
Calcium:
34
mg
|
Iron:
1
mg
Filed Under: