This quick cauliflower chowder is made in only 30 minutes, is filled with roasted garlic flavors and it's high in protein so it's satisfying and healthy!
A snowstorm in NYC yesterday and I missed it. I'm SO bummed.
Being in the city when it's snowing is magical. It gets super quiet – there's practically no one walking around and the streets are almost empty. It's like the city goes to sleep.
Luckily, having Trevi makes us get out and experience the peacefulness. And even though neither of us feel like bundling up and bracing the cold, her excitement when her paws hit the snow is worth it. She LOVES the snow. Like I'm not even kidding you, as soon as we let her off-leash in the park, she's like the Tasmanian Devil bombing around trying to dig for sticks and chasing every dog she sees. She's definitely a winter creature.
Her parents on the other hand? Not so much.
We'd much rather be snuggled on the couch watching a movie and eating a bowl of soup. Or if it's a Sunday, watching football (and yes, still eating soup).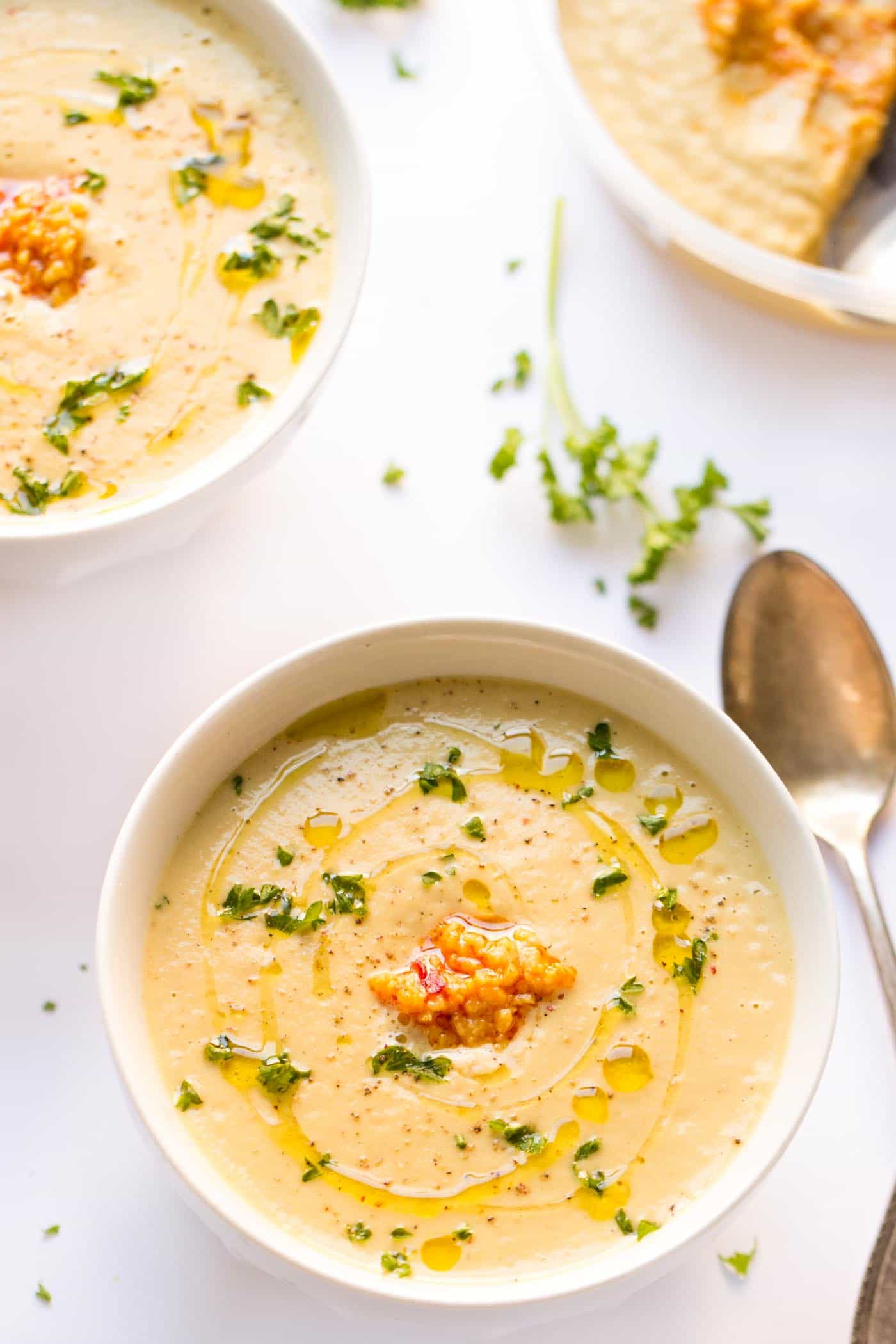 Typically, I'm a fan of chili when it's game day. It's easy to make in the slow cooker and is one of the few meatless meals that Matt enjoys.
Last weekend though I was in the mood for something smooth and creamy, which is how this cauliflower chowder was born. Problem is, Matt isn't the biggest fan of pureed soups, so I knew I was going to have to doctor the flavor up a bit so it would appeal to him too.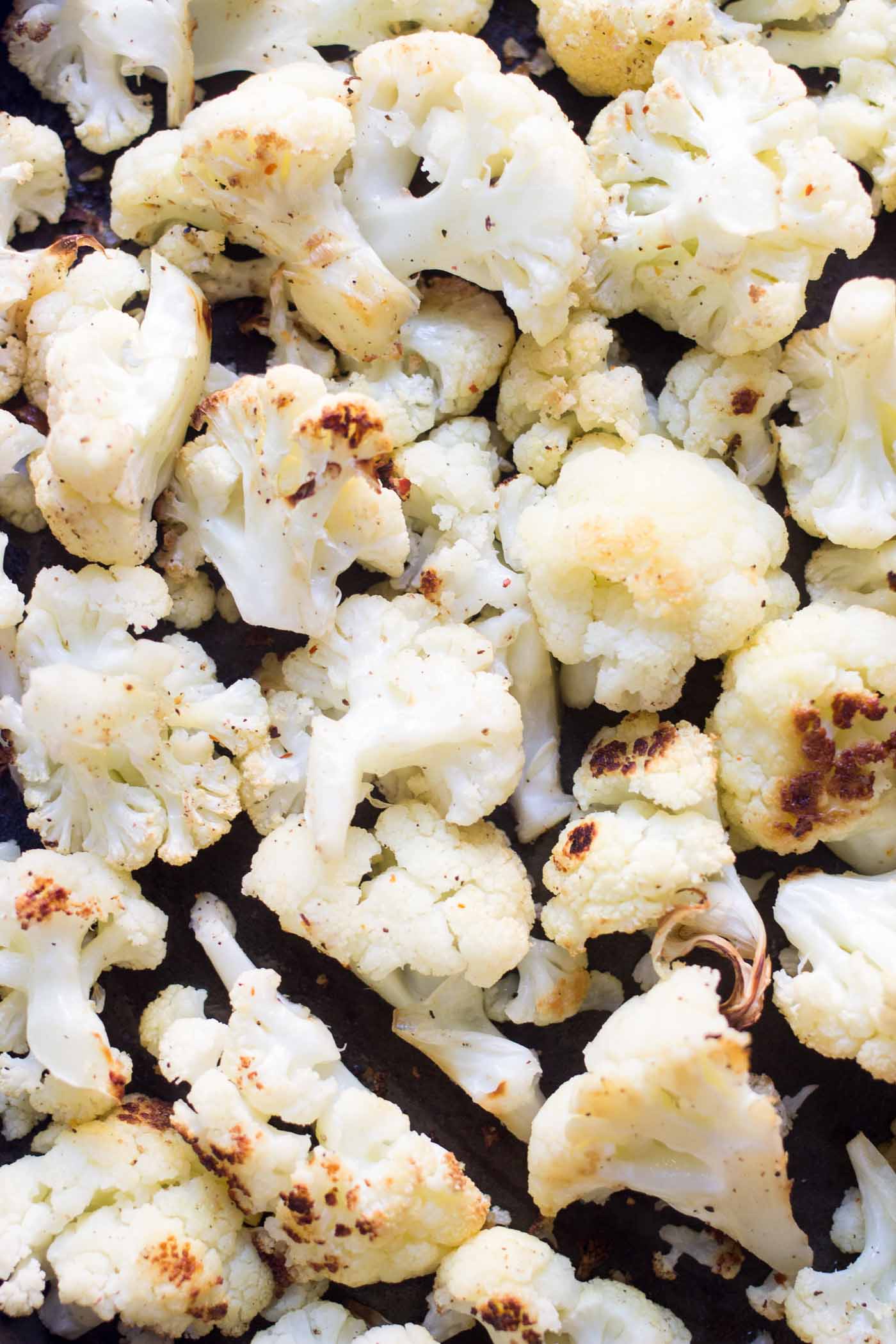 We're both garlic lovers, and since I was already going to roast the cauliflower, I figured why not add some garlic in there to add flavor. Along with the roasted cauliflower and garlic, I also tossed a small potato on the pan which gives the chowder an even creamier texture.
So….so far we've got roasted cauliflower, roasted potato and roasted garlic. Things are shaping up quite nicely 😉
My other secret to this soup? Roasted garlic hummus.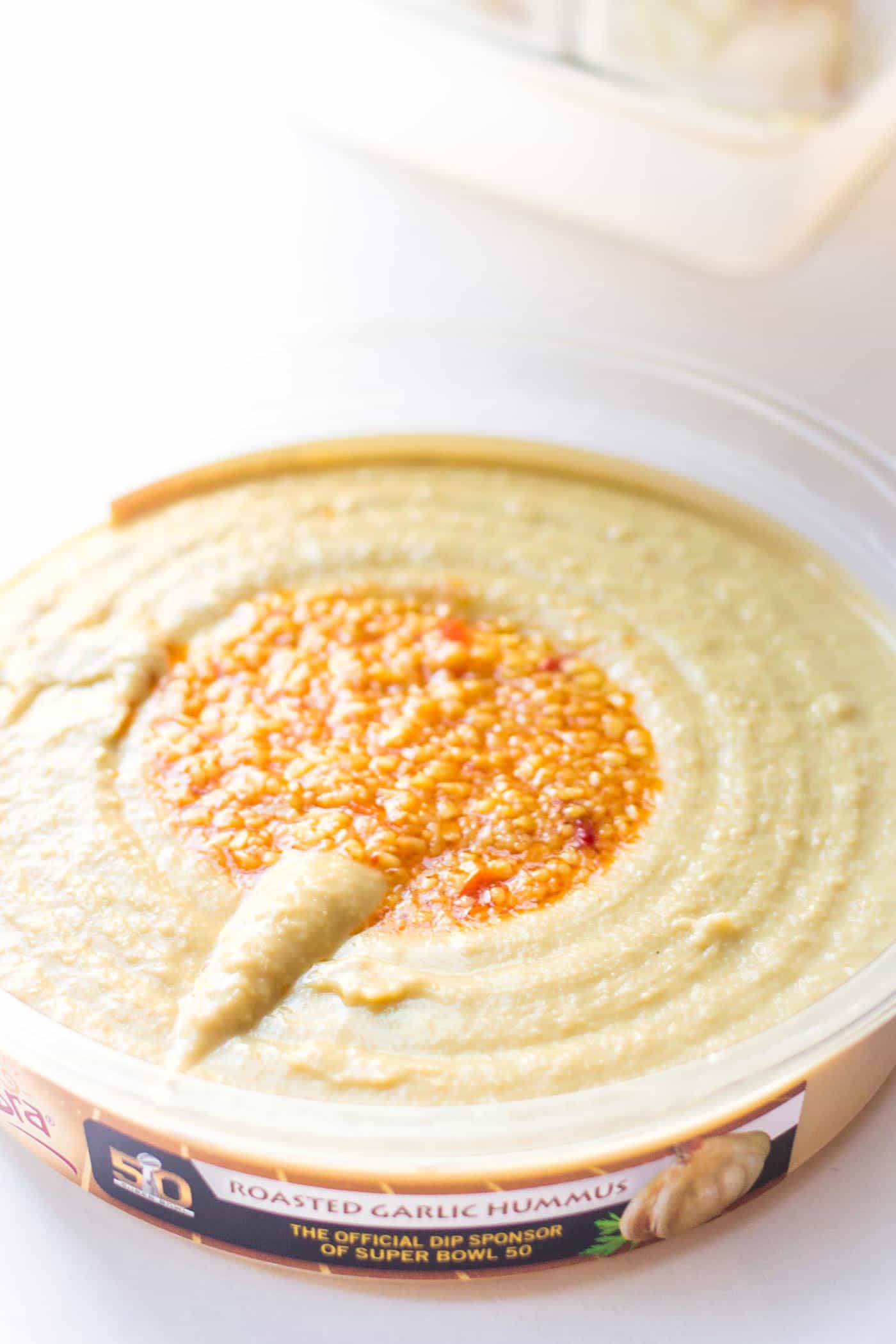 Yep, hummus. In your soup.
Don't be weirded out because it's actually SO good. Not only does this particular variety totally enhance the garlic flavor of the chowder, but the hummus also helps make the soup super smooth AND super nutritious.
By adding in a mixture of hummus and cooked quinoa (which I obvi LOVE adding to pureed soups), you are able to crank up the plant-based protein content, which will make it much more filling and satisfying.
Perfect for game day when there are likely lots of hungry guys around. amiright?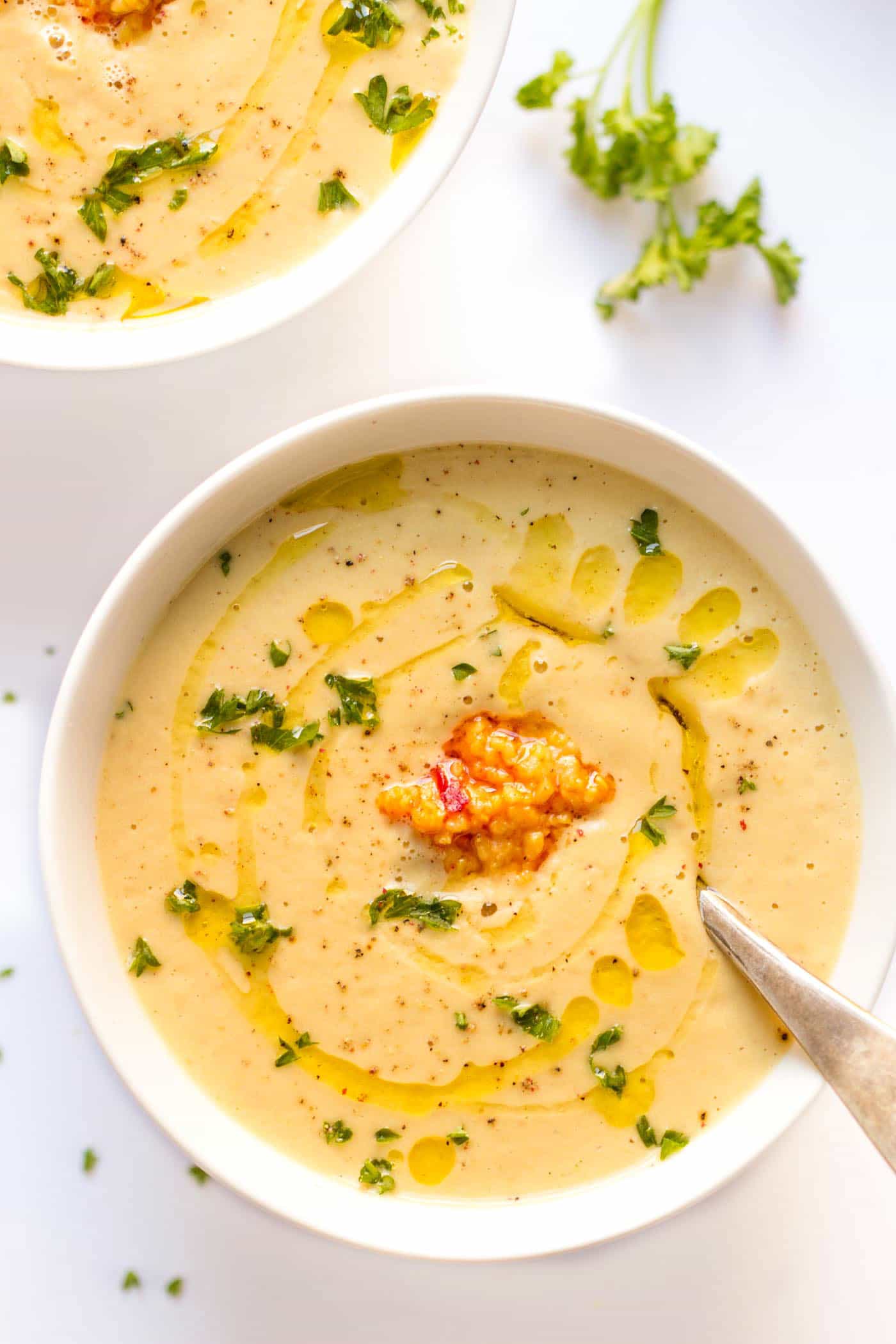 Okay, but football aside, this soup is on point. It comes together in 30 minutes, is filled with plant proteins, is vegan AND it's got a ton of flavor.
Oh and if you're like me and need something to dip in your creamy soups, I'm all about using my mini quinoa pizzas (just the base!). They're the perfect dipping vessel.
So bring it on winter. I'm ready for your worst!
Your turn…
Do you ever add any crazy ingredients to boost the health-factor of your recipes? Or make swaps that you know will make the recipe more nutritious? I'd love to hear what some of your favorites are! And if you make this recipe, I'd love for you to share a pic with my on Instagram – just use the tag #simplyquinoa and I'll be able to see 🙂
xx A
More Creamy Vegan Soup Recipes
30-Minute Roasted Garlic Cauliflower Chowder
Super CREAMY + only 30 MINUTE cauliflower chowder made with roasted garlic hummus + quinoa [gluten-free + vegan]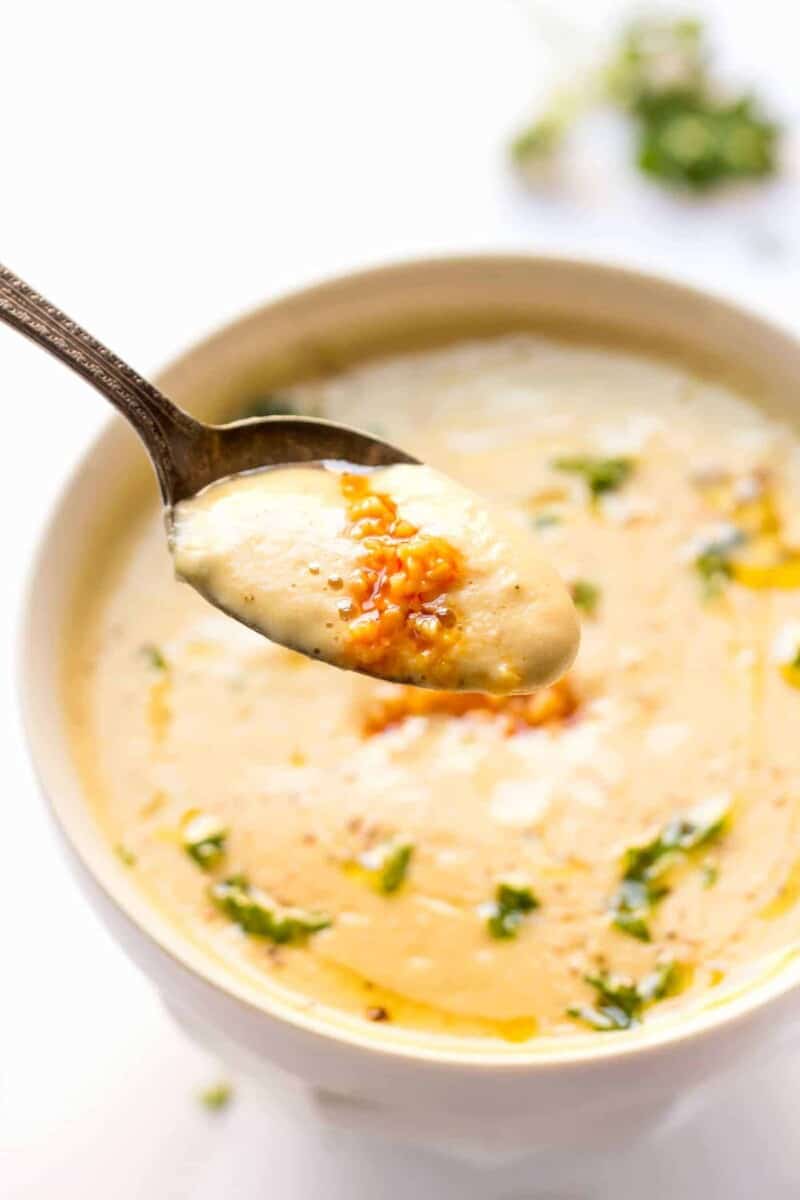 Instructions
Add cashews to a bowl, cover with hot water and let soak for at least 2 hours.

While cashews are soaking, preheat the oven to 425ºF. Chop cauliflower into florets, and peel and chop the potatoes. Arrange on a baking sheet and drizzle with about 1 1/2 tablespoons of oil. Season with salt and pepper.

Cut the top off the garlic bulb so that some of the cloves are slightly exposed. Drizzle with remaining oil and season with salt and pepper. Wrap bulb in tin foil and place on sheet with vegetables.

Roast for 20 - 25 minutes until the cauliflower is starting to brown and the potatoes are soft (they don't have to be totally soft because we'll be blending them later). Check the garlic after 15 minutes to make sure it isn't burning. Allow the veggies to cool slightly then add them to a high powered blender. Squeeze/spoon the garlic out of skin and add it to the blender as well.

Drain and rinse the cashews, adding them to the blender along with the hummus and quinoa. Pour in liquids, miso, nutritional yeast (if using) and additional salt and pepper, and blend on high until smooth and creamy. Taste and adjust seasonings (adding more garlic, salt, pepper, miso or other seasonings) as desired.

Serve warm topped with some of the roasted garlic garnish from the hummus, some chopped parsley and a drizzle of olive oil.
Nutrition
Calories:
284
kcal
|
Carbohydrates:
25
g
|
Protein:
9
g
|
Fat:
17
g
|
Saturated Fat:
2
g
|
Sodium:
794
mg
|
Potassium:
536
mg
|
Fiber:
5
g
|
Sugar:
2
g
|
Vitamin A:
250
IU
|
Vitamin C:
19.2
mg
|
Calcium:
47
mg
|
Iron:
4.1
mg
Filed Under: