This delicious garlic butter quinoa recipe is one of the easiest recipes you'll ever make! It uses just 5 ingredients, one pan, and goes well with everything!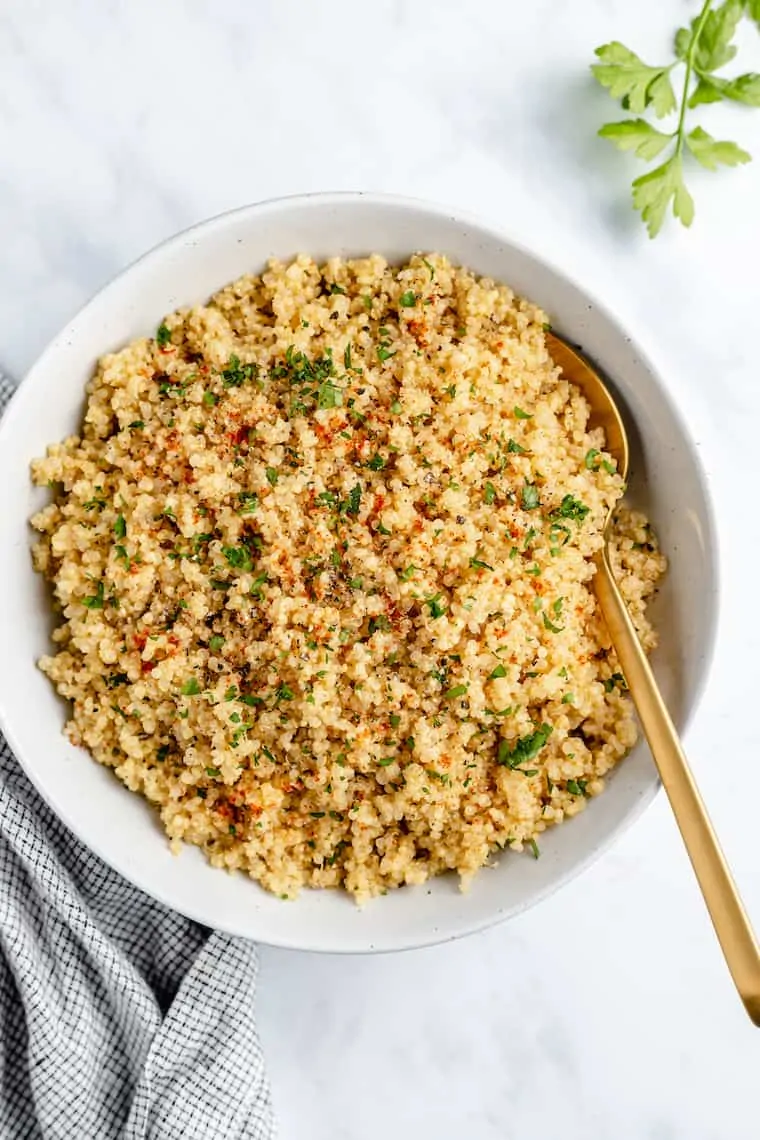 When you're craving fluffy white quinoa that's got an indulgent buttery flavor, this is what you need to make. And if that isn't something you've craved before, this is still what you need to make!
This garlic butter quinoa is legit one of the best ways to make quinoa ever. It's so easy – hello, one pot! – but it can also be used a ton of different ways and pairs well with everything.
Whether you're looking for the ultimate healthy side, or you want a new jazzy way to enjoy quinoa, I can't wait for you to try this.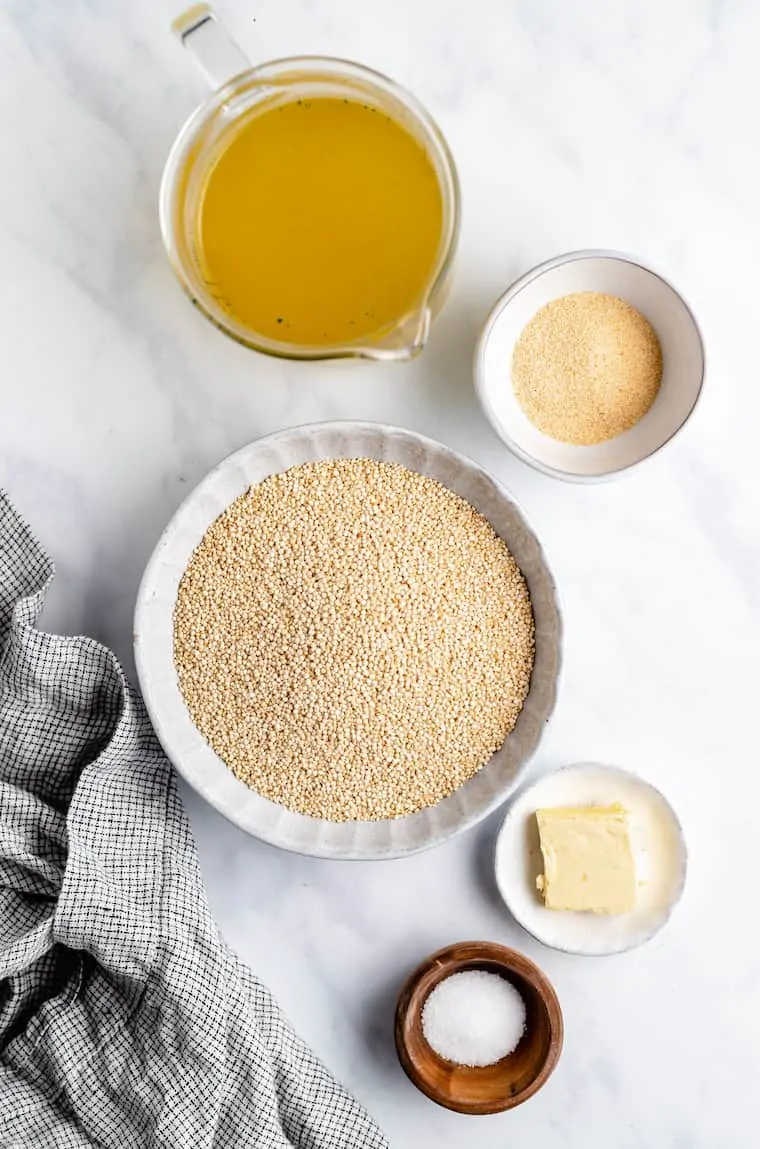 What You'll Need to Make This Recipe
You guys know I don't eat dairy, so I decided to use a vegan butter spread to get that nice buttery flavor into the quinoa, but you could certainly also use regular butter or ghee.
For the garlic, we're using organic garlic powder from Simply Organic. What I love about using garlic powder – and I use it in pretty much everything – is that you get that nice garlic flavor without having to do an extra step of cooking. No chopping, no mincing, no sauteeing, but still all that incredible garlic flavor.
And of course, since it's a powder, it's easy to stir in and gets incorporated evenly throughout the entire dish.
To that we're also adding salt, quinoa and we're cooking it all in vegetable broth!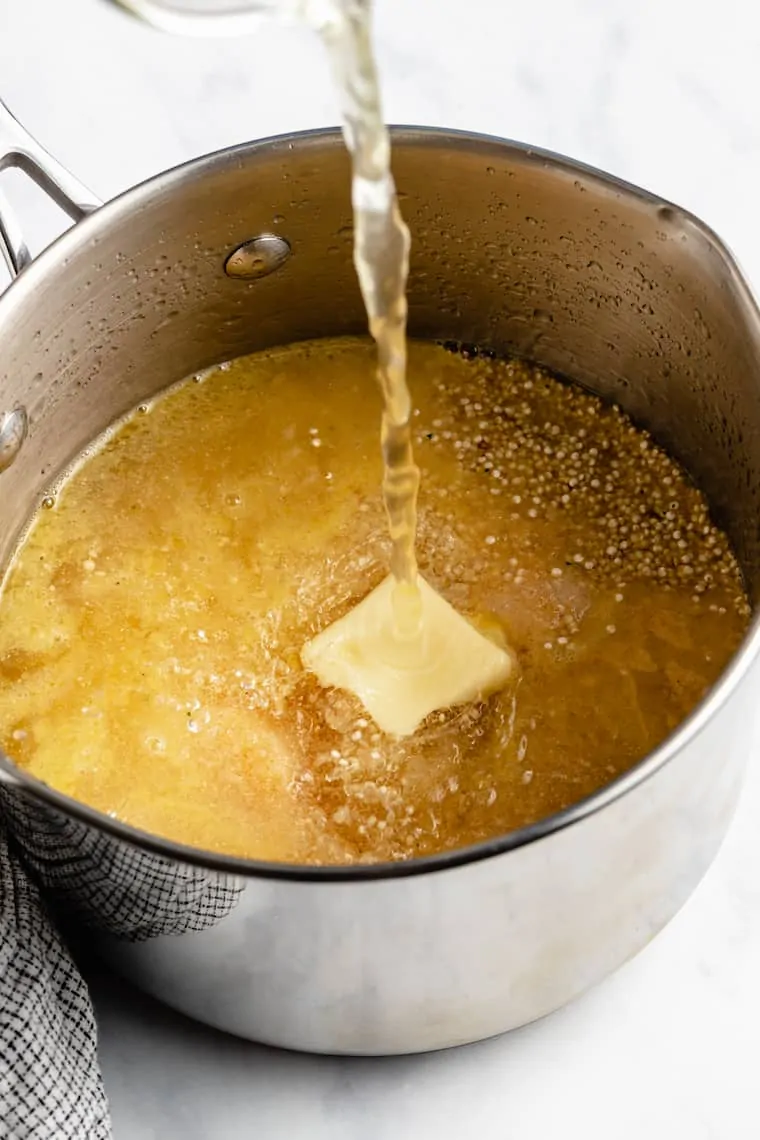 How to Make Garlic Butter Quinoa
In addition to this recipe only using 5 ingredients, you also just need one pot. Basically, we're going to cook the quinoa like we normally would – in a liquid, then simmer until fluffy – and just add in the flavorings.
Here's how to make it:
Put the quinoa, garlic powder, butter, and salt in the pan
Add the vegetable broth
Bring the mixture to a boil and cover
Simmer it until it's fluffy
Fluff with a fork and serve!
And that's it! So simple and delish.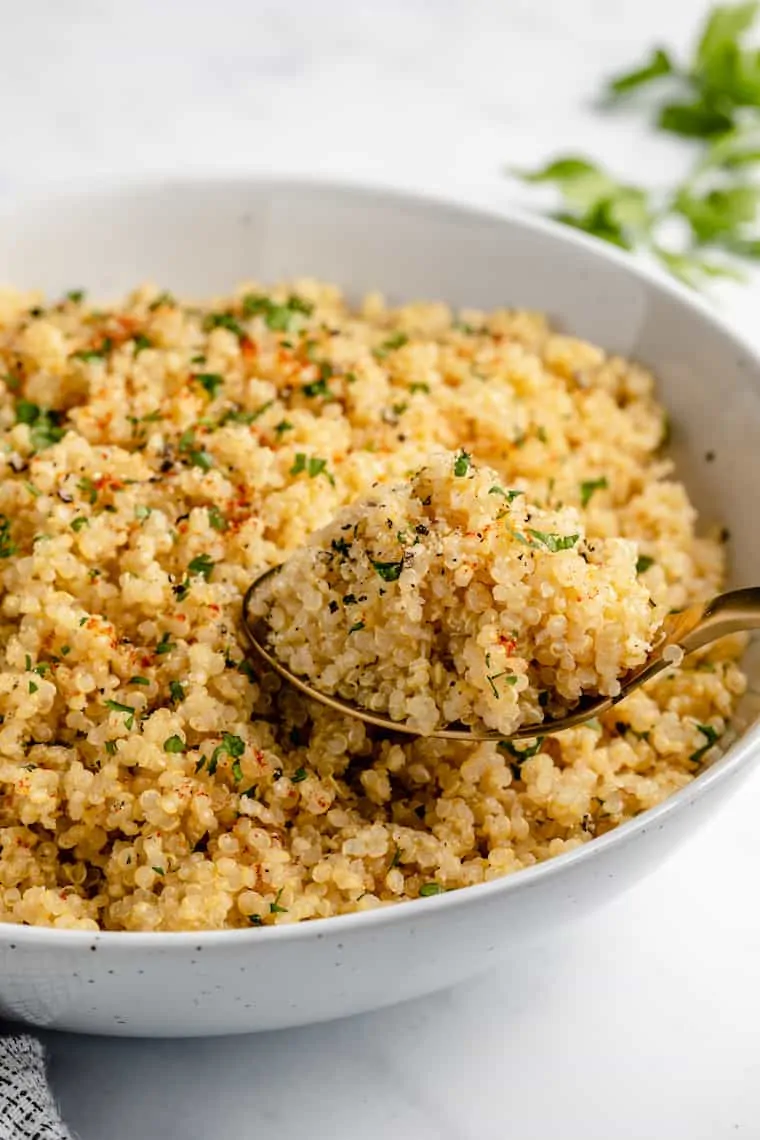 How to Make Quinoa More Flavorful
We're using vegetable broth instead of water to help give this garlic butter quinoa even more flavor. The vegetable broth adds a touch of saltiness, while also complementing the butter really nicely.
If you're not a veggie broth fan, you have other options. You could use chicken broth, water or you could also do water and a chicken/vegetable bouillon cube. Either method will give you the same effect: a flavorful quinoa dish that goes well with everything!
And when I say everything, I really mean it!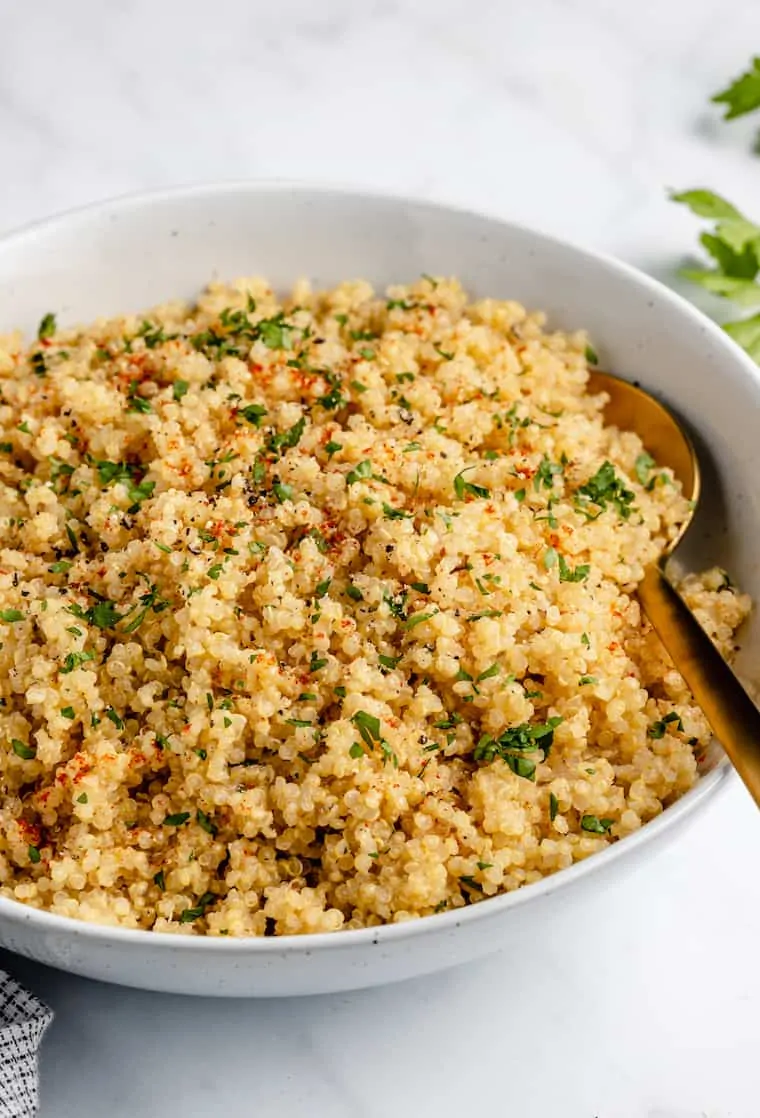 How to Serve Our Garlic Butter Quinoa
This is one of those recipes that you can serve a million and one ways. From breakfast to lunch, to dinner, to leftovers, to sides, to dessert (wait…what!? jk). Garlic + butter + anything = heaven
Well, okay, maybe not a million different ways, but you get the idea. It's a versatile recipe and you're gonna love it!
Here are some ways that I recommend trying:
Lunch/dinner: toss it with sauteed mushrooms, broccoli, and tofu/chicken (or chickpeas)
Breakfast: serve it warm with a soft boiled egg, some salsa, and sliced avocado
Leftovers: saute  chopped tomatoes and white beans
As a side: serve warm with grilled chicken (or tofu), roasted asparagus and a salad
And for dessert: Ummm yeah, I got nothing there 😉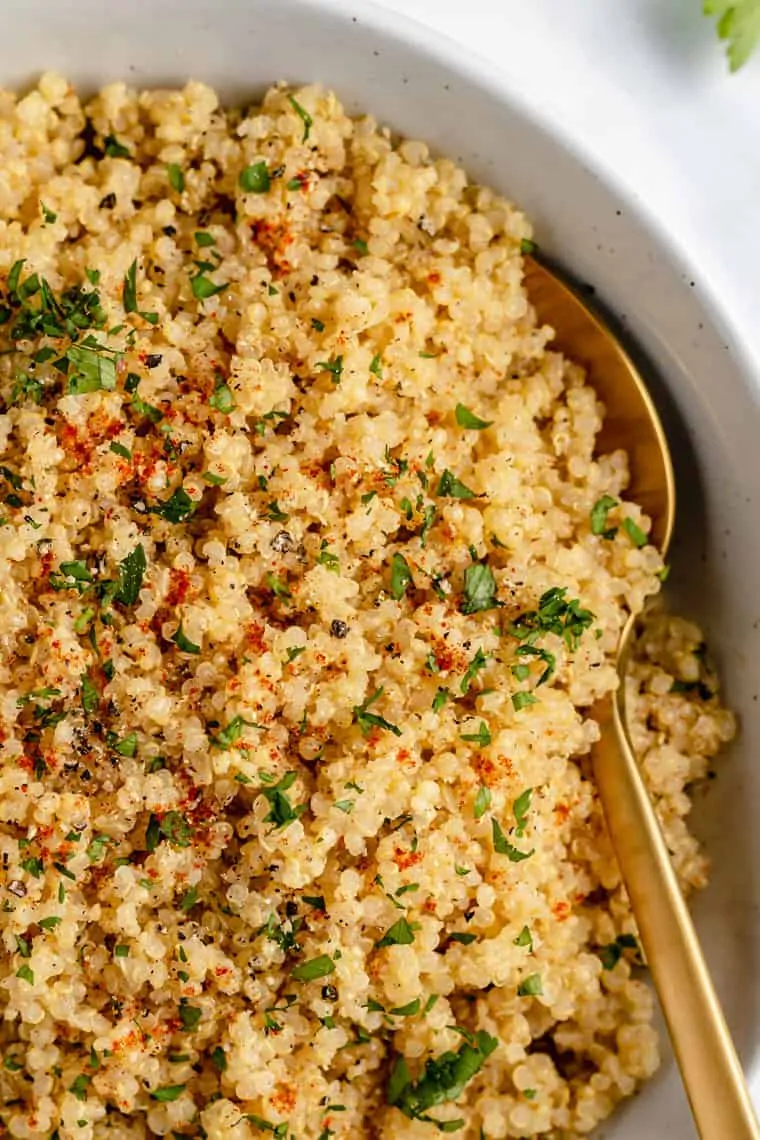 More 5-Ingredient Recipes to Try:
5-Ingredient Garlic Butter Quinoa
This delicious garlic butter quinoa recipe is one of the easiest recipes you'll ever make! It uses just 5 ingredients, one pan and goes well with everything!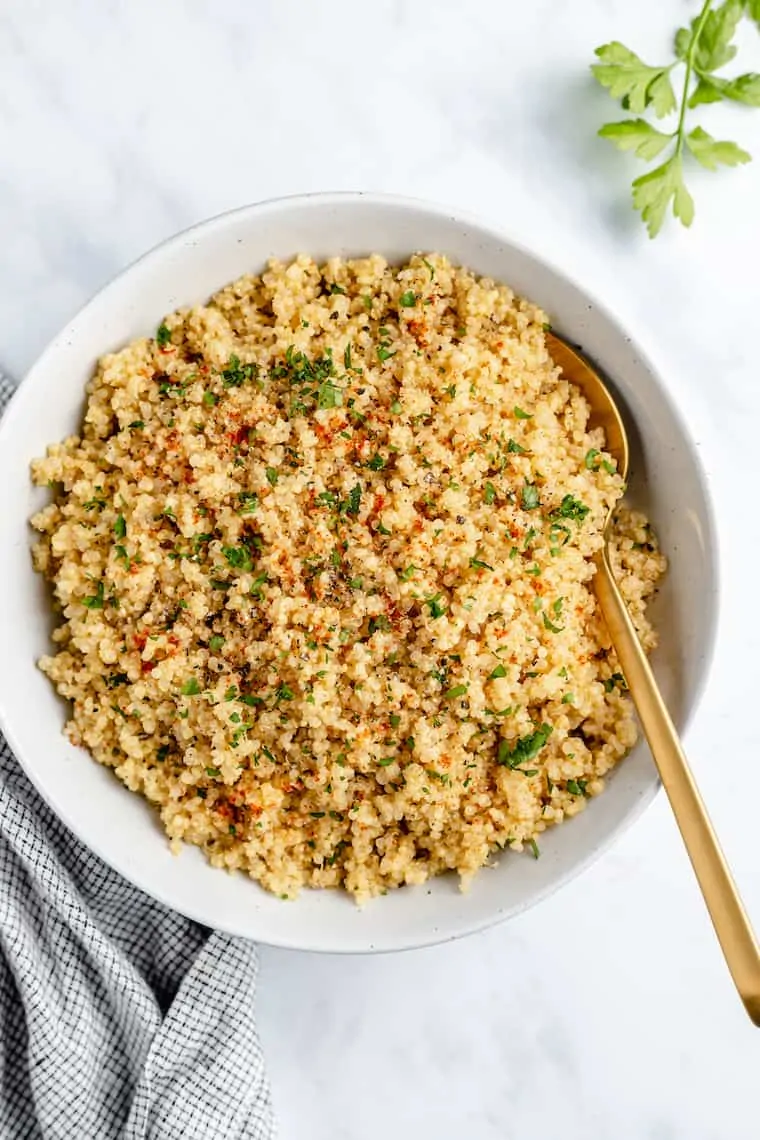 Instructions
Add all ingredients to a small saucepan. Bring to a boil and stir until butter has melted. Cover and reduce to low and simmer for 15 minutes. Remove lid, take off the heat and fluff with a fork. Let stand for 5 minutes then serve.
Notes
* if you're sensitive to garlic, start with 1 teaspoon and add more to taste.
Nutrition
Calories:
190
kcal
|
Carbohydrates:
30
g
|
Protein:
6
g
|
Fat:
4
g
|
Sodium:
786
mg
|
Potassium:
266
mg
|
Fiber:
3
g
|
Sugar:
1
g
|
Vitamin A:
385
IU
|
Calcium:
20
mg
|
Iron:
2.1
mg
Filed Under: