These crispy zucchini chips are a healthy snack perfect for pairing with your favorite dip! Here's how to make dehydrated zucchini chips at home.
When I need a snack, my goal is to find something quick and healthy, easy to eat on-the-go, and tasty. I've posted a few of my favorite snacks already, including Puffed Rice Cakes with Sliced Apples & Almond Butter and my Vegan Cheezy Kale Chips. But when it comes to versatility, it's hard to beat homemade zucchini chips!
You can add seasoning, or just go with a basic salt-and-pepper flavor. They're perfect for dipping in Vegan Kimchi Queso Dip, or for tucking into a silicone snack bag and keeping in your desk at work for an afternoon snack. You can even use them as a crispy topping for a salad! (They're especially good with my Quinoa Black Bean Salad with Cilantro and Lime.)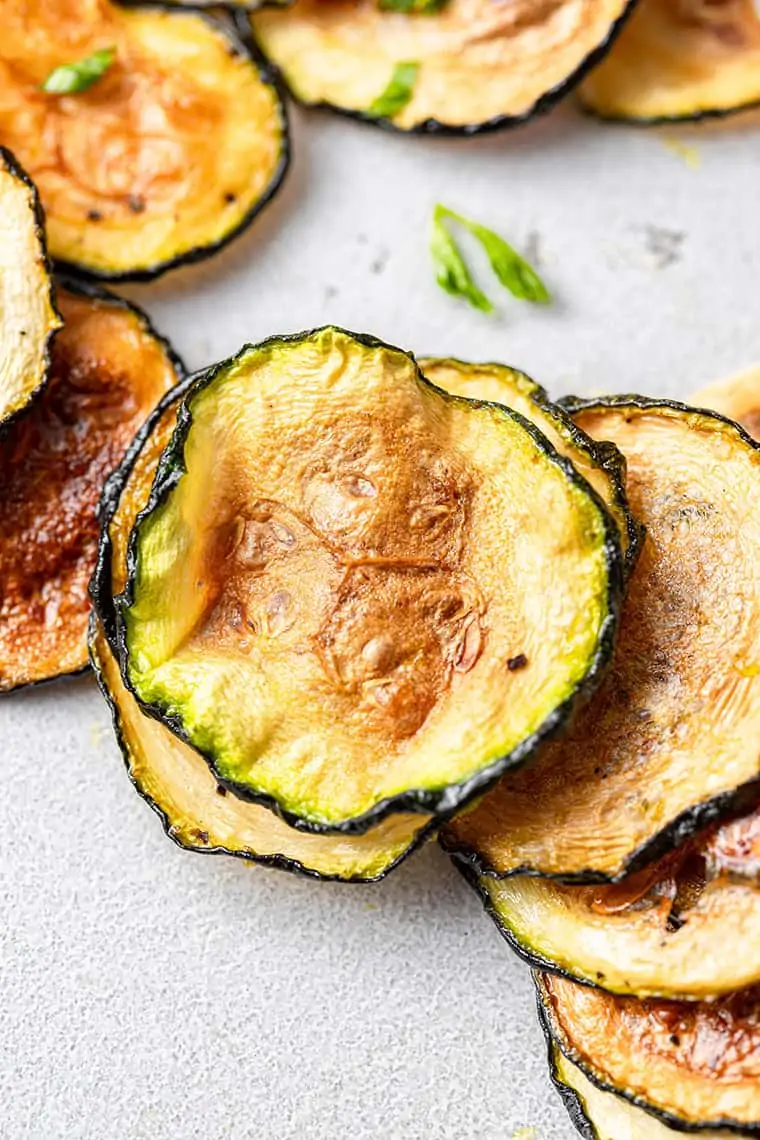 A Note About Food Dehydrators
While you can make dehydrated zucchini chips in a standard oven, they can burn easily and often bake up uneven, so a dehydrator is a worthwhile investment if you're interested in making things like zucchini chips, kale chips, jerkies, and homemade fruit leather.
The Excalibur brand is considered the gold standard, but it's pricy, so I did my homework and selected one that was in my price range, had great reviews, and seemed to be everything I was looking for: the Nesco FD-75PR. It's powerful, dries things fairly quickly, and it's super easy to assemble and clean.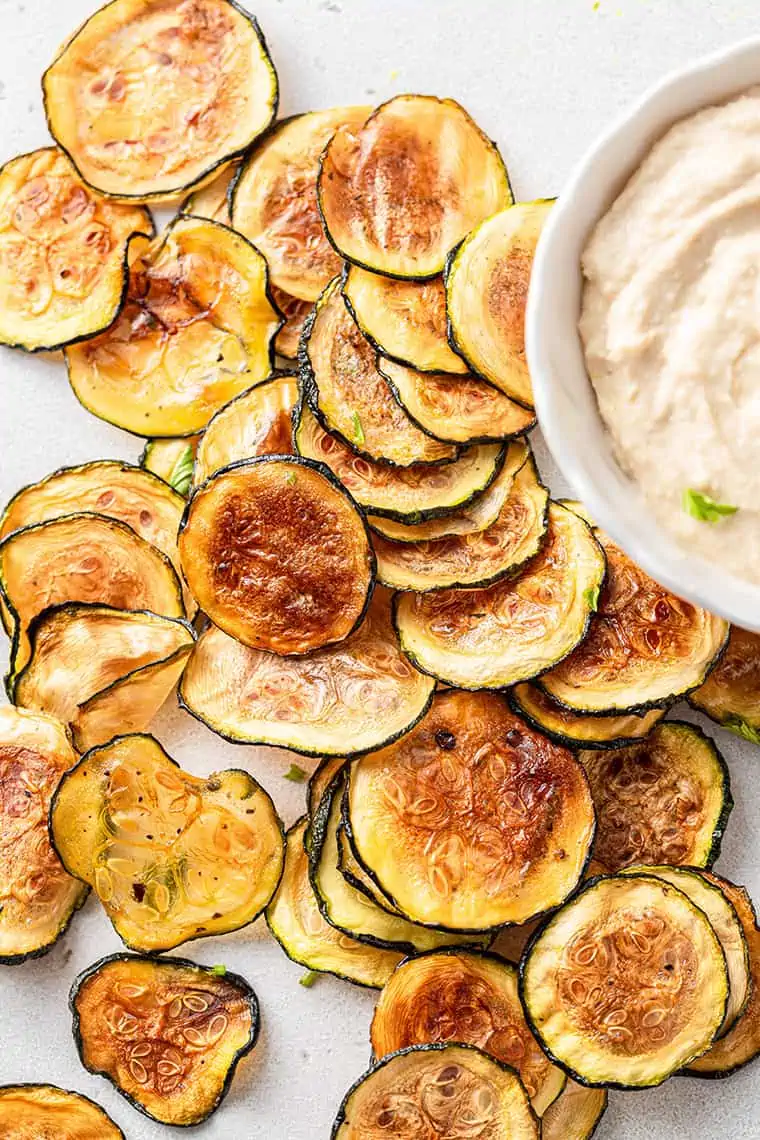 What You'll Need
Scroll down to the recipe card below this post for ingredient quantities and full instructions.
Zucchini – A yellow summer squash can be used instead; the flavor is almost identical!
Olive oil
Salt and pepper
What Should I Look for When Buying Zucchini?
Avoid zucchini that are too large when making zucchini chips; they'll have larger seeds and they'll also take longer to dehydrate. Choose squash that are medium-sized, firm, and free of any nicks, gashes, or soft spots.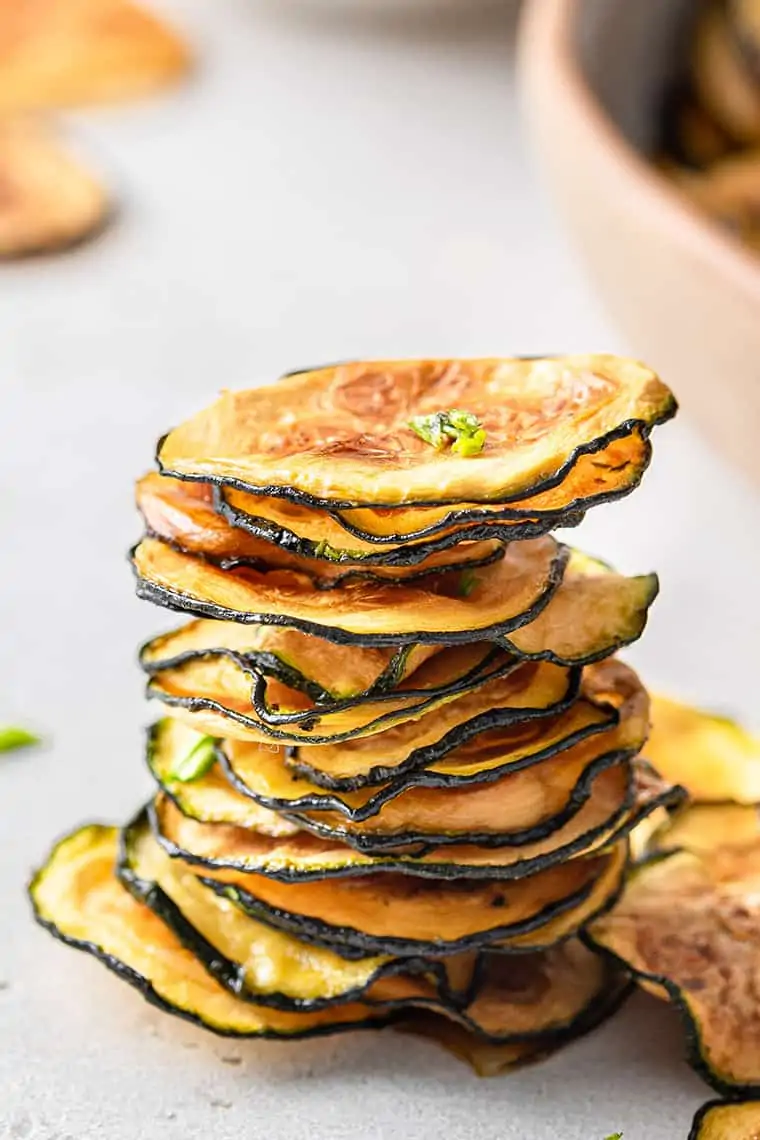 How to Make Dehydrated Zucchini Chips
A mandoline slicer will help you get perfectly even zucchini slices, but a sharp knife will do the trick too!
Prepare the zucchini. Place the zucchini rounds in a bowl and toss them with the olive oil, salt and pepper, until they're evenly coated.
Add the zucchini to the food dehydrator. Arrange the zucchini on the dehydrating sheet; they can be close to each other, but they shouldn't overlap.
Dehydrate. Set the dehydrator between 135º to 140ºF. Let the zucchini dry for 4 to 5 hours, or until they're dry and crispy.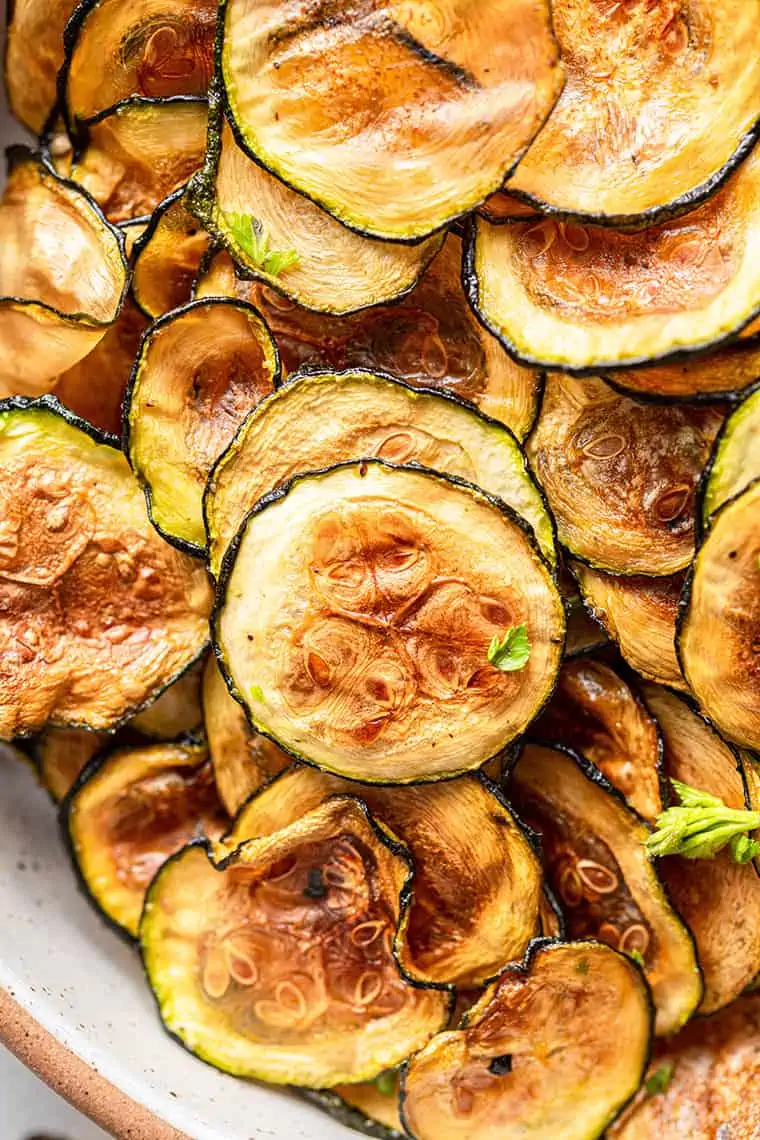 Tips for Success
Here are some hints and tips to help you get perfect crispy zucchini chips.
Make sure the chips are completely dry. You don't want any residual moisture in the chips, or they won't be crispy!
Remove the zucchini chips as they're finished. If you don't use a mandoline slicer, it's very likely that some chips will be finished dehydrating sooner than others. Take those out as they're done and let the rest continue dehydrating.
Adding seasoning. If you want to add herbs or spices to your chips, do it before you dehydrate them, not after. This way, your seasonings will stick!
How Do You Keep Zucchini Chips from Getting Soggy?
Don't remove the zucchini chips from the dehydrator until they're completely dry. Then, don't transfer the chips to a storage container until they're completely cool. When storing, keep the container in a cool, dry place, like a pantry or cabinet.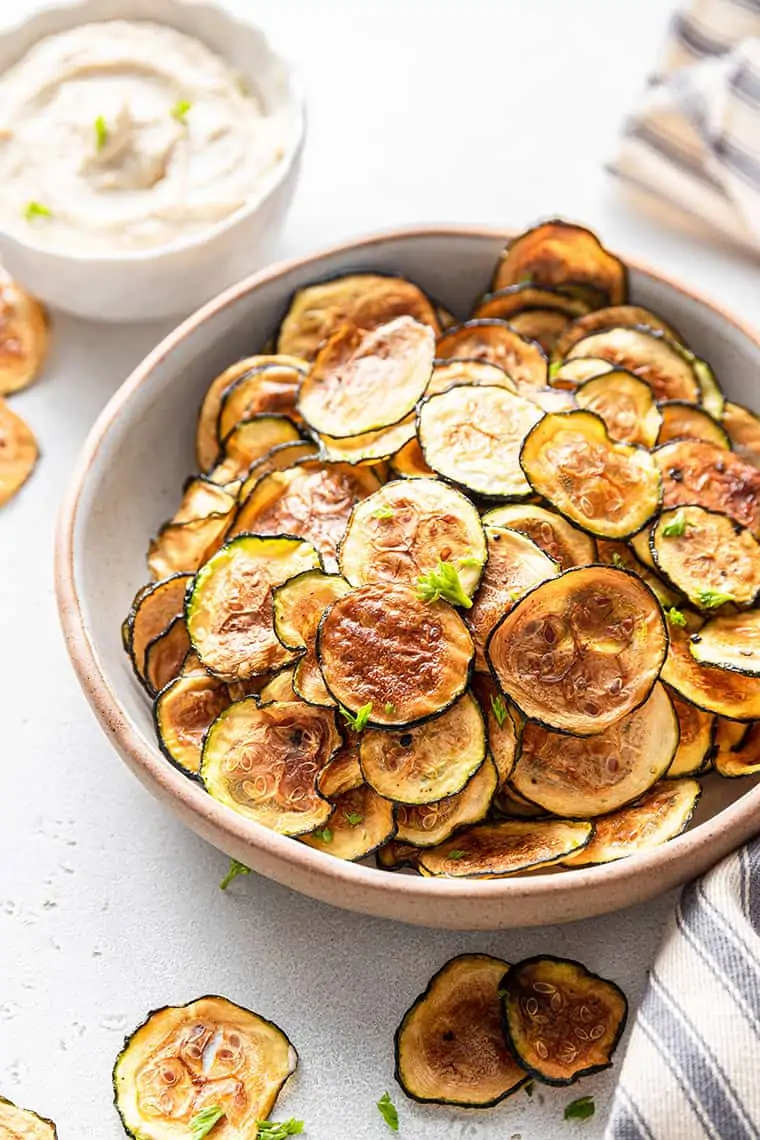 How to Store
First, let the zucchini chips cool. Then, transfer them to a Mason jar or airtight container. Dehydration is a long-term storage method, so some people claim they'll last up to 5 years, but the National Center for Home Food Preservation says to expect a 4 to 12 month shelf life, depending on the storage conditions.
Can This Recipe Be Frozen?
No, dehydrated zucchini chips can't be frozen; they're already preserved through dehydration! If you're looking for a freezer-friendly snack idea, try my Salted Caramel Energy Bites.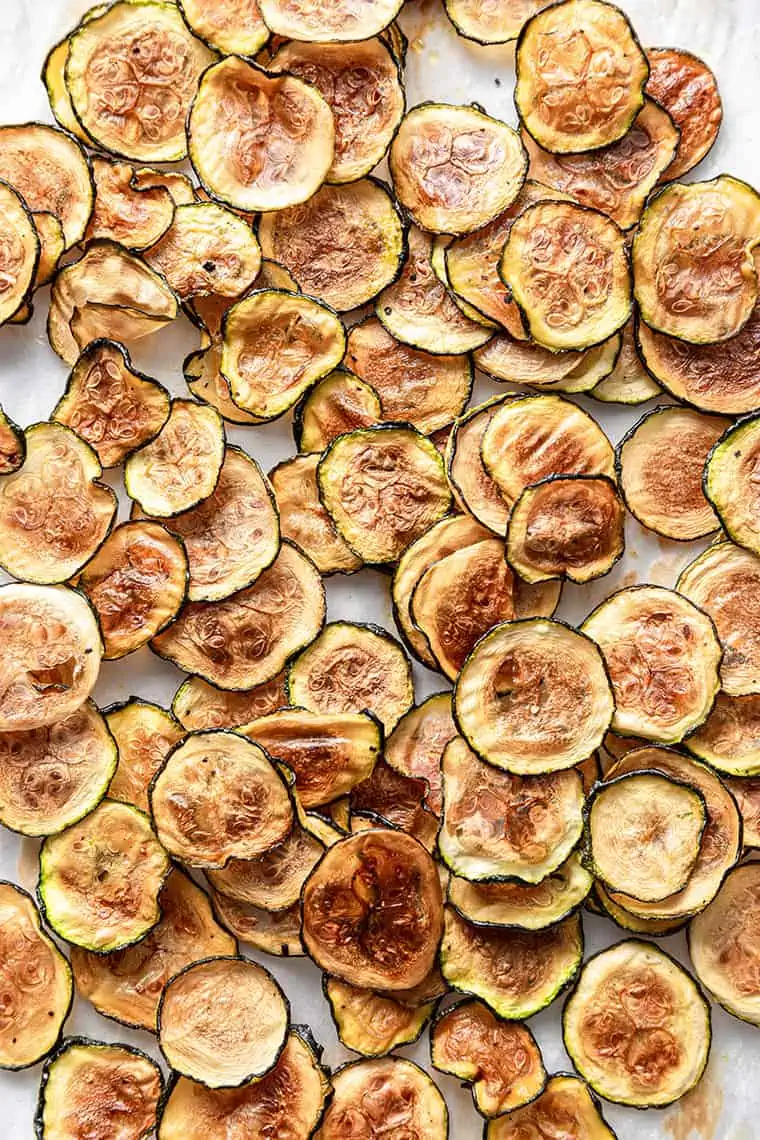 Healthy Zucchini Chips
It's easy to get perfectly crispy zucchini chips using a food dehydrator!
Ingredients
1

zucchini

medium

1

teaspoon

olive oil

Salt & pepper to taste
Instructions
Slice the zucchini into thin rounds. Add the rounds in a bowl and toss with the olive oil, salt and pepper. Place each round on the dehydrating sheet, flat and separated. You don't want them to overlap or they won't dry properly.

Turn the dehydrator on to 135 or 140 degrees F and let them dry for 4 – 5 hours, until they're nice and crispy.

Serve with guacamole, bean dip, hummus, you name it. Or eat them plain, as is. They're delicious no matter what.
Notes
Transfer cooled zucchini chips to an airtight container and store for up to a year.
Nutrition
Calories:
36
kcal
|
Carbohydrates:
1
g
|
Protein:
1
g
|
Fat:
4
g
|
Saturated Fat:
1
g
|
Polyunsaturated Fat:
1
g
|
Monounsaturated Fat:
3
g
|
Sodium:
1
mg
|
Potassium:
3
mg
|
Fiber:
1
g
|
Sugar:
1
g
|
Vitamin A:
2
IU
|
Vitamin C:
1
mg
|
Calcium:
1
mg
|
Iron:
1
mg
Filed Under: