This fast and easy Tofu Pad Thai recipe comes together in 30 minutes with simple ingredients like rice noodles, lime, peanut butter, and fresh herbs.
I've always loved pad Thai, and I decided it was time to make a healthier version. This recipe is low on added oils, sweeteners, and thickeners. But let me tell you: it is PACKED with flavor. Lime juice, peanut butter, fish sauce and tamari make a totally delicious sauce that hits all the right notes.
This tofu pad Thai is:
Sweet, savory, salty, and acidic
Full of protein – but totally vegetarian!
Super satisfying, thanks to rice noodles, eggs, and tofu
A perfect blend of textures: soft, chewy noodles, creamy egg, crunchy tofu, and peanuts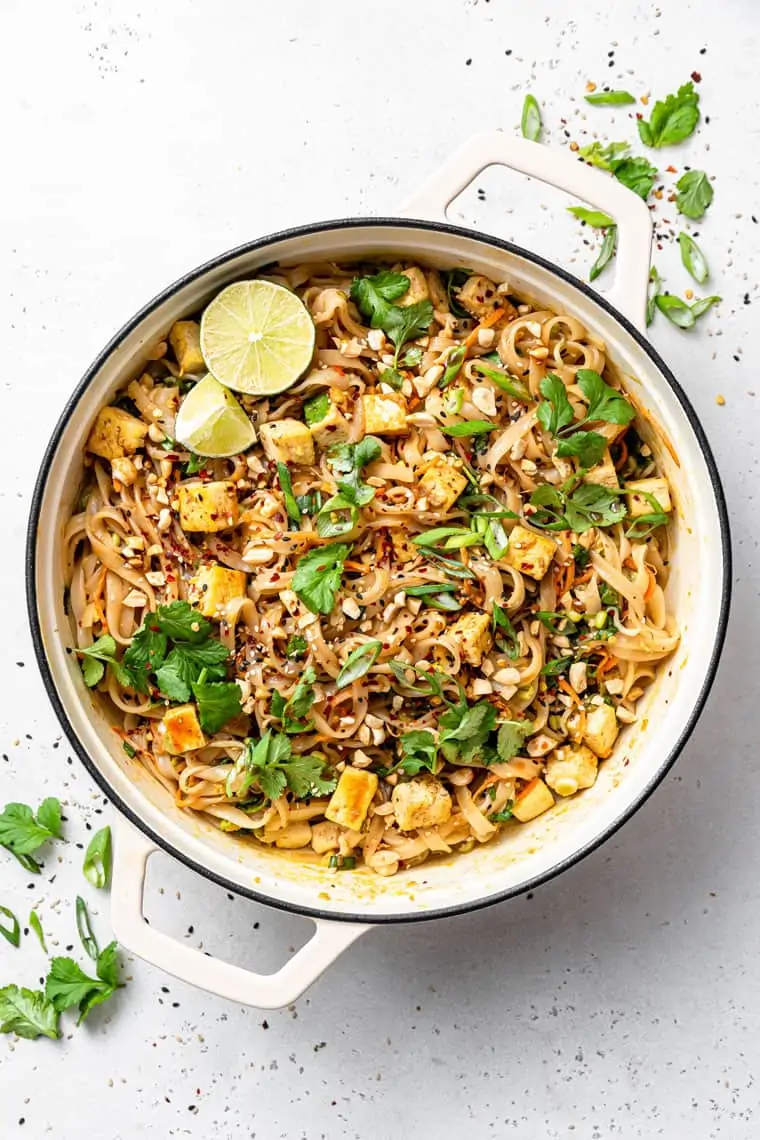 What's In Traditional Pad Thai?
Traditionally, pad thai is made with rice noodles, some form of protein (often shrimp or chicken), egg, bean sprouts, veggies, and pad thai sauce. Pad thai sauce is what can be kind of tricky to make. It uses tamarind paste, fish sauce, dried shrimp powder, and lime, among other ingredients.
Pad thai is also usually stir-fried in a bunch of oil – typically vegetable oil – which actually makes it not so healthy.
Ingredients in Healthier Tofu Pad Thai
We kept things fairly traditional with the recipe, but I did end up changing up the sauce slightly to use ingredients that might be easier to find.
Here's what you'll need to make healthy tofu pad thai:
Rice noodles: I like to use stir fry/pad thai noodles since they have the most classic structure. They soak up the sauce best too.
Tofu: to keep this vegetarian, we're using extra firm tofu which I quickly saute first to get a little crust on the outside. If you prefer soft or firm tofu, that's fine!
Bean sprouts: I found mung bean sprouts, but any bean sprouts you can find are fine.
Carrots: these are the most traditional and I really like them. I end up thinly slicing them. For a fancy effect, you can make super thin slices on a mandolin.
Garlic: to give the dish some extra flavor and punch.
Green onions: we have thinly sliced about 4 – 5 green onions – they add so much flavor and a nice little pop of color in this mostly brown dish.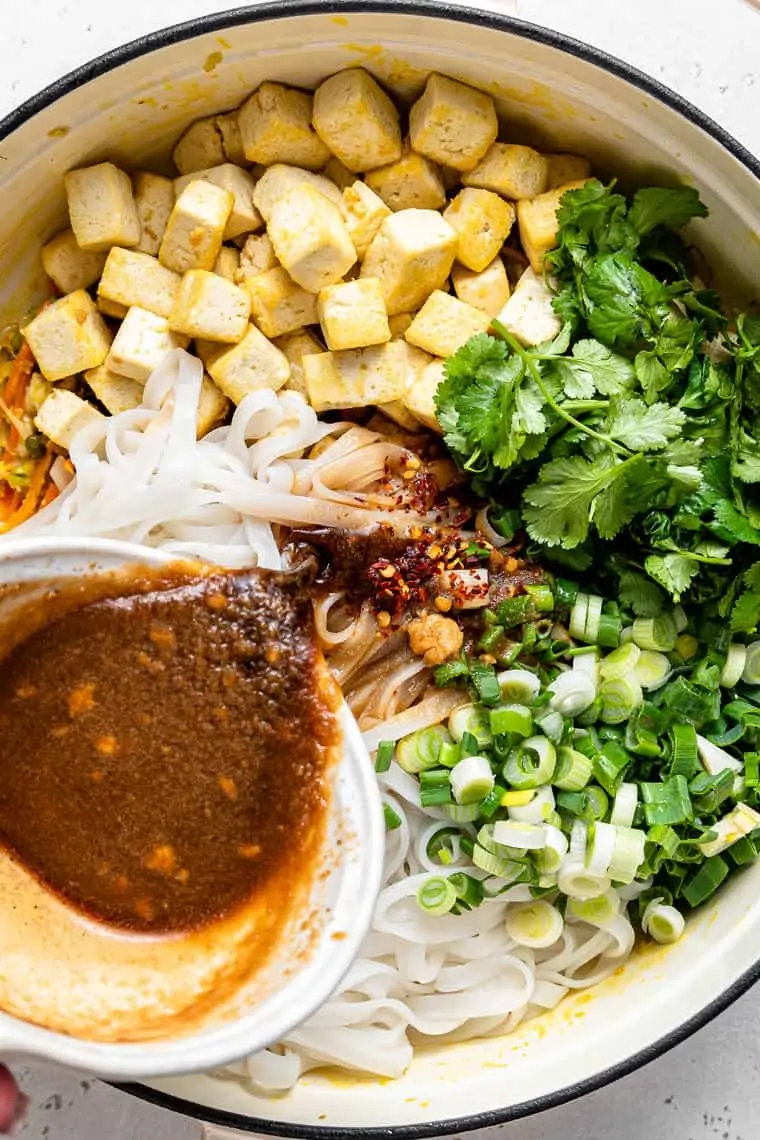 Pad Thai Sauce with Peanut Butter
To make the sauce, you'll need:
Tamari: I like using a gluten-free tamari because it's a bit more naturally gluten-free (less wheat, more soybeans)
Fish sauce: this gives the dish a really unique flavor. If you are vegetarian completely, you can use this vegan fish sauce.
Rice vinegar: adding in acid to the sauce really helps to balance the flavor and boost the overall dish.
Coconut sugar: pad thai does have some sugar and I like to use palm sugar because it's a little less sweet but has a robust flavor.
Peanut butter: to add even more peanut flavor, the peanut butter helps elevate that.
And we're finishing this dish off with some cilantro, chopped peanuts, and red pepper flakes.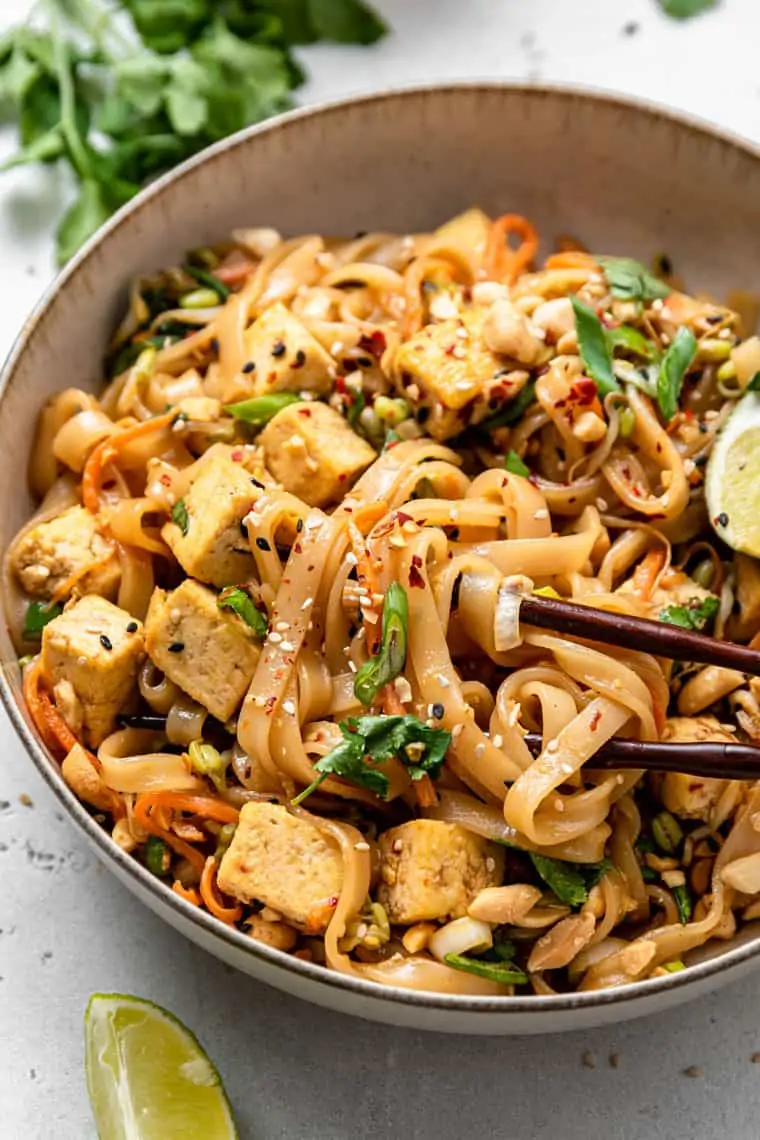 How to Make Pad Thai
There are a few things to balance as you're making this dish, but overall, it's super simple to make. Here are the steps to follow:
STEP ONE: The Noodles
Start by cooking your noodles according to the package instructions. While they're cooking you can move onto the next step.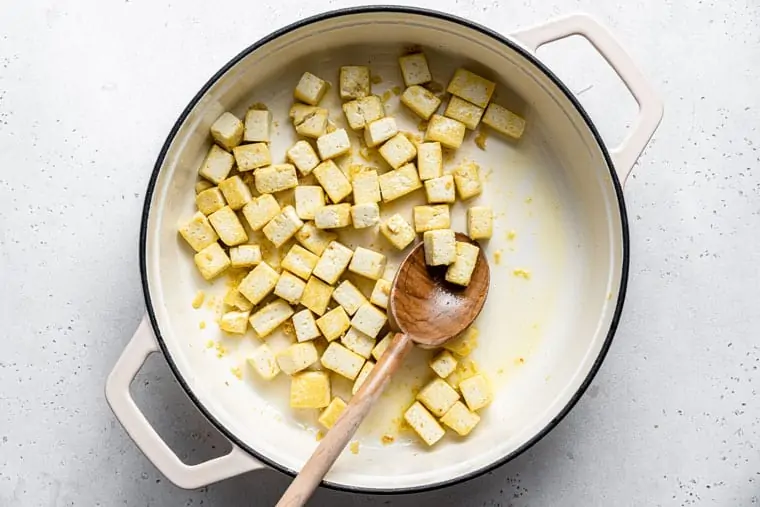 STEP TWO: The Tofu
We'll first quickly saute the tofu. Like you would chicken, we're going to sear the tofu so it has some crispiness.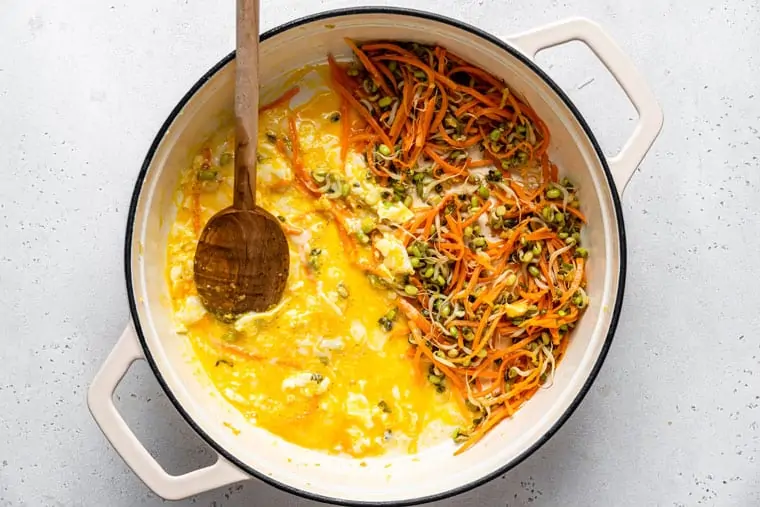 STEP THREE: The Veggies
Transfer the tofu to a plate and add the pan back to the heat. Then you'll add your veggies and garlic and quickly saute it until they're softened. Push them aside and then cook your eggs.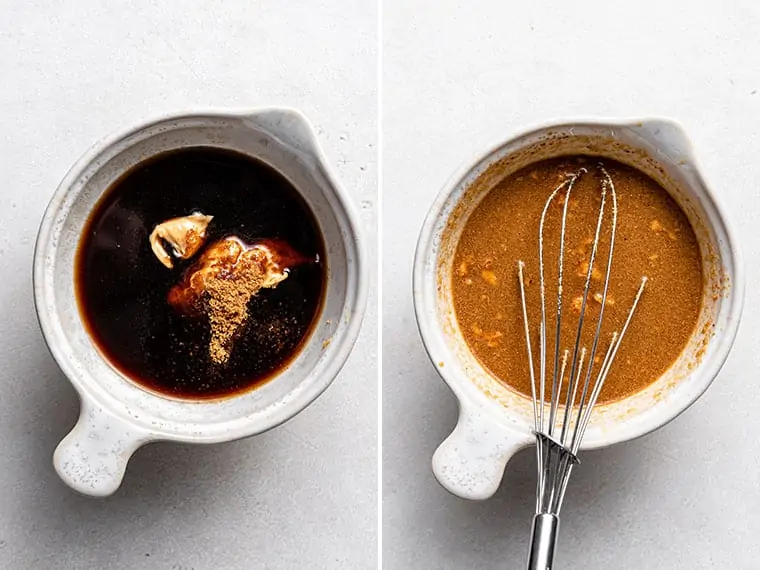 STEP FOUR: The Sauce
While the veggies are cooking, whisk together your sauce. Should take about 30 seconds.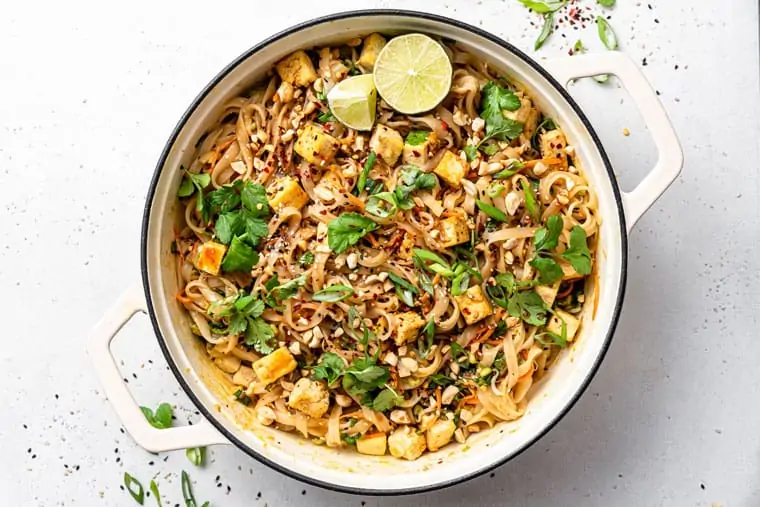 STEP FIVE: The Whole Dish
And lastly, combine it all together! Add the (drained) noodles, the sauce, the tofu, and our extra goodies. Then serve it up!
What Else to Add to Pad Thai
Feel free to add in more ingredients for added flavor, texture, and nutrition if you'd like!
Here are some easy add-ins to homemade pad Thai:
Veggies: feel free to add whichever veggies you want – broccoli, cauliflower, peppers, etc.
Protein: not a fan of tofu? Swap out the tofu with chicken, shrimp, scallops, meat, etc.
Peanuts: if you don't like peanuts or are allergic, you can swap the peanuts with almonds and almond butter
And if you have anything else you'd like to add, go for it! This dish can be totally your own ❤️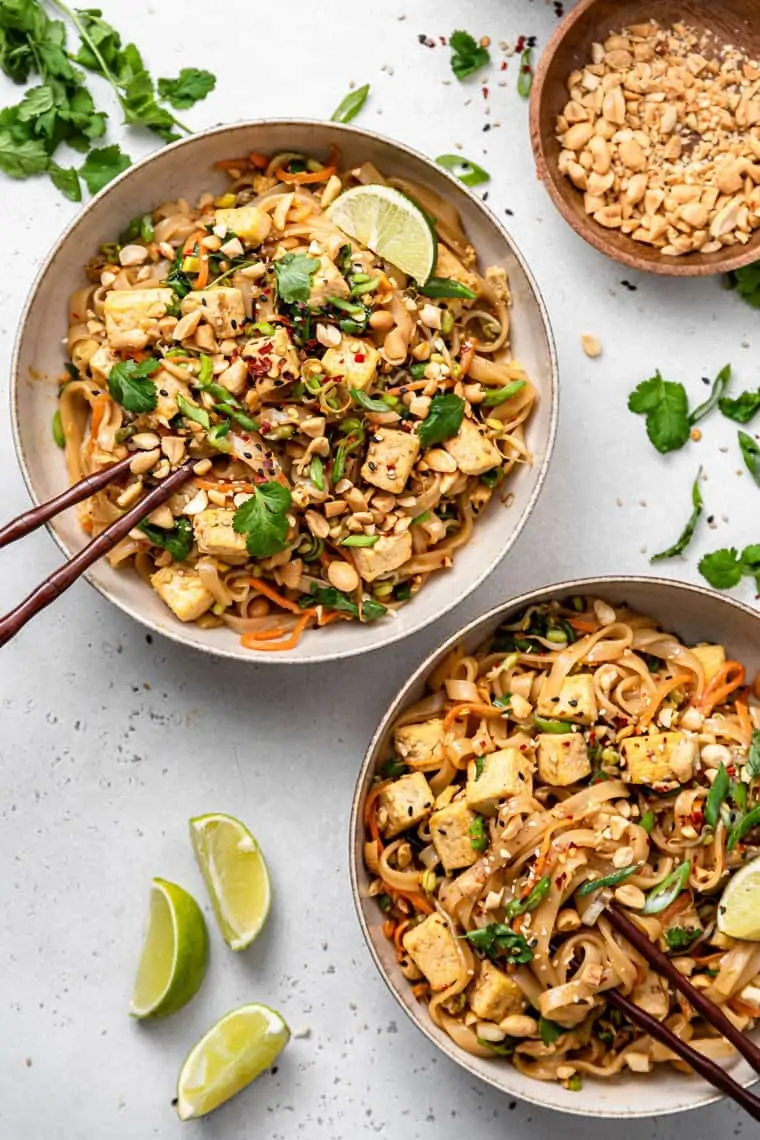 How to Make Pad Thai…Vegan!
And lastly, if you want to make this recipe completely vegan, you can!
Swap the fish sauce with vegan fish sauce. For the egg, just leave it out. Or if you have access to a vegan egg replacement, you can do that as well.
It's super easy, it's healthy and it's absolutely delicious!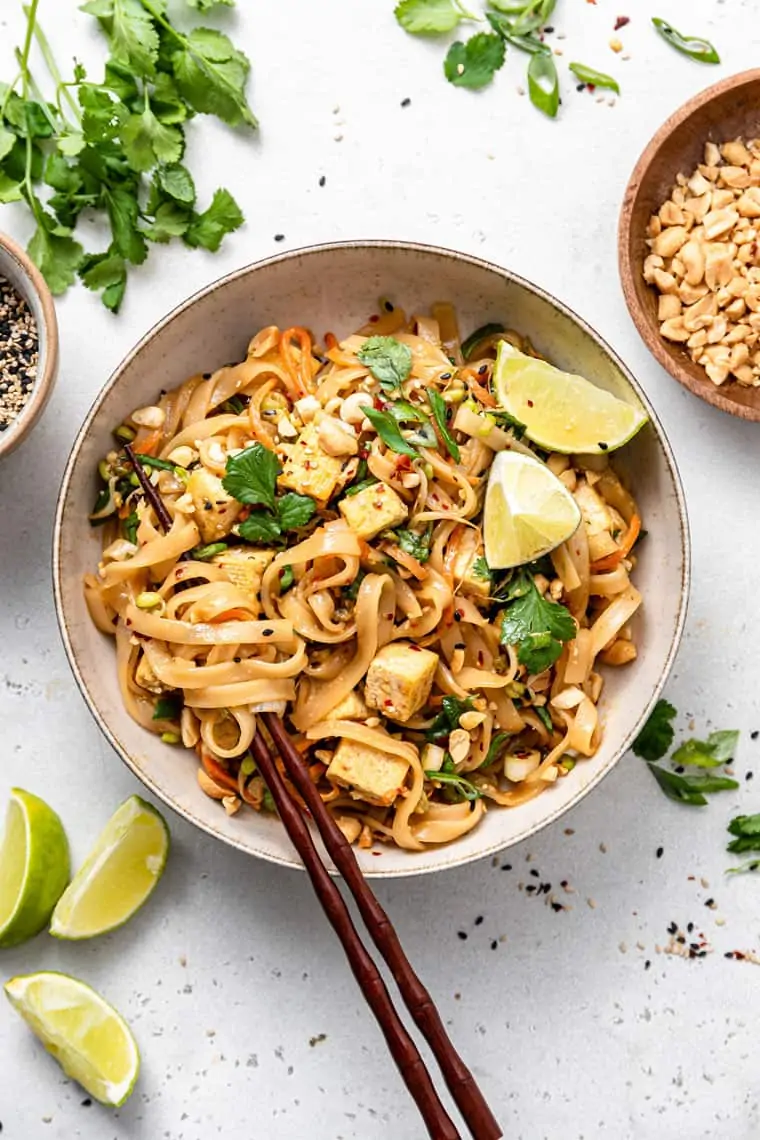 If you make this Tofu Pad Thai, be sure to let me know what you think with a comment below!
30-Minute Tofu Pad Thai
This super easy tofu pad thai recipe takes 30 minutes, is healthy, gluten-free and vegetarian. It tastes like takeout, but without any junk! Made with egg, peanut butter and coconut sugar!
Instructions
Begin by cooking the noodles according to the package instructions. Drain once cooked.

While the noodles are cooking, cut the tofu into cubes. Heat the oil in a large pan and place the tofu in the pan. Sear for 2 – 3 minutes per side. Once the tofu is seared, transfer it to a plate.

Into the same skillet, add the bean sprouts, carrots, and garlic. Cook until the carrots have softened, about 3 minutes.

While those are cooking, quickly whisk together the sauce.

Once the veggies are done, push them to the side of the pan. Crack both eggs in the pan and scramble them. Combine with the veggies.

Add the tofu, drained noodles, green onions, cilantro, lime, pepper flakes, and sauce. Toss to combine.

Plate the pad thai and top with additional cilantro, chopped peanuts, sliced hot peppers, and a spritz of lime (if desired). Enjoy!
Nutrition
Serving:
1
serving
|
Calories:
632
kcal
|
Carbohydrates:
104
g
|
Protein:
21
g
|
Fat:
15
g
|
Saturated Fat:
3
g
|
Cholesterol:
82
mg
|
Sodium:
1816
mg
|
Potassium:
597
mg
|
Fiber:
5
g
|
Sugar:
12
g
|
Vitamin A:
6071
IU
|
Vitamin C:
11
mg
|
Calcium:
112
mg
|
Iron:
4
mg