These blackened fish tacos are loaded with tender and flaky mahi-mahi. The blackened spice rub is spicy and mouth-watering, and they only take 20 minutes to make.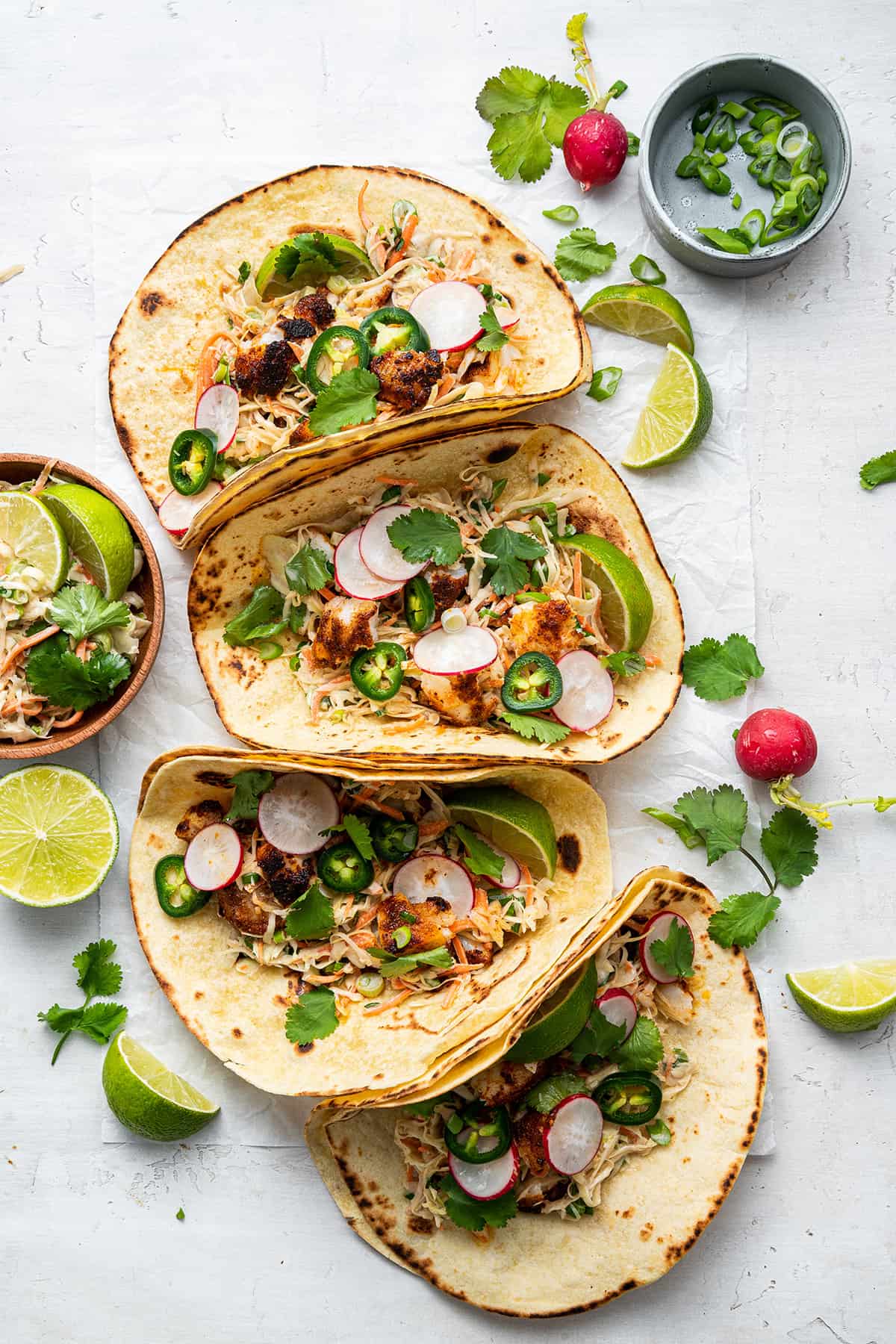 Is there a food that's better than fish tacos? I don't think so. What could possibly be better than moist, well-seasoned fish inside a corn tortilla? These blackened fish tacos have quickly become some of my favorite tacos ever. They're made with mahi-mahi, and the fish is unbelievably tender and juicy. But the star is the blackened seasoning. The spice blend I've made for this recipe has tons of paprika and garlic powder, with the perfect amount of cayenne and black pepper to add a kick. And the secret ingredient? Chinese 5-spice!
Not only are these mahi-mahi tacos packed with flavor, but they're easy to make and healthy, too. As a result, they're a staple in my kitchen. I make them all the time, and if you give this recipe a try, I bet you'll start making them all the time, too.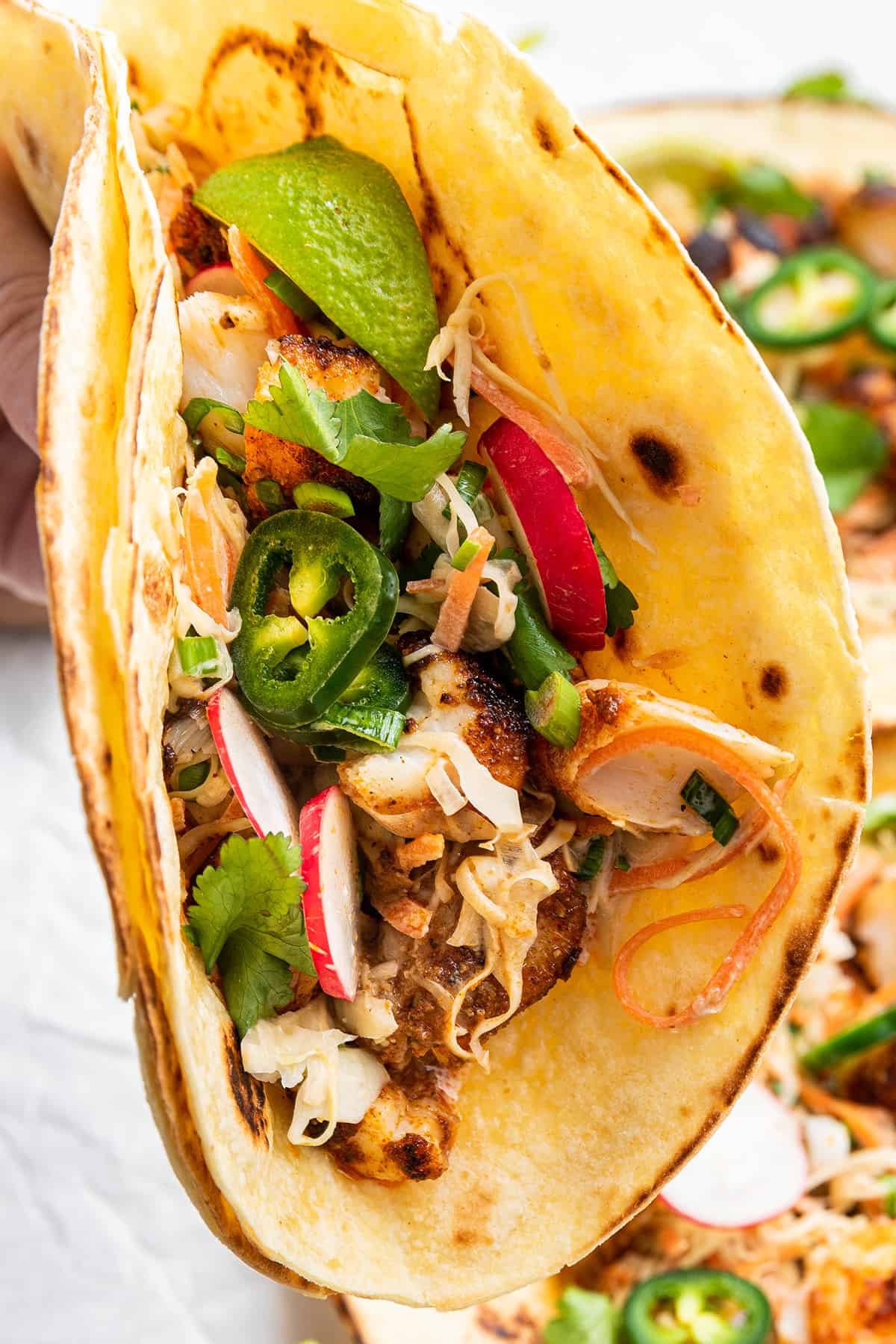 Why You'll Love This Blackened Mahi-Mahi
These are just a few of the many reasons why I think you'll be a big fan of this recipe.
So easy. These fish tacos are restaurant quality, but they only take 20 minutes to make. It's such a simple recipe, even though the flavors are strong and dynamic. It's quick and easy enough that you can make these tacos during the week when you get home from work.
Perfect for Summer. I always know that summer is right around the corner when I start eating a lot of fish tacos. These blackened fish tacos are perfect for a sunny day. They're light and fresh and will leave you feeling good after you eat them.
Crowd pleaser. Everybody loves fish tacos. And these blackened mahi-mahi tacos are sure to impress. Whether you're having a backyard party or just a few friends over, your guests will be so happy with these tacos. It's an easy recipe to double or triple, so you can crank out a ton of tacos for your friends.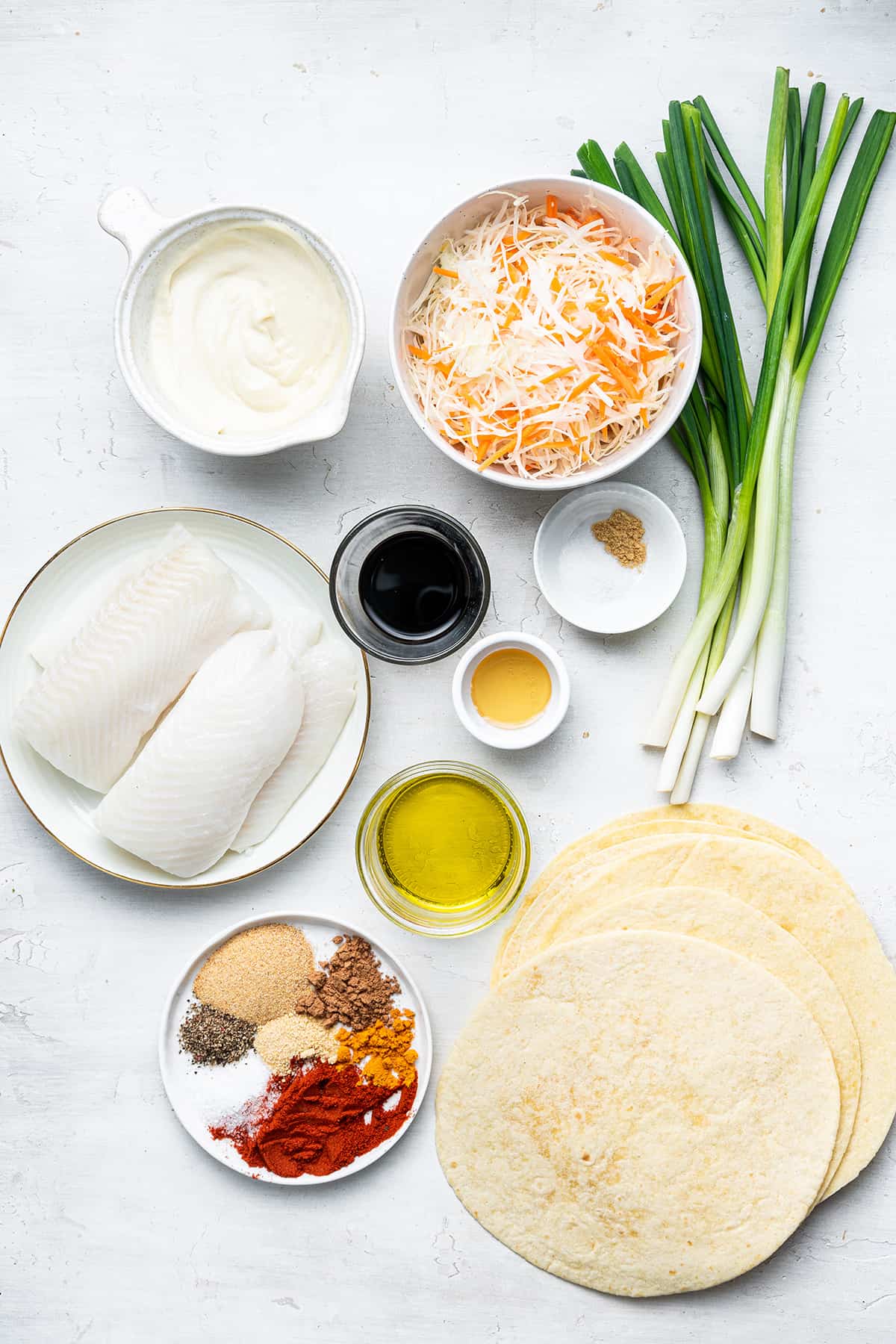 What You'll Need
Here are all of the ingredients you'll need when making these mahi-mahi tacos. Make sure to check out the recipe card at the bottom of the page to see the exact quantities for each ingredient.
Salt
Black pepper – For best results use freshly cracked black pepper
Smoked paprika
Cayenne
Garlic powder
Onion powder
Chinese 5-spice powder
Mahi-mahi – You can also use any other type of white fish.
Avocado oil
Corn tortillas
Asian slaw
How to Make Blackened Fish Tacos
Here's how to make these spicy 20-minute tacos.
Make the spice rub. Add the salt, pepper, paprika, cayenne, garlic powder, onion powder, and Chinese 5-spice to a shallow bowl and mix well.
Season the fish. Place the fillets in the bowl, and press them into the spice mixture. Make sure both sides of the fish are well coated.
Cook. Heat the oil in a heavy-bottomed skillet over high heat. Add the fish and cook for 3 minutes, then flip and cook for 3 more minutes.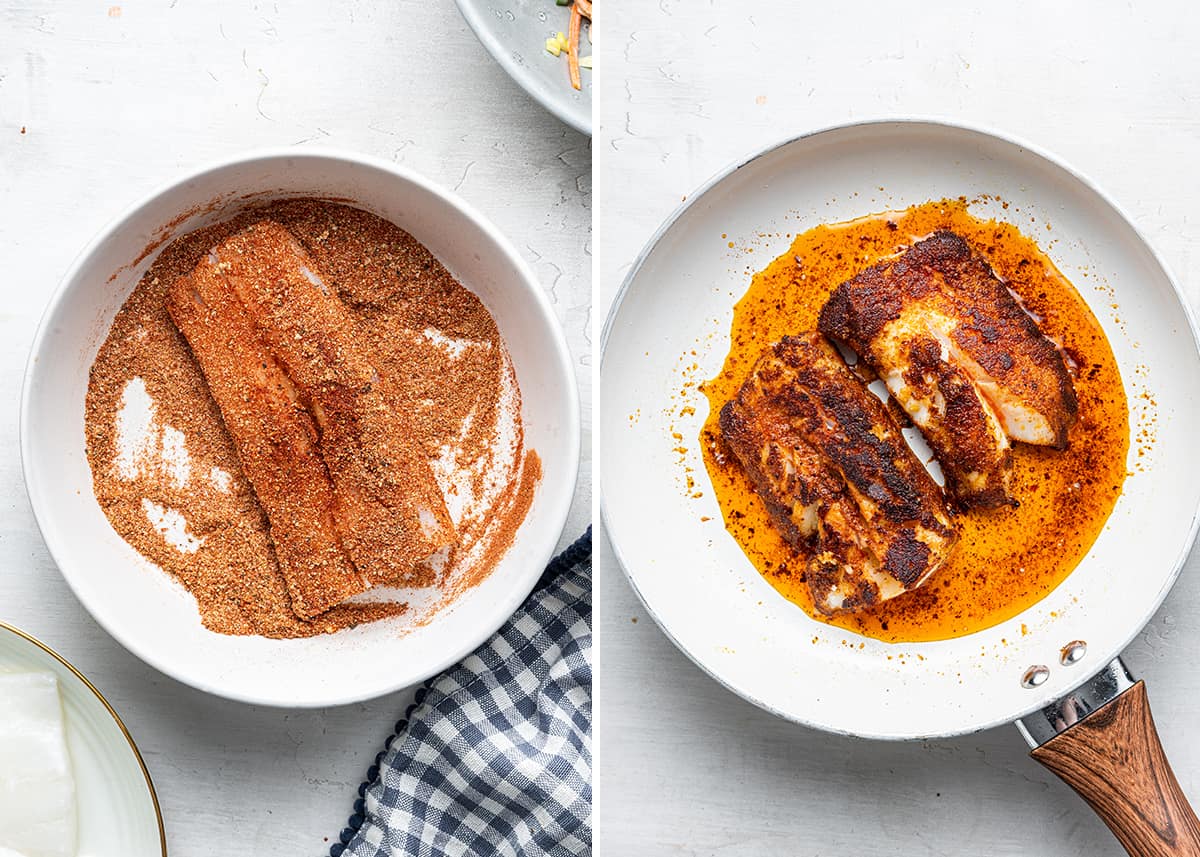 Flake. Use a fork to flake the fish.
Assemble. Divide the mahi-mahi between the tortillas, then top with the Asian slaw and serve.
Tips for Success
Here are a few different tricks and tips to help you make the best possible blackened mahi-mahi fish tacos.
Let it rest. After you cook the fish, let it rest for 2-3 minutes before you flake it. By letting the fish rest, the mahi-mahi will reabsorb its juices, and won't dry out when you flake it. But don't let the fish rest for too long or it will get cold.
Garnish. Tacos are always best when served with some nice toppings. You can add whatever your favorite fish taco garnishes are, including cilantro, jalapeños, salsa, guacamole, avocado, radishes, and lime.
Heat the tortillas. Anytime I make tacos I heat the corn tortillas before serving. When you heat tortillas, you remove some of the raw corn flavor that they have. It also improves the texture of the tortillas and makes it so they won't tear as easily.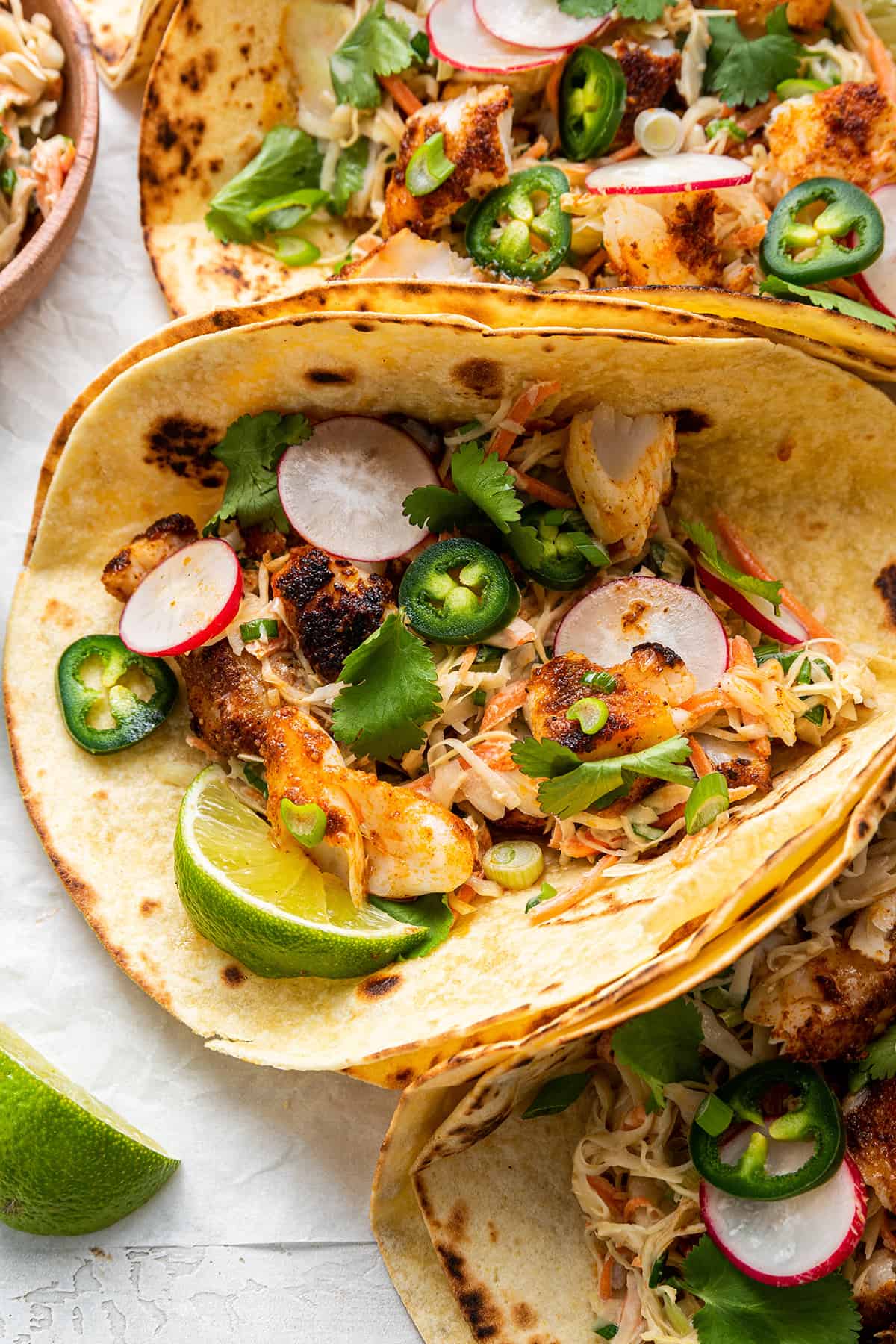 Serving Suggestions
These fish tacos are part Mexican and part Asian. So I like to serve them with either some fun Mexican sides or some fun Asian sides. Here are a few of my favorite dishes to serve with mahi-mahi tacos.
How to Store Leftovers
I don't recommend storing these tacos in the fridge for more than a few hours. After that, the liquid from both the fish and slaw will make the tortillas soggy. However, you can keep the cooked mahi-mahi in the fridge for up to 3 days, as long as it's stored in an airtight container.
Can This Recipe Be Frozen?
Blackened fish tacos shouldn't be frozen, for the same reason you shouldn't keep them in the fridge. The tortillas will just get way too soggy. But you can keep leftover fish in the freezer for up to 3 months if you store it in an airtight container.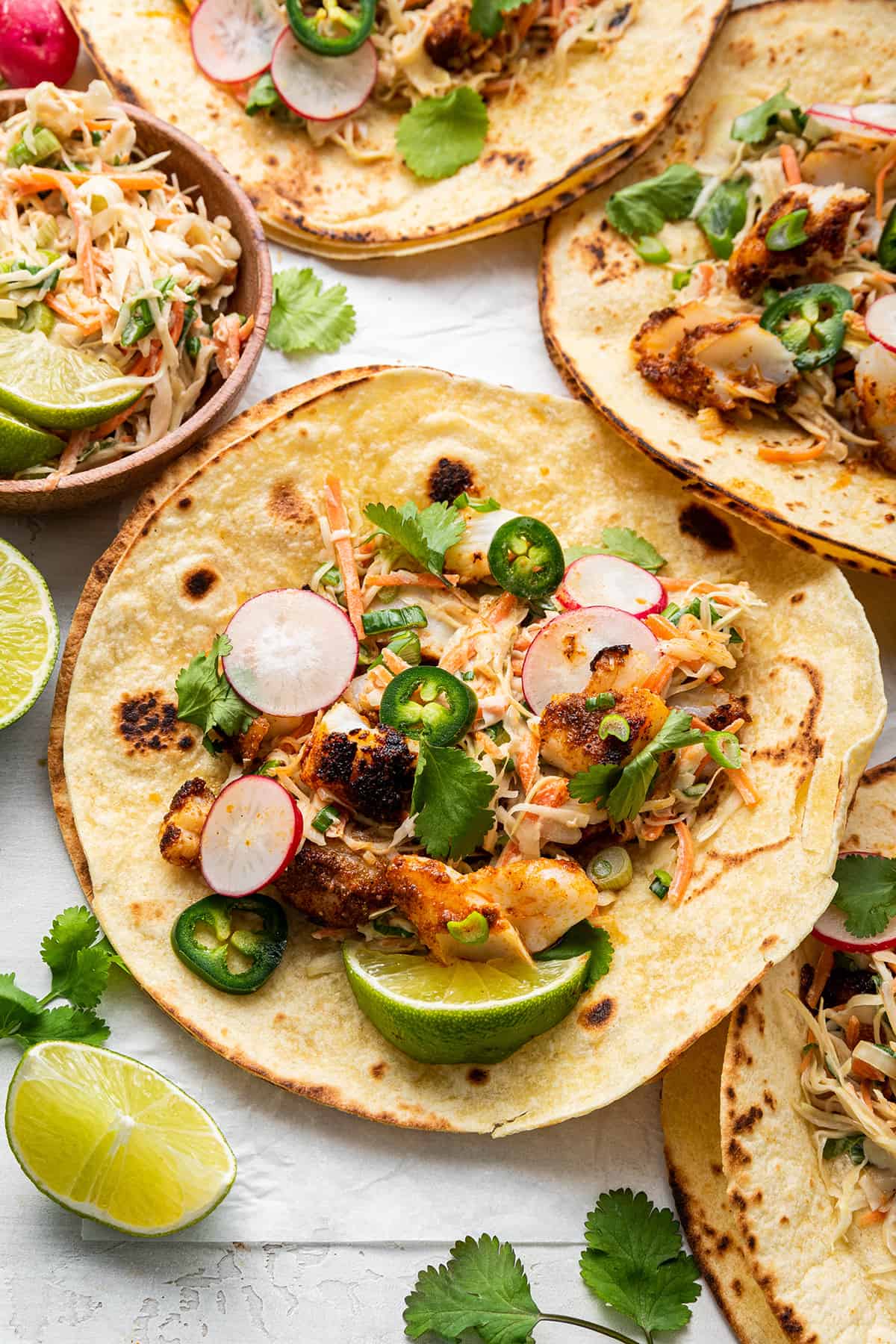 More Easy and Healthy Fish Recipes
Fish is such a healthy protein. If you love it as much as I do, then you've got to try out some more of my favorite fish recipes.
Blackened Fish Tacos
These easy blackened fish tacos are filled with tender and juicy mahi-mahi, and a spicy and complex spice rub. They're healthy, delicious, and only take 20 minutes to make.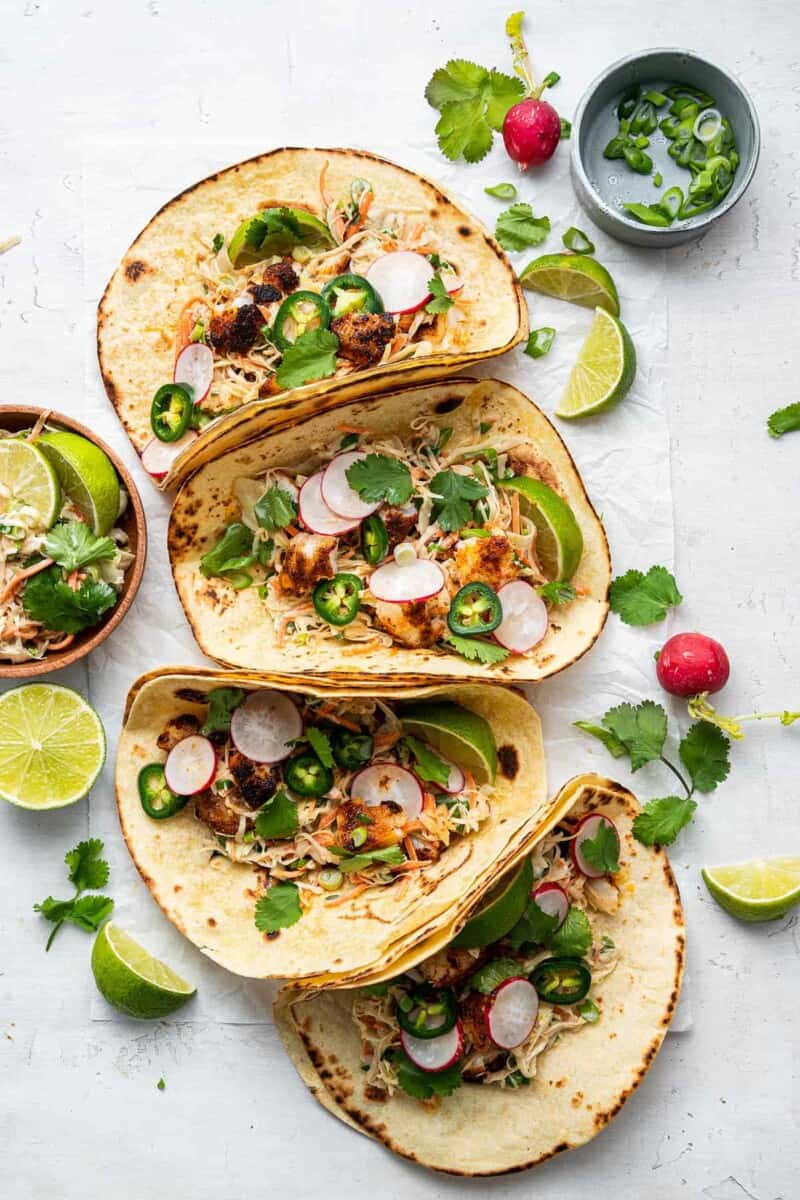 Instructions
In a large, shallow bowl, mix together the sea salt, ground black pepper, smoked paprika, cayenne, garlic powder, onion powder, and Chinese 5-spice powder.

Press the mahi-mahi fillets firmly into the spice mixture; first on one side and then on the other.

In a large, heavy-bottomed skillet, heat the avocado oil over high heat.

Add the mahi-mahi to the pan and cook for 3 minutes before flipping and cooking for an additional 3 minutes. You will know that the fish is done when it starts to flake apart a bit when poked with a fork.

Flake the fish apart and divide it between the corn tortillas.

Top with Asian slaw and serve.
Notes
Store leftover mahi-mahi in an airtight container in the fridge for up to 3 days, or in the freezer for up to 3 months. 
Nutrition
Serving:
2
tacos
|
Calories:
335
kcal
|
Carbohydrates:
26
g
|
Protein:
35
g
|
Fat:
10
g
|
Saturated Fat:
1
g
|
Polyunsaturated Fat:
2
g
|
Monounsaturated Fat:
6
g
|
Cholesterol:
124
mg
|
Sodium:
757
mg
|
Potassium:
887
mg
|
Fiber:
4
g
|
Sugar:
1
g
|
Vitamin A:
1277
IU
|
Vitamin C:
0.5
mg
|
Calcium:
82
mg
|
Iron:
3
mg
Filed Under: