This chocolate avocado mousse recipe is a fun and healthy way to have dessert. Rich, smooth, and creamy, this decadent treat tastes like a million bucks and is good for you too!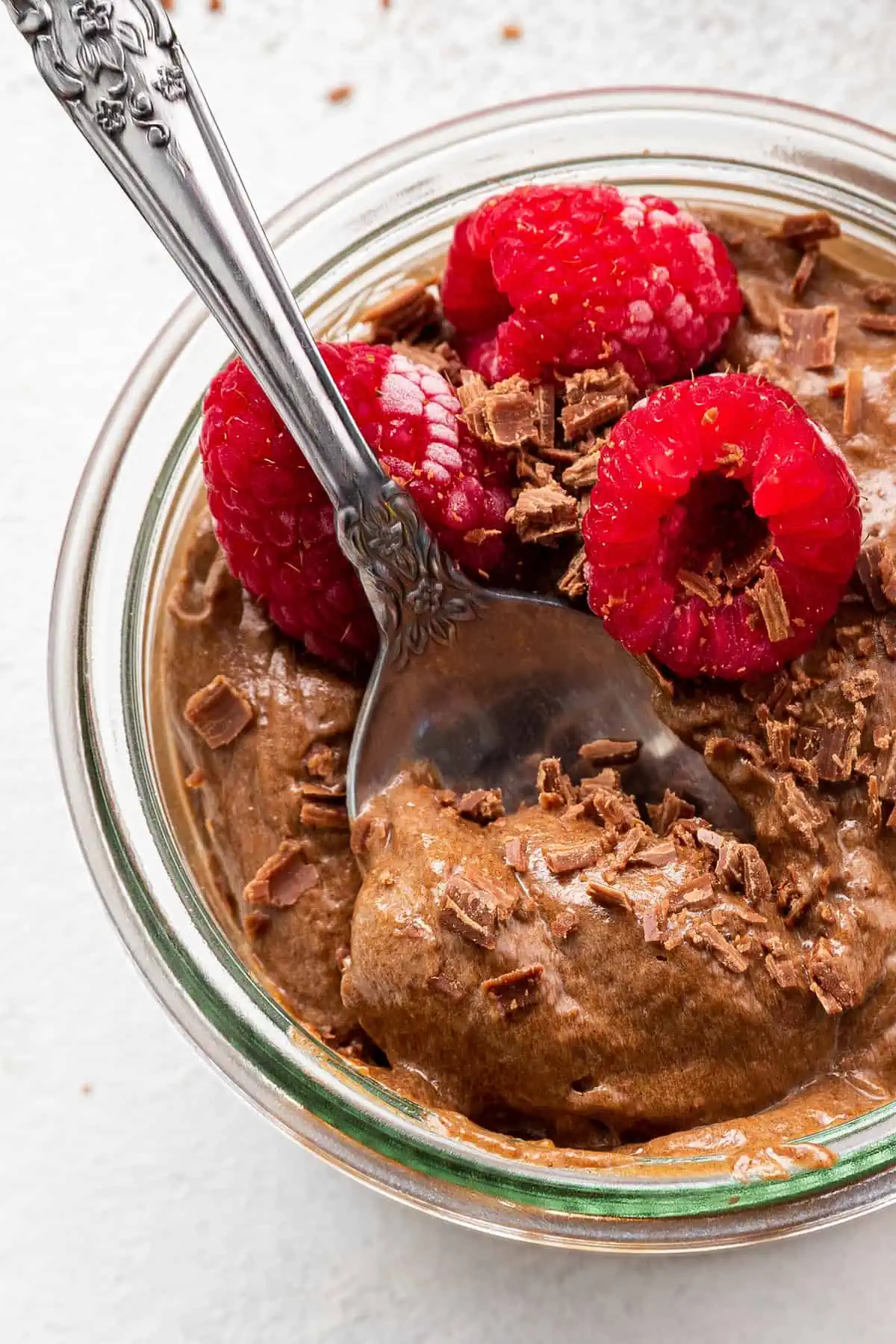 I'm always on the search for healthy desserts. They're such a great treat to have at the end of the day. One of my favorites? Vegan avocado mousse. Avocados are rich and full of healthy fats. That makes them the perfect base for a health-conscious dessert. And even though avocados are usually used for savory foods, they go so well with sweet ingredients like berries, fruits, and chocolate.
You can add pretty much any flavors you want to a sweet vegan avocado mousse. Today we are going to make chocolate avocado mousse because, I mean, chocolate! I don't know about you but when I feel like treating myself chocolate is the first flavor that comes to mind.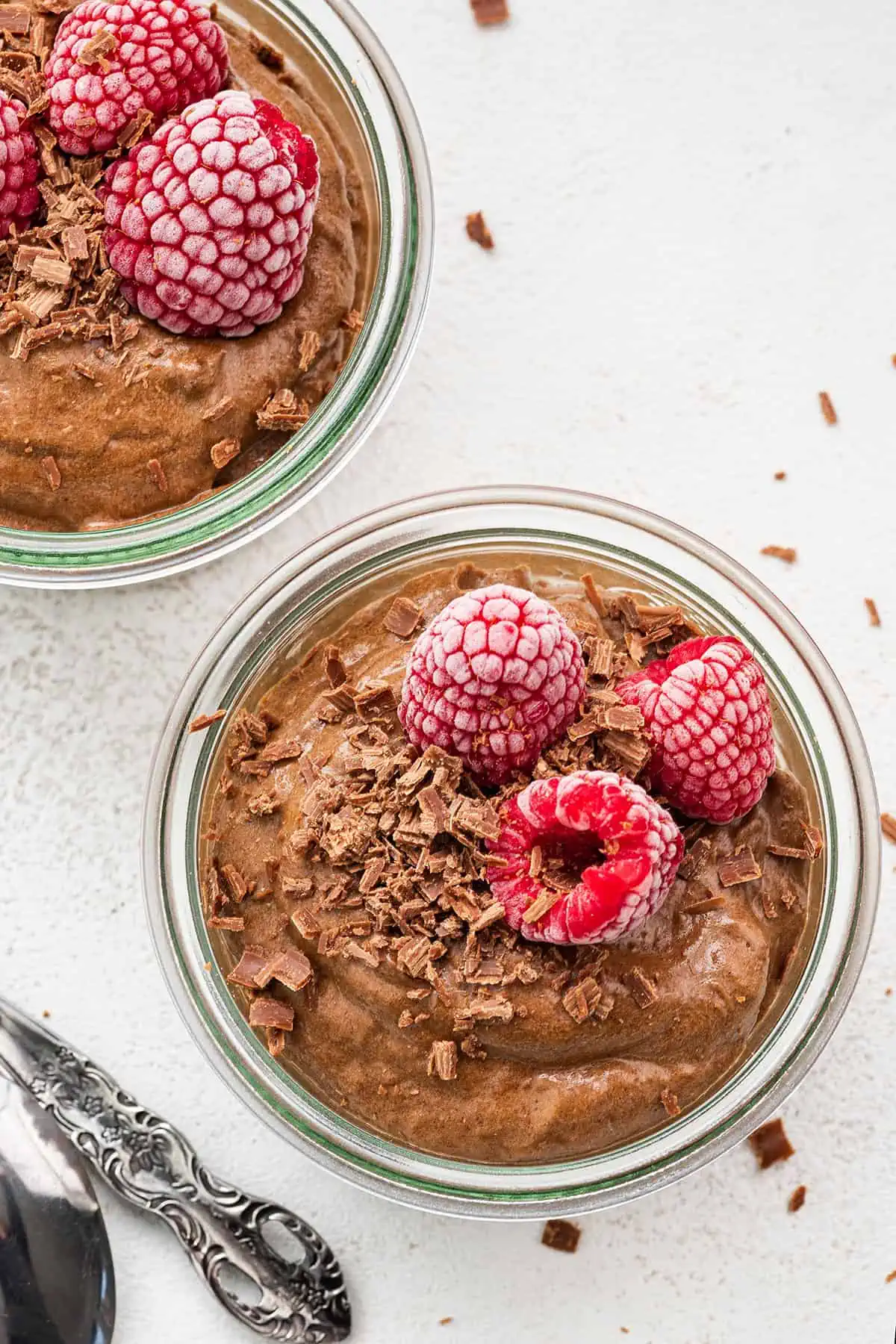 Why You'll Love This Avocado Mousse Recipe
I make vegan avocado mousse all the time. Here's why I think you'll love it, too.
Healthy. This recipe isn't just "healthy for a dessert." It's flat-out healthy! It's dairy-free, and the only fats are the healthy fats that come from avocados. It also has no processed sugar. Fruits and maple syrup provide all of the sweetness.
Easy. This recipe can be made in just 5 minutes. It has only a few ingredients and requires minimal equipment. You can whip it up at any time!
Storable. Vegan avocado mousse tastes just as good out of the fridge as it does freshly made. I like to make a big batch to eat throughout the week.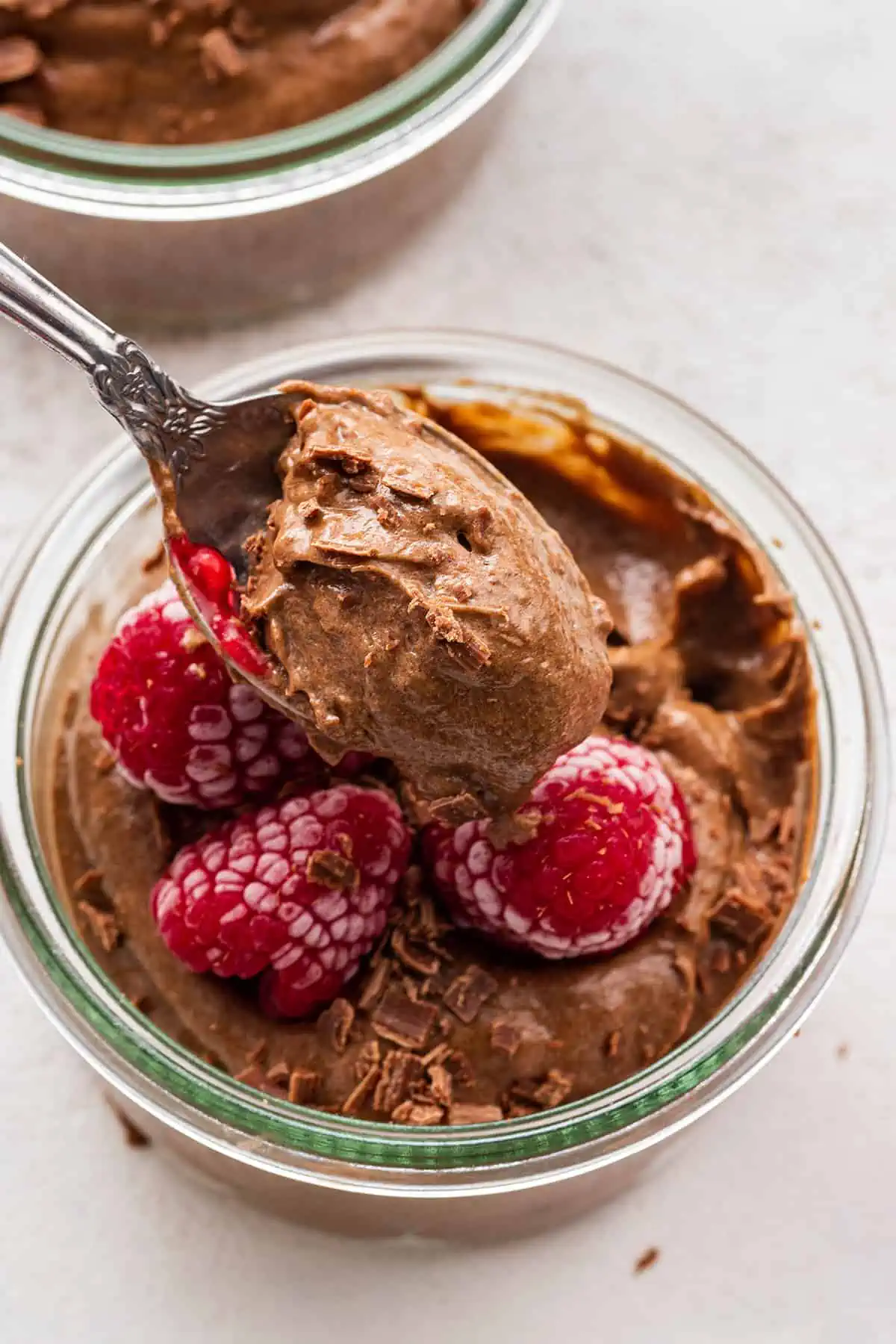 What Does Avocado Mousse Taste Like?
This dark chocolate avocado mousse is super rich. It uses cacao powder for the bitter chocolate flavor, and dates for sweetness. Between the avocado and the non-dairy milk, this mousse is incredibly creamy. You wouldn't be able to tell that it's vegan!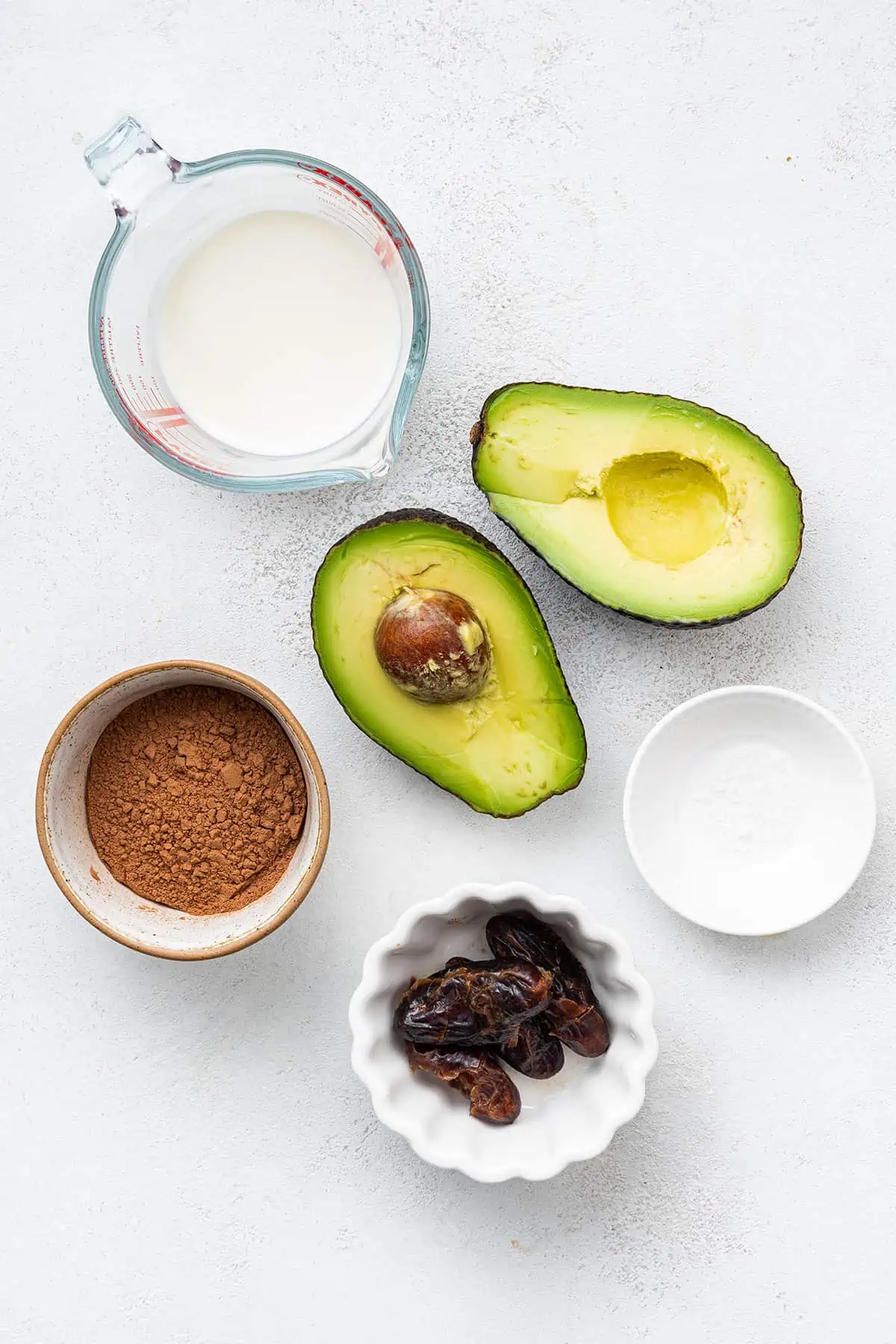 What You'll Need
Here are the ingredients for dark chocolate avocado mousse. Check out the recipe card below for the exact amounts of each ingredient.
Avocado
Pitted dates – The dates need to be soaked for 15 minutes before making this recipe.
Raw cacao powder
Non-dairy milk – You can use any type of vegan milk that you like, just make that sure it's unsweetened and unflavored.
Salt – This is optional but I recommend it.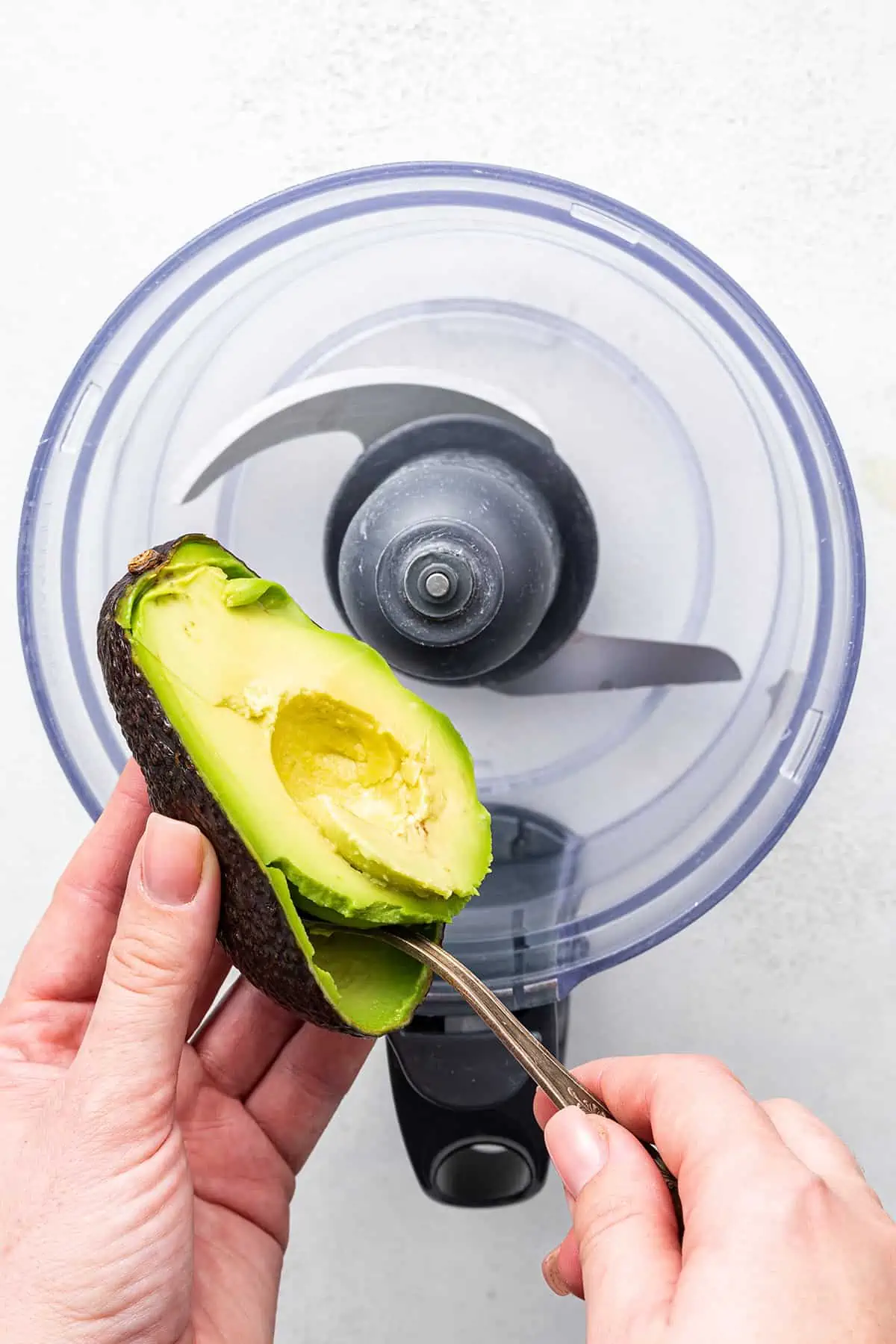 How to Make Avocado Mousse
Here's how to make this decadent mousse. You'll be amazed by how easy it is to make this healthy dessert idea!
Add the ingredients. Place all of the ingredients in a food processor.
Blend. Turn on the food processor and process until the mousse is smooth.
Serve. Spoon the mousse into a serving dish and top it with your favorite toppings. I love raspberries, blackberries, pecans, coconut flakes, and vegan chocolate shavings on this mousse.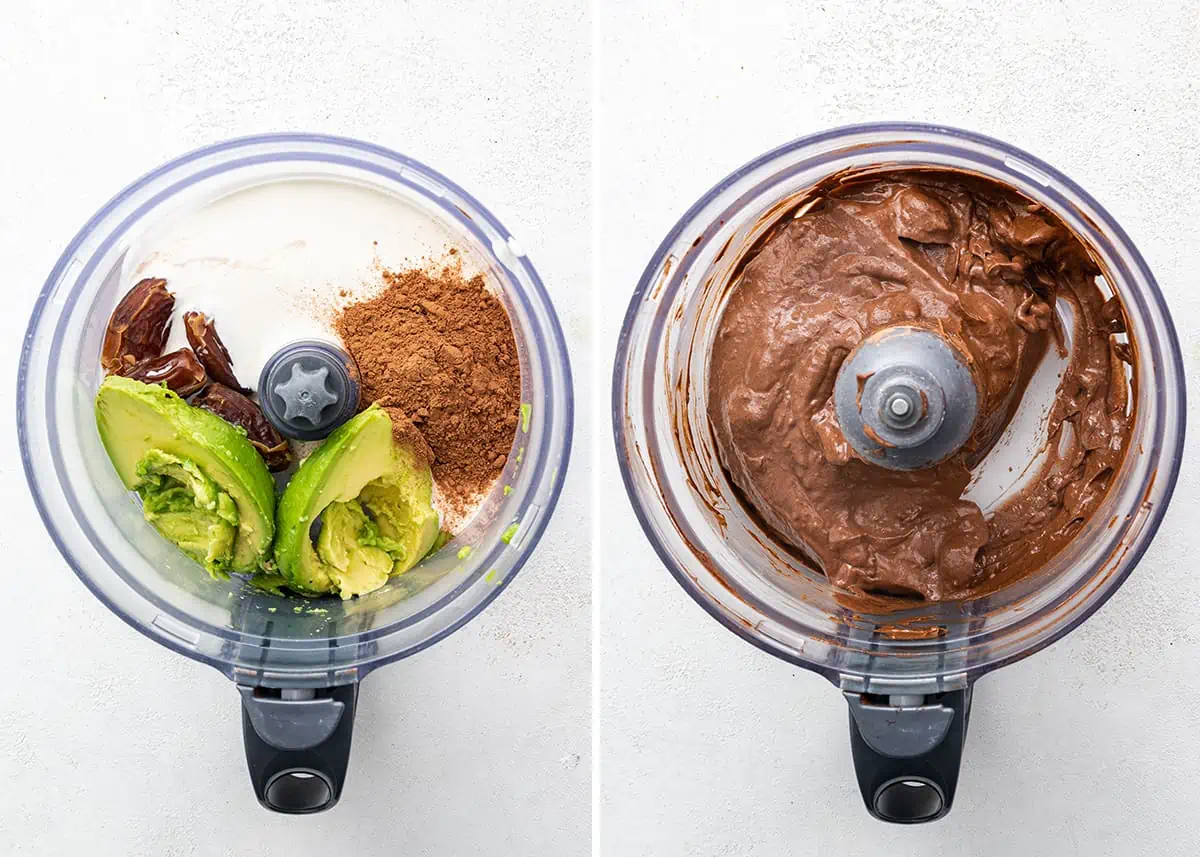 Tips for the Best Avocado Mousse
Here are a few tips and tricks for when making this easy dessert:
Use ripe avocados. Always try to use ripe avocados for an avocado mousse. The texture will be much better, and the flavor will be, too.
Adjust the flavors. Avocados can vary a little bit in taste. After you've made the recipe, taste the vegan mousse. You might need to add a little bit more of an ingredient to get the flavors perfect.
Topping Ideas
The best way to take a vegan avocado mousse to the next level is by adding your favorite toppings. Here are some of my favorite ideas:
Fresh fruit: Any kind of berry, sliced fresh peach, sliced mango, or fresh banana slices.
Chocolate shavings: Grab your favorite bar of chocolate and shave some of it on top of your mousse just before serving.
Granola: You can add a spoonful of granola on top for a crunchy and healthy mix-in.
Coconut: Add a sprinkle of unsweetened or sweetened coconut flakes, according to your preferences.
Whipped cream: I love a dollop of whipped cream with this mousse. This homemade coconut whipped cream is delightful with chocolate desserts!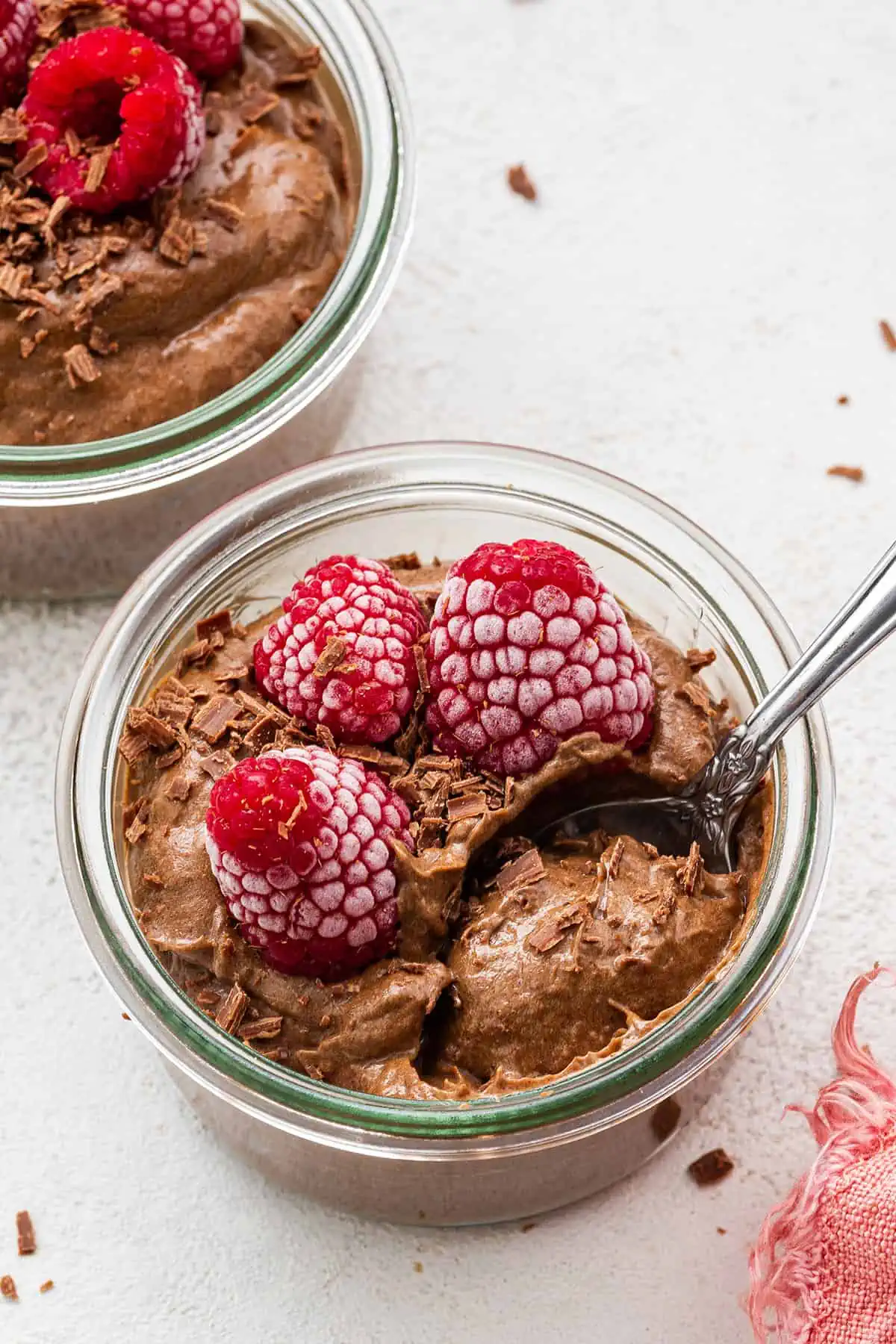 How to Store
This vegan avocado mousse can be stored in an airtight container in the fridge. It will be good for up to 4 days. Just give it a good stir, scoop your desired amount, and add toppings!
Can I Freeze It?
Absolutely! This mousse will last in the freezer for up to 3 months. Store in an airtight container, and thaw overnight in the fridge before eating.
Dark Chocolate Avocado Mousse
This dark chocolate avocado mousse is decadent but healthy. It has a strong chocolate flavor, but only takes 5 minutes to make.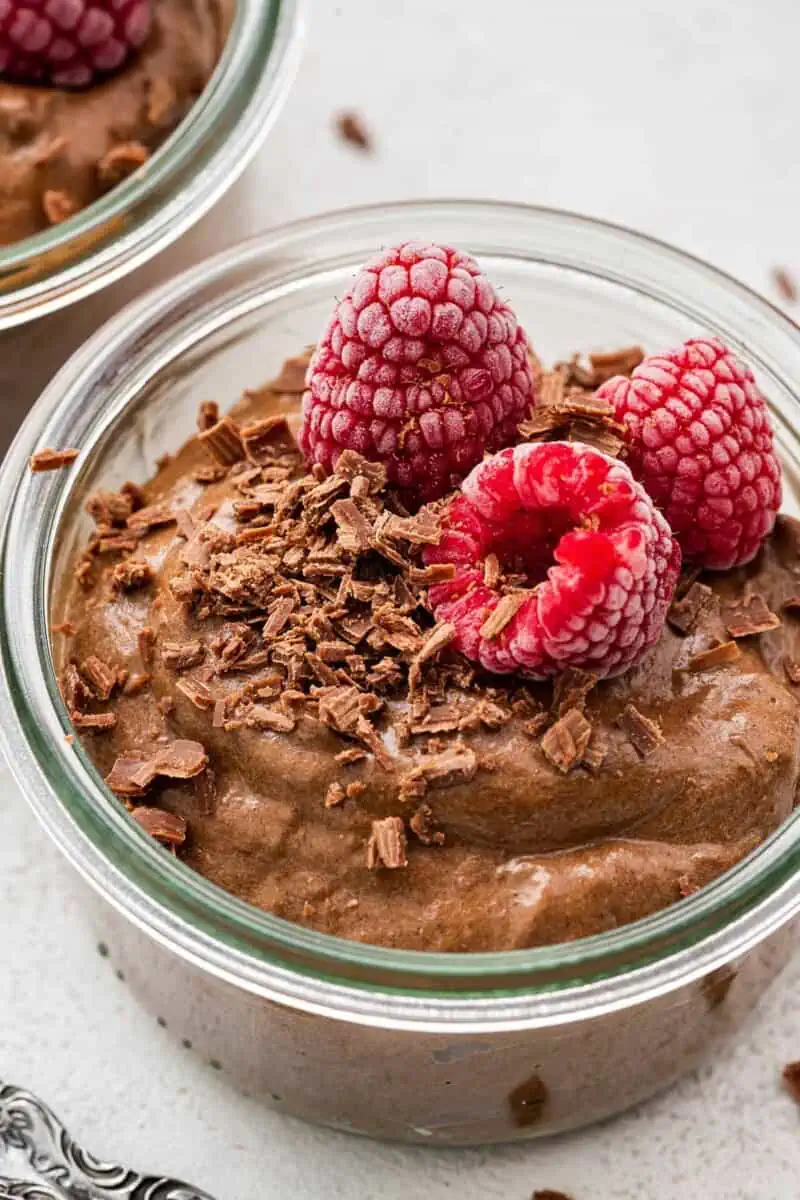 Instructions
Add all ingredients to a food processor and blend until completely smooth.

Spoon into serving dishes and top with your favorite ingredients!
Notes
If you want to skip out on the dates, feel free to remove them and swap the milk for equal parts maple syrup.
Store in an airtight container in the fridge for 4 days, or in the freezer for 3 months. 
Nutrition
Calories:
229
kcal
|
Carbohydrates:
25
g
|
Protein:
4
g
|
Fat:
16
g
|
Saturated Fat:
3
g
|
Sodium:
50
mg
|
Potassium:
743
mg
|
Fiber:
11
g
|
Sugar:
9
g
|
Vitamin A:
145
IU
|
Vitamin C:
10.1
mg
|
Calcium:
69
mg
|
Iron:
2.2
mg
Filed Under:
More Healthy Dessert Ideas
If you liked these vegan avocado mousses, then check out some of my other go-to healthy dessert ideas.