These gluten-free rice crispy treats are not only healthy, but also easy to make! They use just 3 simple ingredients and don't use marshmallows!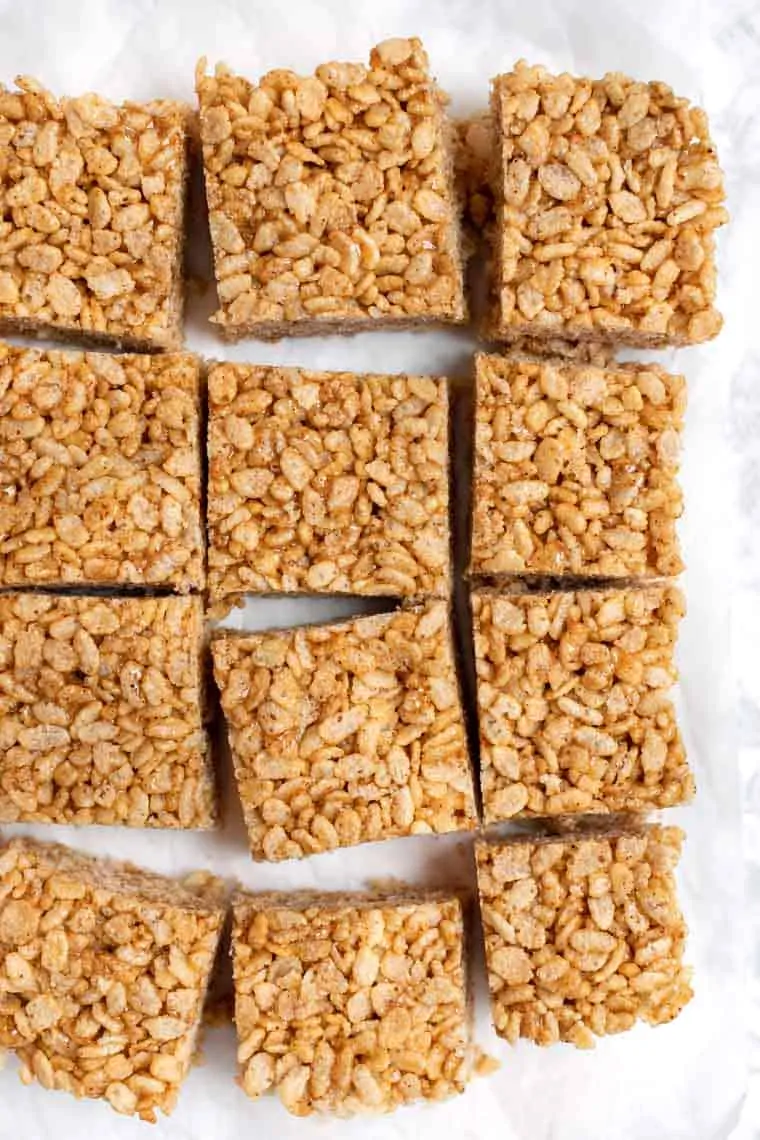 One of the very first dessert recipes I came up with when I first started SQ were these cute little rice crispy treats. Back then, I was trying to cut back on my refined sugar and wanted to come up with a way to make rice crispy treats without using marshmallows.
The trick? Honey.
This recipe uses just three simple ingredients, is naturally gluten-free and, just like traditional rice crispy treats, are a cinch to make.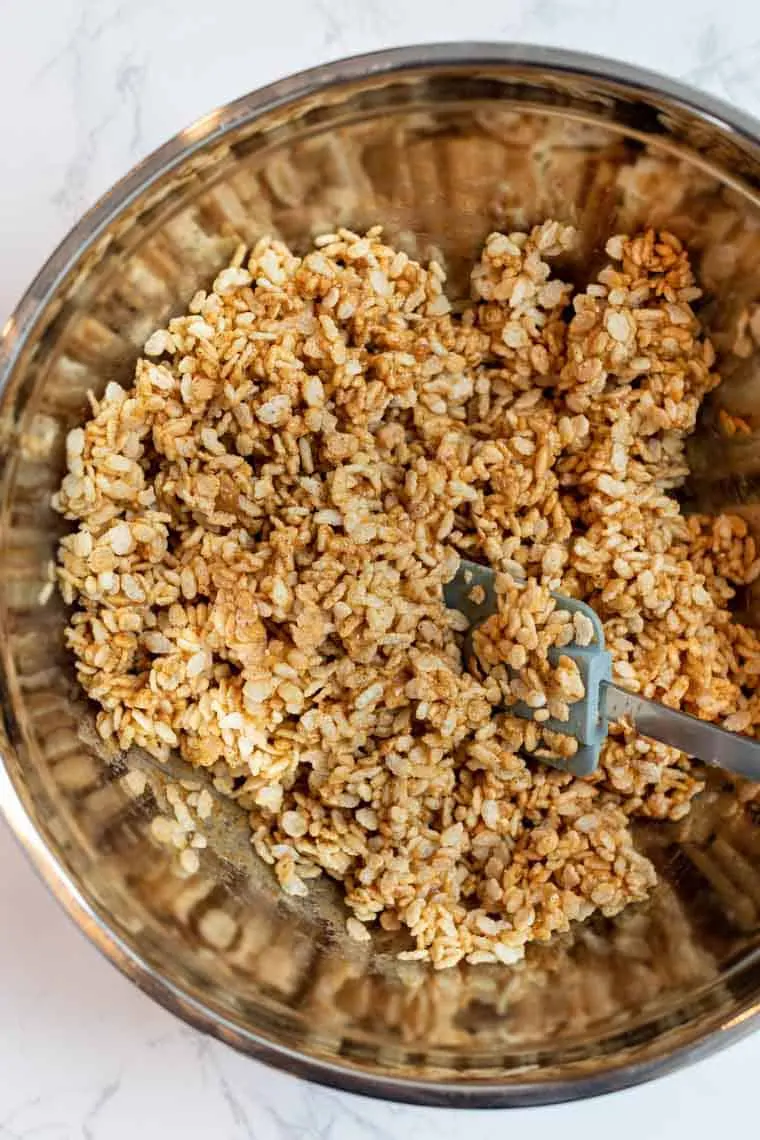 Ingredients for Gluten-Free Rice Crispy Treats
What I love about rice crispy treats is their ingredient list. Not necessarily what the ingredients are, but how many. You don't often have a dessert that uses just two ingredients!
For my recipe, we're increasing that just slightly. We've got 3 ingredients instead of two, but that's still pretty darn good!
Here's what we're using in our recipe:
Crispy Brown Rice Cereal: I personally use brown rice because it's just a bit more healthy, but you could use any type of crispy rice cereal you can find. If you're making gluten-free rice crispy treats though, just make sure you get gluten-free ones! (I like these from Whole Foods)
Honey: I chose to use honey here for two reasons: it's thick and stickier than maple syrup so it will help hold the ingredients together and it's sweet, making the treats taste more like dessert.
Almond Butter: I wanted to make them a bit healthier and found that almond butter (or really any nut butter) is an easy way to cut back on the sugar and increase the protein/healthy fats a bit.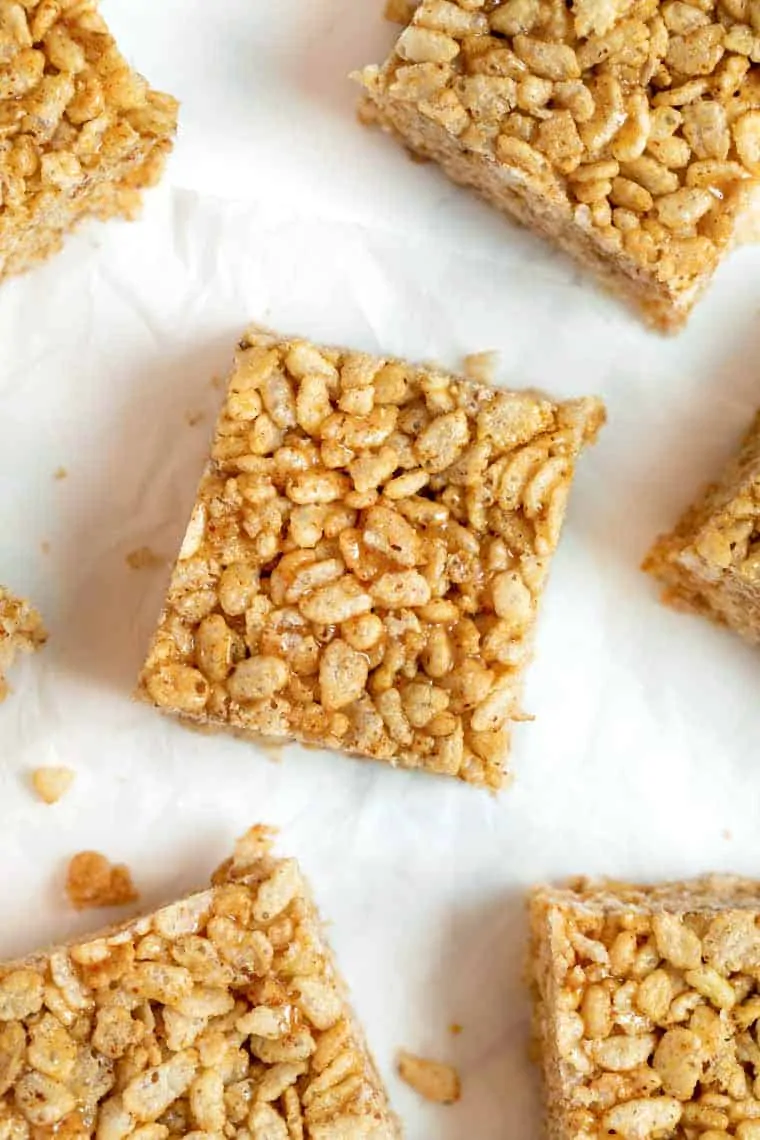 How to Make Healthy Rice Crispy Treats
Similar to traditional rice crispy treats, this option uses just a few steps.
STEP ONE
We start by melting together our honey and almond butter. You're going to want to let the ingredients melt together, but also cook for a bit to help the sugars in the honey start to caramelize. This will also help the cereal all hold together.
STEP TWO
From there, you're going to pour the warm liquid over the rice cereal and stir it all together with a rubber spatula.
STEP THREE
The final step – which can be a bit sticky (!) – is to transfer the rice crispy "dough" into a baking pan. Since this recipe isn't getting baked, you're going to have to press it into the pan with your hands. You want to press it down really firmly so that everything will stick together as it chills.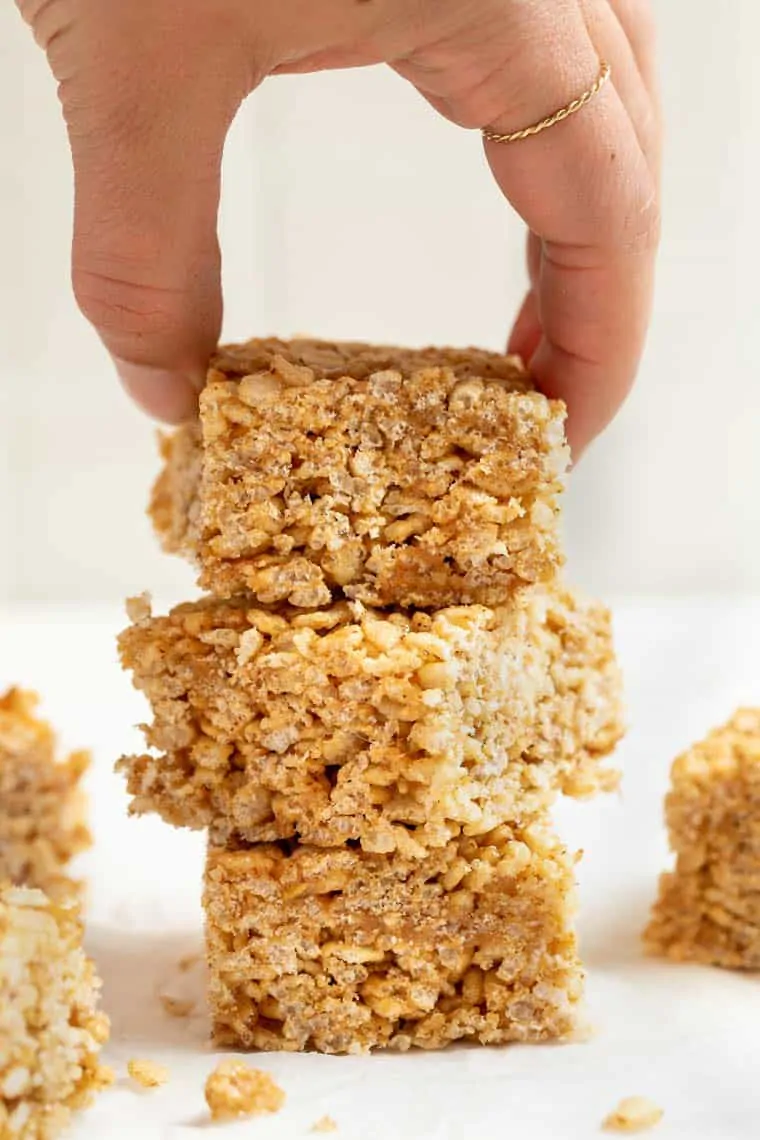 Easy Rice Crispy Treats without Marshmallows
Since I know there are so many people who are also avoiding refined sugar but still want healthy treats, these rice crispy treats are literally perfect.
They're made without any marshmallows!
Are you vegan? If so, you can swap the honey with brown rice syrup. I don't think maple syrup or agave will work because of the consistency, but brown rice should do the trick!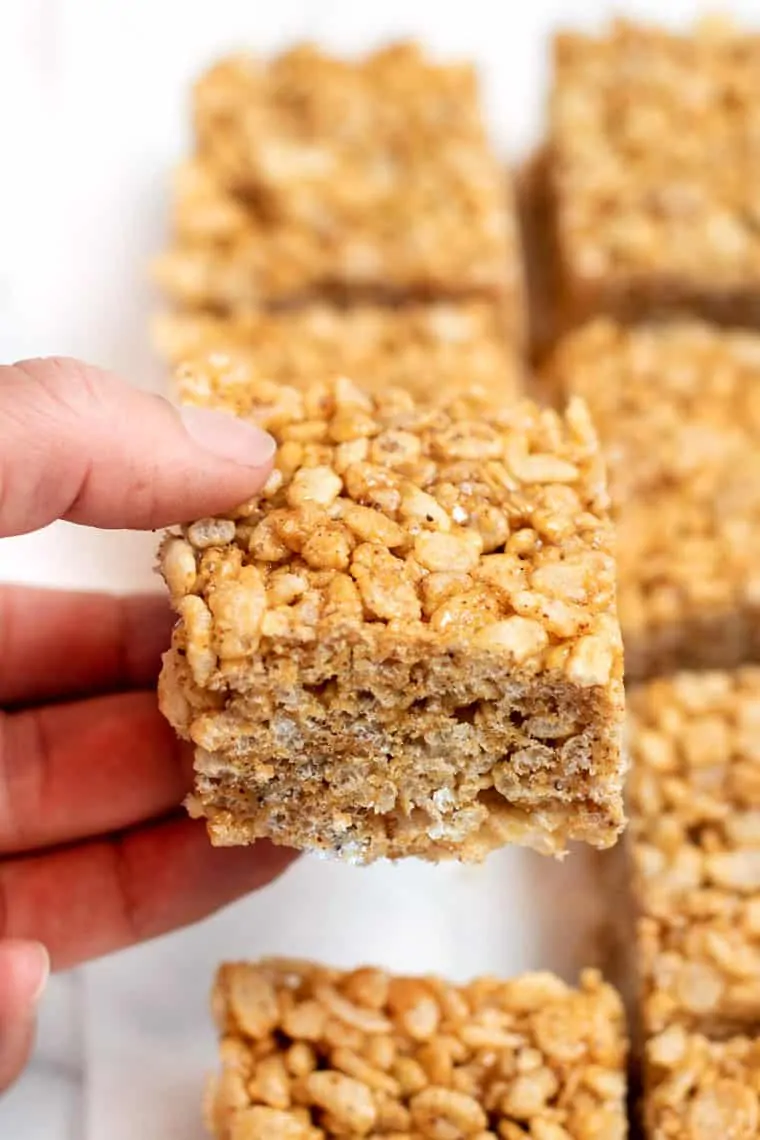 Ideas for Jazzing Up Your Rice Crispy Treats
Last but not least, let's talk about some ways that you can make these rice crispy treats a bit more interesting. Here are some of my favorite ways to jazz up these gluten-free rice crispy treats:
Peanut butter: if you're a peanut butter lover, feel free to swap the almond butter with peanut butter. That should give you a subtle peanut butter flavor!
Chocolate: want to make them a bit more decadent? A drizzle (or coating) of chocolate should do the trick! Simply melt some dark chocolate (or chocolate chips) and either drizzle them or spread them on top. Let the chocolate cool and then slice them into squares!
Cake batter: want something a little more whimsical? Swap the almond butter for cashew butter, mix in some sprinkles and then finish them off with a drizzle of coconut butter and more sprinkles. Now that I'm thinking about it..should I make these for the blog?! Let me know in the comments!
Mix-ins: And finally, you can add things into the mix if you want! Shredded coconut, chopped chocolate, chopped nuts, etc., can all be added into the mixture before cooling.
Are you excited to try this recipe? I sure hope so! These are a dessert that I know you (and your whole family) will love. I made them for my family and they devoured them – which isn't always the case. Seeing Matt sneak into the fridge for multiple throughout the day? That's when I know a recipe is reallllly hitting the mark!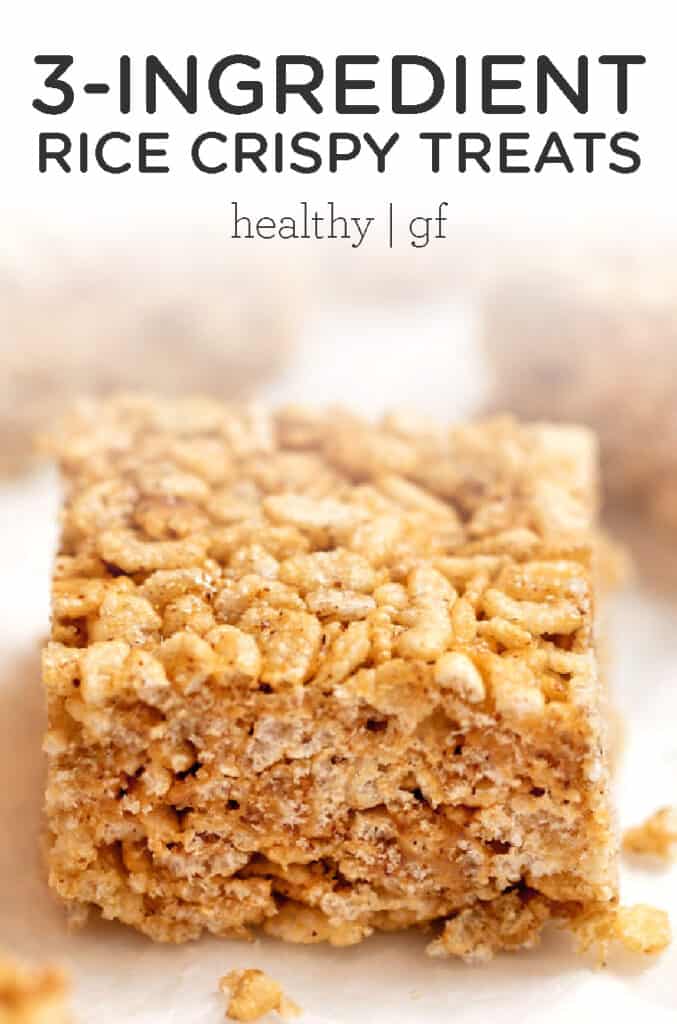 More Easy Gluten-Free Dessert Recipes
3-Ingredient Gluten-Free Rice Crispy Treats
These gluten-free rice crispy treats are not only healthy, but also easy to make! They use just 3 simple ingredients and don't use marshmallows!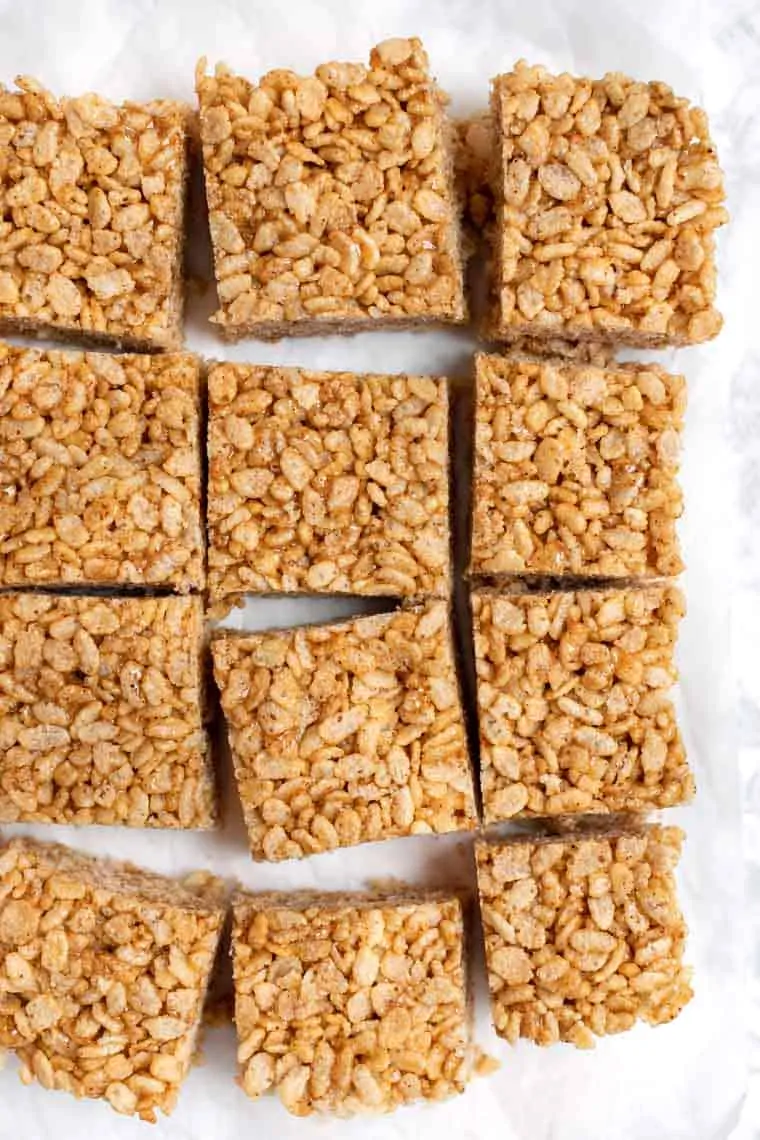 Instructions
Add the rice crisps into a large mixing bowl. Set aside.

In a small saucepan, add the honey and almond butter. Turn the stove onto medium and start to heat up the mixture. Whisk it all together until the mixture is melted together. Allow the mixture to come to a slight boil and cook it for about 30 seconds. Remove it from the heat then pour the mixture over the cereal.

Using a plastic spatula, stir everything together until the almond butter/honey mixture coats all of the cereal. Once combined, pour the cereal mixture into a 9x9 pan.

Press the mixture firmly into the pan using damp hands. Then use a flat bottomed jar or glass and press everything as firmly down as possible. Press, press, press!

Place the rice crispy treats in the fridge for at least 1 hour.

When ready to serve, slice the crispy treats into squares. Store in the fridge for 5 - 7 days.
Nutrition
Serving:
1
square
|
Calories:
87
kcal
|
Carbohydrates:
15
g
|
Protein:
2
g
|
Fat:
3
g
|
Saturated Fat:
1
g
|
Sodium:
1
mg
|
Potassium:
51
mg
|
Fiber:
1
g
|
Sugar:
9
g
|
Vitamin C:
1
mg
|
Calcium:
19
mg
|
Iron:
1
mg
Filed Under: