Ras el hanout is a Moroccan spice blend that's spicy, bitter, and super unique. It's so tasty and easy to make at home.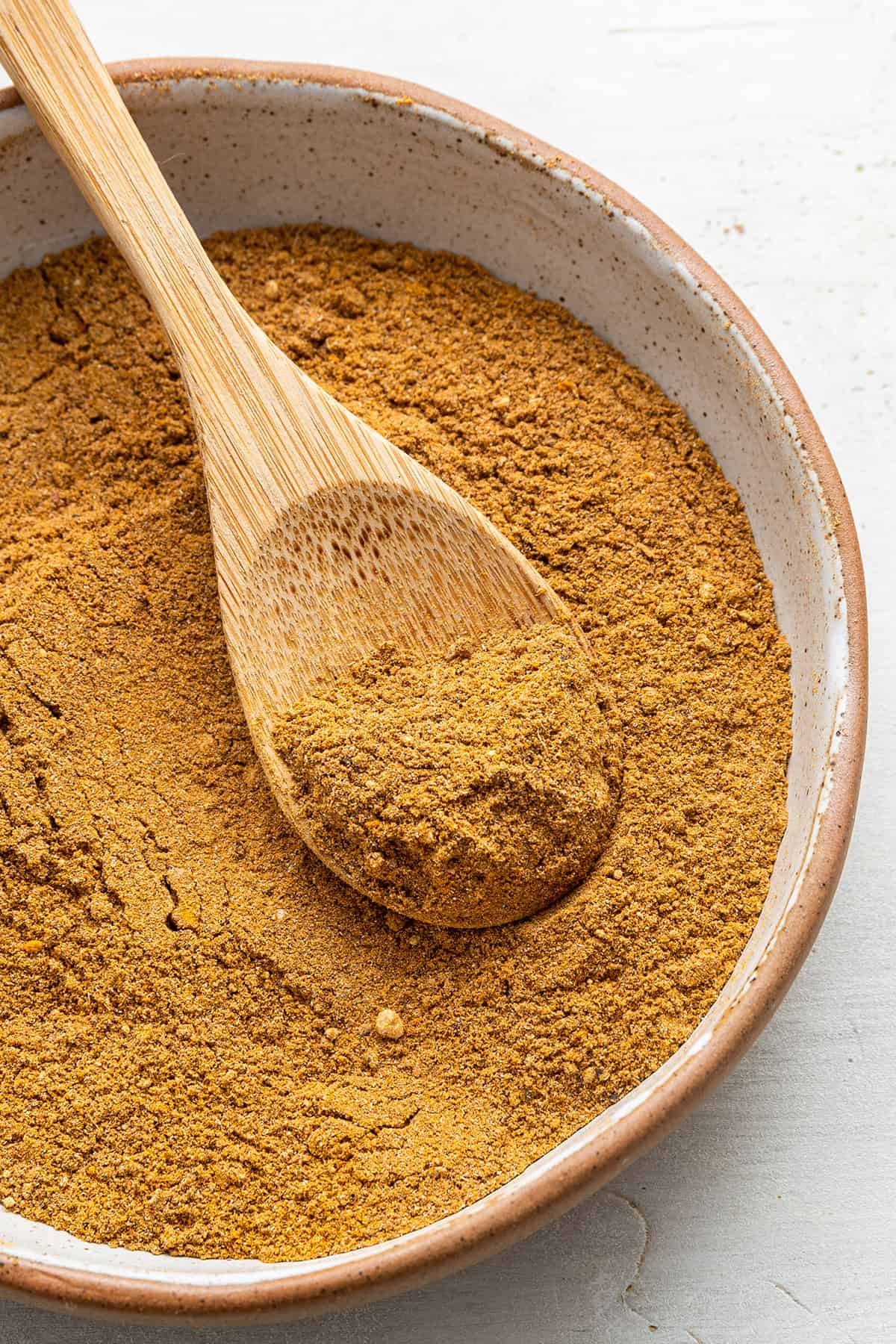 If you know me, then you know that I love to use a lot of spices and seasonings when I cook. And I really love to use spice blends, because they're such an easy way to get a ton of flavor in your dishes. I keep a lot of different spice blends in my kitchen, and ras el hanout has quickly become one of my favorites.
A lot of people aren't very familiar with ras el hanout. Even when I'm with other food lovers and home cooks, a lot of people don't know what it is, or how to use it. So I thought I'd answer all of the common questions about this amazing spice blend, and share my recipe for how to quickly and easily make it home. You've definitely got to add this ingredient to your spice rack!
What is Ras el Hanout?
Ras el hanout is a spice mixture named for an Arabic term that translates to "head of the shop." It basically means that this spice blend is made up of the best possible ingredients. It's a complex and incredibly flavorful spice mixture that has warm spices, bitter spices, and spices that carry a lot of kick.
What is it Made Out Of?
This spice blend is usually made up of a lot of different seasonings. But there are no specific spices that have to be in ras el hanout, and the exact recipe varies based on the region and who's making it. It always has some of the warm spices that we associate with fall cooking, such as cinnamon, nutmeg, allspice, and cloves. And it always has a spicy element, like black pepper and cayenne, as well as some bitter ingredients. There are dozens of different ingredients that are sometimes featured in this spice mixture.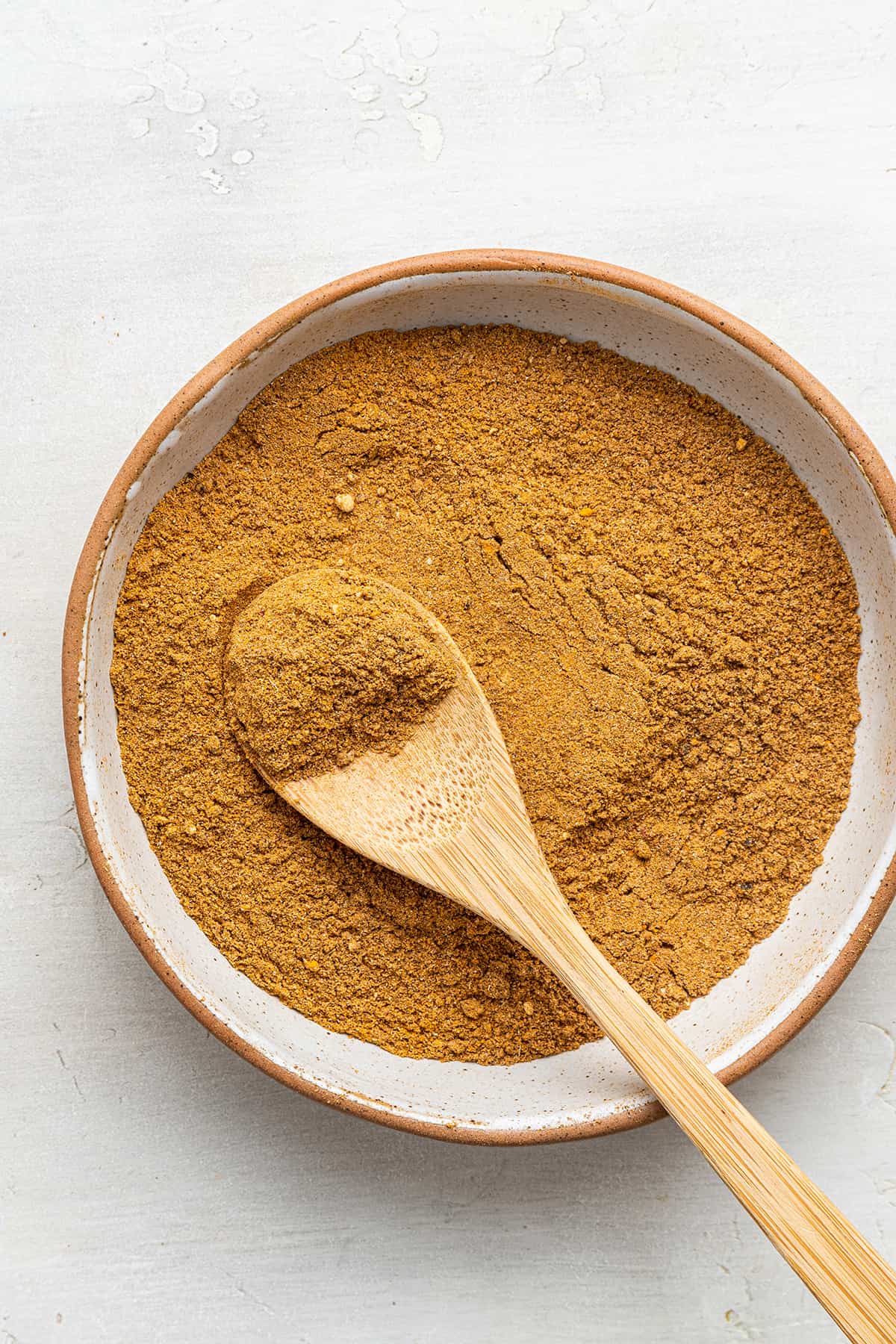 Where Does it Come From?
Ras el hanout originated in North Africa. It's very popular in Tunisia and Algeria but is most famously associated with Morrocan cuisine. Different regions in North Africa have different recipes and takes on this spice blend.
How Do You Use Ras el Hanout?
You can use ras el hanout in so many different ways. I love to use it in place of other spices when seasoning meat, fish, or vegetables. It's also great when mixed with rice, quinoa, couscous, or other grains and starches. And it's the perfect way to season a soup or a sauce.
What Does it Taste Like?
The flavor of this Moroccan seasoning can vary a little bit, but it always tastes very warm and earthy. It usually is fairly spicy, and it will have a lot of bitterness. It tends to have a bit of sweetness, too.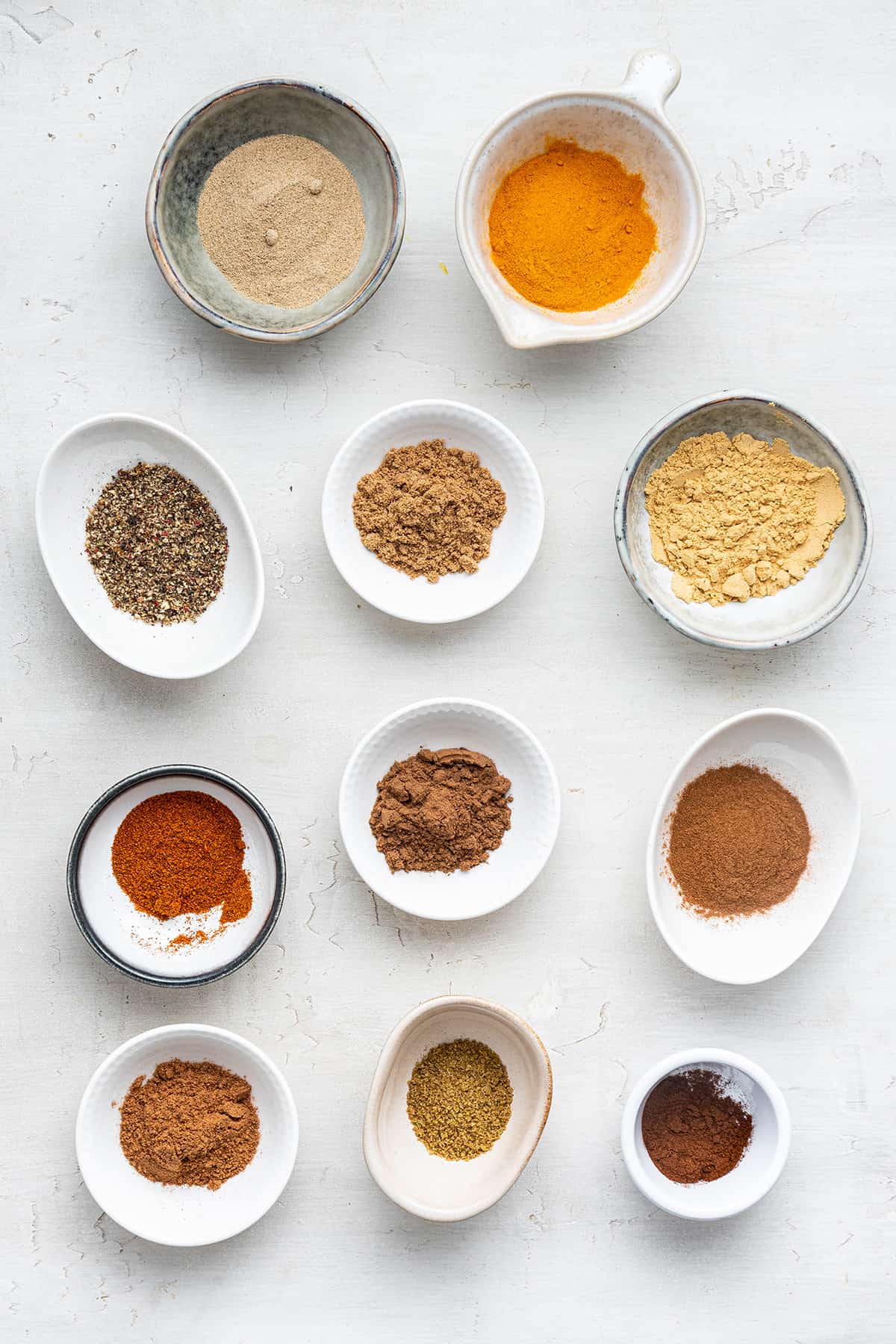 Ingredients Needed For Homemade Ras el Hanout
While you can buy ras el hanout, I recommend making this spice mixture yourself. Here are the ingredients that you'll need if you want to make it. Be sure to check out the recipe card at the bottom of the page to see the exact amounts of each ingredient.
Ground ginger
Ground cardamom
Ground allspice
Ground nutmeg
Cinnamon
Ground coriander
Turmeric
Black pepper – For best results use freshly cracked black pepper.
Cayenne pepper
Ground anise
Ground cloves
How to Make Ras el Hanout
Making this spice mixture is so easy. Here's how to do it.
Add the ingredients. Place all of the ingredients in a bowl.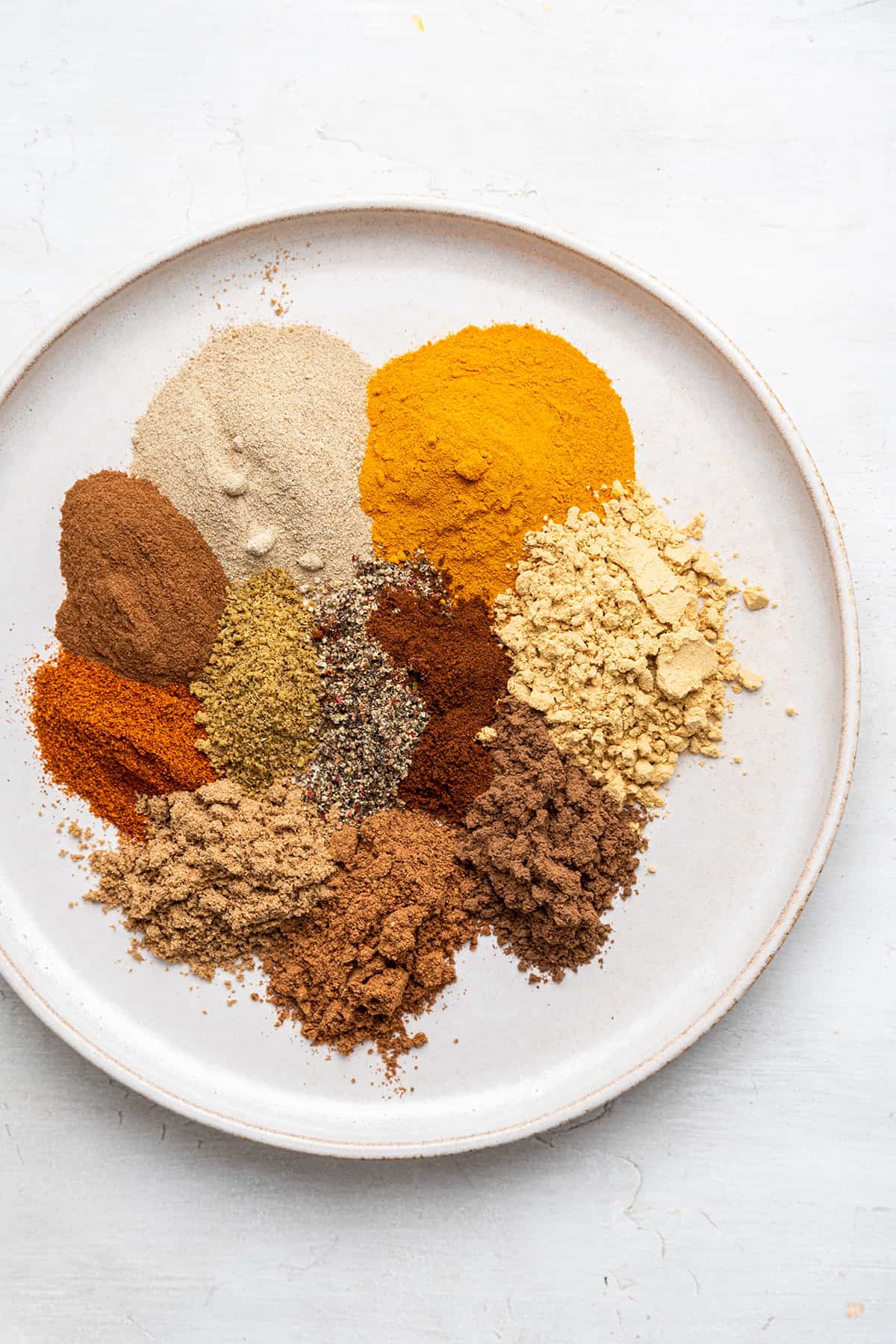 Mix. Use a whisk to mix the ingredients together thoroughly.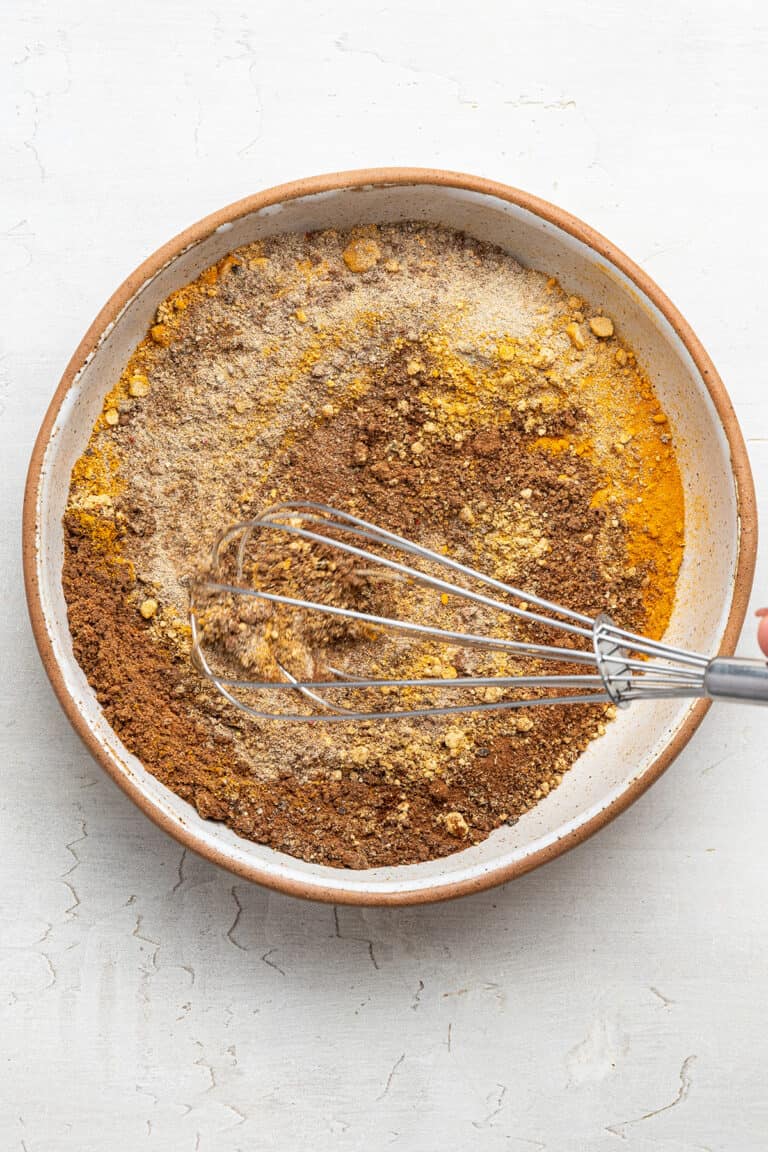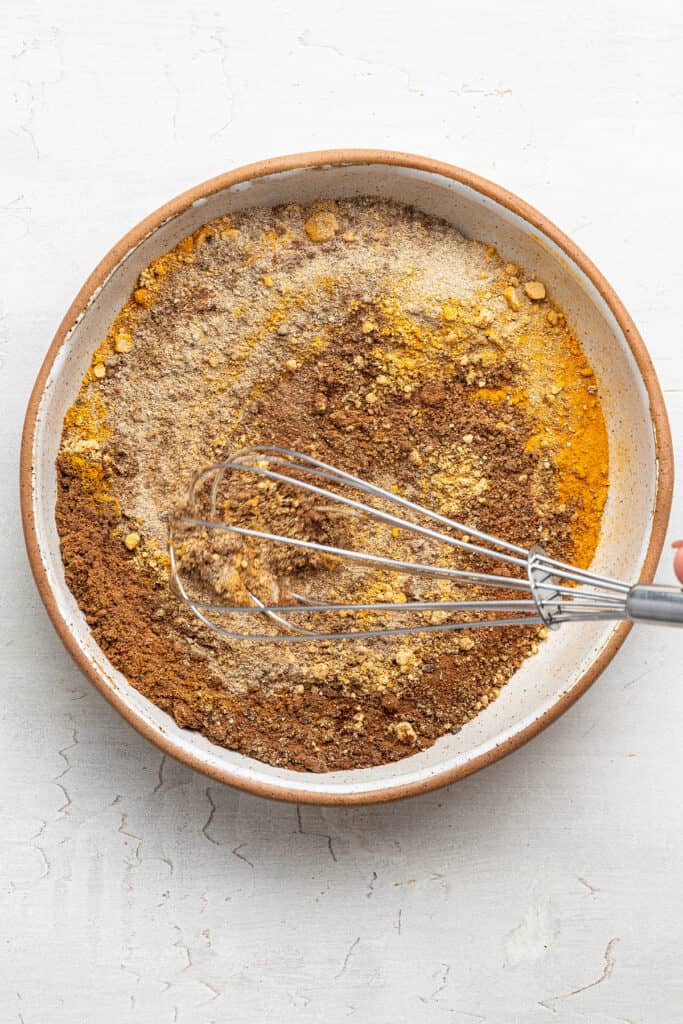 Store. Place the spice blend in a jar, and you're done!
How to Store It
Ras el hanout can be stored in an airtight container indefinitely. However, ground spices do lose their flavor with time, so I recommend using this spice mixture within a year of making it. To keep it flavorful for as long as possible, store the spice blend out of direct sunlight.
Ras el Hanout
This North African spice blend is spicy, bitter, and warm. It's packed with flavor and so easy to make.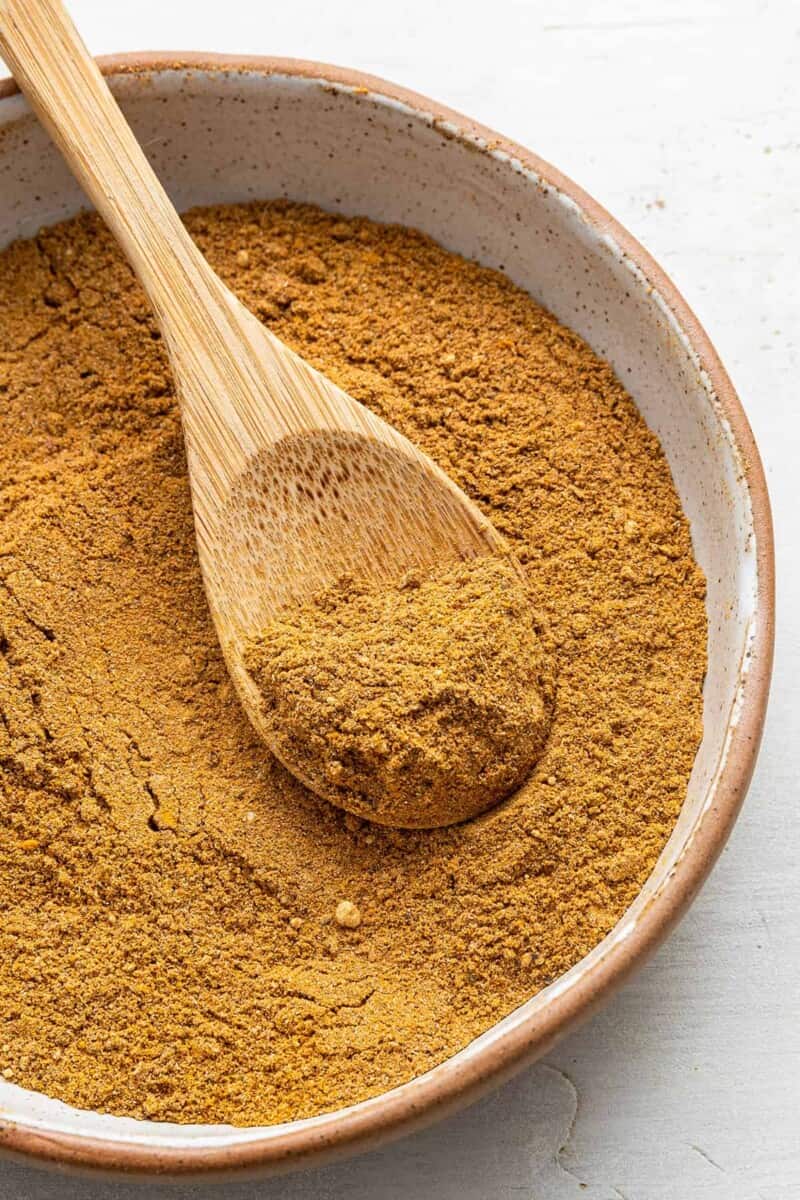 Instructions
Place all of the ingredients together in a bowl.

Store in an airtight container.
Notes
This spice blend can last indefinitely if stored in an airtight container. However, it will lose a lot of its flavor if not used in the first year. 
Filed Under: