These barbecue grilled pineapple and tofu kebabs made with fresh veggies, extra-firm tofu and homemade vegan barbecue sauce for an easy summer cookout dinner.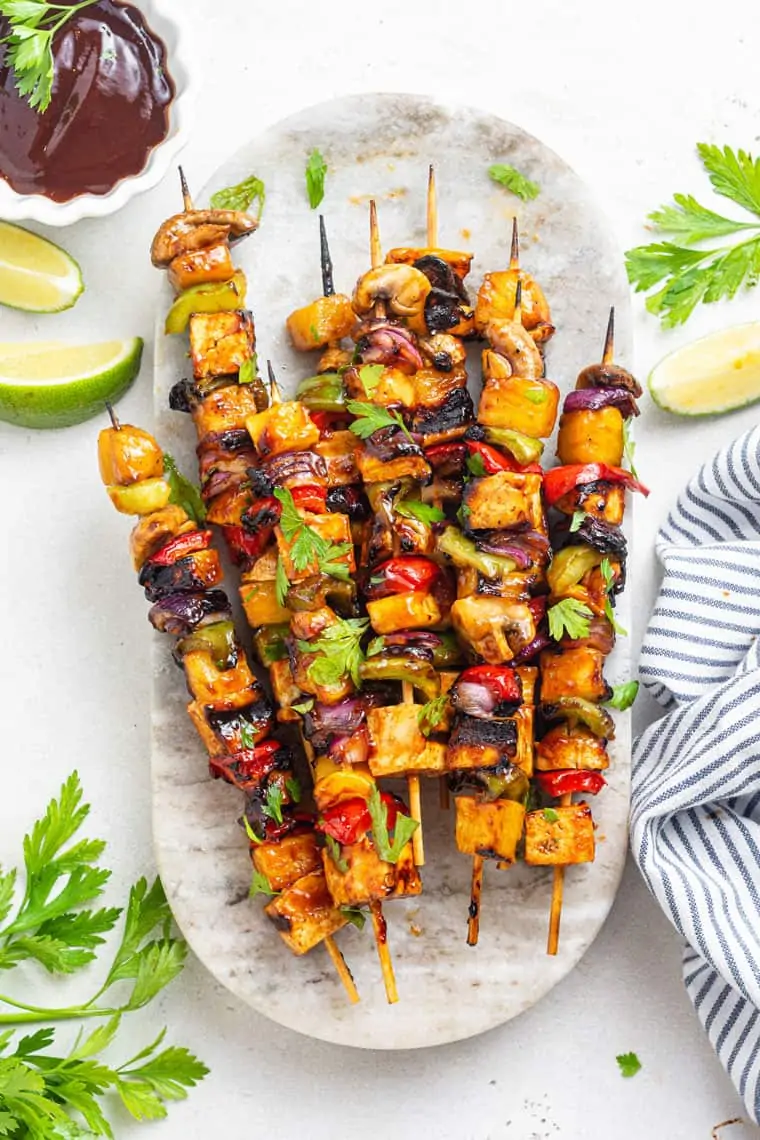 I love grilling. Even living in NYC, where an outdoor grill is hard to come by, there's something so summery and fun about a BBQ, even if it's with an indoor grill pan. I've rounded up all of my favorite grilling recipes, including favorites like Grilled Peach Salsa and Balsamic Grilled Tofu.
But these fruity pineapple kebabs are a long-time favorite. They're made with my easy vegan barbecue sauce and are loaded with veggies, high-protein tofu, and sweet, juicy pineapple.  They're perfectly charred with a delicious, sweet and savory flavor. Plus, they couldn't be easier to make.

How to Make Pineapple and Tofu Kebabs
The first step in bulding your kebabs is to prep your veggies, pineapple and tofu.  Cut everything into 1-inch cubes pieces.
I like to use a rainbow of colors on my skewers with veggies like:
red peppers
orange peppers
pineapple
green peppers
red onions (purple)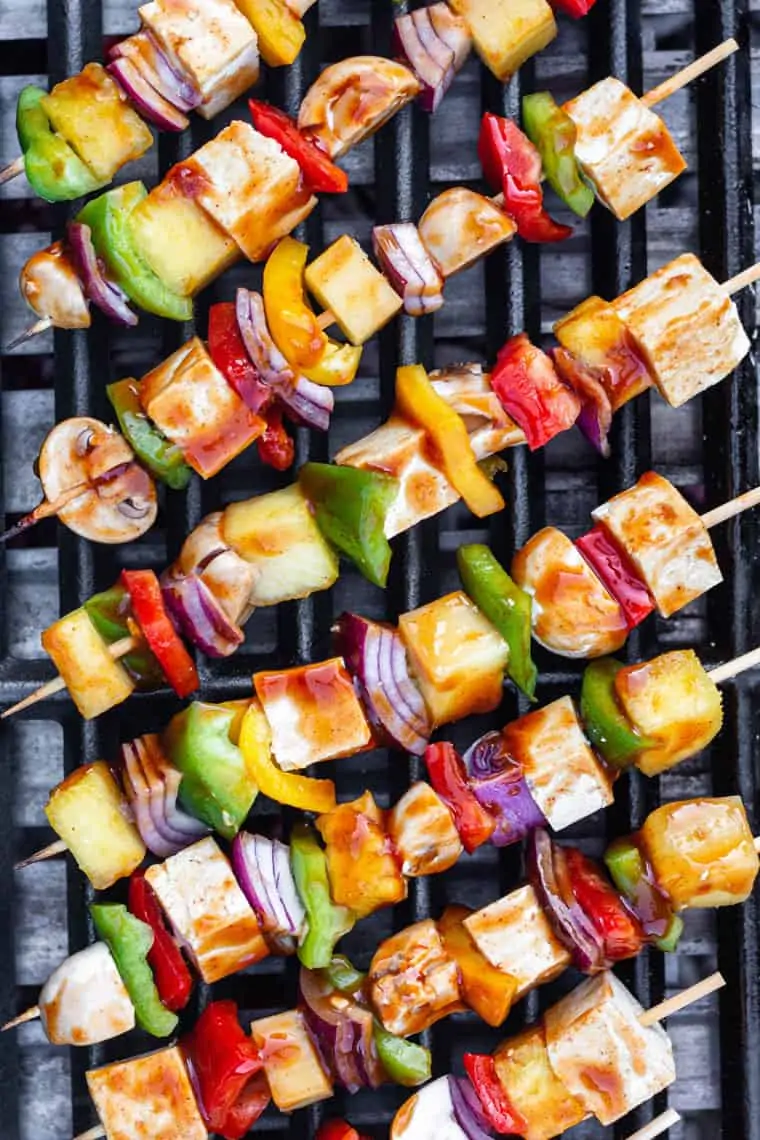 Tips for Vegan Grilling
While traditionally you might think of grilling meat, grilling vegan food just as easy and tasty. These vegan skewers grill up in about 6 – 8 minutes and have all the flavor of a long, slow grilling process.
Here are a few tips to keep in mind when you're grilling veggies & tofu:
Things can stick! Before you start grilling, rub the grates with cooking oil to prevent sticking.
Cut things into larger pieces. Tofu & pineapple cook quickly, so you want to be sure you have enough substance there to hold onto the skewer. Plus, larger pieces won't slip through the grates.
Metal is best. I personally like metal skewers – we use these. They're more sustainable and don't need to be soaked.
Prep your tofu. When grilling tofu, choose extra-firm (or even firmer if they have it). You'll also want to press the tofu first. This releases water and makes the tofu even firmer, so it holds its shape on the grill.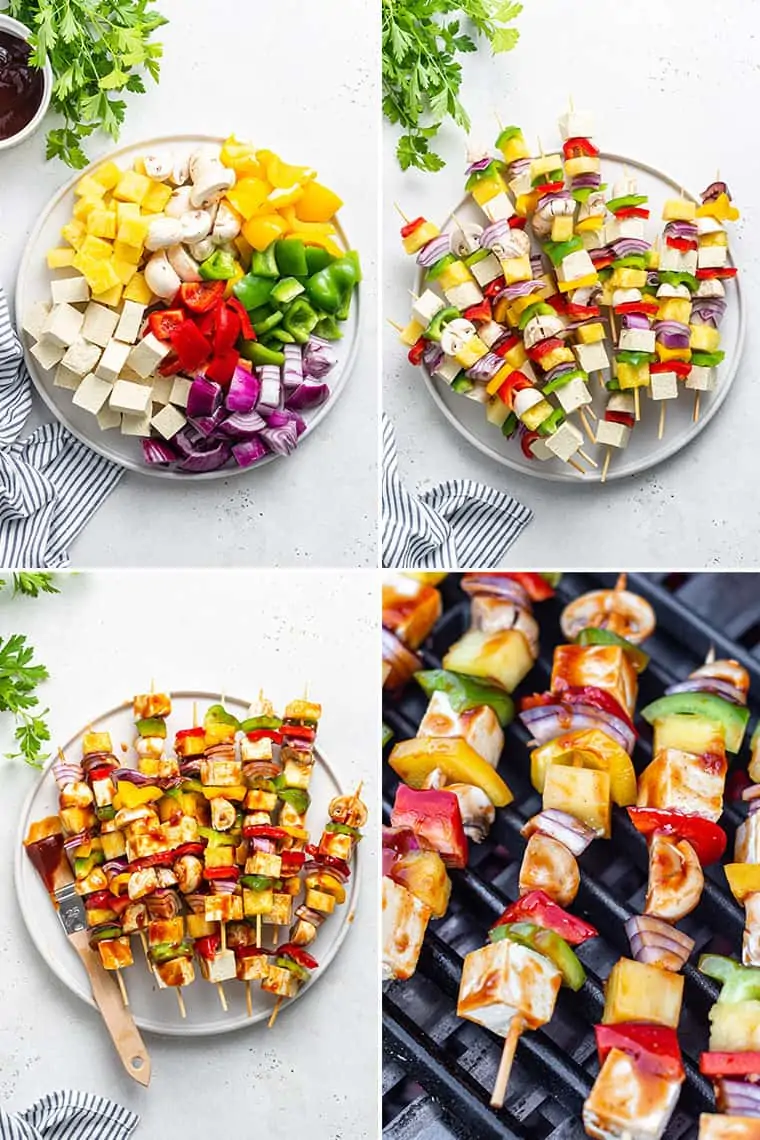 How to Press Tofu:
Pressing tofu is easy, and you don't need any special equipment. Here's how to do it:
Line a plate with a layer of paper towels or a clean dishtowel
Place tofu on top of the towel
Add another layer towel on top of the tofu
Then another plate
Place something heavy (cookbooks, tea kettle, etc.) onto the plate and let it sit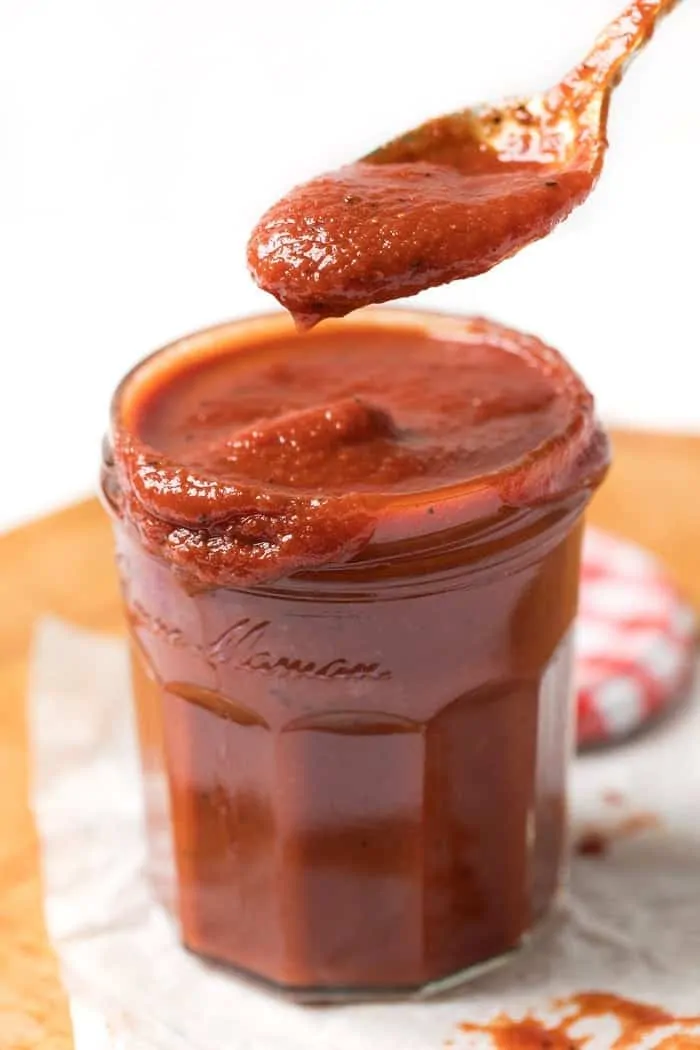 Vegan Barbecue Sauce
The vegan barbecue sauce for these kebabs only takes 15 minutes to make and you can use it all summer long. This sauce is not too sweet, it pairs so well with the pineapple and caramelized as it cooks on the grill.
This sauce adds just the right amount of kick, a little bit of smoke, and glazes each piece of the skewer perfectly.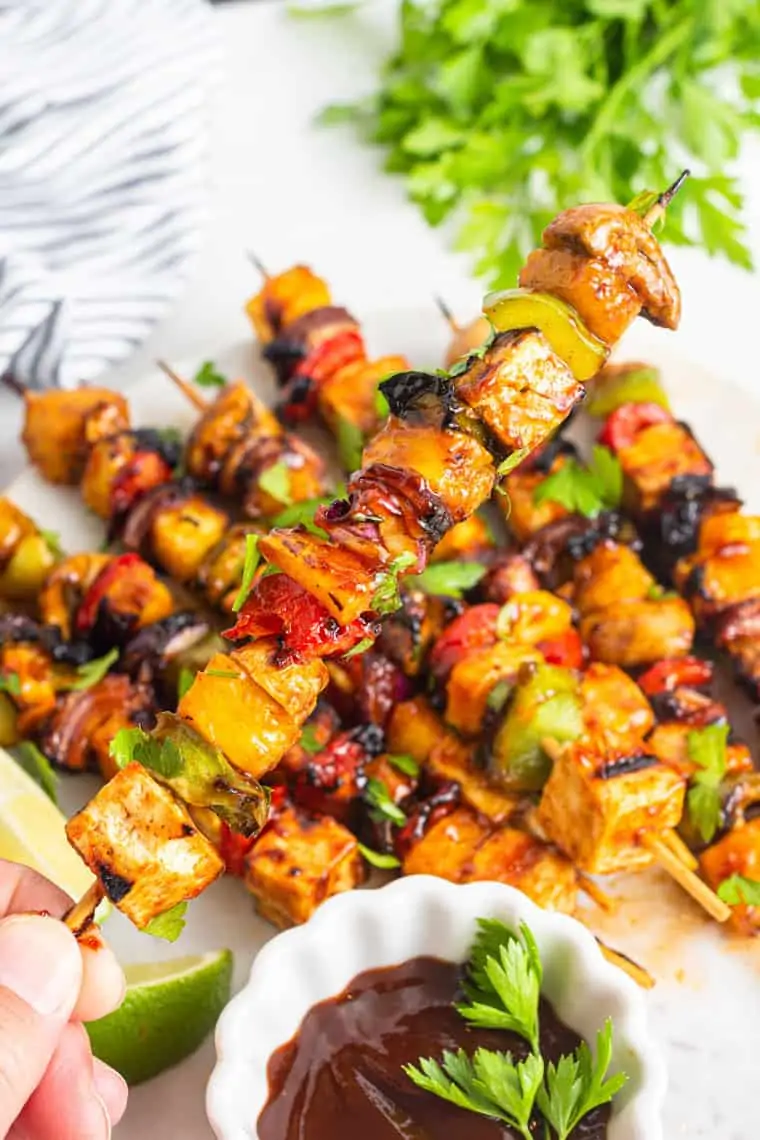 Serving Suggestions
I think these kebabs are great on their own, but you can also cook up some quinoa for some grains to round out your meal. You can also always serve extra barbecue sauce on the side.
OR you can make it a whole summer meal! Here's a delicious summer menu to try:
If you make these Grilled Pineapple and Tofu Kebabs, let me know what you think with a comment below!
Grilled Pineapple & Tofu Kebabs
These vegetarian kebabs are the perfect summer meal! Made with grilled pineapple and tofu, slathered in homemade barbecue sauce, they're flavorful, easy and so tasty!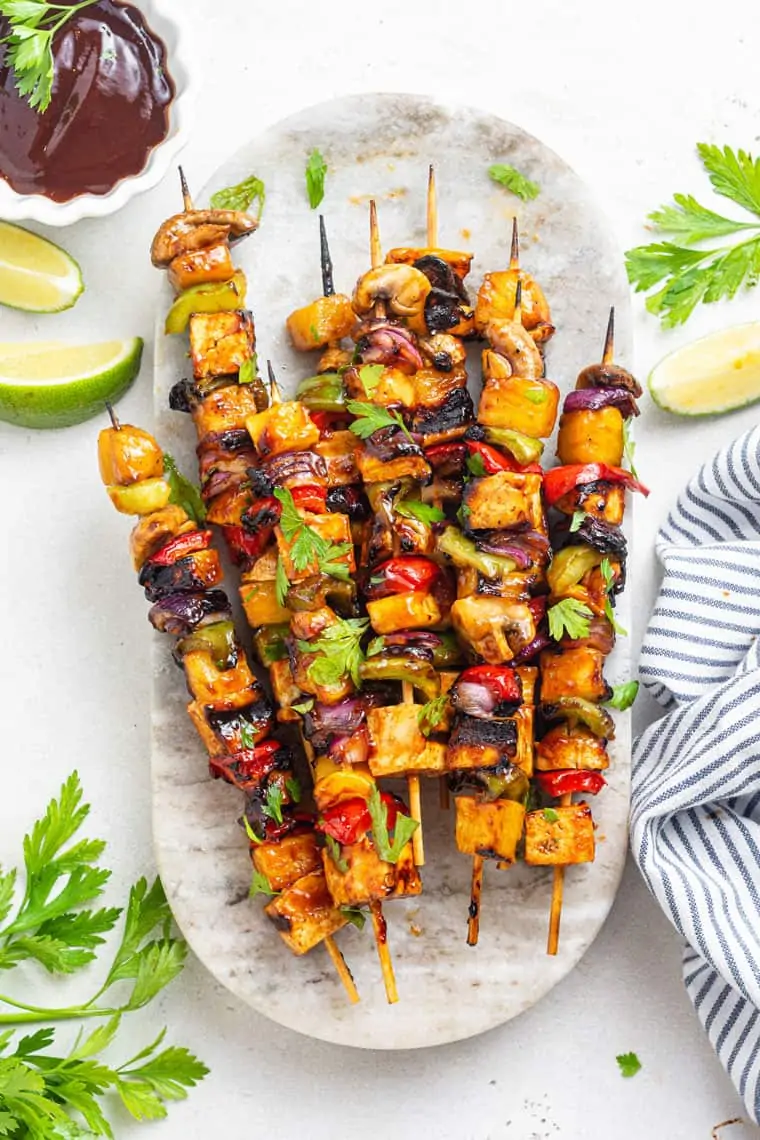 Ingredients
2

cups

fresh pineapple

1

orange bell pepper

1

yellow bell pepper

1

green bell pepper

1

package mushrooms

1

red onion

1

cup

vegan BBQ sauce

Fresh parsley to garnish
Instructions
Start by pressing the tofu for about 15 minutes. Place the tofu on a paper towel-lined plate, cover the tofu with another paper towel and put something heavy on top of it (a cookbook works well). Set aside.

While the tofu is pressing, cut the pineapple, peppers and onions into 1" pieces, and remove the stems from the mushrooms.

Once the tofu is done, cut that into 1" pieces as well.

Skewers the pineapple, tofu and veggies onto metal skewers and place the skewers on a baking sheet.

Cover the skewers with a layer of sauce on all sides.

Turn the grill on medium heat and grill the skewers for about 10 minutes, flipping halfway through. After you've flipped, brush with another layer of sauce.

Remove the skewers from the grill and brush with any remaining sauce. Sprinkle with a garnish of fresh parsley and serve immediately.
Nutrition
Serving:
1
kebab
|
Calories:
169
kcal
|
Carbohydrates:
33
g
|
Protein:
6
g
|
Fat:
1
g
|
Sodium:
534
mg
|
Potassium:
428
mg
|
Fiber:
2
g
|
Sugar:
24
g
|
Vitamin A:
875
IU
|
Vitamin C:
105.6
mg
|
Calcium:
52
mg
|
Iron:
1.5
mg