This warming Vegan Apple Crisp with Pears & Quinoa is the perfect homemade holiday dessert recipe. With a crumbly oat and quinoa topping, this refined sugar-free treat is a healthier version of your favorite all-American treat that has all the flavor and sweetness you love. 
Everyone loves apples, right? They're one of those fruits that can be easily transformed from breakfast, snack, dessert, or even used in savory recipes. They're versatile and healthy, and they're one of my absolute favorites. I love starting my day with my apple cinnamon breakfast quinoa and you'll also often find me adding apples to my salads and soups!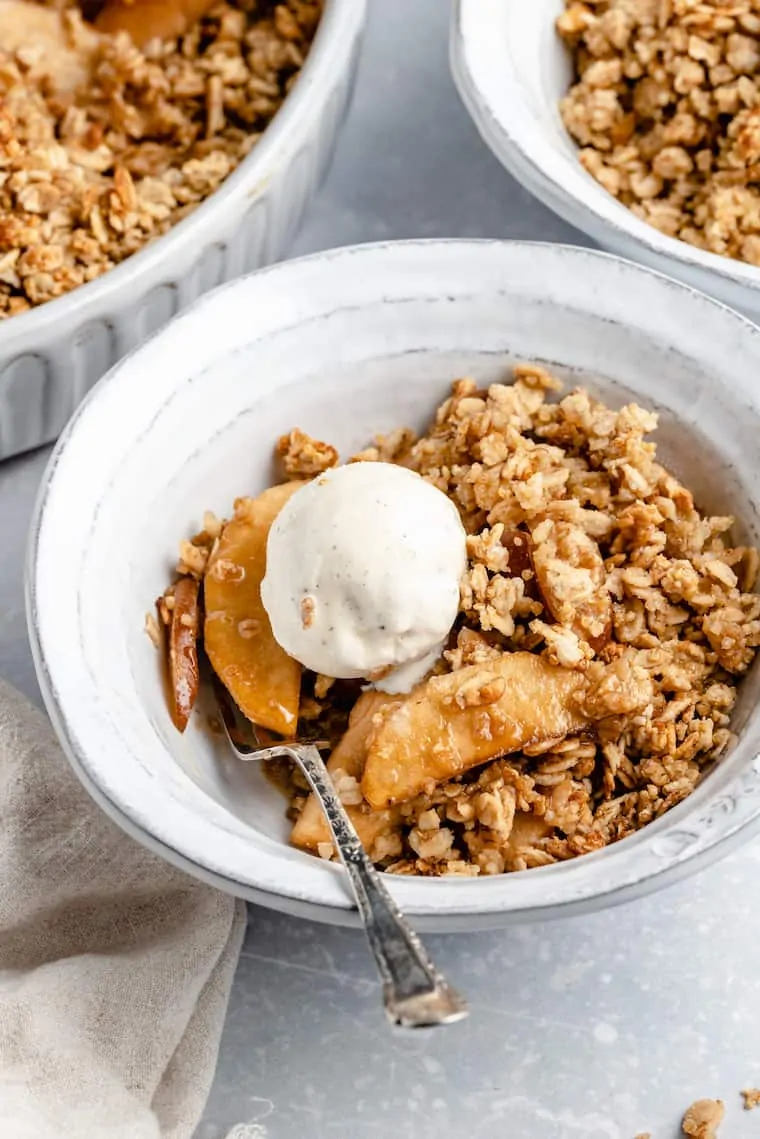 It's December! That probably means that there are a lot of sweets coming your way in the next few weeks. This easy wintertime dessert recipe is a healthy answer to sugar-overload. Lightly sweetened with coconut sugar, maple syrup, and seasonal fruit, this crisp satisfies your sweet tooth without going overboard. Of course, adding the occasional salad can help keep things light too!
Once you try this naturally gluten-free apple crisp with pears, I think you might see why it's one of my all-time favorite desserts. All that's missing is a scoop of your favorite plant-based ice cream.

How to Make a Healthy Apple Crisp
Apple crisp is one of the easiest baked desserts you can make. This recipe is especially perfect for new bakers or anyone looking to try out gluten-free or vegan baking. With just 10 simple ingredients and a pie plate, you can make a decadent, healthy apple pie that's packed with flavors of the season. Plus, your entire house will be filled with the mouthwatering smell of caramelizing apples and pears.
Instead of classic butter- and sugar-drenched crisp, my version is simpler, lighter, and healthier. As a result, you can taste the bold flavors of ripe apples and pears in every bite.
Ingredients:
Apples. Choose firm baking apples. Granny smiths are especially good for cooking because they hold up well in the oven.
Pears. Bosc pears are firm enough to hold together during baking. They also have a wonderful natural sweetness.
Cinnamon. For the signature American apple pie flavor.
Maple syrup. I always use pure Vermont Maple Syrup. It adds such a unique flavor to this vegan apple crisp that goes beyond sweetness. Grade B syrup is the darkest maple syrup variety and is the least refined. I find the flavor richer, bolder and so much more powerful than other maple syrup grades!
Coconut sugar. My go-to sweetener when I'm making a dessert that's refined sugar-free. Coconut sugar is low-glycemic, which means it doesn't spike your blood sugar levels as much as regular white sugar.
Oats. Use gluten-free old-fashioned oats for the best crumbly texture on top of your crisp.
Quinoa and Quinoa Flour. Quinoa is my signature addition for a bit of extra crunch and nutty flavor. And then quinoa flour also helps thicken up the crisp filling without any gluten.
Coconut Oil. This is the dairy-free secret to achieving a crumbly, clumpy streusel-like topping on your pear and apple crisp. I prefer unrefined coconut oil.
Lemon Juice. For a bit of acid and brightness that highlights the otherwise sweet flavors in this healthy dessert recipe.
Vegan Apple Crisp Recipe Video
Can Apple Crisp be Made with Vegan Butter?
I make my vegan apple crisp with coconut oil. It solidifies at room temperature so your oat topping stays nice and crumbly. However, if you prefer the taste of vegan butter, you can certainly swap the coconut oil for your favorite dairy-free butter brand. Use softened butter for best results. The best part about this lighter apple crisp recipe is that you really don't need much fat.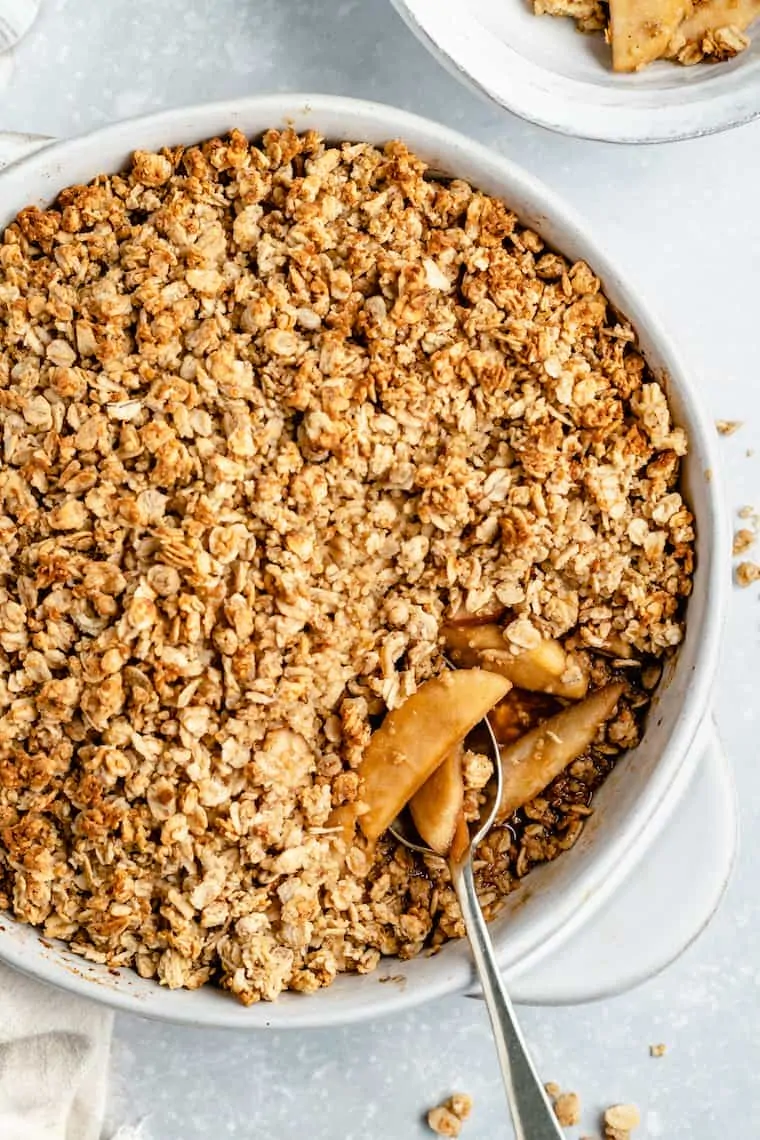 How to Serve Vegan Apple Crisp?
While technically a dessert, this crisp is so healthy that I love it for breakfast! You can serve it chilled, warm, or at room temperature. For dessert, I always top my apple crisp with plenty of vanilla ice cream. You could also add a drizzle of dairy-free creamer for a similar effect that's not quite as sweet.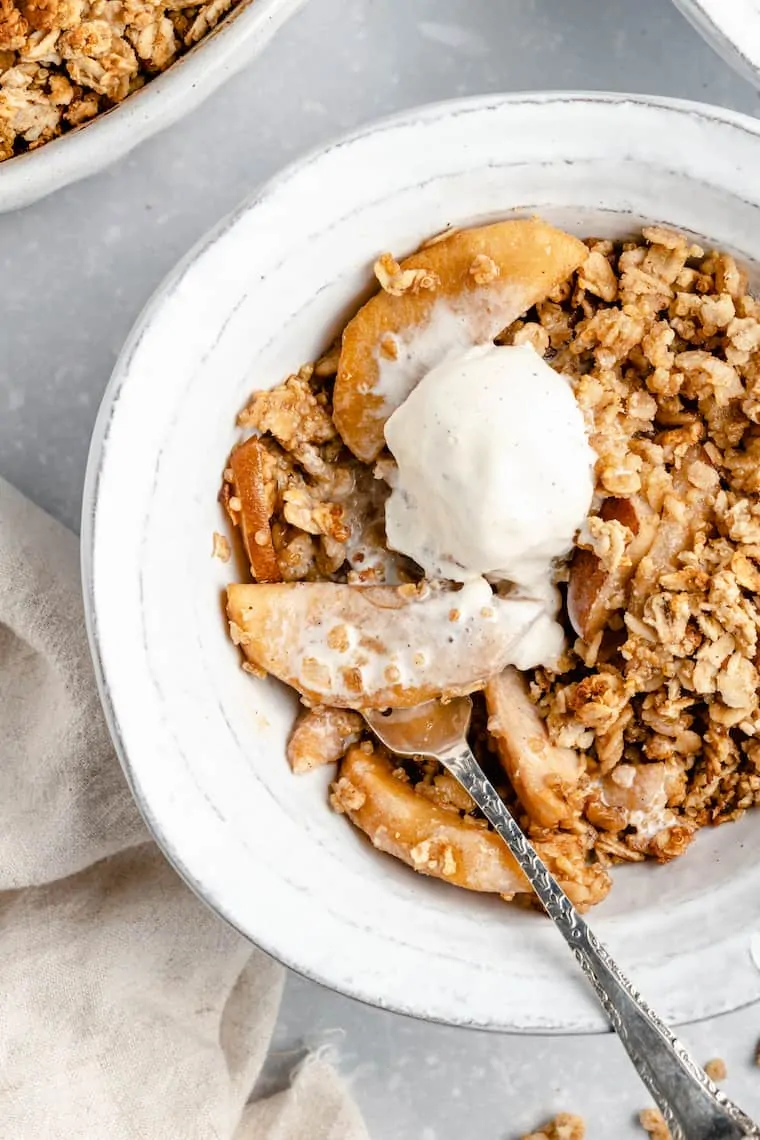 Storing Apple Crisp
If you end up with leftovers, there are a few ways to store apple crisp so you can keep enjoying it, morning, noon, and night.
Does Apple Crisp Need to Be Refrigerated? If you plan to finish leftover vegan apple crisp within 5 days, store it in an airtight container in the fridge.
Can You Freeze Apple Crisp? Absolutely. To freeze cooked crisp, make sure the crisp cools fully to room temperature. Cover it well and freeze for up to 3 months. You can even freeze unbaked apple crisp in the same way.  To reheat after freezing, thaw the crisp on the counter for a few hours or in the fridge overnight. Then warm cooked crisp in a 350°F oven until hot. Cover it with aluminum foil to keep it from drying out. For uncooked crisp, cook according to the instructions in the recipe below!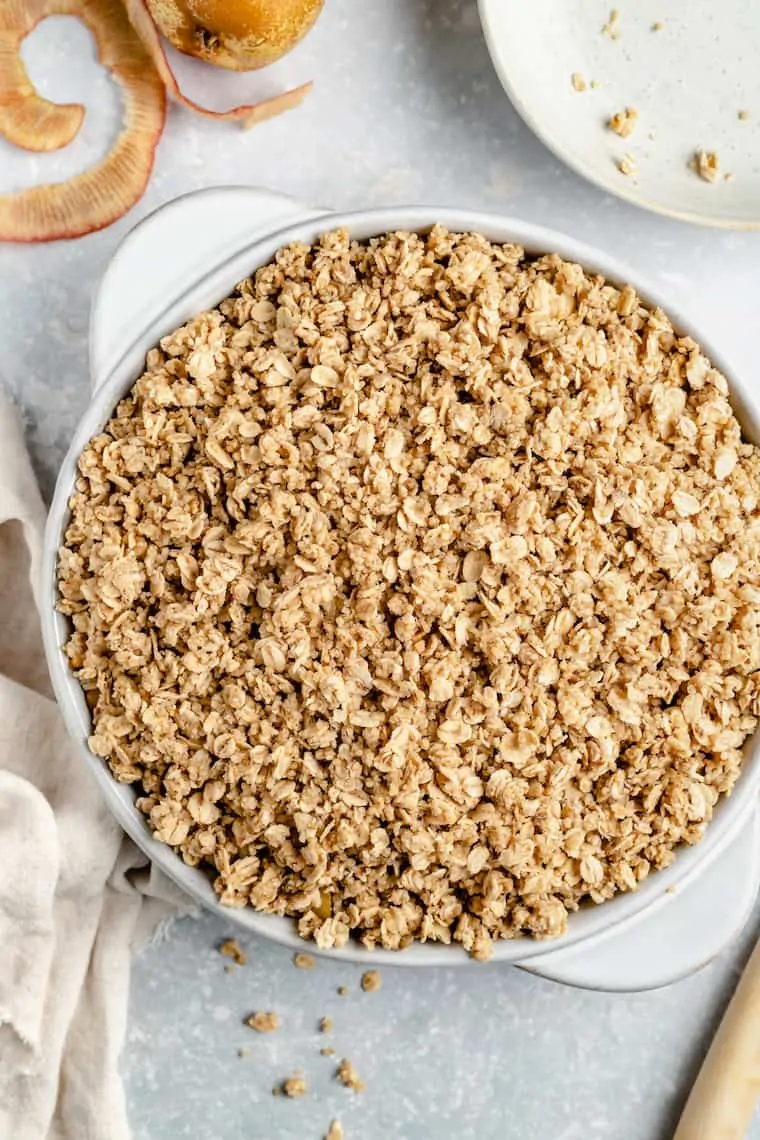 More Healthy Dessert Recipes for Winter
If you fall in love with this healthy apple crisp recipe, then give these other lighter desserts a try next:
Healthy Quinoa Apple Crisp
Apples + pears + cinnamon + maple syrup + oats + quinoa + ice cream? Talk about the best dessert/breakfast treat EVER.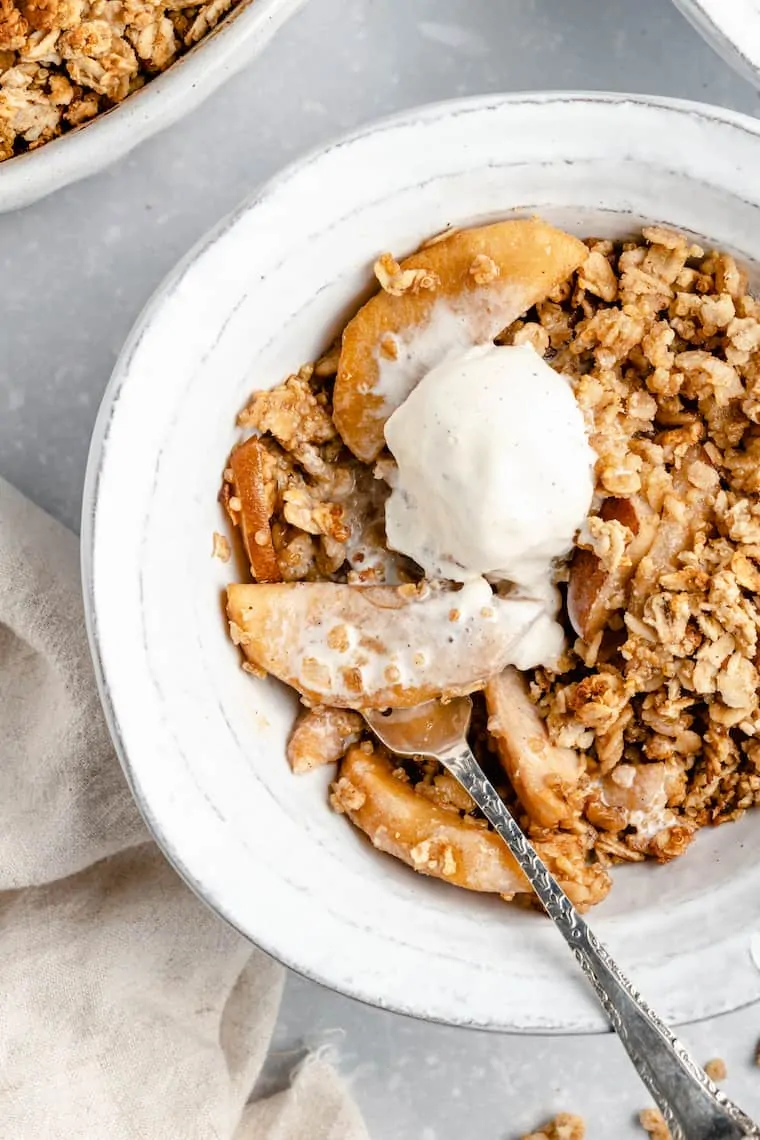 Instructions
Preheat the oven to 350 degrees F. Grease a pie pan and set it aside.

Remove the cores from the apples and pears and thinly slice. Add into a large mixing bowl and sprinkle with coconut sugar and lemon. Toss to combine.

In a separate mixing bowl, combine the oats, quinoa, coconut oil and syrup. Mix to combine. Add quinoa and mix again until mixture starts to hold together when you press it between two fingers. Sprinkle with cinnamon and mix until just combined.

Transfer fruit to the prepared pie plate. Cover with topping and bake on the center rack for 35 - 45 minutes until the fruit is bubbling and the topping has browned. If the topping is browning too quickly, simply cover with tin foil until the filling is done.

Serve immediately (or top with vanilla ice cream and maple syrup) and enjoy!
Nutrition
Calories:
339
kcal
|
Carbohydrates:
62
g
|
Protein:
5
g
|
Fat:
9
g
|
Saturated Fat:
6
g
|
Sodium:
27
mg
|
Potassium:
283
mg
|
Fiber:
6
g
|
Sugar:
30
g
|
Vitamin A:
50
IU
|
Vitamin C:
5.8
mg
|
Calcium:
52
mg
|
Iron:
1.7
mg
Filed Under: