These breakfast potatoes are spicy, smoky, and so easy to make. They're the perfect food to start your day with.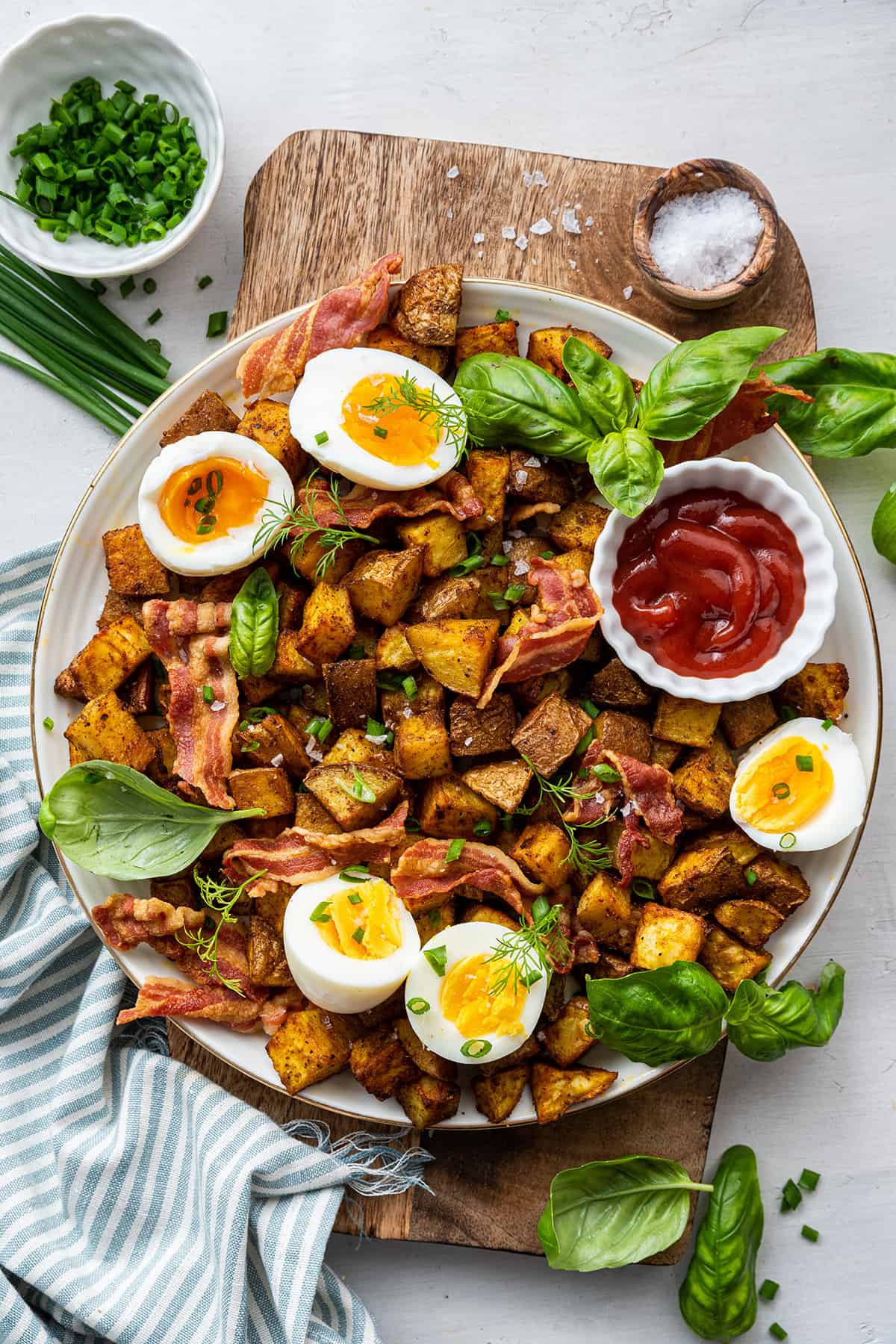 They say that breakfast is the most important meal of the day. That means that you better make the most of it and eat something delicious! These breakfast potatoes are one of my favorite things to eat in the morning. They're loaded with so many different flavors from the seasonings, and they're really easy to make. Plus, they go so well with eggs, meats, toast, pancakes, and any other traditional breakfast foods.
The secret to this recipe is to use a generous amount of ras el hanout. This unique North African spice blend adds some strong flavors and spiciness to the breakfast potatoes. Your day will get off on the right foot if you start it with a plate of these potatoes.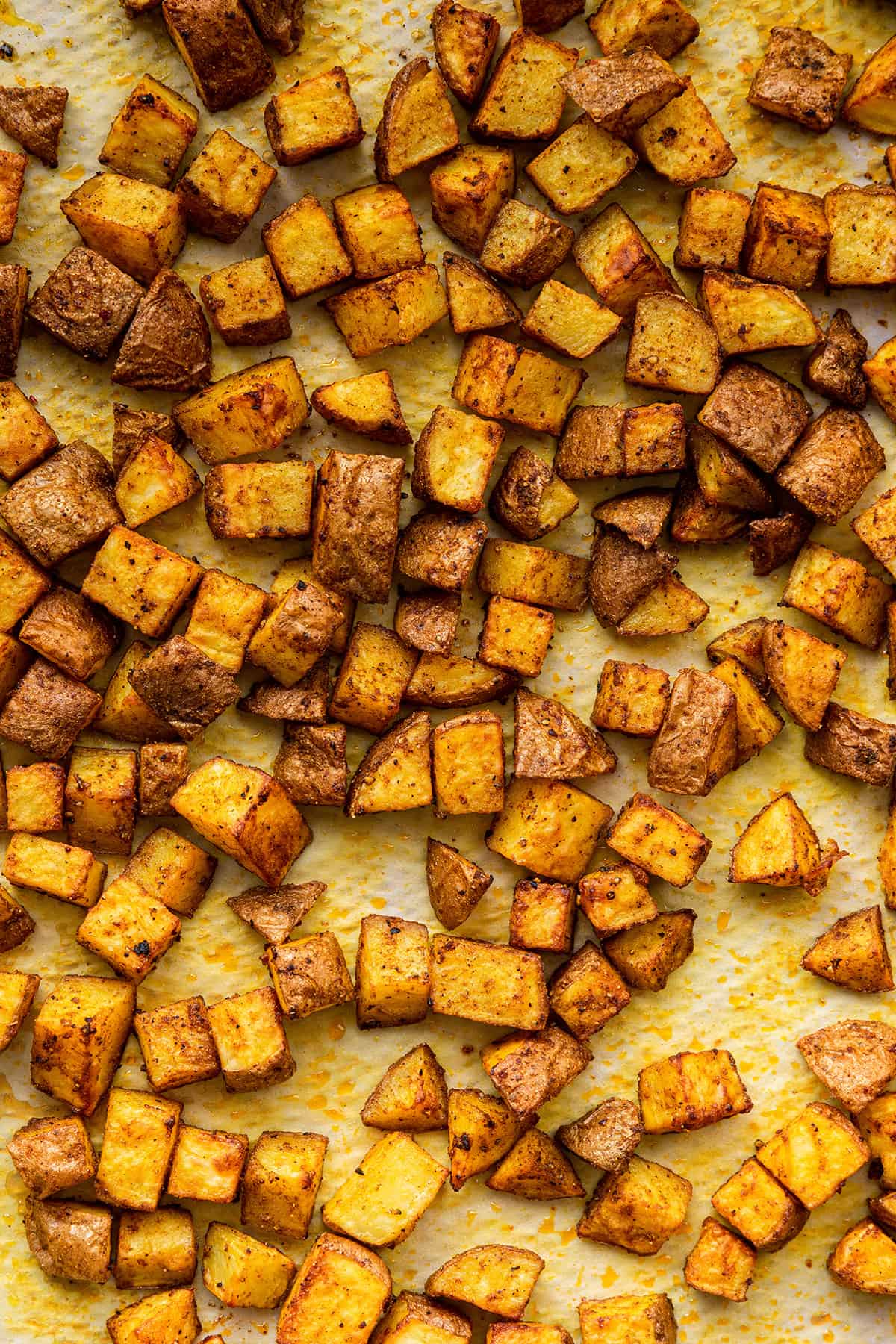 Why You'll Love These Roasted Breakfast Potatoes
These are a breakfast staple in my household. Here's why I know you'll love them.
Restaurant quality. I almost always order potatoes when I go out for breakfast. There's just something so comforting and satisfying about a plate of hearty potatoes smothered in ketchup, on the side of whatever else you're eating. And these breakfast potatoes are every bit as good as what you'd order at a restaurant … or even better!
Easy to make. This is such a simple recipe. It takes about 50 minutes to make, but nearly all of that time is spent in the oven. All you have to do is mix potatoes with oil and spices and then throw them in the oven. What could be more simple than that?
Storable. I like to make a big batch of breakfast potatoes to get me through the week. This recipe stores and reheats really well, so you can keep them in your fridge for easy breakfasts all throughout the week.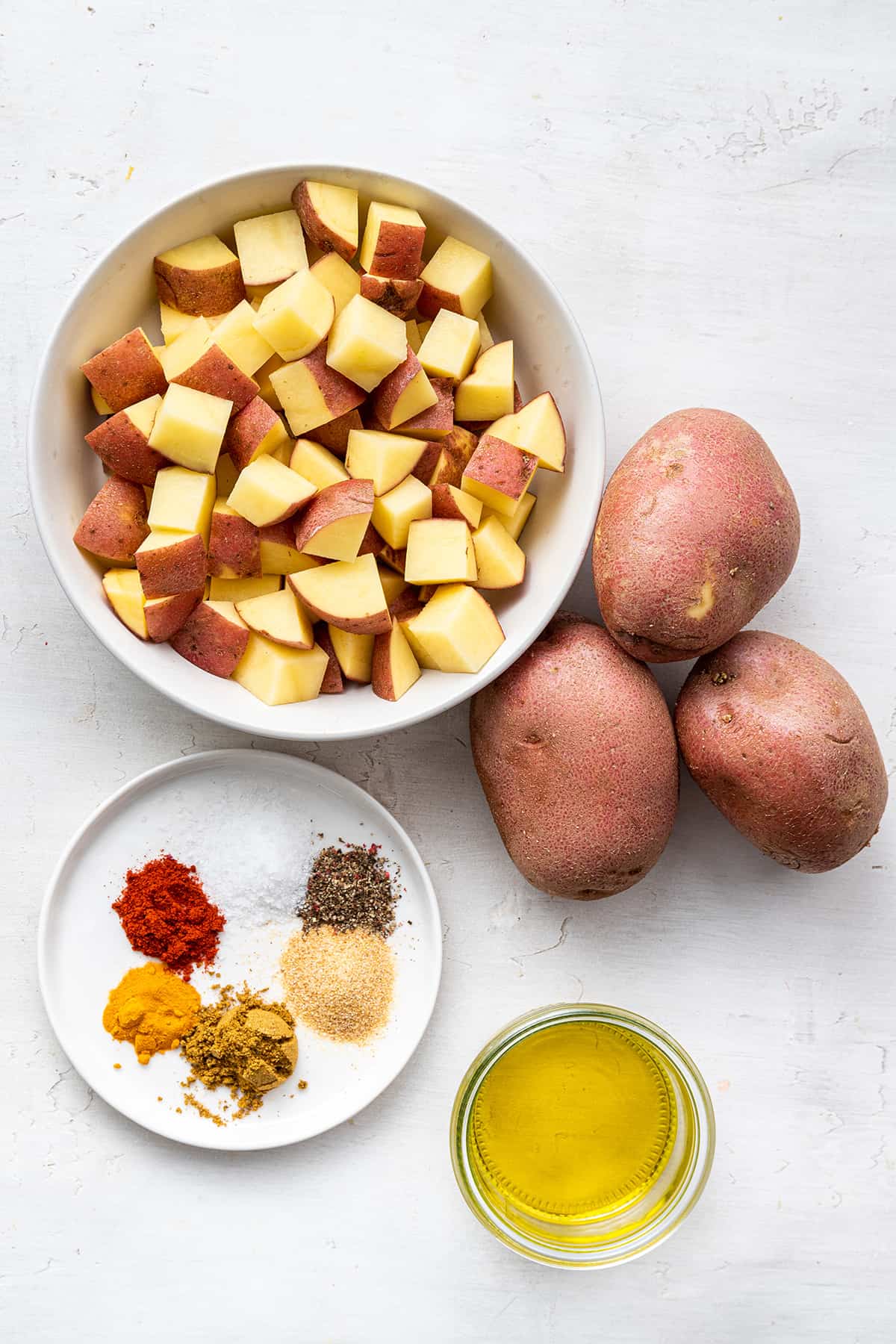 What You'll Need
Here are the ingredients that you'll need to make these oven-roasted breakfast potatoes. Check out the recipe card at the bottom of the page for the exact amounts of each ingredient.
Salt
Pepper – Make sure to use freshly ground pepper.
Garlic powder
Ras el hanout
Turmeric
Smoked paprika
Potatoes – Red potatoes are best for this recipe.
Olive oil
What is Ras el Hanout?
Ras el hanout is a common spice mixture in Moroccan cooking. It's sweet, bitter, and spicy, and I really love it. It traditionally has a lot of warm spices in it, like allspice, cloves, and cinnamon, as well as some spicy ingredients like cayenne and white pepper. You can find it in a spice store, online, or at many grocery stores.
How to Make Breakfast Potatoes
Here's how to make these simple and easy potatoes.
Prep. Preheat your oven to 425F and line a baking sheet with parchment paper.
Make the spice blend. Add the salt, pepper, garlic powder, smoked paprika, turmeric, and ras el hanout to a bowl, and whisk together.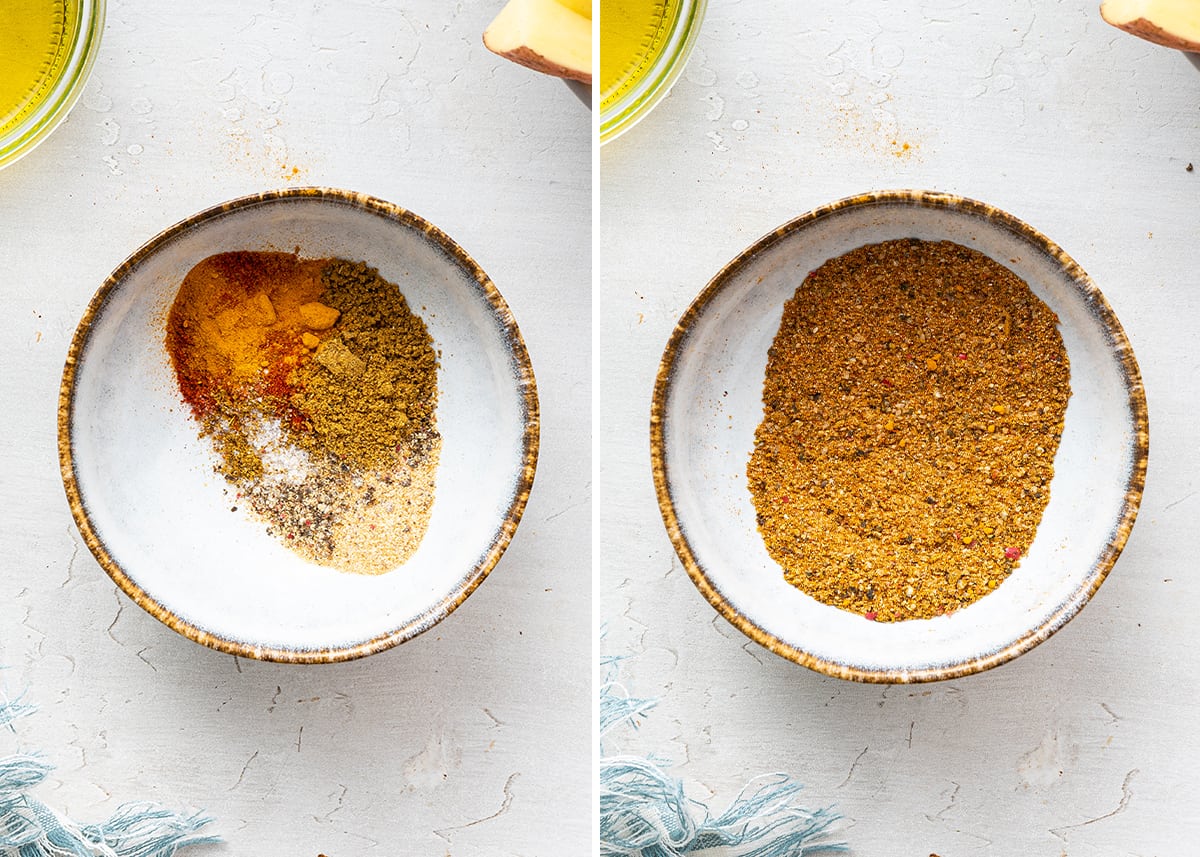 Season. Put the potatoes, olive oil, and spice blend into a bowl. Stir until the potatoes are thoroughly coated in the seasoning.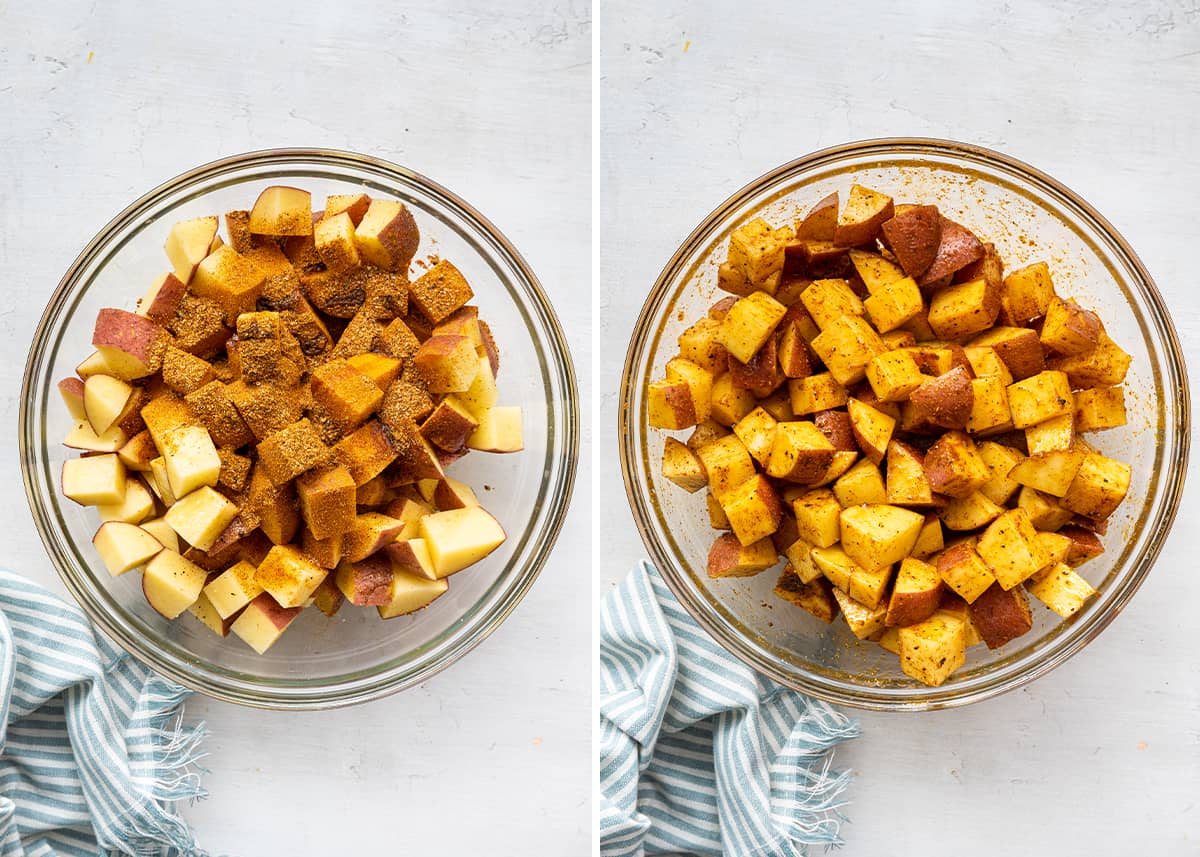 Bake. Place the potatoes on the baking sheet and put them in the oven. Roast for about 40 minutes, flipping the potatoes halfway through.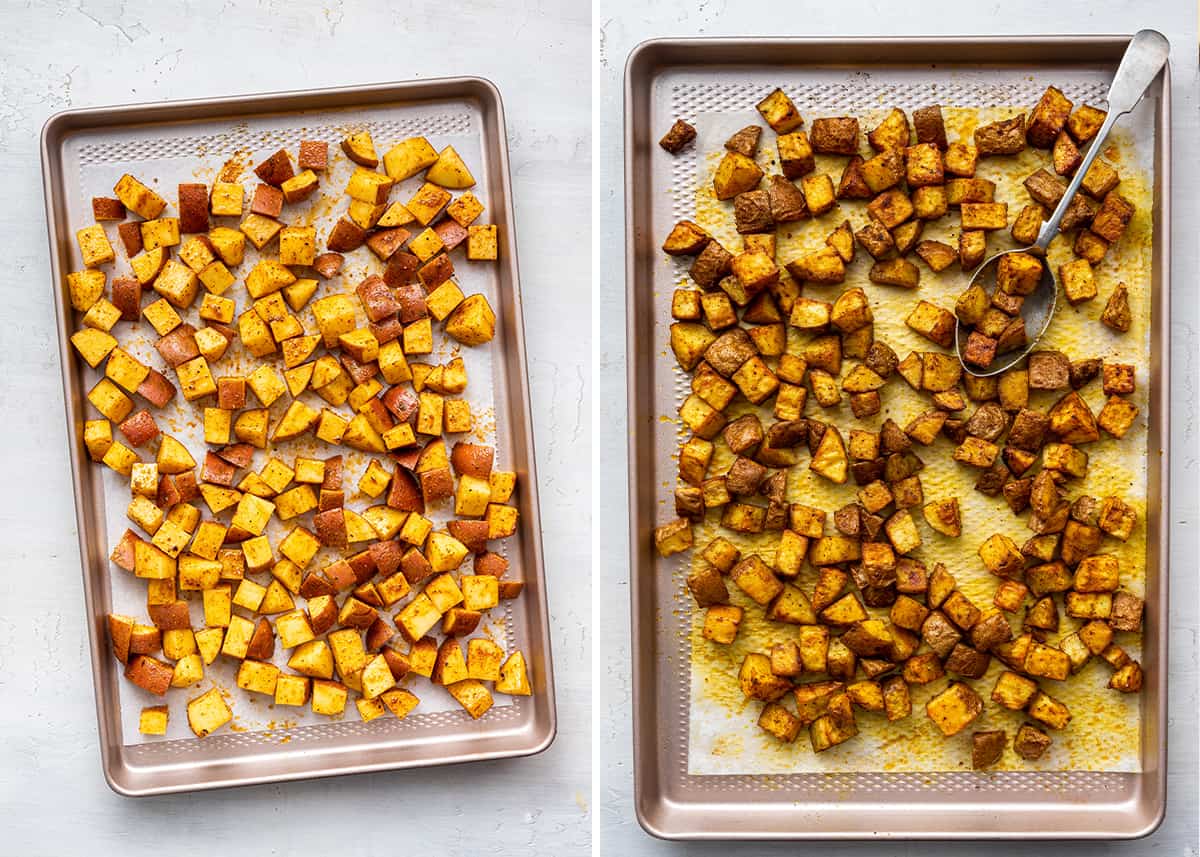 Serve. Remove the potatoes from the oven and serve with your other favorite breakfast foods.
Tips for Success
Here are some tricks and tips that you can use when making breakfast potatoes.
Don't crowd the potatoes. Make sure that the potatoes are placed in a single layer on the baking sheet. You don't want the potatoes to be on top of each other, or they won't get crispy at all.
Cut evenly. When you're cutting the potatoes, try to cut each piece to a similar size. If the potatoes aren't cut evenly, then some of the pieces will end up overcooked, and some will end up undercooked.
Get them crispy. You want the potatoes to get a little bit crispy when they're in the oven. If they're still really soft after baking for 40 minutes, cook the potatoes for an additional 10-15 minutes to improve the texture.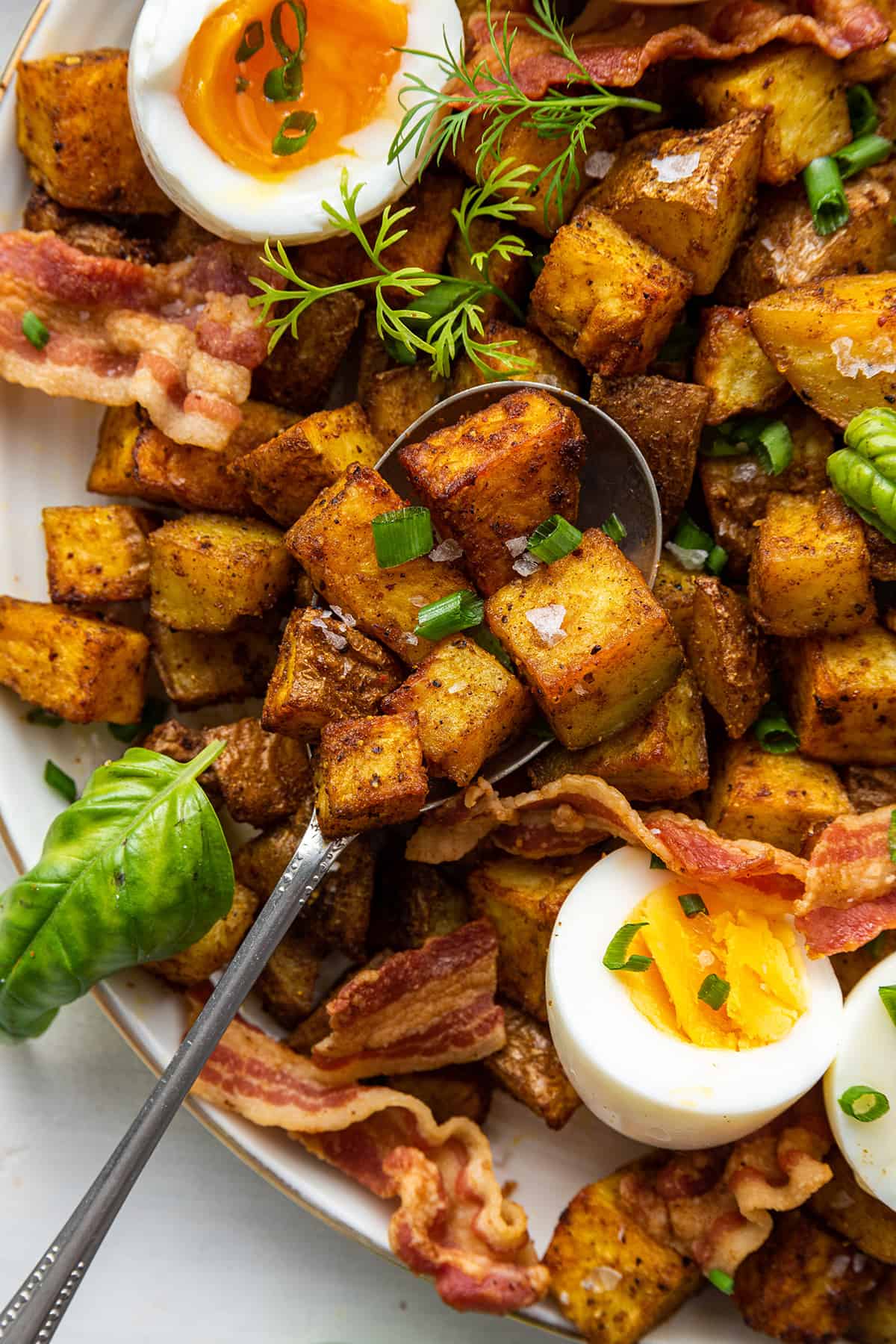 What to Serve With Roasted Potatoes
These potatoes are one of my favorite things to start the day with. But they're not a complete meal, so I like to eat them with some other traditional breakfast foods and a large cup of coffee. Here are some of my favorite things to eat with roasted breakfast potatoes.
How to Store and Reheat Leftovers
Leftover breakfast potatoes can be stored in an airtight container in the fridge for 5 days. You can reheat them in a 350F oven for 10 minutes, in a skillet over medium heat, or in the microwave in 30-second increments.
Can Breakfast Potatoes Be Frozen?
Yes, you can absolutely freeze this recipe. Let the potatoes cool completely, then put them in an airtight container. They'll last in the freezer for 4 months.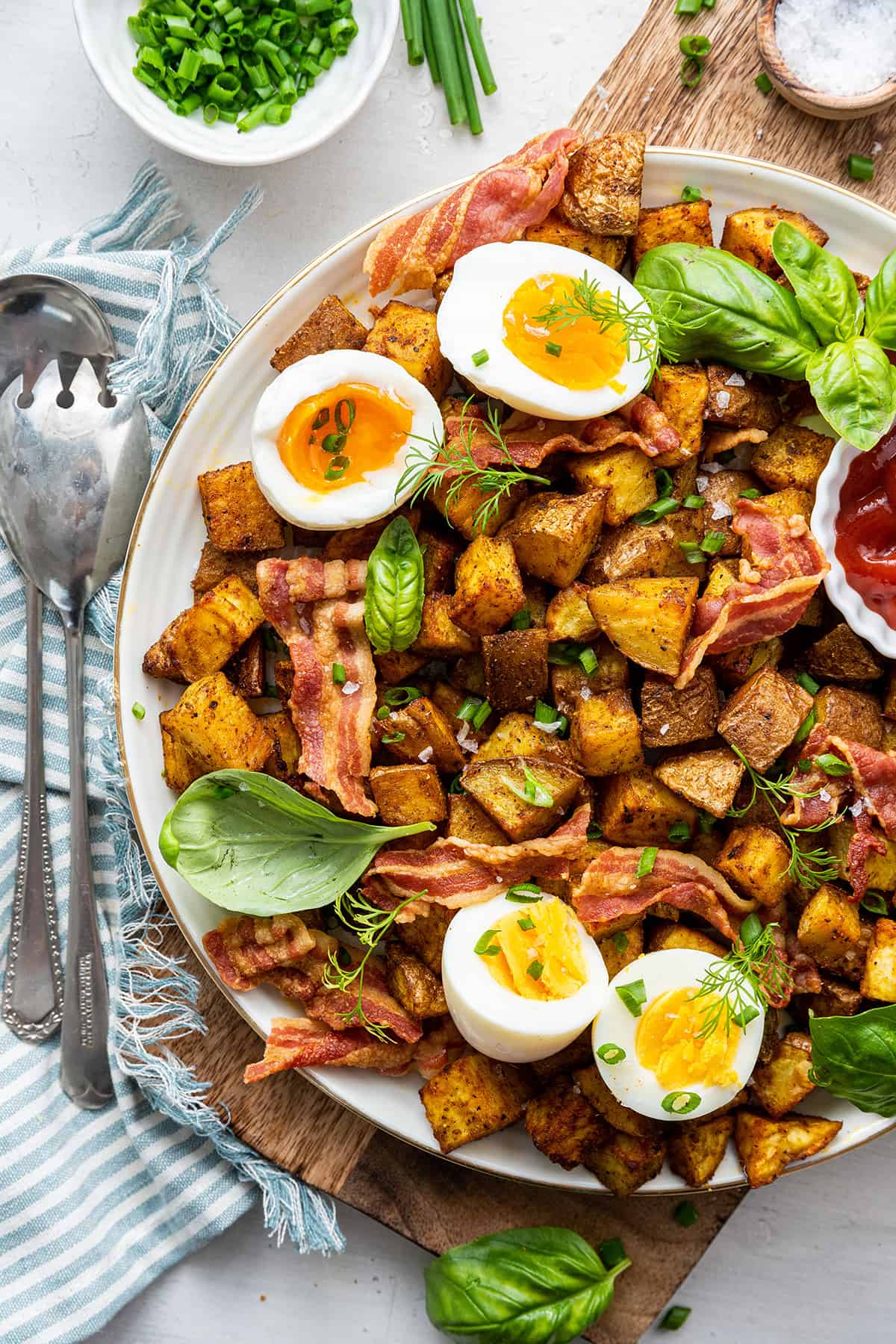 More Easy Breakfast Recipes
If you're as big of a fan of breakfast as I am, then you've got to try some of my other go-to breakfast recipes. They're all easy to make and super delicious.
Breakfast Potatoes
These breakfast potatoes are smoky, salty, and spicy. They're so easy to make, and the perfect side dish at breakfast.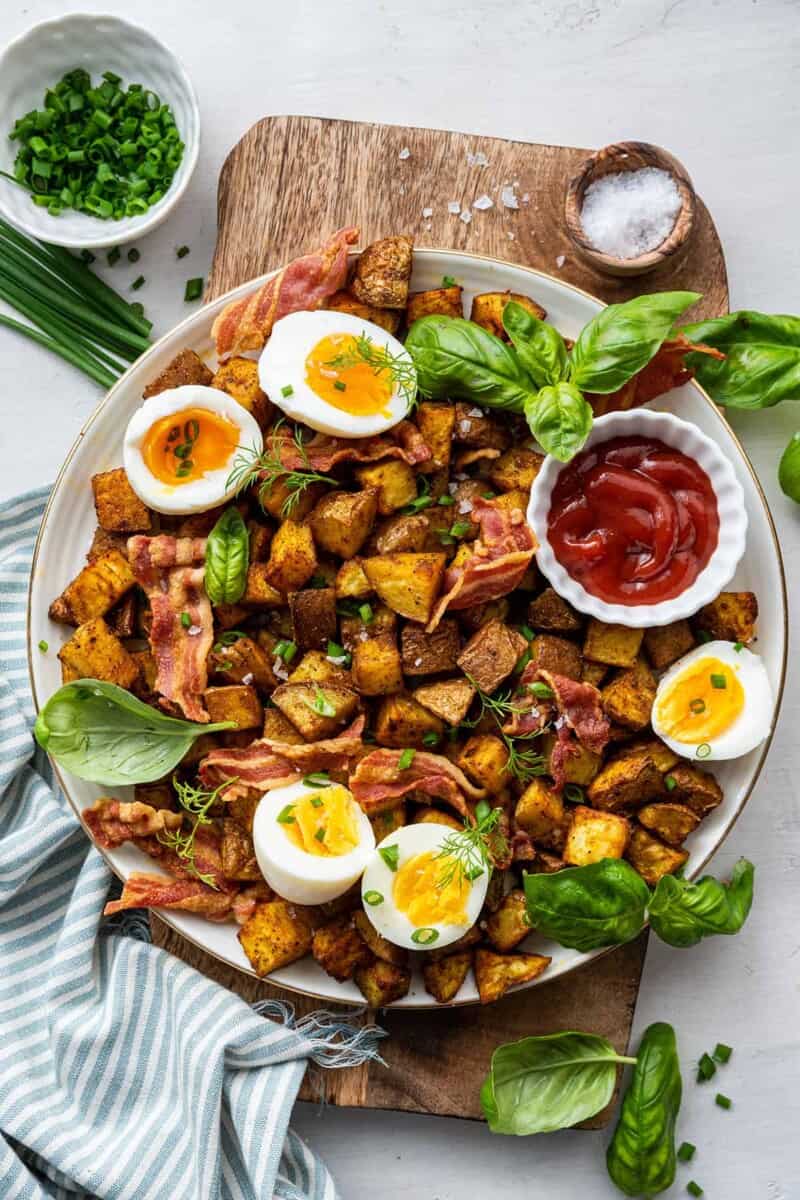 Instructions
Preheat the oven to 425 degrees F and line a baking sheet with parchment paper.

In a small bowl, whisk together the sea salt, ground black pepper, garlic powder, ras el hanout, turmeric, and smoked paprika.

In a large bowl, combine the potatoes, the olive oil, and the spice mix. Stir to thoroughly to coat the potatoes.

Arrange the potatoes in a single layer on the prepared baking sheet and bake for 40 minutes, flipping halfway through the baking time.

Serve with eggs, bacon, and a steaming hot cup of coffee.
Notes
Store leftovers in an airtight container in the fridge for 5 days or in the freezer for 4 months.
Reheat in a 350F oven for 10 minutes, on the stove over medium heat, or in the microwave in 30-second increments. 
Nutrition
Serving:
0.5
cup
|
Calories:
188
kcal
|
Carbohydrates:
29
g
|
Protein:
3
g
|
Fat:
7
g
|
Saturated Fat:
1
g
|
Polyunsaturated Fat:
1
g
|
Monounsaturated Fat:
5
g
|
Sodium:
613
mg
|
Potassium:
808
mg
|
Fiber:
3
g
|
Sugar:
2
g
|
Vitamin A:
149
IU
|
Vitamin C:
15
mg
|
Calcium:
32
mg
|
Iron:
2
mg