This roasted red pepper soup is as quick and easy to make as it is healthy. It's packed with peppers, tomatoes, and quinoa, and only takes about an hour start to finish.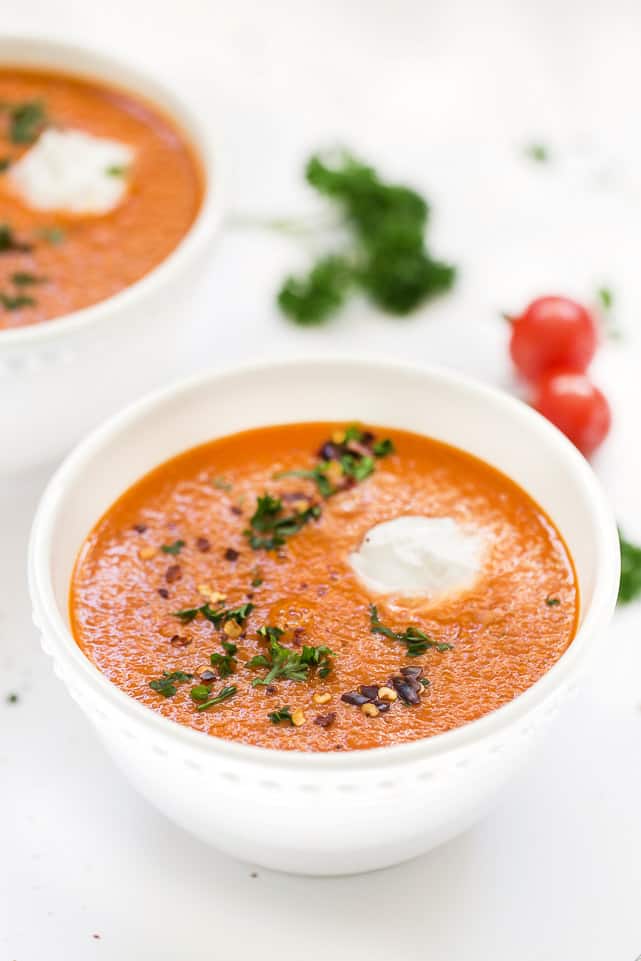 It's not exactly a secret that I'm a big fan of soups. Whether it's cold outside, or I've just had a long, exhausting day, there's nothing quite as comforting as a steaming bowl of hearty soup. This roasted red pepper soup is one of my favorites, because it checks all the boxes that I look for in a soup. It's comforting, rich, filling, healthy, and super easy to make. Plus, it's vegan and gluten-free!
Soup is often served as a side, but this roasted red pepper soup is a meal all by itself. The secret? It has quinoa in it! Adding a superfood like quinoa to a soup full of veggies like peppers and tomatoes makes for an incredibly healthy and well-rounded meal. Add in the fact that it only takes about an hour to make this soup, and it's not hard to see why this is one of my favorite recipes.
What You'll Need
Here's everything you need to make this comforting red pepper and tomato soup. Scroll to the recipe card at the bottom of the article to see the exact quantities for each ingredient.
Red peppers – You'll want to deseed the peppers.
Tomatoes
White onion – You can also use yellow or red onions, but a white onion is preferable.
Garlic
Salt
Pepper – Be sure to use freshly-ground black pepper.
Dried thyme
Dried oregano
Red pepper flakes
Cooked quinoa
Hot sauce – This is an optional ingredient.
How to Make Roasted Red Pepper Soup
Here's how to make this vegan red pepper and quinoa soup.
Prep the peppers. Put the red peppers on a baking sheet, skin-side up. Press them down to flatten them, and turn on your broiler.
Roast the peppers. Put the peppers in the oven under the broiler, and roast them until the skins are blackened. This should take 10-15 minutes.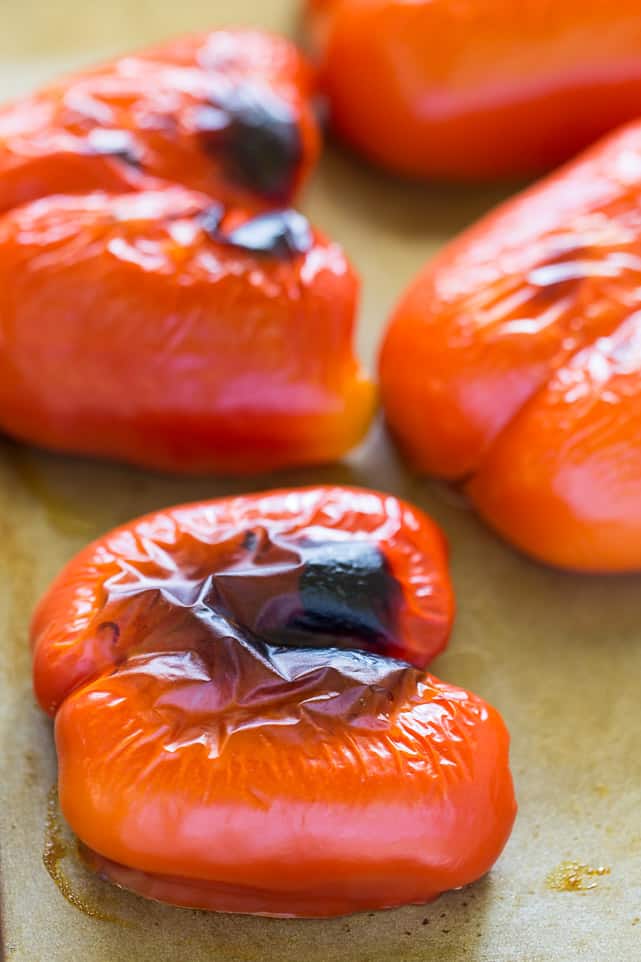 Peel the peppers. Remove the peppers from the oven, and place them in a heat-proof resealable bag. Let them sit for 15 minutes, then remove them from the bag and peel off the skin. Slice the peppers and set them aside.
Heat the aromatics. Heat the oil in a pot over medium-high heat. Add the onions and garlic to the pot, and sauté until the onions are translucent.
Add the rest of the ingredients. Add the tomatoes, tomato sauce, red peppers, vegetable broth, cooked quinoa, herbs, and spices to the pot.
Cook. Bring the soup to a boil, then lower the heat to a simmer. Put a lid on the pot, and cook for 20-25 minutes.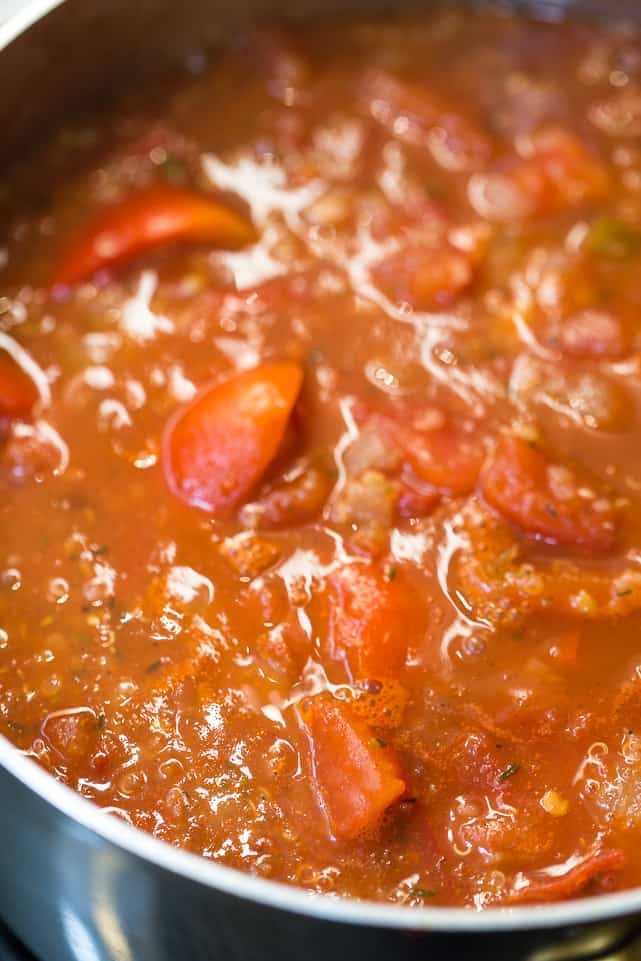 Blend. Use an immersion blender to blend the soup into a smooth consistency. If you don't have an immersion blender, transfer the soup to a standing blender, and blend.
Serve. If you're using hot sauce, stir it into the smooth soup, then serve while hot.
Tips for Success
Here are a few tricks and tips for making this hearty and comforting soup.
Use homemade broth. One way to elevate any soup is to use a homemade broth. The flavor you get from homemade stock is so much better than anything you'll buy in the store. This recipe is great with any kind of vegetable broth, but it reaches a new level with homemade broth. I like to use my Instant Pot mushroom vegan bone broth.
Add extra cooking time. One of my favorite things about this recipe is how quick and easy it is to make. But if you have extra time, almost any soup can benefit from simmering a little bit longer. The longer you cook this soup, the more intense the flavors will become. If you have the time, cook it for an hour or two. However, keep an eye on the consistency, as you may need to add a little more veggie broth if you cook it longer.
Salt at the end. When adding the ingredients to the soup, go light on the salt. Then, before serving, taste the soup and add salt as needed. Different veggie broths and hot sauces have different sodium levels, and the amount of time that you cook the soup will impact how salty it is. Wait until the very end to add the rest of the salt, to make sure that you don't over-salt the soup.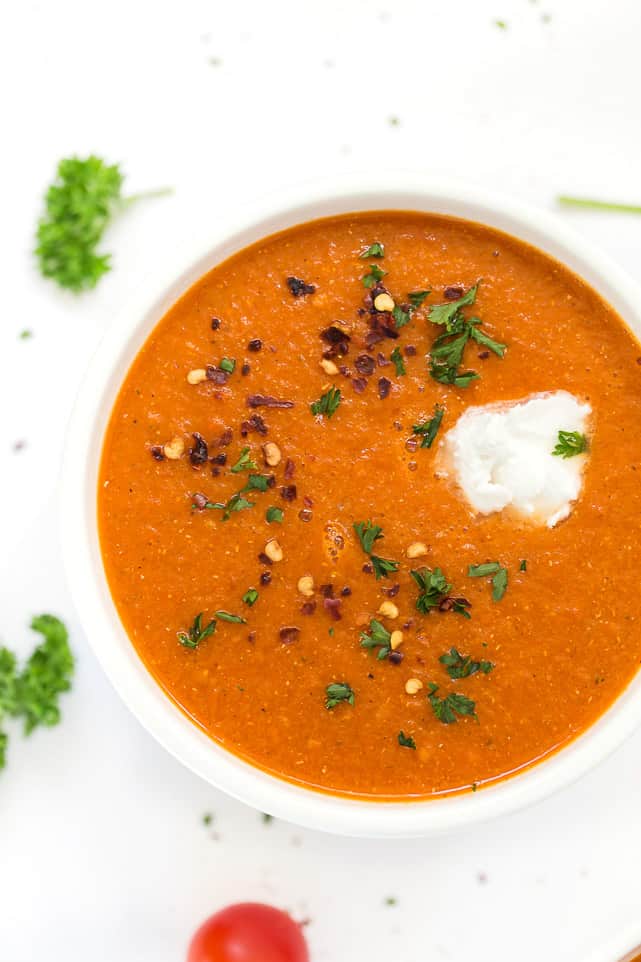 What to Serve With Roasted Red Pepper Soup
Here are some of my favorite foods to serve with this cozy soup.
How to Store and Reheat Leftovers
This soup will keep in the fridge for up to 3 days if stored in an airtight container. Reheat on the stove over medium heat until warm all the way through, about 5 minutes. You can also microwave the soup on 80% power in 30-second increments.
Can This Recipe Be Frozen?
This roasted red pepper soup is a great recipe to freeze. Store it in an airtight container and it will last for up to 4 months. Thaw overnight in the fridge, or defrost before reheating.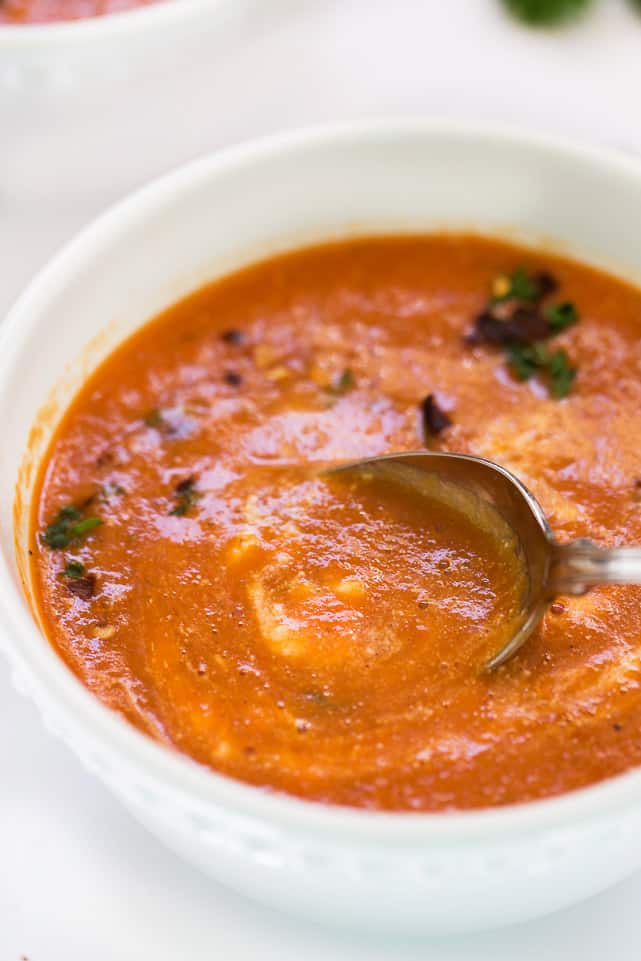 More Cozy Soups to Make
If you love soup as much as I do, then check out a few of my other favorite recipes.
Roasted Red Pepper Soup With Tomatoes and Quinoa
This easy and nutritious roasted red pepper soup is packed with fresh vegetables and quinoa. It only takes about an hour to make, and it's cozy, hearty, and super flavorful.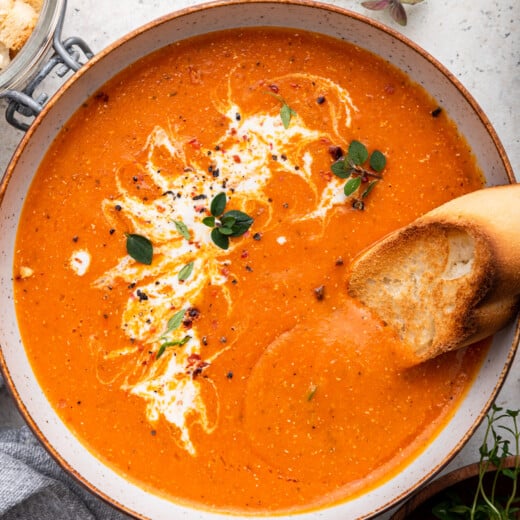 Instructions
Turn on broiler and flatten the seeded peppers, skin side up, on a cookie sheet.

Roast for about 10 – 15 minutes, until the skins are blackened. Remove from the oven and immediately place the peppers in a resealable bag. After 15 minutes, remove the peppers and rub off the skin. Slice into 1" pieces and set aside.

Heat oil in a large saucepan over medium-high heat. Add onions and garlic and sauté until the onions are translucent. Add tomatoes, tomato sauce, red peppers, vegetable broth, quinoa, herbs and spices. Bring the soup to a boil and reduce heat to simmer. Cover and cook for 20 – 25 minutes.

Remove soup from the heat and blend with an immersion blender or in a high-speed blender (in two batches), until smooth. Stir in hot sauce if desired.

Serve immediately and enjoy!
Notes
Store in an airtight container in the fridge for 3 days, or in the freezer for 4 months. Reheat over medium heat for 5 minutes, or in the microwave on 80% power in 30-second increments. 
Nutrition
Calories:
157
kcal
|
Carbohydrates:
19
g
|
Protein:
4
g
|
Fat:
8
g
|
Saturated Fat:
1
g
|
Polyunsaturated Fat:
1
g
|
Monounsaturated Fat:
5
g
|
Sodium:
622
mg
|
Potassium:
399
mg
|
Fiber:
4
g
|
Sugar:
6
g
|
Vitamin A:
2474
IU
|
Vitamin C:
88
mg
|
Calcium:
42
mg
|
Iron:
2
mg
Filed Under: