This grape salad is tart, creamy, and super refreshing. It's the perfect treat for a picnic, barbecue, or hot summer day.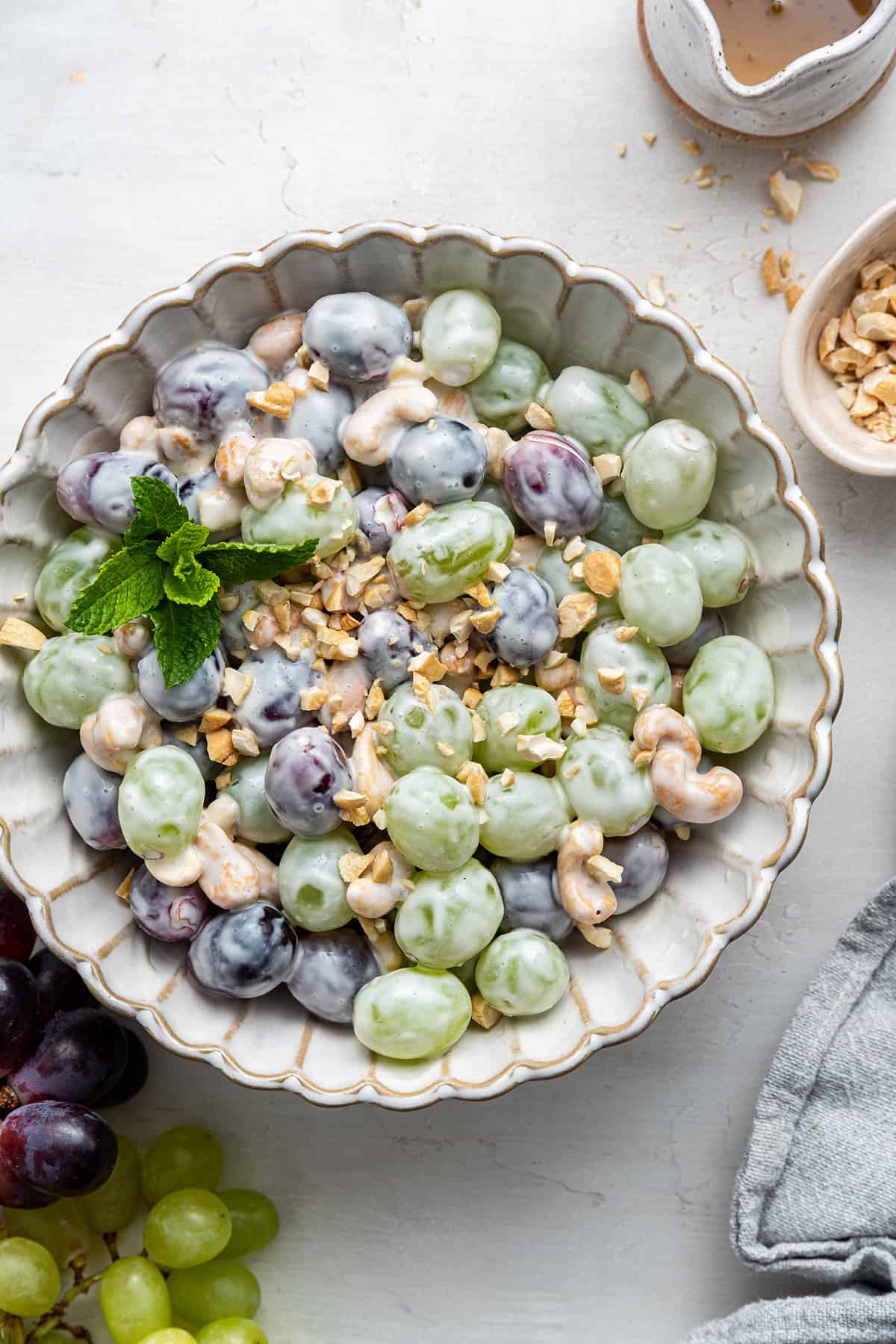 One of my favorite things to eat is fresh fruit on a sunny day. But for as much as I love eating plain fruit, I like to make something more interesting than that. That's when I turn to this grape salad. It's full of not just fruit, but nuts, dairy, and honey. It's sweet but also tart, and rich but also refreshing.
I always have a batch of this salad in my fridge during the summer. It's great as a snack or a dessert, and I also eat it as a side dish alongside savory foods. It's easy to make, good for you, and so delicious.
Why This Grape Salad Recipe is The Best
This is one of those foods that you'll make and wonder how you ever lived without it. Here's why I know you'll love it as much as I do.
So easy. This recipe is about as simple as it gets. It only has 7 ingredients, and all you have to do is make the easiest dressing, and then mix everything together. It takes 10 minutes, tops!
Healthy. Grape salad is pretty sweet and creamy, so you might think it's unhealthy. But it's actually super healthy! It's loaded with fresh fruit and healthy nuts, and lots of Greek yogurt. It only has a little bit of honey for sweetening, and a little bit of sour cream for richness. Other than those ingredients, everything in this salad is great for you.
Refreshing. When the sun comes out we tend to think of drinks as being refreshing. But a lot of foods can be refreshing, too. The freshness from the grapes, paired with the honey, vanilla, and yogurt, is perfect for a hot day.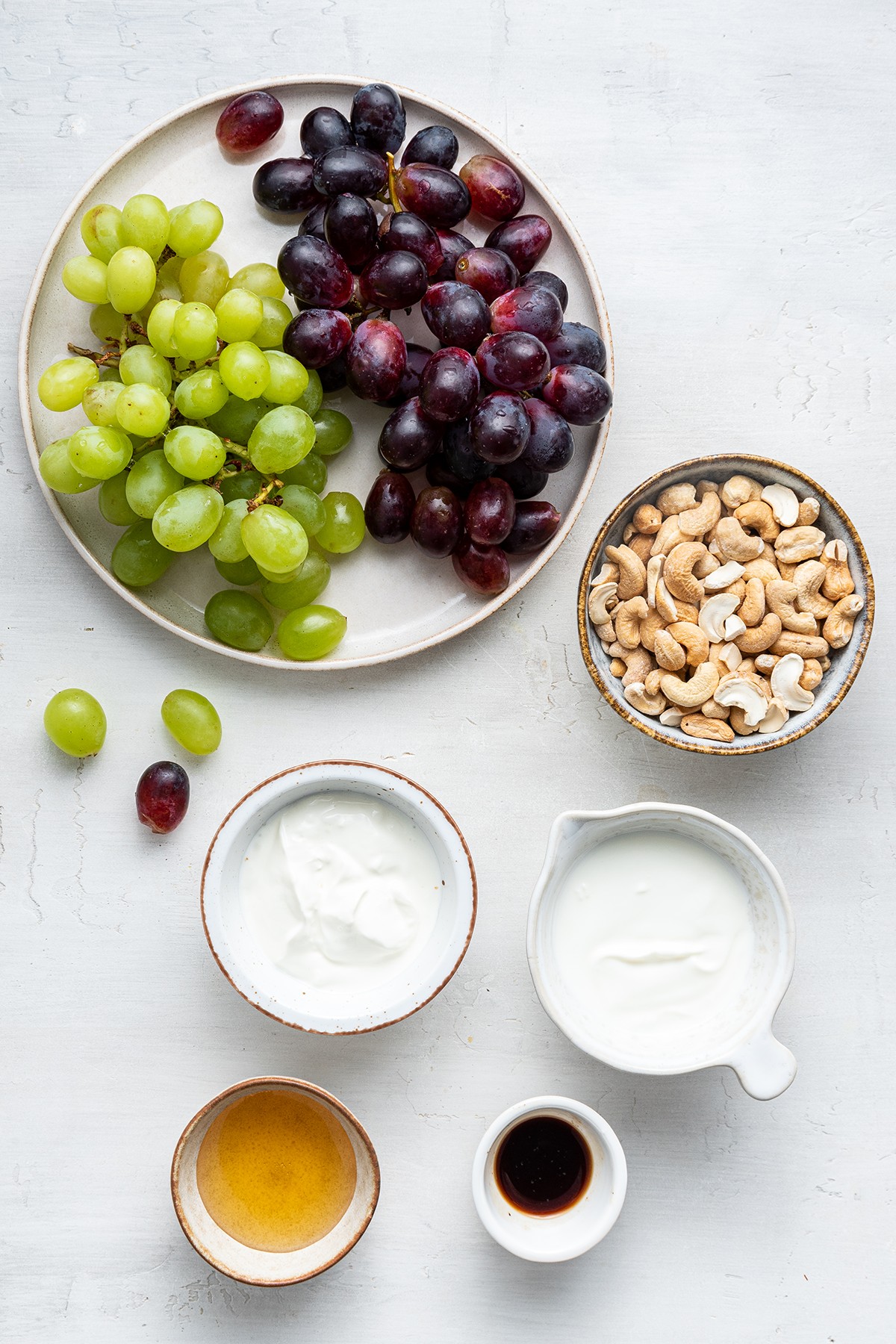 Ingredients Needed
Here are the ingredients you'll need to make this creamy 10-minute grape salad. Scroll to the recipe card at the bottom of the page to see the exact amount for each ingredient.
Grapes – You'll need both red grapes and green grapes for this recipe.
Cashews – For best results, use cashews that are roasted and salted.
Sour cream
Greek yogurt – You can use regular yogurt if that's what you have around, but Greek yogurt gives this salad a better taste and texture.
Honey
Vanilla extract – Make sure to always use 100% pure extract.
How to Make Grape Salad
This fruit salad really couldn't be any easier to make. Here's how to do it.
Make the dressing. Add the sour cream, Greek yogurt, honey, and vanilla extract to a bowl, then whisk until smooth.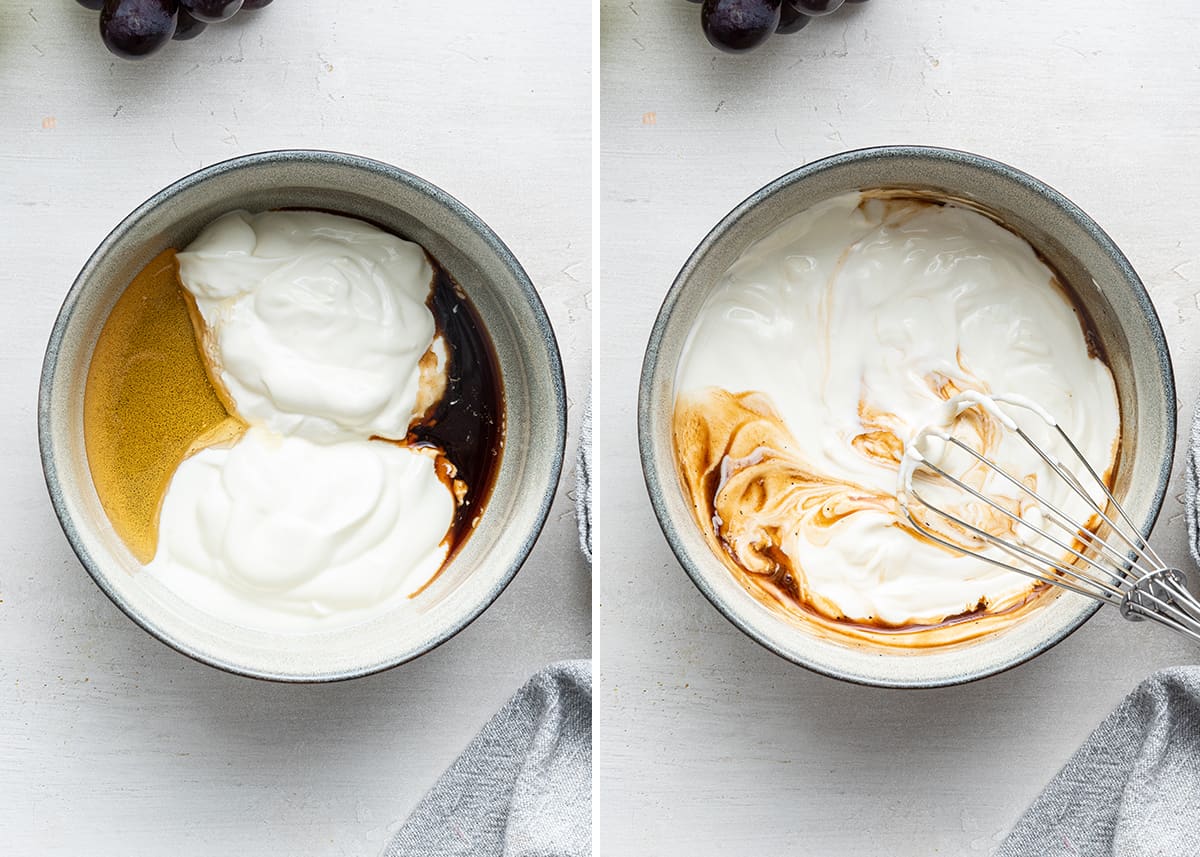 Assemble the salad. Add the grapes, cashews, and dressing to a salad bowl or mixing bowl, then toss until the fruit and nuts are coated in the dressing. Then serve!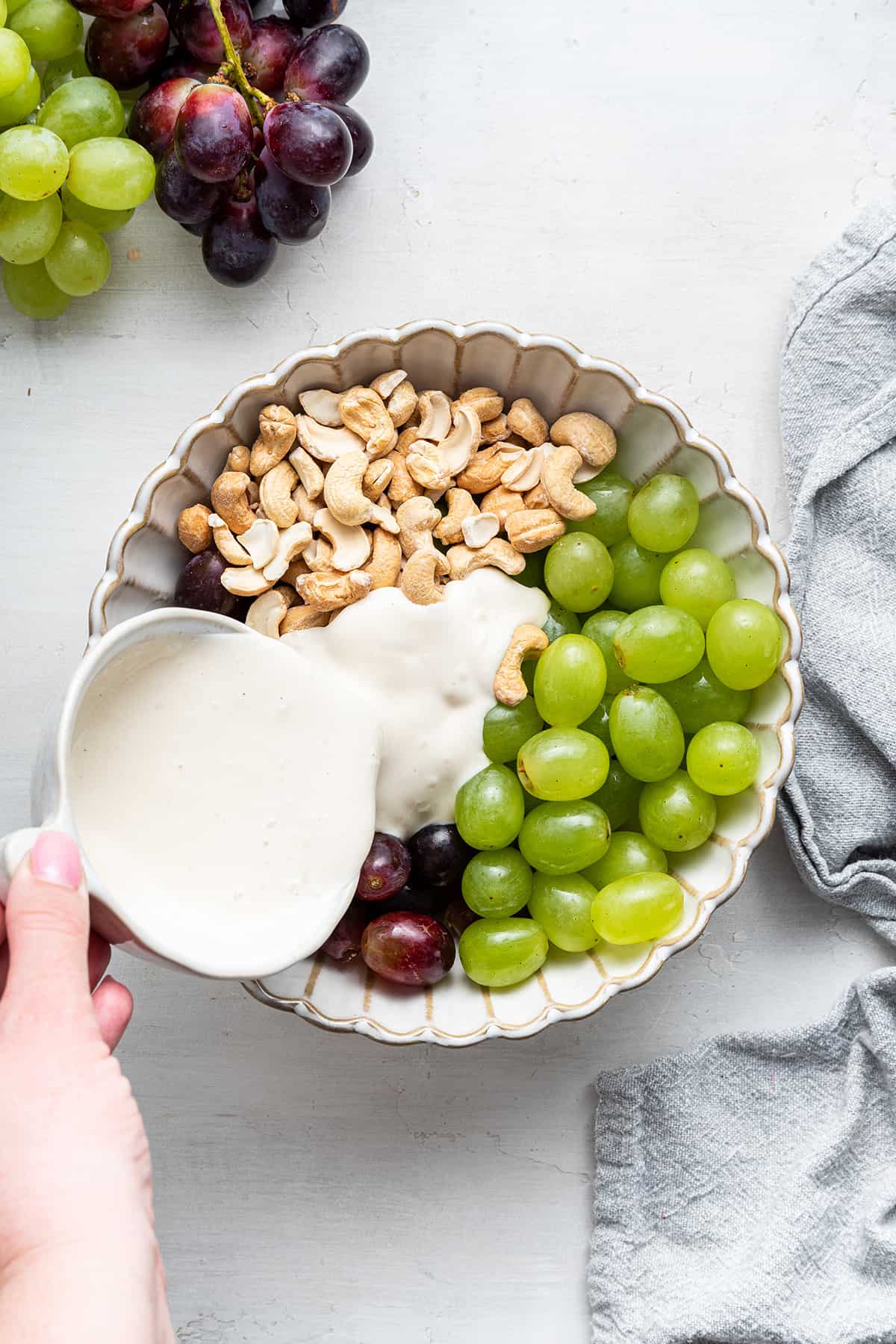 Tips and Variations
Here are a few tricks to use when making this summertime salad recipe, and a few variations that you can try.
Serve cold. This grape salad will last for a while in the fridge, and it will also develop some stronger flavors as it chills. If you want to make it in advance, feel free to keep it in the fridge until you're ready to serve it. Or if it's a hot day, I like to let the grape salad chill in the fridge so that it's extra refreshing when I eat it.
Adjust the sweetness. Before you make this fruit and nut salad, taste the grapes that you're using. If they're super sweet grapes, you might want to add less honey to your dressing. Or, if the grapes are extra tart, you may need a little bit more honey. Adjust the sweetness of the dressing to fit the grapes that you're using.
Go vegan. If you're a vegan, don't worry! You can still easily make this recipe. I think this grape salad is just as good with vegan sour cream and yogurt as with dairy products.
Make it healthier. This grape salad recipe is already pretty healthy, but if you're watching calories and cholesterol, you can make it even healthier. Feel free to use low-fat sour cream and Greek yogurt. You can even replace the sour cream entirely with regular yogurt if you prefer.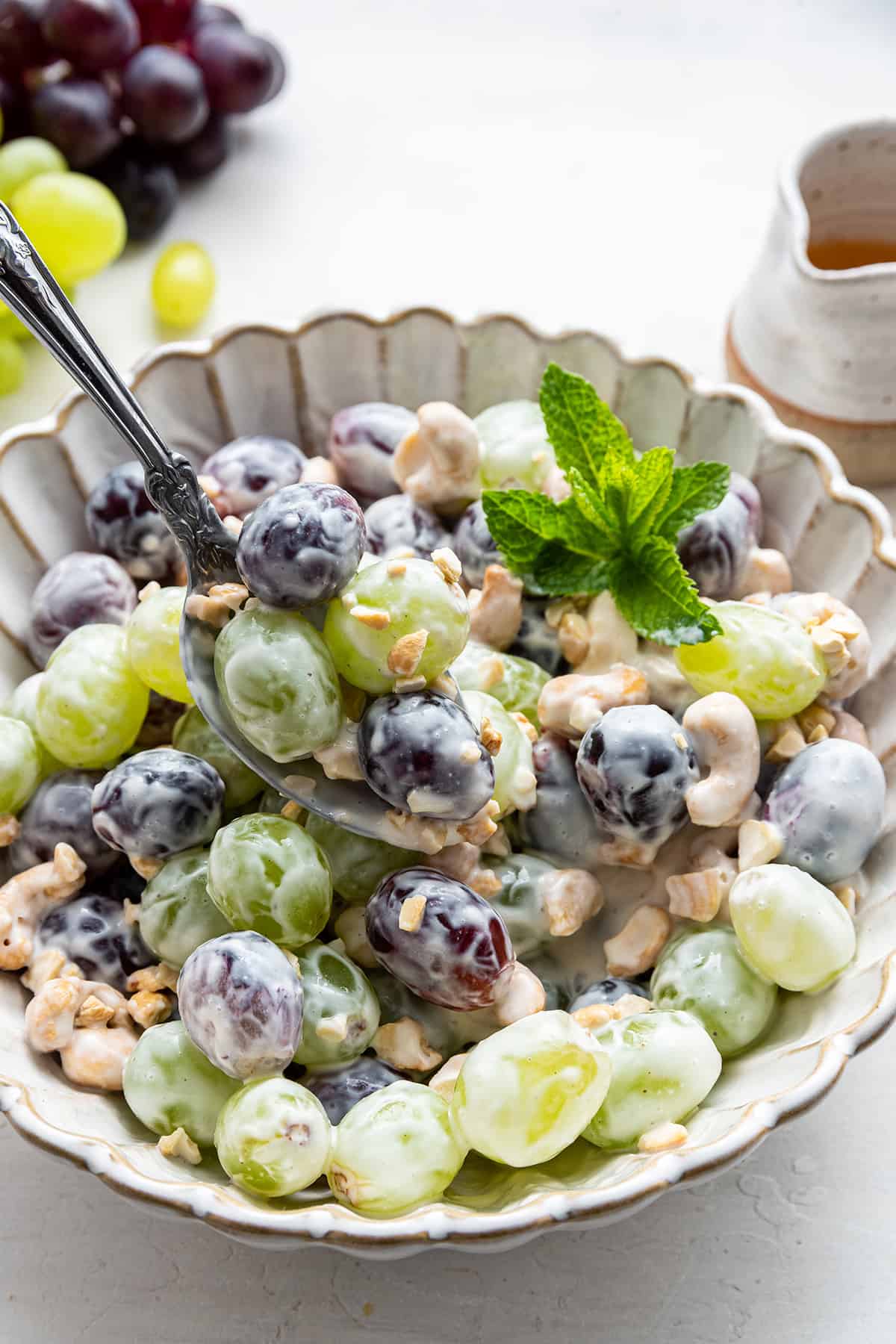 How to Serve It
My favorite way to eat this tasty grape dish is as a side salad or a dessert when grilling or barbecuing. Here are some perfect entrees to cook outside in the middle of summer, and serve with grape salad.
Storing Leftover Grape Salad
You can store this fruit salad in the fridge for 2-3 days in an airtight container. The salad will be safe to eat for 5 days, but the grapes will likely become a little bit too mushy after a few days in the fridge.
Can You Freeze This Recipe?
I do not recommend freezing grape salad. The texture of the dairy will get very weird if frozen and then thawed.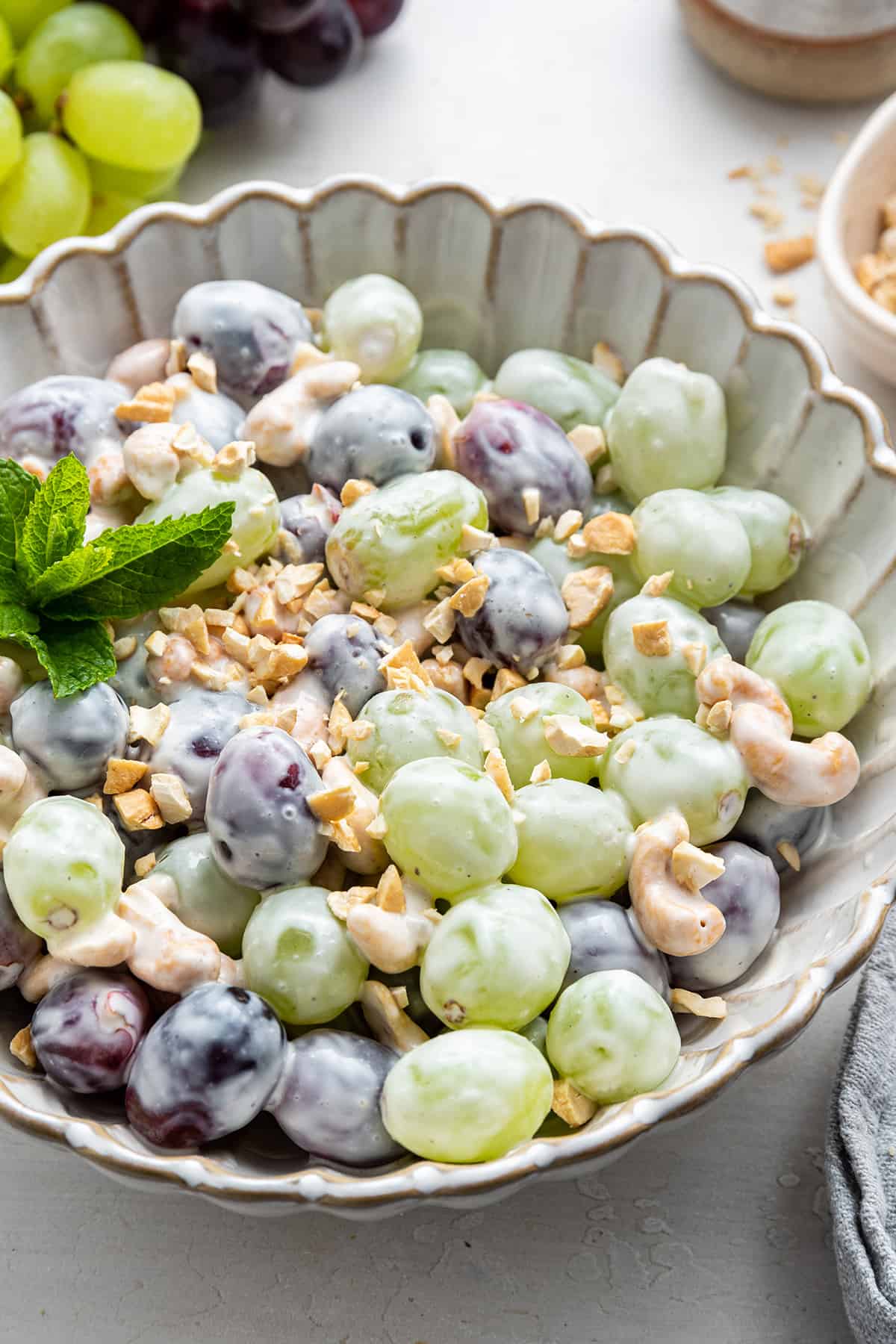 More Fresh Summer Salads
If you love bright and fresh summer salad recipes as much as I do, then check out some of these other dishes. They're all easy, healthy, and delicious.
Grape Salad
This grape salad is tart, refreshing, creamy, and healthy. It's perfect for picnics, barbecues, and other summer gatherings!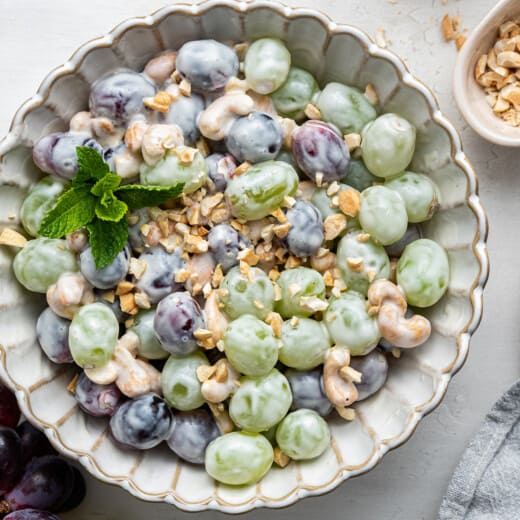 Ingredients
1 ½

cups

red grapes

1 ½

cups

green grapes

1

cup

cashews,

roasted and salted

¼

cup

sour cream

(dairy-free optional)

¼

cup

Greek yogurt

(dairy-free optional)

1

tablespoon

honey

½

teaspoon

vanilla extract
Instructions
In a small bowl, whisk together the sour cream, Greek yogurt, honey, and vanilla extract until smooth.

In a mixing bowl or salad bowl, combine the grapes, cashews, and dressing.

Toss until the fruit and nuts are well coated.
Notes
Store leftover grape salad in an airtight container in the fridge for 2-3 days. It will stay safe to eat for 5 days, but the grapes will likely become mushy.
I do not recommend freezing this recipe.
Feel free to use low-fat dairy, or replace the sour cream with yogurt for a healthier grape salad. 
Nutrition
Calories:
310
kcal
|
Carbohydrates:
36
g
|
Protein:
8
g
|
Fat:
17
g
|
Saturated Fat:
4
g
|
Polyunsaturated Fat:
3
g
|
Monounsaturated Fat:
8
g
|
Cholesterol:
9
mg
|
Sodium:
15
mg
|
Potassium:
468
mg
|
Fiber:
2
g
|
Sugar:
25
g
|
Vitamin A:
165
IU
|
Vitamin C:
4
mg
|
Calcium:
52
mg
|
Iron:
3
mg
Filed Under: