The best quinoa curry recipe! This healthy slow cooker coconut curry is one of the easiest meals ever. Just toss everything into the slow cooker and done!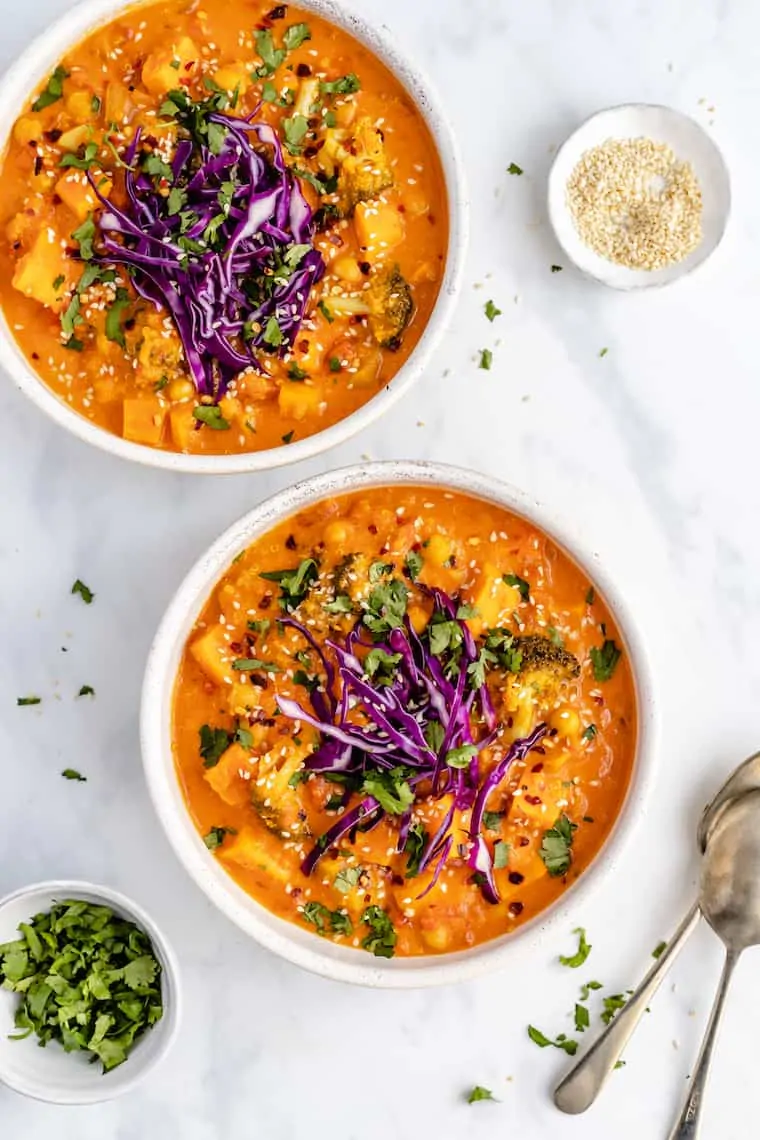 Have to work late and don't have time to make dinner? Slow cooker to the rescue. Don't feel like spending hours at the stove carefully watching your pot to make sure it doesn't boil over or burn? Slow cooker to the rescue. Want to make the easiest, most straightforward dinner ever? Slow cooker to the rescue.
Sensing a theme here? Yep, slow cookers can be pretty amazing. Time-saving, easy and minimal prep (and clean up for that matter).
In my house though, they're a totally underutilized tool. I think this is only the fourth or fifth time all winter that I've used my slow cooker and I'm not kidding, every time I pull it out, I say/yell to myself, "WHY DON'T I USE THIS MORE OFTEN!?"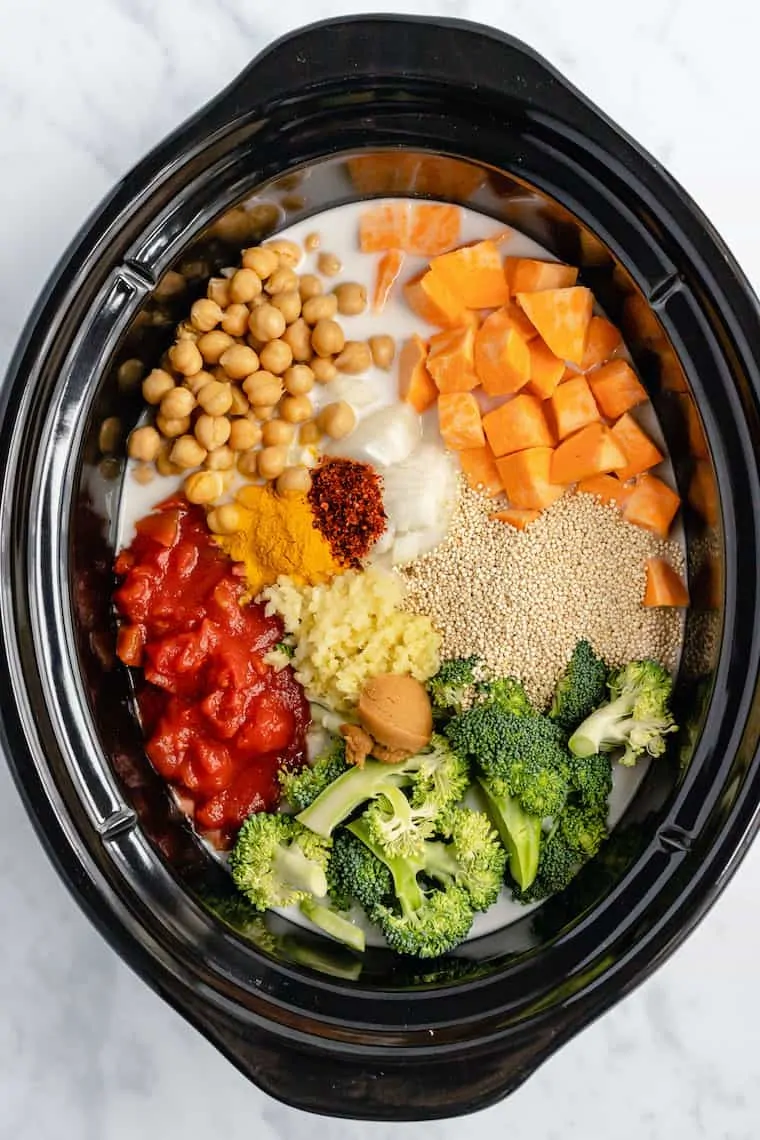 What You Need to Make This Curry Recipe
First, let's talk about the ingredients! You might read the comments before you make this recipe and see that quite a few people are asking, "where's the curry powder!?" This recipe doesn't actually use curry powder – it's more inspired by Thai/Asian Pacific curries that use things like ginger and soy for their flavor.
For our base we've got:
Coconut milk: I like to do full fat because it has more flavor, but if you want to cut back on calories, light will also work. I don't think another milk will work here and still give you the same creamy texture and rich flavor.
Diced tomatoes: the tomatoes add a hint of juiciness, but also a mild sweetness.
Fresh ginger: adds zing and brightness
Fresh turmeric: this has a much brighter flavor than ground and I think is exceptional in this recipe. You could swap it with dried, but use about 1/3 of the amount.
Garlic: because garlic is just my favorite flavor agent of all time!
Miso + tamari: for a bit of salt and umami flavor.
And then for our mix-ins we've got:
Sweet potato
Broccoli
Onion
Chickpeas
Quinoa
Those can be swapped in and out if you'd like. More on that later in the post!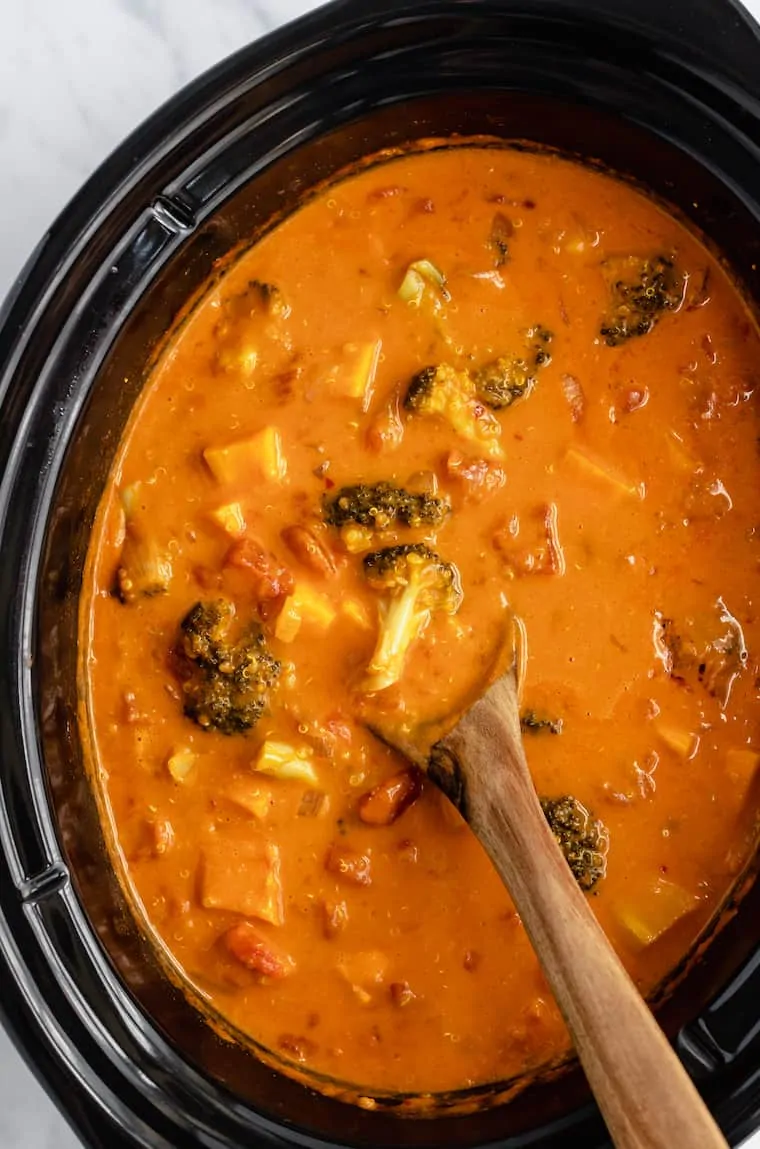 How to Make Coconut Quinoa Curry
I will say, this curry is kind of a middle-of-the-road type curry. Not that it tastes basic or anything, but the flavor profiles don't swing in any cuisine's direction. I almost feel like it has some influences from all over the place and yet it totally works.
STEP ONE
We start with sweet potato, broccoli, onion and chickpeas as the bulk of the curry. You could feel free to swap in any other veggies you want – white potatoes, butternut squash, cauliflower, eggplant, etc. – just as long as the proportions stay the same, you should be all set.
STEP TWO
From there the sauce of the curry is just diced tomatoes and coconut milk. The tomatoes add a nice level of sweetness while the coconut milk makes it thick and creamy. Plus…super simple.
STEP THREE
Next, we have the quinoa and then we end it with our flavor bombs.
I'm not sure why I called them flavor bombs, but that's kind of how I see them. If the dish didn't have them, it would be flat and boring. Add them in and it's like an explosion of flavor in your mouth.
The flavor bombs in this curry are fresh garlic, fresh ginger, fresh turmeric, tamari, miso and chili flakes. Each ingredient brings its own uniqueness to the table, but they still all work in harmony to make this amazingly aromatic and flavorful dish.
STEP FOUR
Once you've got everything in there, it's as simple as turning on your cooker and walking away. 3 – 4 hours later, you come back to a thick, creamy coconut curry that will comfort you from head to toe. No more need for takeout in this house, I've finally found my most perfect curry!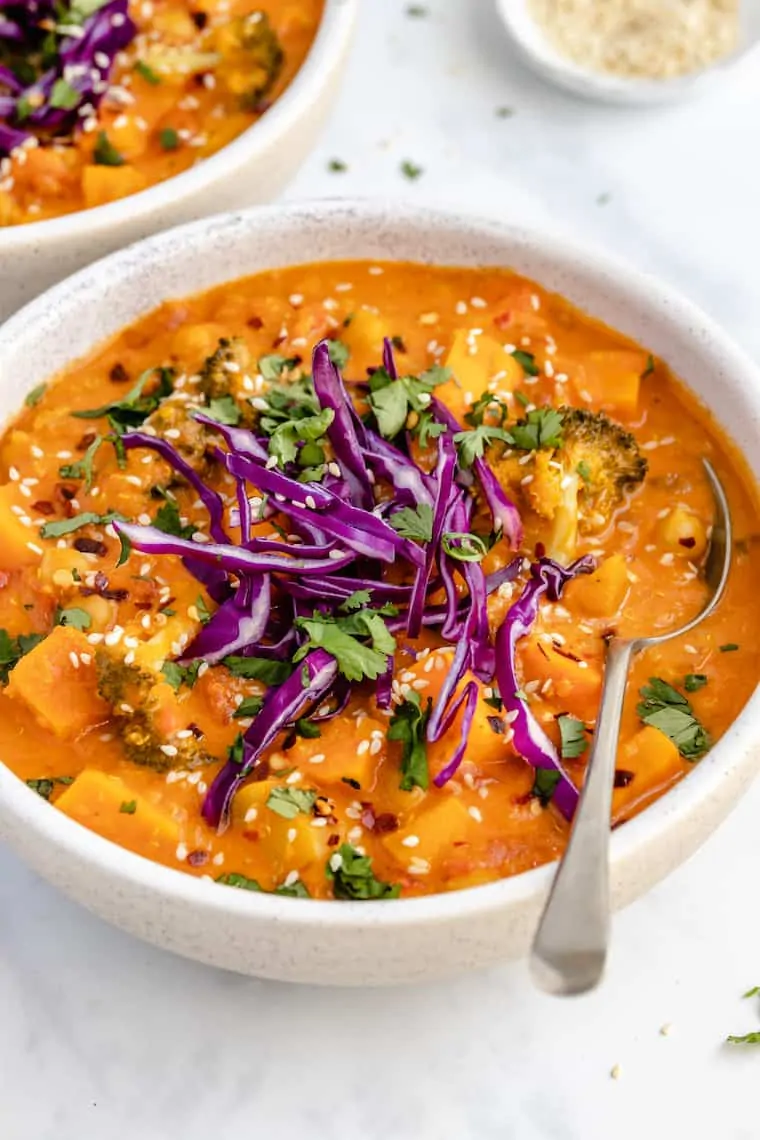 Swaps to Try in our Coconut Quinoa Curry
Just in case you want to make some changes to this recipe, know that all the mix-ins can be subbed. I would just follow the same proportions so that you're sure the cooking time and texture stay the same.
And if you can, swap like ingredients for like ingredients. For example, sweet potato. Swap that with potato, butternut squash or another starchy vegetable. The same goes for the broccoli – cauliflower would be a natural swap.
If you have any specific questions for substitutions, let me know down below!
How to Store Coconut Curry
Want to make this for meal prep? Fabulous because it works perfectly!
You can either refrigerate this curry for 4 – 5 days, OR you can freeze it. I like to freeze it in the portion sizes that I'm going to eat (either 1 or 2 servings), allow it to thaw at room temperature, and then heat it up.
For reheating, you can either pop it in the microwave or you can heat it in a small saucepan.
Either way, I know you're just going to LOVE this recipe! It's tried and true in my house and is loved by many of our readers as well. Just check out the comments – so many awesome ones!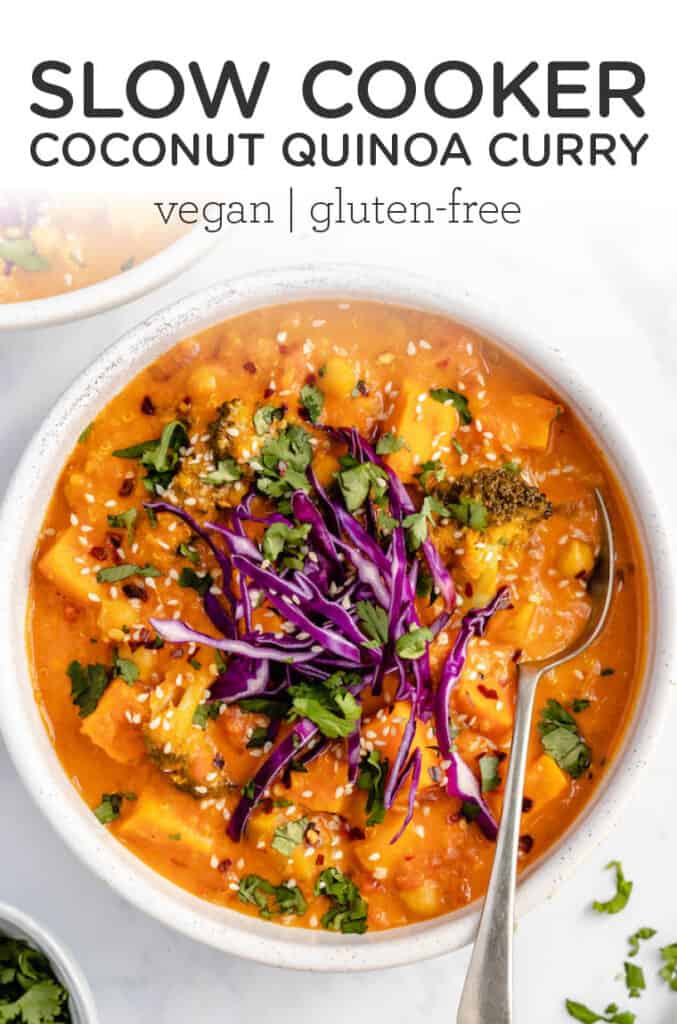 More Healthy Slow Cooker Recipes:
Slow Cooker Coconut Quinoa Curry
This healthy coconut quinoa curry is one of the easiest meals you'll ever make. Just toss all the ingredients in the slow cooker and let it cook!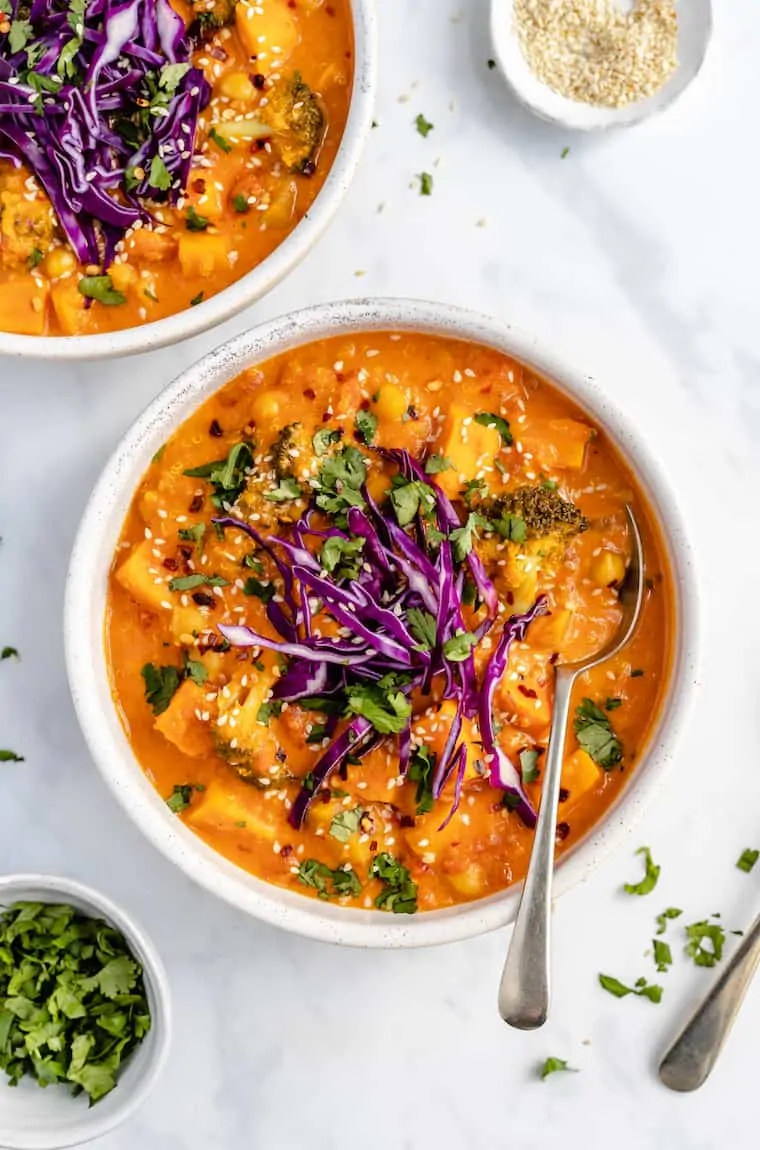 Ingredients
1

medium sweet potato

peeled + chopped (about 3 cups)

1

large broccoli crown

cut into florets (about 2 cups)

1/2

white onion

diced (about 1 cup)

1/4

cup

quinoa

2

garlic cloves

minced (about 1 tablespoon)

1

tablespoon

freshly grated ginger

1

tablespoon

freshly grated turmeric

or 1 teaspoon ground

2

teaspoon

wheat free tamari sauce

1

teaspoon

miso

or additional tamari

1/2 - 1

teaspoon

chili flakes
Instructions
Add all ingredients to a slow cooker. Stir until everything is fully incorporated.

Turn the slow cooker to high and cook for 3 - 4 hours until sweet potato cooks through and the curry has thickened.
Notes
To grate my fresh spices, I like to use a zester.
Nutrition
Calories:
289
kcal
|
Carbohydrates:
20
g
|
Protein:
6
g
|
Fat:
22
g
|
Saturated Fat:
19
g
|
Sodium:
285
mg
|
Potassium:
774
mg
|
Fiber:
4
g
|
Sugar:
4
g
|
Vitamin A:
2970
IU
|
Vitamin C:
79.4
mg
|
Calcium:
97
mg
|
Iron:
5.7
mg
Filed Under: