These crispy chickpeas are so easy and so versatile. They're rich, healthy, and crunchy, and can be added to almost any meal.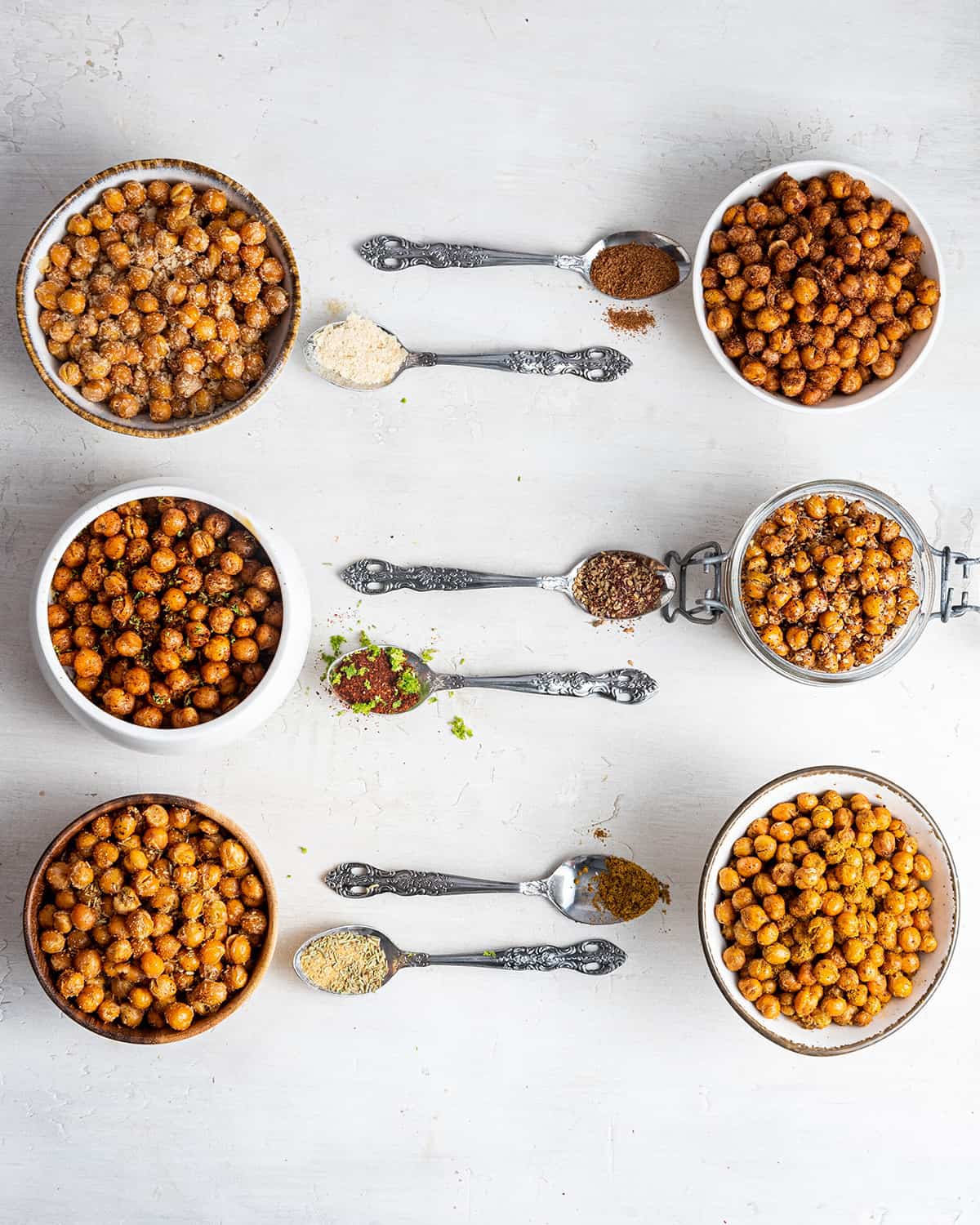 Chickpeas are one of my favorite foods. They're such a healthy and affordable ingredient, and they can be used in so many different ways, and in so many different cuisines. But far and away my favorite thing to do with this special ingredient is to make crispy chickpeas.
Crispy chickpeas are so simple and easy to make, but they instantly take your chickpeas to the next level. They're crunchy on the outside but still soft on the inside, and they absorb so much flavor. You can eat them by themselves as a snack, put them on top of salads, or use them as a garnish for your favorite recipes. The possibilities really are endless!
I used to just make normal crispy chickpeas, which are perfect as is. But now I make them with lots of different flavors. I have 6 fun crispy chickpea recipes for you to try. But before we get to them, let's go over basic crispy chickpeas, which are the base for all of these recipes.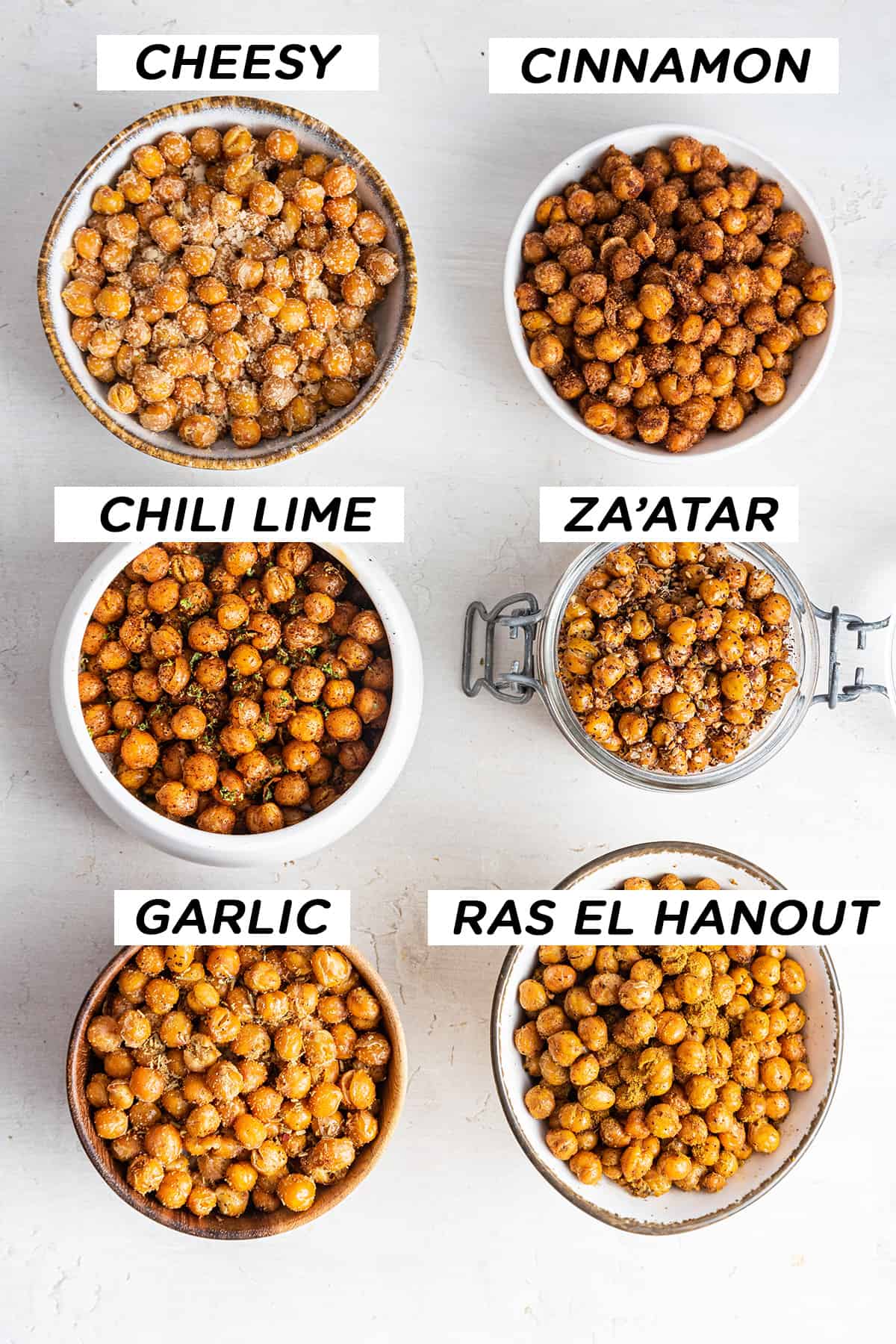 Ingredients Needed
Here are the ingredients that you need when making crispy chickpeas. Scroll to the recipe card at the bottom of the article to see the exact amounts for each of the ingredients.
Canned chickpeas
Coconut oil – The oil needs to be melted.
Salt
Pepper – Always use freshly ground pepper.
How to Make Crispy Chickpeas
Here's how to make them. You'll follow most of this recipe for the 6 flavor variations.
Prep. Preheat your oven to 400F.
Rinse your chickpeas. Drain and rinse the chickpeas, then move them to a bowl. Use a paper towel or kitchen towel to dry the chickpeas.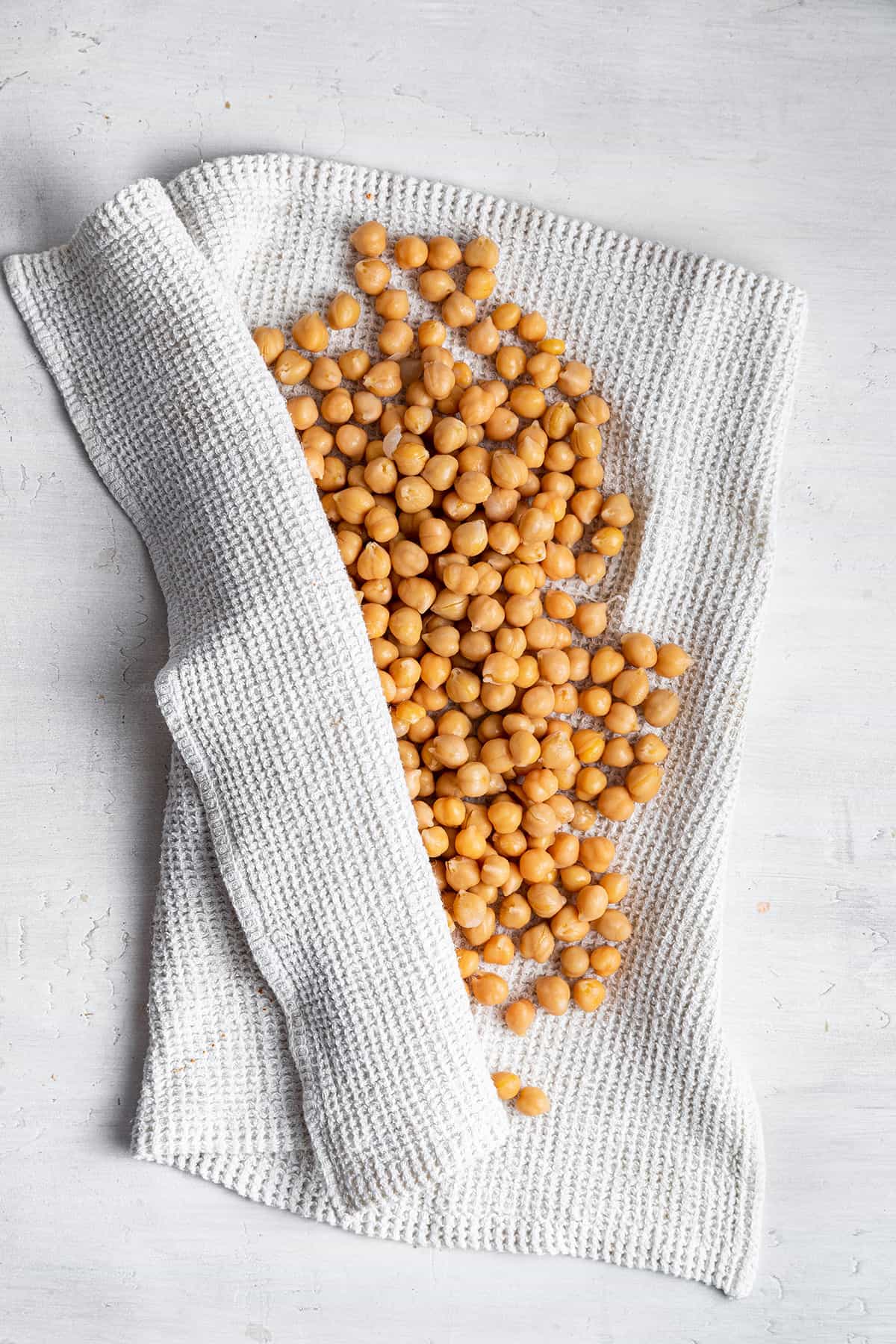 Add the seasonings. Add the coconut oil, salt, and pepper to the bowl of chickpeas, and toss to combine.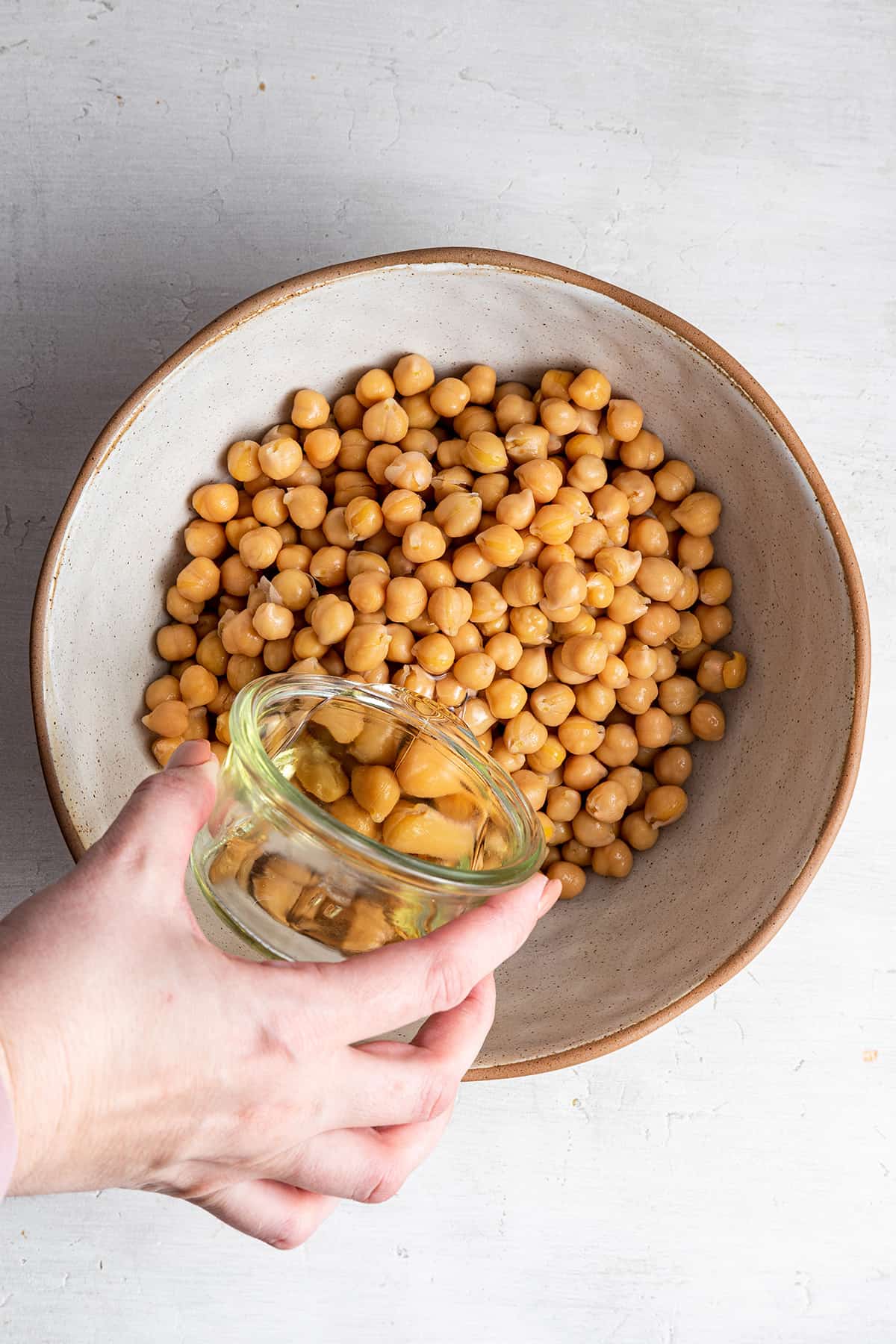 Roast. Put the chickpeas on a baking sheet and roast for about 45 minutes. Stir the chickpeas every 10 minutes or so.
Cool. Once the chickpeas are nice and crispy, remove them from the oven, and you're ready to eat them!
Now, let's look at some variations.
Cheesy
These cheesy crispy chickpeas taste so cheesy, even though they're entirely vegan. They're great as a snack while watching a movie!
Additional Ingredients Needed
How to Make Cheesy Chickpeas
After the chickpeas have been in the oven for 30 minutes, add the nutritional yeast. Stir to combine, then finish cooking the garbanzo beans.
Chili Lime
Chili lime is a classic food pairing, especially for snack foods. You can put these chickpeas in tacos, but they're also an addictive snack on their own.
Additional Ingredients Needed
2 teaspoons chili powder
Zest of 1 lime
How to Make Chili Lime Chickpeas
Once the beans have cooked for 30 minutes, add the chili powder and mix the chickpeas. Finish roasting them, then after they've been removed from the oven you can stir in the lime zest.
Rosemary and Garlic
I use crispy chickpeas in place of croutons all the same. They work perfectly as gluten-free croutons, and I think they're tastier than traditional croutons, too. If you need something new to put on your salads, you've got to try this recipe.
Additional Ingredients Needed
2 teaspoons garlic powder
2 teaspoons rosemary
How to Make Rosemary and Garlic Chickpeas
After the garbanzo beans have been baking for 30 minutes, remove them from the oven. Stir in the garlic powder and the rosemary, then put the chickpeas back in the oven to roast until they're done.
Cinnamon Sugar
Cinnamon sugar may not be the first flavor you think of when you think of chickpeas, but these flavors work together so well. I love to top a parfait or some pancakes with cinnamon sugar garbanzo beans.
Additional Ingredients Needed:
2 teaspoons cinnamon
2 tablespoons coconut sugar
How to Make Cinnamon Sugar Chickpeas
Let the chickpeas cook for 30 minutes, then remove them from the oven. Add the cinnamon and coconut sugar, and stir until the garbanzo beans are covered. Put the chickpeas back in the oven until they're done roasting.
Ras el Hanout
This Moroccan spice rub goes so well with chickpeas. It's packed with warm spices like cinnamon, allspice, ginger, and cumin, so it's great for most Mediterranean or Middle Eastern dishes.
Additional ingredients needed
2 teaspoons Ras el Hanout
How to Make Ras el Hanout Chickpeas
After the chickpeas have spent 30 minutes in the oven, remove them and sprinkle the Ras el Hanout on them. Toss or stir to coat the garbanzo beans, then let them finish roasting in the oven.
Za'atar
I love za'atar. It's such an interesting spice blend that is very herby and lemony. Za'atar chickpeas are a fantastic addition to any Middle Eastern recipe, but they're also pretty perfect to eat by themselves.
Additional Ingredients Needed
How to Make Za'atar Chickpeas
Let the chickpeas roast for 30 minutes, then remove them from the oven and mix in the za'atar. Return the garbanzo beans to the oven to finish cooking.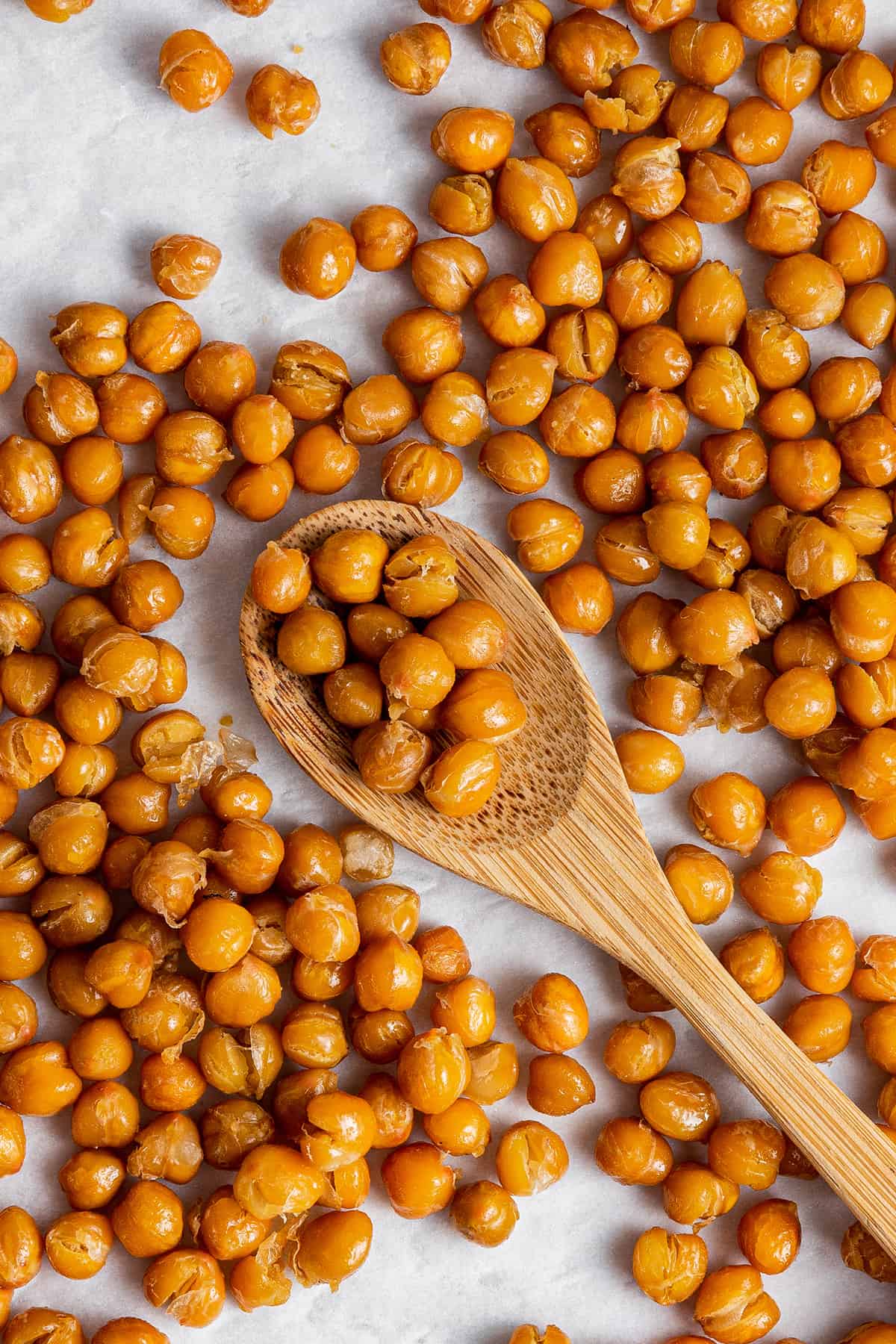 Tips for Success
Here are a few tricks and tips to use when making these various crispy chickpea recipes.
Save the aquafaba. Aquafaba is the liquid that comes in a can of chickpeas. It's a very common ingredient with vegans because it can be used in place of egg whites. It even will form a meringue-like texture when you whip it! Save the aquafaba from the canned garbanzo beans so that you can try cooking with it.
Stir. Keep an eye on your chickpeas while they're in the oven. If they're getting too brown, stir them around a little bit. You want the garbanzo beans to get brown and crispy, but not burnt or charred.
Get creative. These are my 6 favorite crispy chickpea variations, but you can add anything you want to the garbanzo beans. Feel free to get creative with ingredients and tailor the crispy chickpeas to your taste.
How to Serve Crispy Chickpeas
There's no limit to the things that you can put these tasty beans on. However, I do have a few favorite recipes for topping with crispy chickpeas.
How to Store Leftovers
Leftover crispy garbanzo beans can be stored in an airtight jar at room temperature for 3 days, or in the fridge for 1 week. Make sure that the chickpeas are fully cooled before you put them in a jar.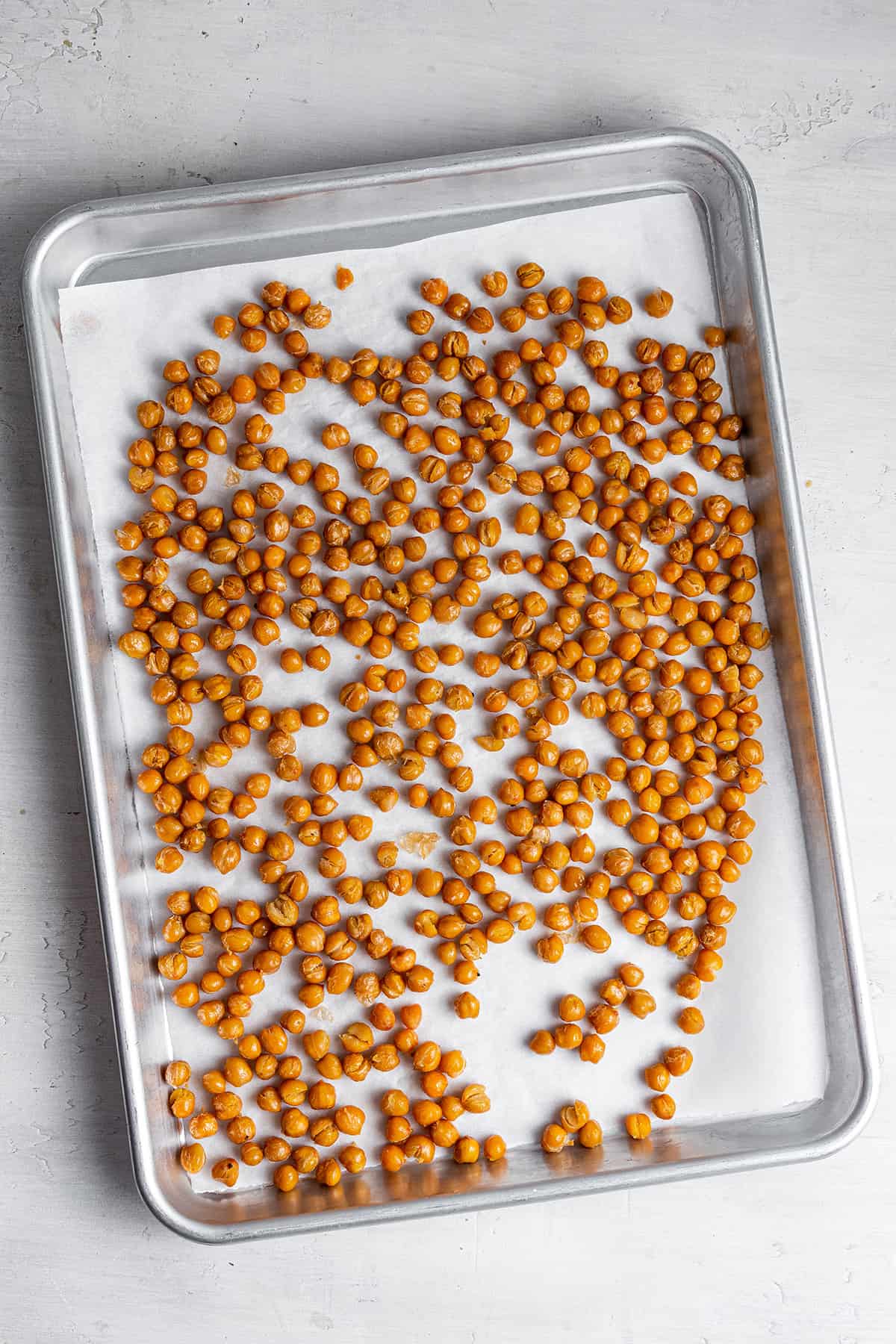 More Recipes With Chickpeas
I strongly recommend that you try these crispy chickpeas. And if you like them half as much as I do, then you might want to try some of my other favorite recipes with garbanzo beans.
Crispy Chickpeas
Crispy chickpeas are an easy and nutritious snack or garnish to put on top of your favorite meal. With 6 flavor variations to try, there's something for every meal.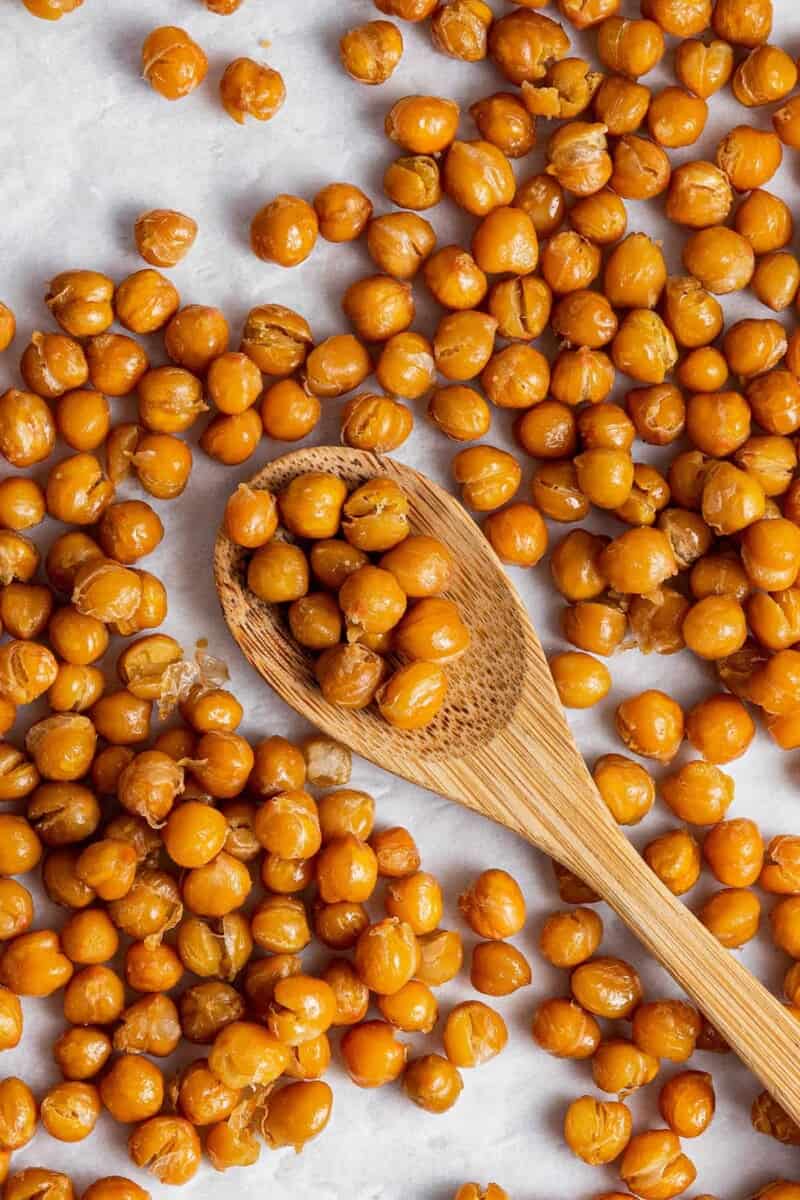 Ingredients
2

tablespoons

coconut oil

, melted

Salt & pepper to taste
Instructions
Preheat the oven to 400ºF.

Drain and rinse your chickpeas then transfer them to a bowl. Use a paper towel (or two) and pat the chickpeas as dry as possible. If some of the skins fall off, remove those from the bowl.

Add the coconut oil, salt, and pepper to the bowl and well and toss to combine. Transfer the chickpeas to a baking sheet.

Roast the chickpeas for 45 minutes, stirring every 10 minutes to evenly cook. If adding flavors, remove after 30 minutes, add spices and cook remaining 15 minutes.

Cool completely before storing and enjoy!
Notes
Leftovers can be stored in an airtight container at room temperature for 3 days, or in the fridge for 1 week. 
Nutrition
Serving:
0.3333
cup
|
Calories:
118
kcal
|
Carbohydrates:
10
g
|
Protein:
3
g
|
Fat:
8
g
|
Saturated Fat:
6
g
|
Sodium:
2
mg
|
Potassium:
103
mg
|
Fiber:
3
g
|
Sugar:
2
g
|
Vitamin C:
1
mg
|
Calcium:
17
mg
|
Iron:
1
mg