These Mediterranean quinoa bowls are easy, healthy, and packed with awesome ingredients. With roasted eggplant, crispy chickpeas, and loads of hummus, these bowls are hearty, satisfying, and absolutely delicious. Plus, they're gluten-free and vegan!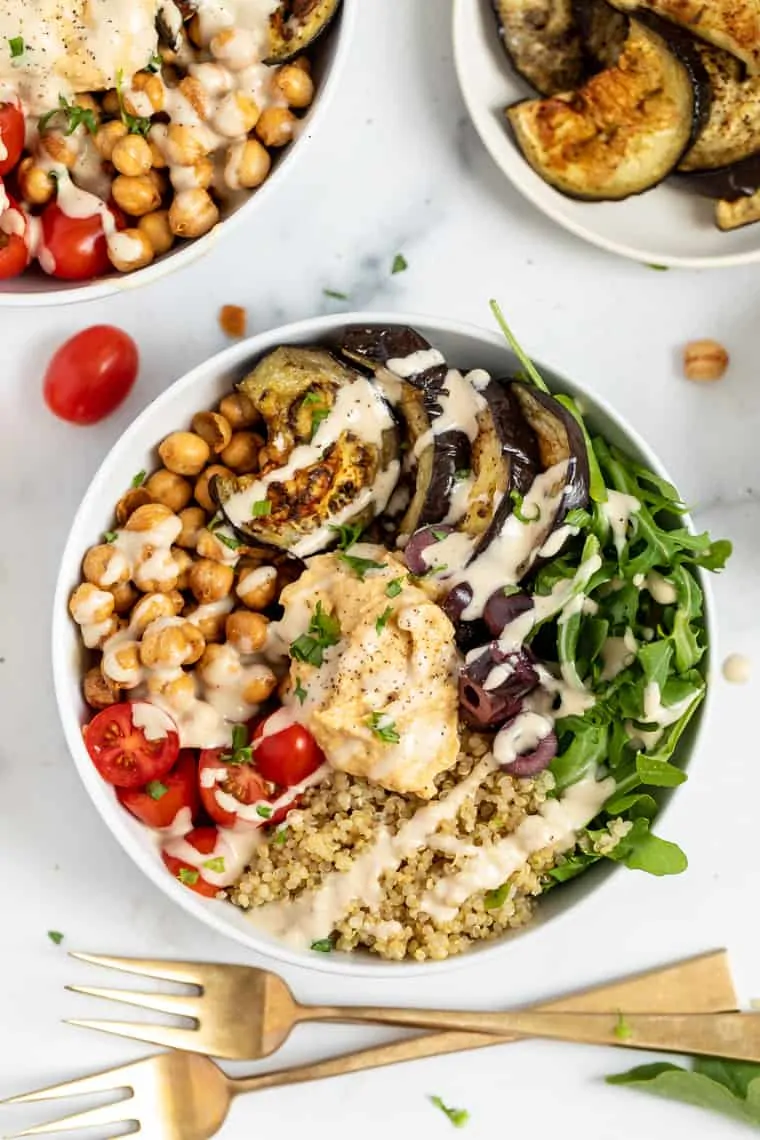 It's not exactly a secret that I'm a big fan of quinoa. It's just such a delicious, versatile, and healthy ingredient. It works as the star of a dish, but it also works as a complementary ingredient. These Mediterranean quinoa bowls are one of those recipes. The quinoa isn't front and center, it just provides some heartiness, healthiness, and texture to a bowl packed with amazing flavors.
The star is the roasted eggplant. I love eggplant, and this is one of my favorite ways to cook it. It's so simple, but the flavor and texture couldn't be more perfect. Another amazing thing about this dish is the crispy chickpeas. The texture of the crunchy chickpeas and the soft eggplant works together brilliantly. Then all you have to do is add some bursts of flavor from tomatoes, olives, arugula, hummus, and a tangy tahini sauce, and you have a meal that's as tasty as it is healthy.
What You'll Need
Here are the ingredients that you'll need for making these gluten-free quinoa bowls. Check out the recipe card at the bottom of the article to see the exact amounts that you'll need for each ingredient.
For the Roasted Eggplant:
Eggplant
Cooking spray
Salt
Pepper – Always use freshly-ground pepper.
For the Quinoa Bowls:
Crispy Chickpeas – Here's my recipe for crispy chickpeas.
Cherry tomatoes
Cooked quinoa
Arugula – You can use other greens if you prefer, but the peppery flavor of arugula works really well with these ingredients.
Kalamata olives
Fresh herbs – These are a garnish, and you can any soft herbs that you want. My favorites for this dish are parsley and mint.
Tahini sauce – Here's my recipe for tahini sauce.
How to Make Mediterranean Quinoa Bowls with Hummus
Here's how to make these quick, easy, and healthy bowls.
Preheat. Turn your oven on to 425F.
Prepare the eggplant. Slice the eggplant in half lengthwise, then cut it into ½-inch thick pieces. Put the eggplant on a baking sheet, and cover both sides with baking spray, salt, and pepper.
Roast the eggplant. Put the baking sheet in the oven and roast the eggplant until it's crispy on the edges and golden brown. This should take about 25-30 minutes. Flip the eggplant pieces halfway through.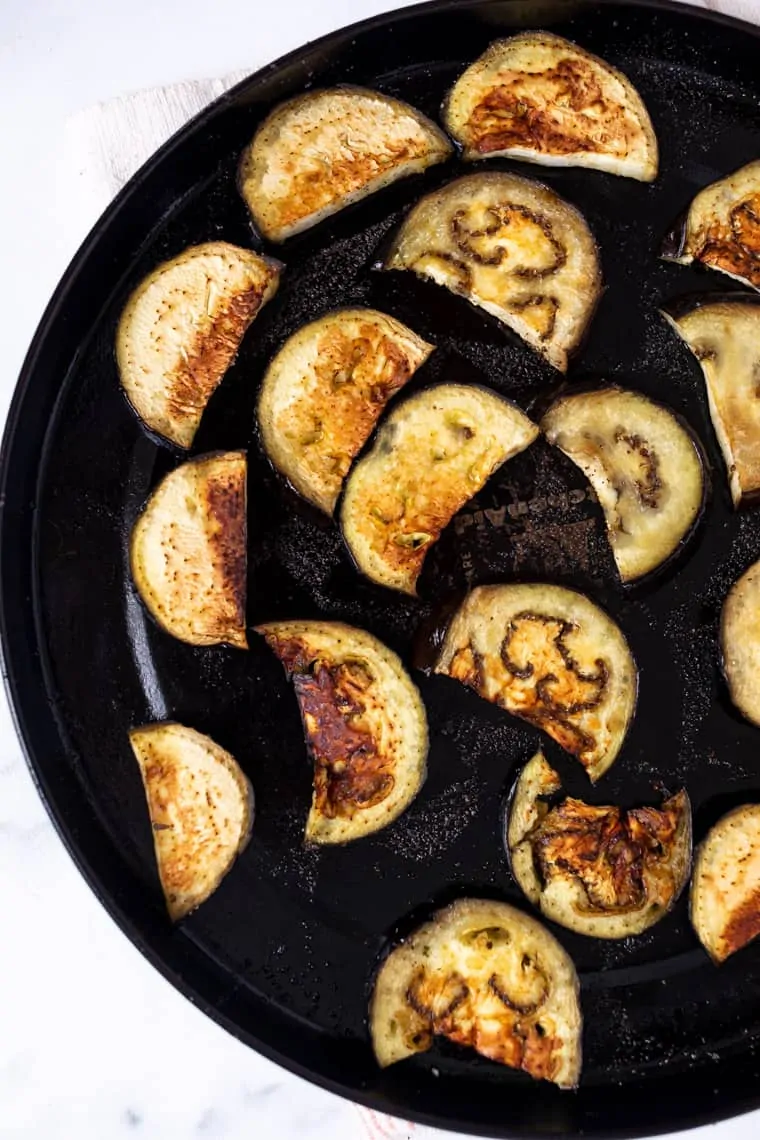 Assemble the bowls. Add crispy chickpeas, cherry tomatoes, quinoa, arugula, hummus, olives, and roasted eggplant to each bowl.
Finish. Drizzle the tahini sauce over the top of the quinoa bowls, then garnish with fresh herbs and serve.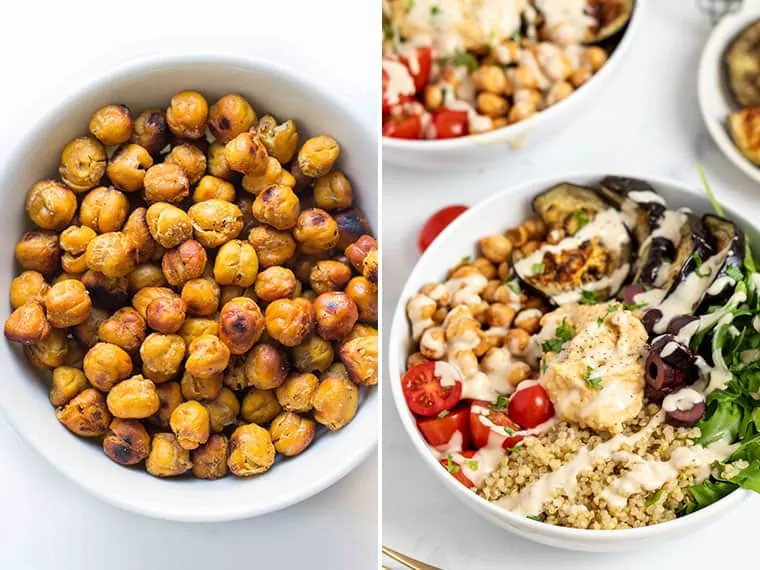 Tips for Success
This is one of my go-to meals, so I make it a lot. As a result, I've figured out a few tips for making the best possible Mediterranean bowls.
Perfectly cooked quinoa. How you cook your quinoa can be the difference between this recipe being mediocre and it being amazing. Check out my guide for the perfect quinoa-to-liquid ratio. You'll end up with soft and fluffy quinoa every time, which is just what you want for these bowls.
Homemade hummus. You can definitely make this recipe with store-bought hummus, and I often do. But if you want to take it to the next level, use homemade hummus instead. Here's my recipe for hummus 6 ways.
Consistent cuts. When chopping the eggplant, make sure that you cut the pieces into consistent sizes. This is really important when roasting vegetables because you want all of the veggies to cook at the same speed. If your eggplant slices are different sizes, then some will be undercooked and some will be overcooked.
Get creative. These quinoa bowls are bursting with flavor. But you can add more flavor if you want! Don't be afraid to add some of your favorite ingredients to this recipe. I recommend Mediterranean ingredients like pickled onions, preserved lemons, pepperoncini peppers, avocado, and feta cheese.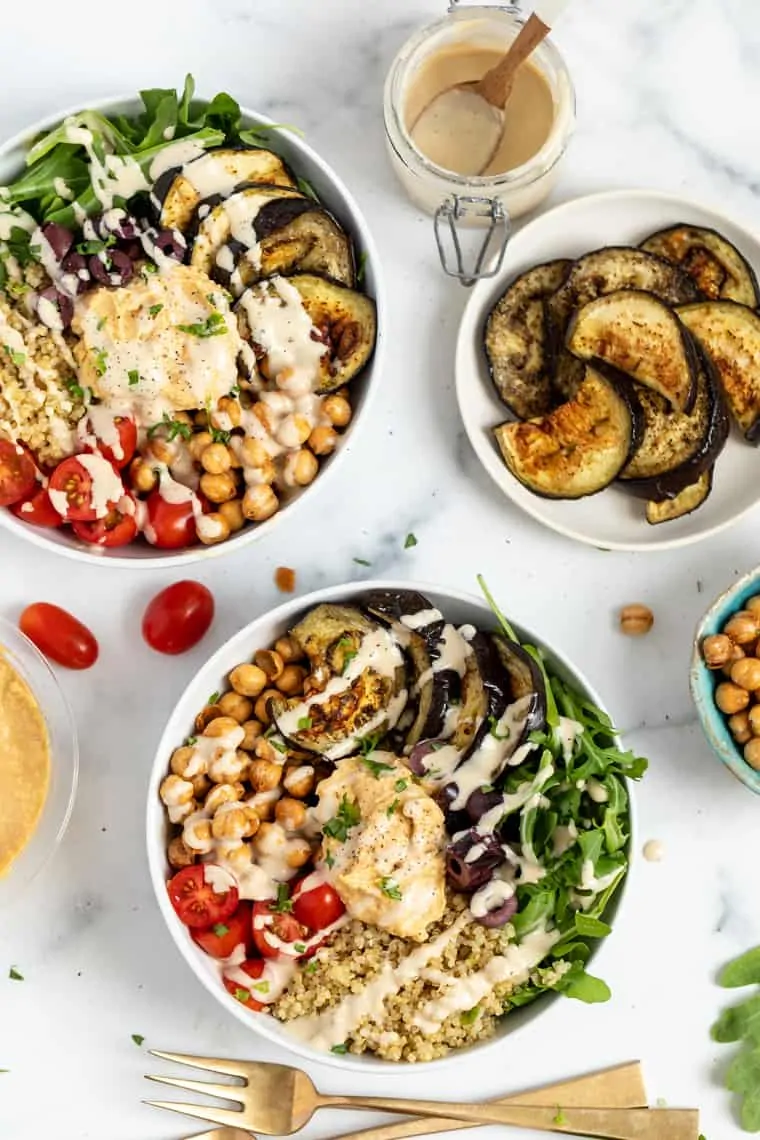 Serving Suggestions
These quinoa bowls are a complete meal. But if you want to have a feast, you can serve them alongside some other fun and healthy Mediterranean dishes. Here are some of my favorites.
How to Store Leftovers
These healthy bowls not only last well in the fridge, but they might get even better when eaten as leftovers. The flavors really have time to meld together in the fridge. Store these bowls in airtight containers and they'll last for up to 4 days.
Can I Freeze Mediterranean Bowls?
I don't recommend freezing quinoa bowls because of the amount of fresh ingredients in them. Things like arugula and cherry tomatoes don't do well when frozen and then thawed.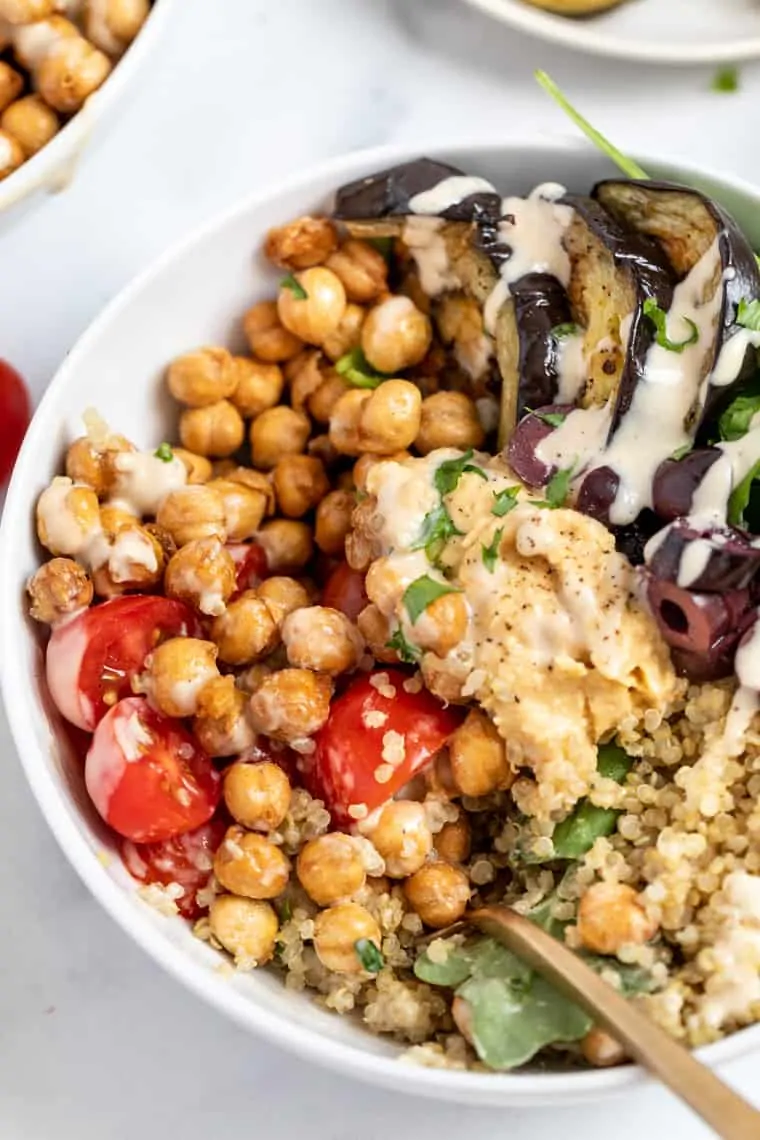 More Healthy Quinoa Bowl Recipes
If you liked this recipe then I know you'll love some of my other favorite quinoa bowls. They're all easy and healthy, so check them out!
Mediterranean Quinoa Bowls with Hummus
These Mediterranean hummus bowls are packed with quinoa, crispy chickpeas, and roasted eggplant. They're quick and easy to make, super healthy, and vegan.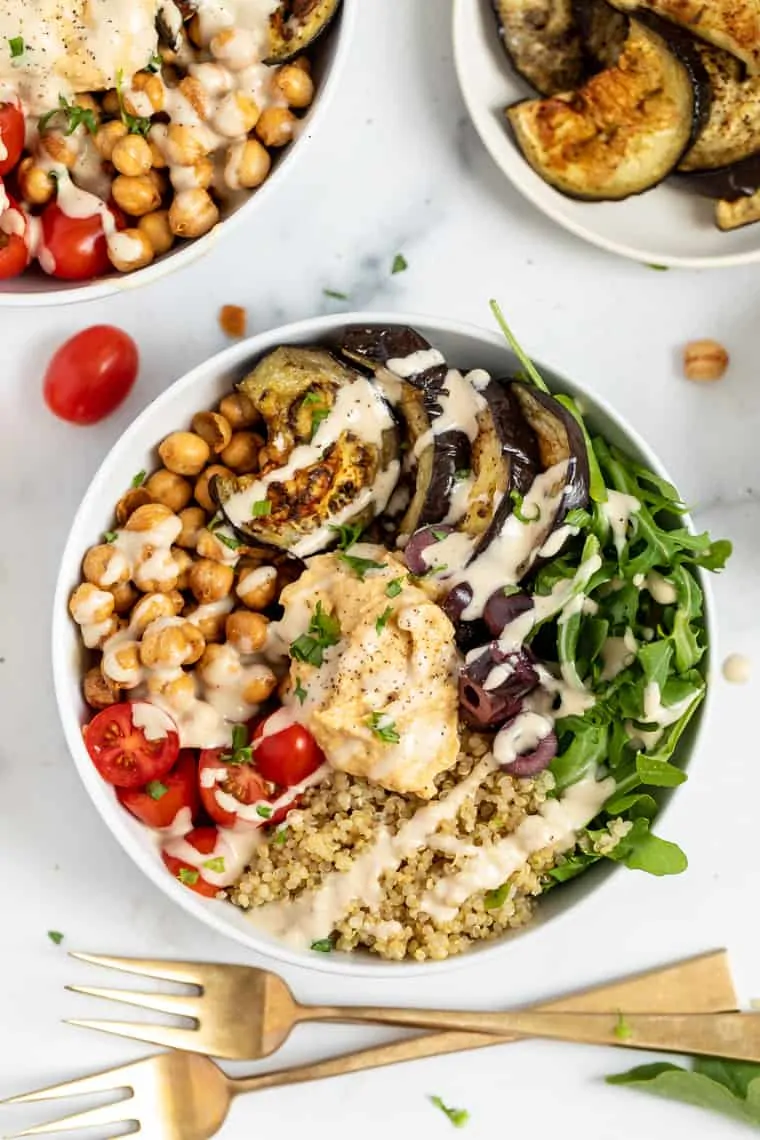 Ingredients
for the eggplant:
1

large eggplant

s]Salt & pepper to taste
for the quinoa bowls:
2

cups

crispy chickpeas

1

cup

chopped cherry tomatoes

2

cups

cooked quinoa

4

cups

arugula

1

cup

classic hummus

1/2

cup

kalamata olives, diced

Fresh herbs to garnish (like parsley and mint)
Instructions
Preheat the oven to 425ºF. Slice the eggplant lengthwise, then cut into 1/2-inch pieces.

Place the eggplant on a baking sheet and coat it with cooking spray. Season on both sides with salt and pepper.

Bake for 25-30 minutes, flipping halfway through, until the eggplant is golden brown and crispy on the outside.

Get 4 bowls and add the following to each bowl: 1/2 cup chickpeas, 1/4 cup tomatoes, 1/2 cup quinoa, 1 cup arugula, 1/4 cup hummus, 2 tablespoons olives, and 1/4 of the eggplant.

Drizzle with tahini sauce and garnish with fresh herbs. Serve immediately or store in the fridge.
Notes
Store leftovers in an airtight container in the fridge for up to 4 days. 
Nutrition
Serving:
1
bowl
|
Calories:
412
kcal
|
Carbohydrates:
61
g
|
Protein:
18
g
|
Fat:
13
g
|
Saturated Fat:
2
g
|
Polyunsaturated Fat:
5
g
|
Monounsaturated Fat:
5
g
|
Sodium:
520
mg
|
Potassium:
962
mg
|
Fiber:
17
g
|
Sugar:
10
g
|
Vitamin A:
795
IU
|
Vitamin C:
15
mg
|
Calcium:
134
mg
|
Iron:
6
mg
Filed Under: