This is the ultimate recipe for gluten-free vegan apple crumb pie. With a flakey gluten-free pie crust, a sweet apple filling, and the perfect crumb topping. Easy + healthy!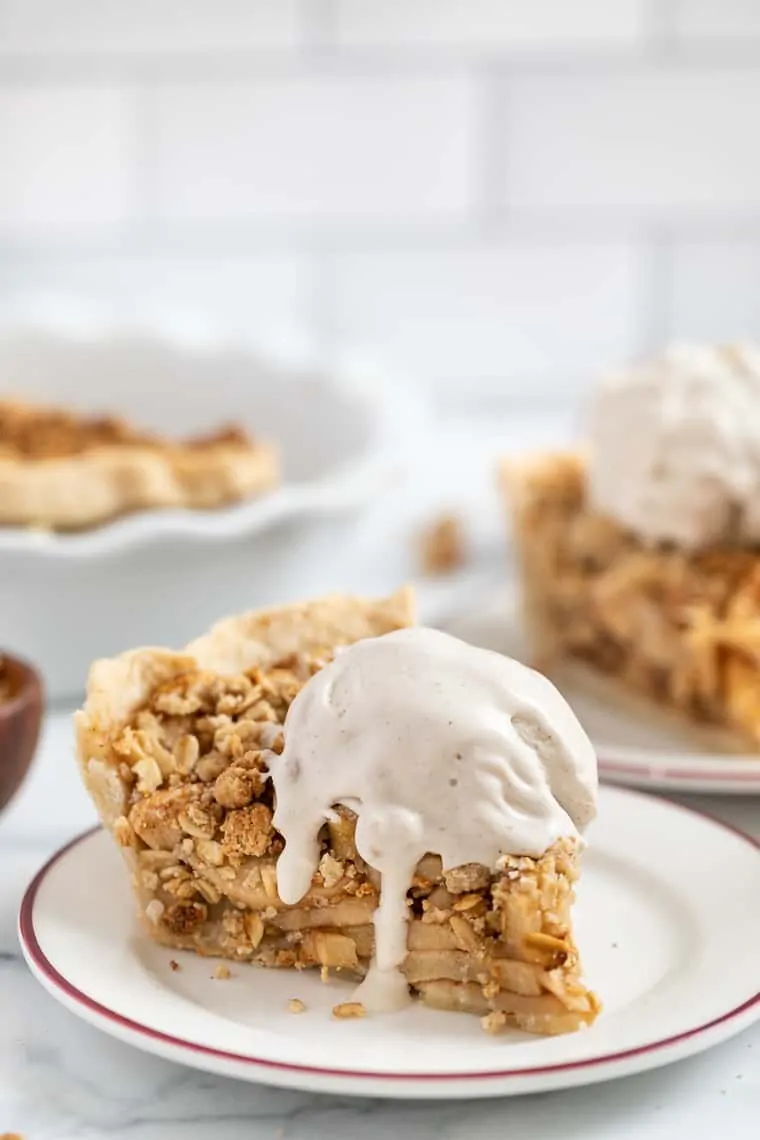 Yesterday I shared my favorite gluten-free dairy-free pumpkin pie. And today it's all about APPLE!
I've always been more of a pumpkin pie girl, but have to say, this vegan apple crumb pie is changing my mind. You see, I love apple crisp and this literally combines the two into one perfect dessert.
On the bottom is a perfect gluten-free and vegan pie crust, then we've got our soft, cinnamon-spiced apples, and we're finishing everything off with the ultimate crunchy crumb topping. Top it with a scoop of vegan vanilla ice cream? Pure deliciousness!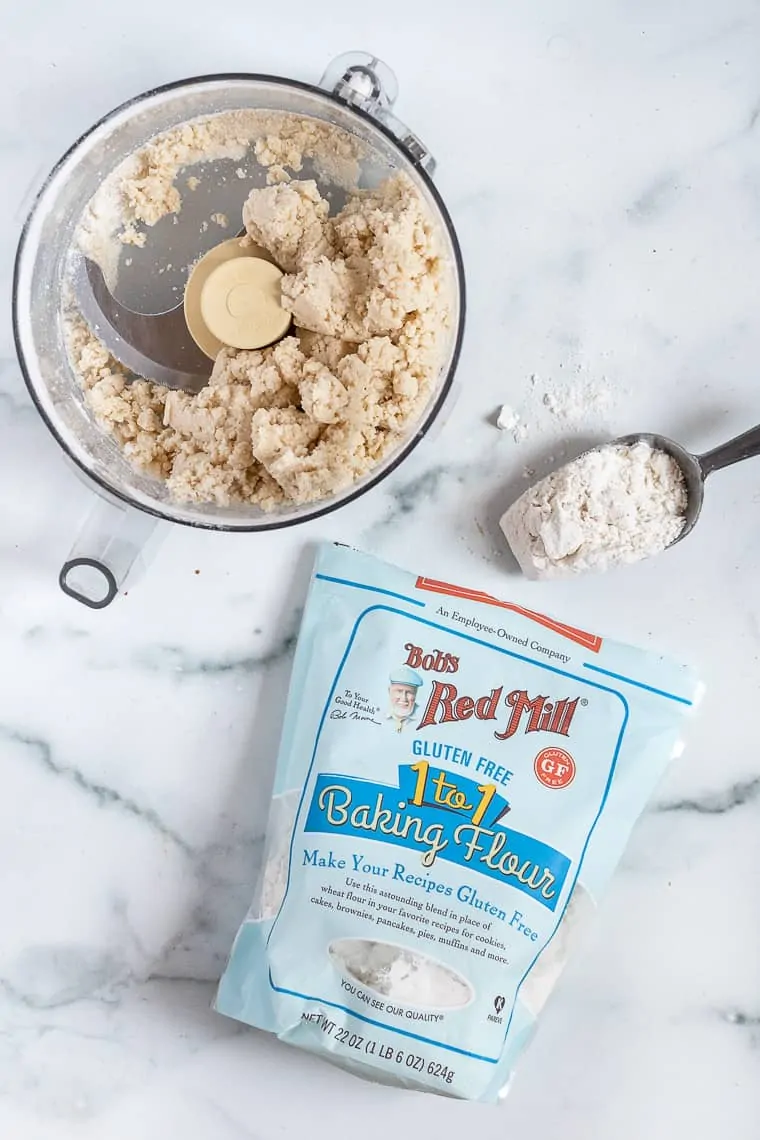 A Perfect + Flakey Gluten-Free Pie Crust
The key to any good pie starts with the crust. My goal with this recipe was to create a flakey gluten-free pie crust that was easy to make and was also vegan and dairy-free.
For the easy part I decided to choose my favorite gluten-free flour blend. The Gluten-Free 1-to-1 Flour from Bob's Red Mill is the absolute best! It's got an amazing texture, it's really light, it can be used as a 1:1 substitute for traditional all-purpose flour in most recipes AND it works perfectly in this pie crust.
I actually opted to follow the proportions in their gluten-free pie crust recipe and just swapped a few of the ingredients:
Gluten-Free 1-to-1 Flour: as I said this is my favorite GF flour blend. It's so awesome in this pie crust!
Sea salt: you always need a little salt in your baking – it really helps bring out all the flavors!
Vegan butter: we're swapping traditional butter with vegan butter. Make sure you're getting the vegan butter sticks and that it's as cold as possible (freezer is best!).
Cold water: just a few tablespoons of super cold water will help bring the dough together and keep the butter chilled (which helps create flake!).
And that's all you need for the crust!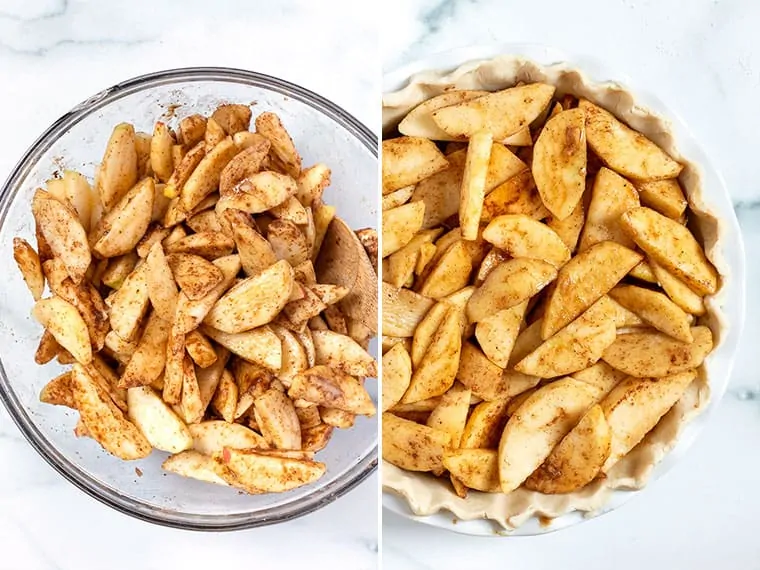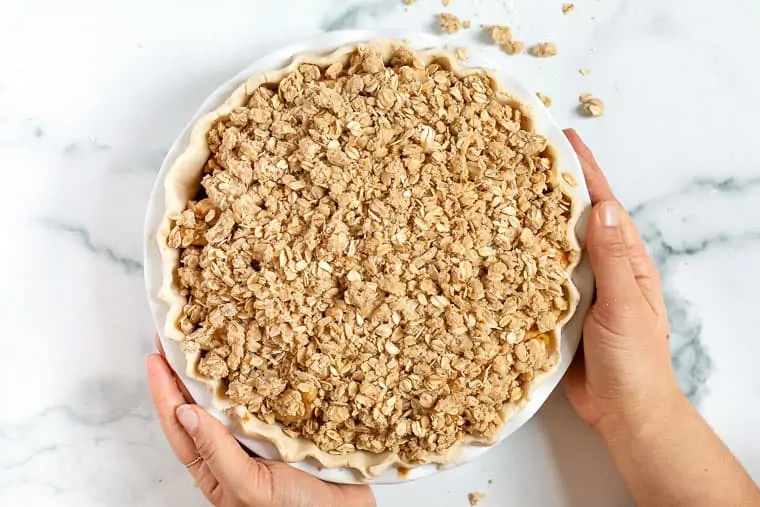 Easy Crumb Topping for Pie
Next, let's chat about this awesome crumb topping! I've actually used this formula many, many times before – it's in my Peach Crisp and Apple Crumb Bars – and it works great for our vegan apple crumb pie too!
Luckily, Bob's Red Mill is my one-stop brand for all things baking and they have all the baking ingredients we need for this pie, not just for the crust. Here's what's inside our crumb topping:
Oats: I love using the gluten-free old fashioned rolled oats from Bob's
Gluten-free flour: we'll use more of the 1-to-1 flour here too!
Almond flour: I love using almond flour in my crumb topping as it adds a really nice texture and flavor (you can also use oat flour if you want!)
Maple syrup: my desired sweetener of choice – pairs so well with the apples!
Coconut oil: the secret to make the crumb topping nice and crispy!
Flavors: I also decided to throw in some vanilla and cinnamon just for a little bit of extra pop!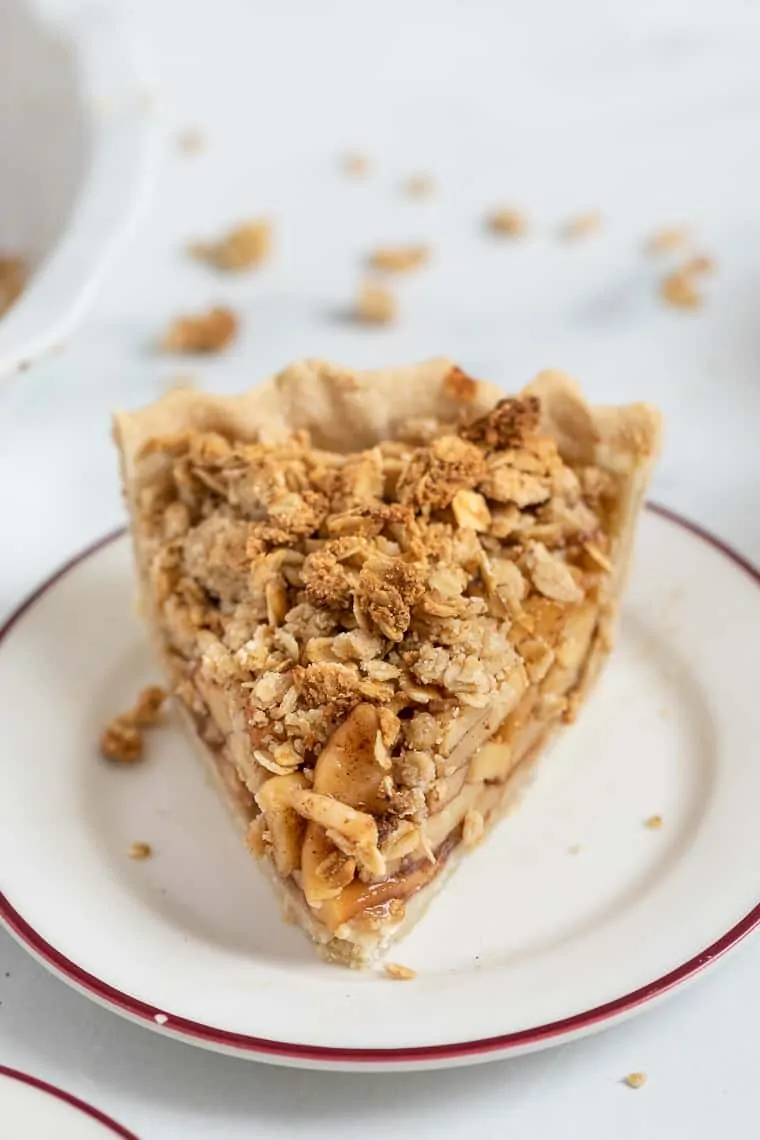 How to Make GF + Vegan Apple Crump Pie
So ready to learn how to make this spectacular pie? Let's get into it!
Make the crumb topping. I like to make the crumb topping first because that can wait the longest. To make it, you just add all the ingredients into a bowl and mix it all together.
Prepare the apples. Next up, the apples. Peel, core and slice your apples. I like to keep them on the thick(ish) side so they hold their texture as they bake. Look for apples that are crispy – I love macoun, honey crisp and gala apples. Then you'll add them into a bowl with some cinnamon, lemon juice and two products form Bob's Red Mill: coconut sugar and arrowroot starch (which helps thicken the liquids).
Make the crust. Finally we'll make the crust. I do this in the food processor – I just add everything into the food processor (minus the water) and blitz it up. Once the butter is almost at a sandy texture, I pulse in the water a bit at a time until a dough forms.
Roll out the crust. You'll form the pie dough into a ball and then place it between two sheets of parchment. Roll it out to be about 1/8″ thick.
Put it all together. Flip the crust into your 9″ pie dish and kind of push it into the corners and up the sides. Crimp the edges with your fingers and remove any excess dough. Then add your apples and finish it off with your crumb topping.
Bake it up! We'll bake this for about an hour – until the crust and topping are both golden brown and you can hear the apples bubbling. If the pie begins to brown too quickly, you can cover it with some foil.
Serve it up! And then you're ready to serve – just make sure to let it cool slightly before slicing.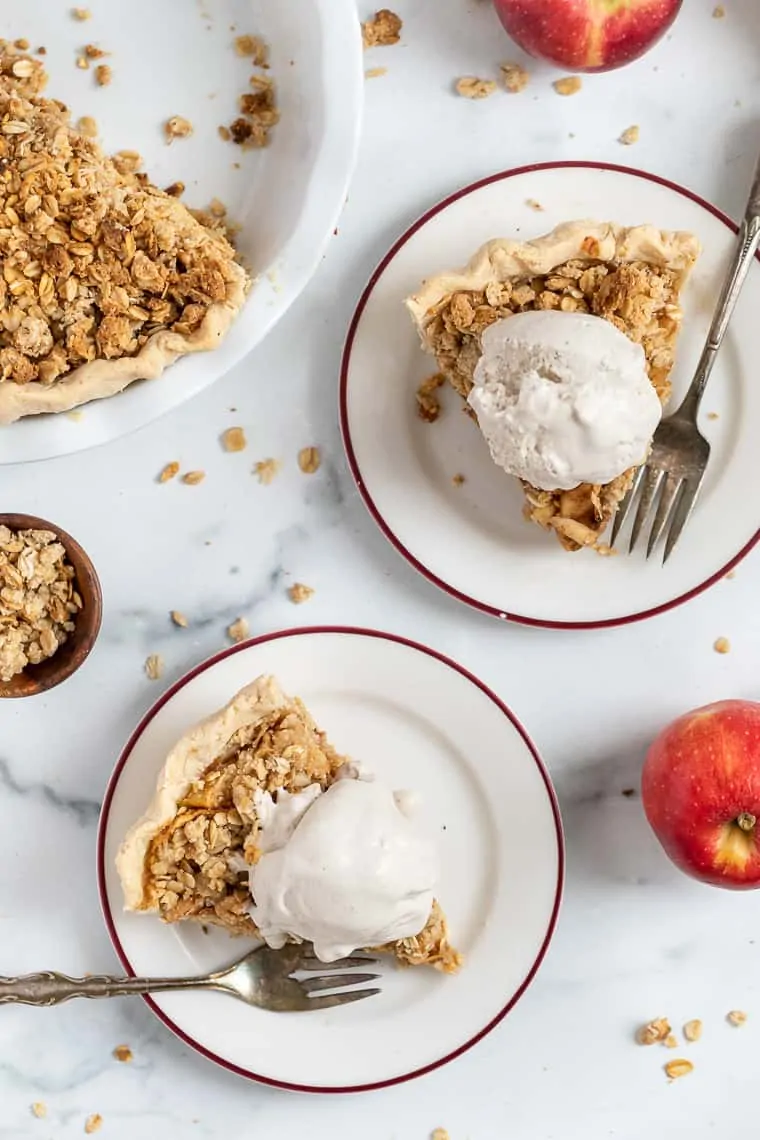 What to Serve with Apple Pie
Once you're ready to serve your apple pie, it's go time! I like to keep things classic and just do a scoop of vegan vanilla ice cream, BUT it's also amazing with a dollop of vegan whip, vegan yogurt, a drizzle of maple syrup, or even just plain. It's a pie that can stand up to toppings as well as it can stand on its own!
Why You'll Love this Vegan Apple Crumb Pie
If you're not sure if an apple crumb pie is the right pie for you, let me share why I think you'll absolutely love it:
Best of both worlds. For those of you who love pie AND apple crisp, this is the best of both worlds and it satisfies all parties.
It keeps well. This pie will be good for 4 – 5 days in the fridge and can be reheated and enjoyed for leftovers.
You can make it ahead. If you are baking for Thanksgiving or some other holiday/celebration, you can totally bake this pie the day before and just reheat it quickly before serving.
It's delicious. And like most importantly…it tastes incredible and I think will be the hit on the dessert table this year!!
Can You Freeze Apple Pie?
Want to keep your leftovers longer? You can totally freeze this pie if you'd like! I like to cut it into slices and then place the slices in a freezer safe container. From there, just pop it in the freezer and reheat as desired!
This truly is my favorite apple pie out there! I can't wait to hear what you think and if you end up making it, be sure to share photos with us on Instagram ❤️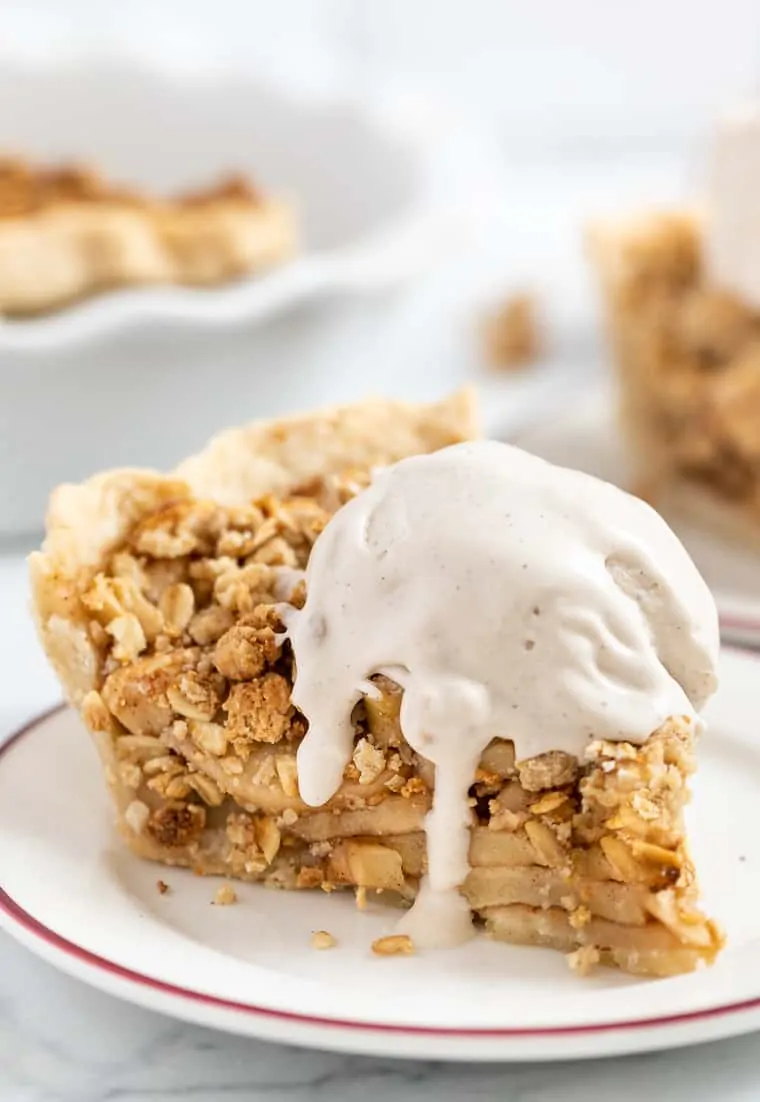 More Fun Ways to Use Apples:
Perfect Gluten-Free Vegan Apple Crumb Pie
This is the ultimate recipe for gluten-free vegan apple crumb pie. With a flakey gluten-free pie crust, a sweet apple filling and the perfect crumb topping. Easy + healthy!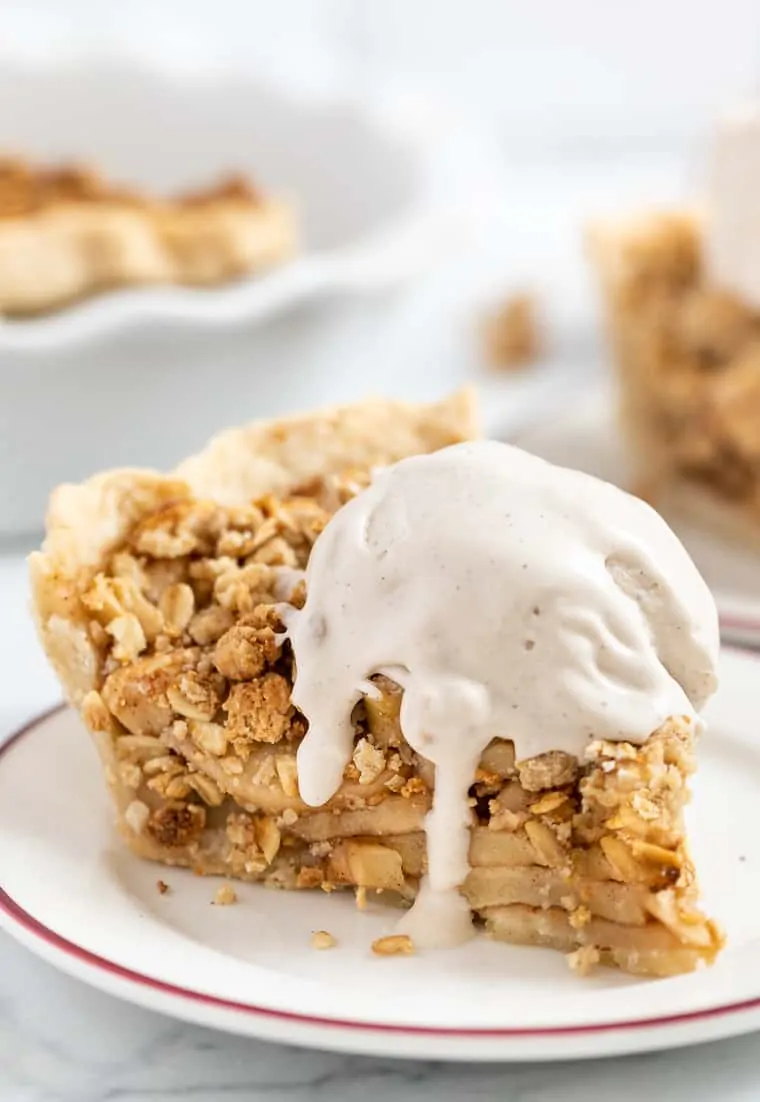 Ingredients
for the pie crust:
1/2

tsp

sea salt

1/2

cup

vegan butter

, cold

4 - 6

tablespoons

cold water
Instructions
Preheat the oven to 350ºF. Grease a 9" pie dish and set it aside.

Start by making the topping. Add all ingredients into a small bowl and mix together. Set aside.

Move onto the apples. If you haven't yet, peel and slice your apples into thin strips (about 1/8" thick). Add the apples into a large mixing bowl. Add the lemon juice, cinnamon, coconut sugar, and arrowroot starch. Mix together and set aside.

And finally, let's make the crust. Add the gluten-free flour, salt, and cold butter into a food processor. Blitz together until the butter is combined with the flour. Add 1/4 cup of cold water and process until combined. Pulse in the next tablespoon of water and then if needed the final one. At this point, the dough should have come together and will be pliable.

Transfer the dough onto a piece of parchment paper. Form into a ball and top with another piece of parchment. Roll out the crust into a circle to about 1/8" thick.

Remove the top piece of parchment paper from the dough and flip it into the pie dish. Press the crust into the dish so that it's even throughout. Fold the top of the crust over slightly and then crimp the edges with your fingertips.

Transfer the apples into the crust and spread evenly throughout. Sprinkle the topping on top.

Bake on the center rack for 50 - 60 minutes until the crust and topping are golden brown and you can hear the apple filling bubbling. Remove from the oven and allow to cool for at least 20 minutes before slicing and serving.

To serve, top with a scoop of vegan vanilla ice cream!
Nutrition
Serving:
1
slice
|
Calories:
384
kcal
|
Carbohydrates:
49
g
|
Protein:
5
g
|
Fat:
21
g
|
Saturated Fat:
9
g
|
Sodium:
250
mg
|
Potassium:
193
mg
|
Fiber:
7
g
|
Sugar:
23
g
|
Vitamin A:
607
IU
|
Vitamin C:
6
mg
|
Calcium:
53
mg
|
Iron:
1
mg
Filed Under: