The ultimate cauliflower rice bowls using miso roasted vegetables, crispy chickpeas and sauteed kale. These bowls are hearty, nourishing and easy to make!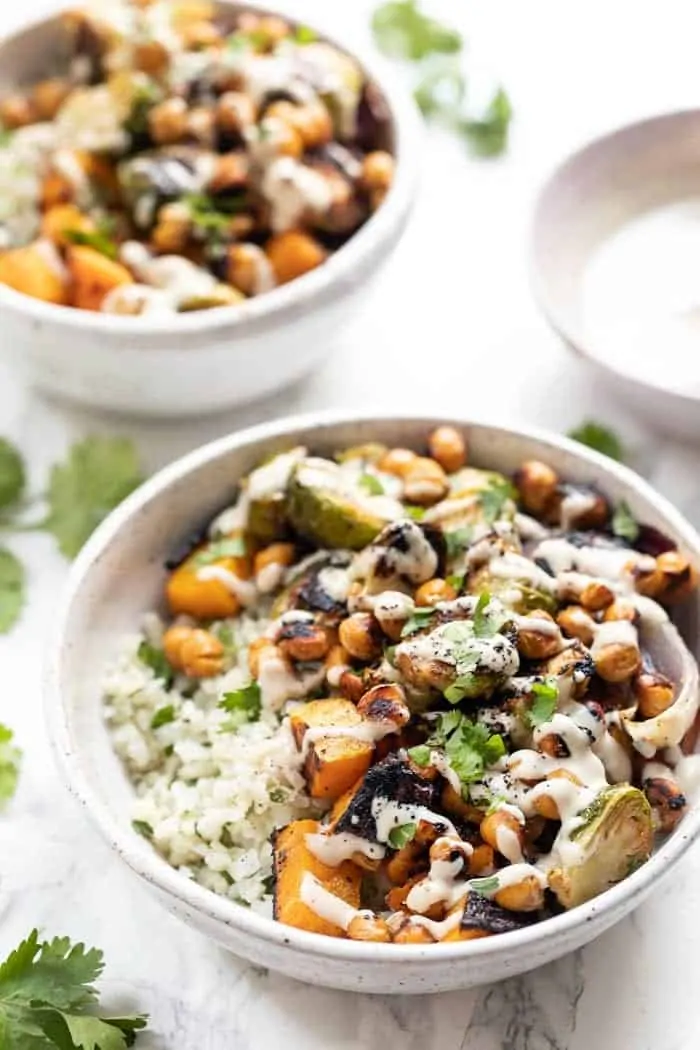 It's been one of those weeks where I just feel like I'm stuck in a whirlwind with no time to slow down. I've been traveling non-stop, getting ready for the Fall, doing tons of work on upcoming programs and feeling generally very overwhelmed with my workload.
While not all my weeks are like this, when they are, it's meals like this that save me.
I love sheet pan meals because they take very little time to prep, can be made all at once and I end up having enough leftover to take care of lunches for a few days. It's definitely helping reduce the stress levels!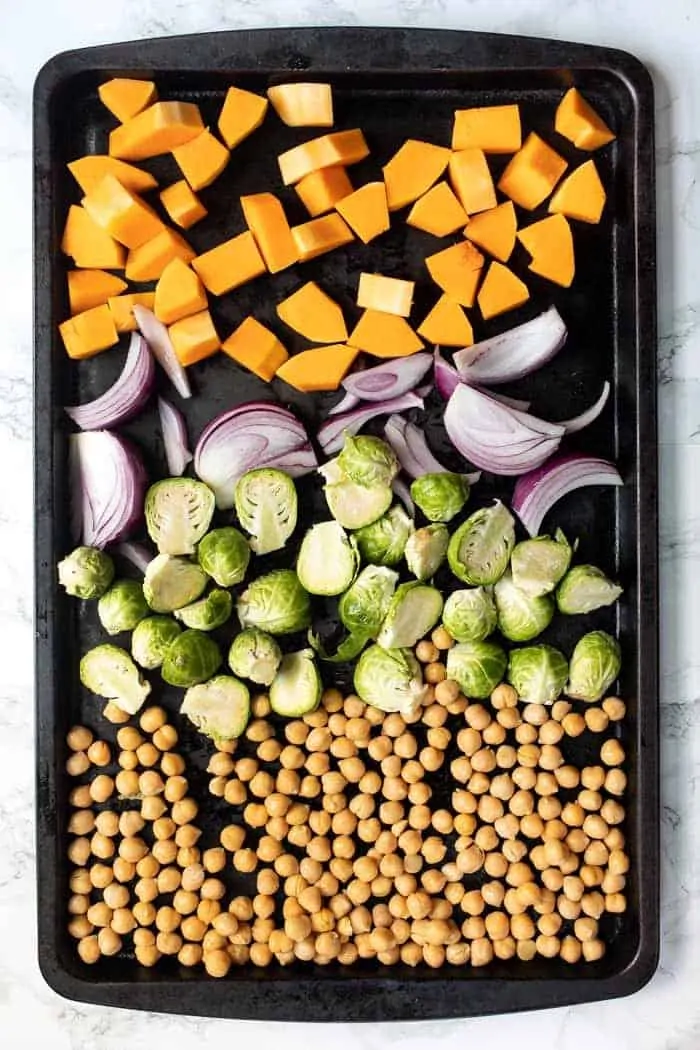 Tips for Sheet Pan Cooking
Making meals on a sheet pan is actually really simple. There aren't any real "tips" per se, but I do just want to share some of the things I've learned about getting them right:
Pick ingredients with a similar cooking time (i.e. hearty veggies)
Always add some sort of protein (your choice!)
If you're making an animal protein, separate it from the vegetables but putting it in a tinfoil divider
Don't overdo it on the sauce – make just enough to coat
Otherwise just throw it on a pan, roast away and then serve it up!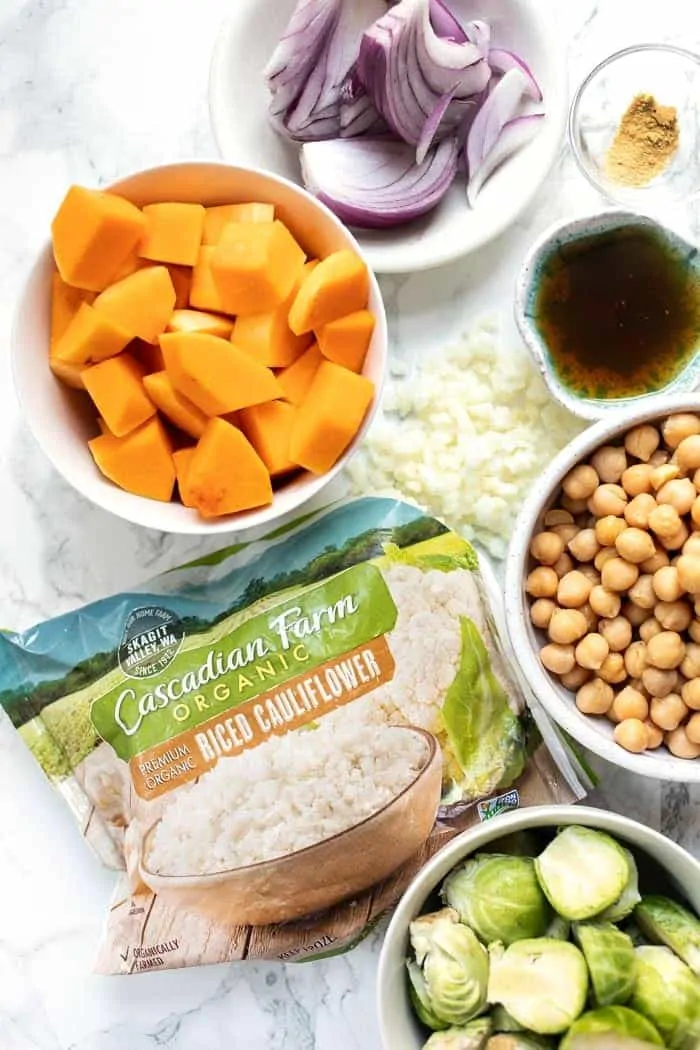 Ultimate Veggie Bowl Ingredients
Since we're whipping this up in the fall, I'm sticking with seasonal ingredients including butternut squash, brussels sprouts and red onion. For my protein, we're keeping it simple and using canned chickpeas. You could also do tofu, tempeh, animal protein or lentils (though you wouldn't roast those).
In terms of our marinade, we're going down a somewhat Asian-inspired path which includes toasted sesame oil, miso paste, ginger and garlic. If you've never used miso before, oh jeeze, it's amazing! It's got a lovely umami flavor, with salt, a little sweet and lots of good-for-you enzymes and probiotics because it's fermented.
And it's the perfect flavor for our veggies!

Perfect Cauliflower Rice Bowls
Lately, I've been loving using cauliflower rice with my budda bowls. It's a great way to amp up the fiber, reduce the carbs, but still make a healthy and satisfying meal!
I used Cascadian Farm's riced cauliflower for this recipe and I couldn't believe how easy it was to make. I don't know if you've ever tried making cauliflower rice at home, but a) it's super messy and b) it's fairly time intensive.
That's why I love using their frozen cauliflower rice! It saves me a ton of time (it's ready in about 9 minutes), comes pre-chopped, and it actually has a more rice-like texture than homemade. And just like all the other amazing Cascadian Farm products, their cauliflower rice is also organic and non-GMO!
To keep things interesting and flavorful, we just cook up the cauliflower rice, then stir in some rice vinegar, salt, pepper and cilantro. It's mild, but really helps brighten up the rice and also makes the bowls look even prettier ????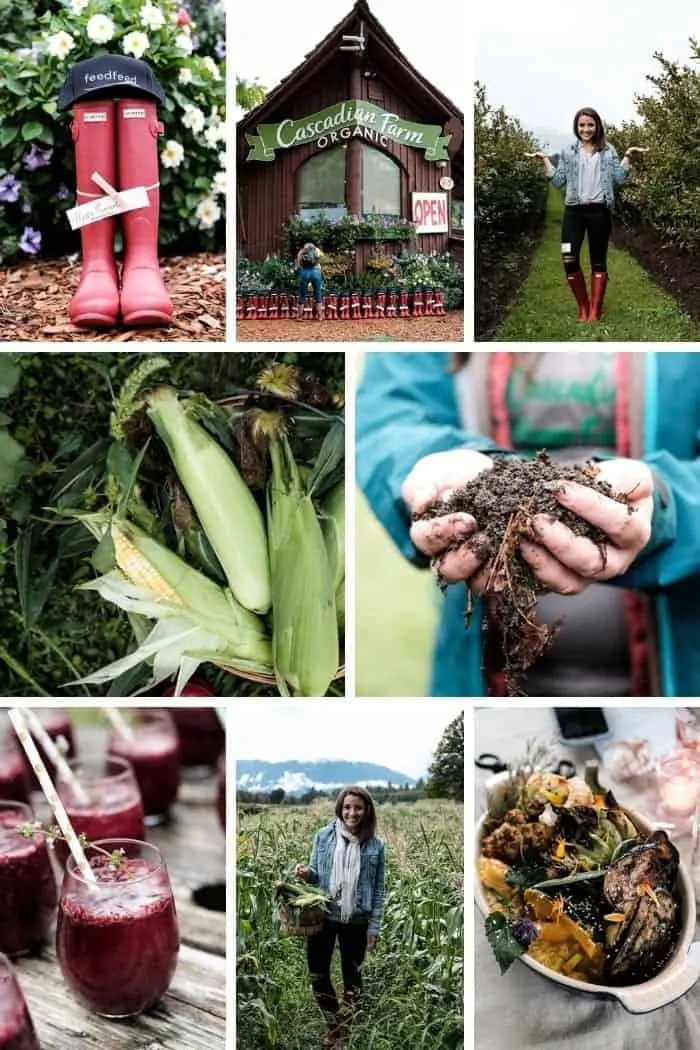 If you follow me on Instagram then you might remember that I was in the PNW a few weeks back. Well, that trip was to go visit the original Cascadian Farm! We went out there with a group of amazing bloggers, the team from the Feedfeed as well as some of the folks from Cascadian Farm and it was an incredible experience.
First off, the farm situated in the most picturesque location. It's nestled in the Skagit Valley surrounded by the Cascades and glacier-topped peaks and is just stunning.
But aside from the beautiful landscape, the trip was also really educational. We learned all about soil health, biodiversity, the importance of pollinators (i.e. bees!), and how Cascadian Farm is using regenerative agriculture and sustainable farming practices to make their products.
I walked away with a new found appreciation for each bag I purchase. Now I know that by supporting their company, I'm also supporting the environment, the bees and helping to keep our soil health so we can continue to grow crops for generations to come.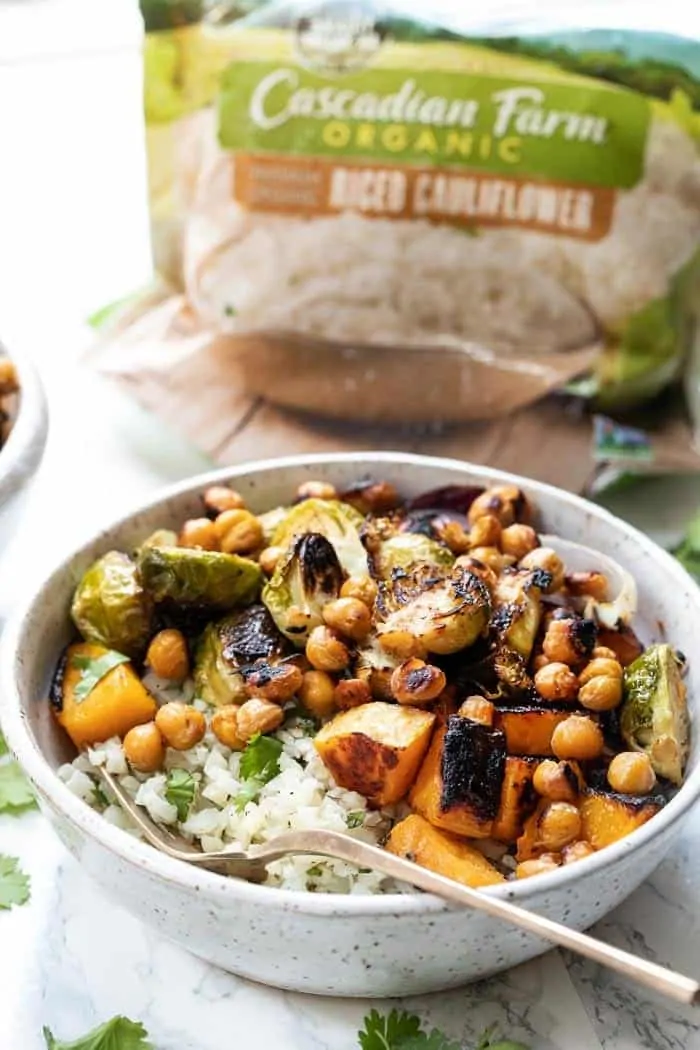 My Favorite Roasted Veggie Bowls
When I got home, I couldn't wait to create a recipe that brought together all the amazing things we learned. I figured what better way to celebrate with a giant bowl of roasted veggies, a top of a bed of fluffy cauliflower rice.
Nutritious, delicious, plant-based, and sustainable.
Good for you and good for the planet.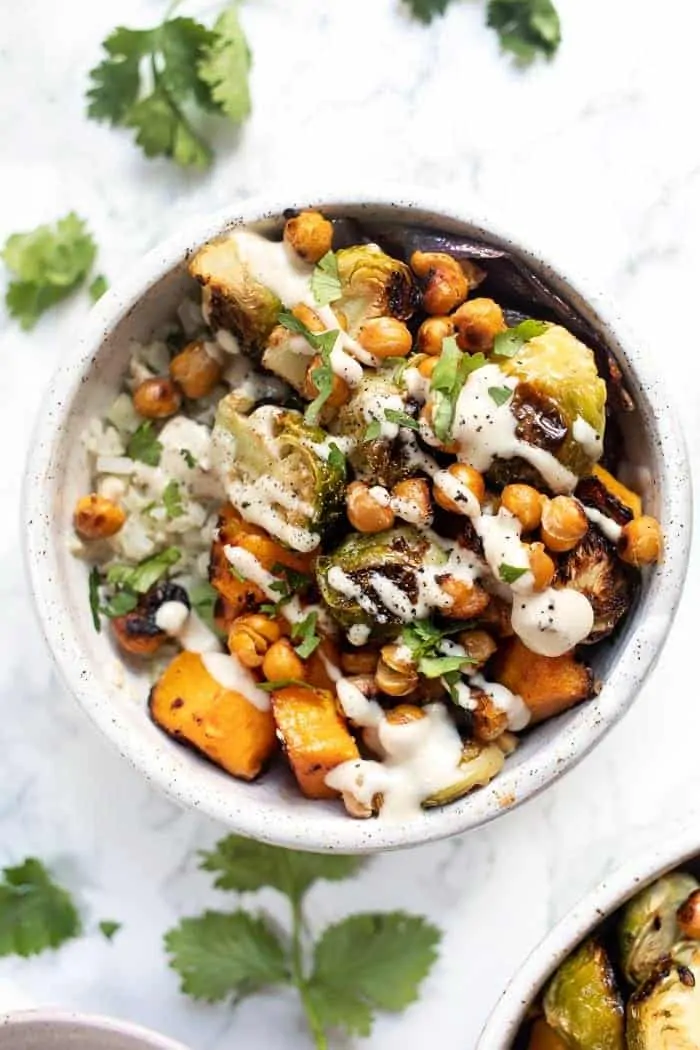 What I love about meals like this that you can really adapt them to whatever you have on hand and/or what season you're in. As I mentioned, we're using fall veggies, but use what works for you. Feel free to change up the vegetables, change up the protein, you can mix and match to your heart's content.
It's one of those recipes that you can make over and over again, and never get bored!
And did I mention it's also perfect for meal prep? I made a batch of this the day before I was leaving for a quick business trip and came home two days later and just loved not having to worry about dinner that night. Plus it's hearty, comforting, and super tasty!
If you end up making this recipe, I'd love to see a pic! You can tag me using @simplyquinoa or #simplyquinoa so I can find your photo and give you a little love in return ❤️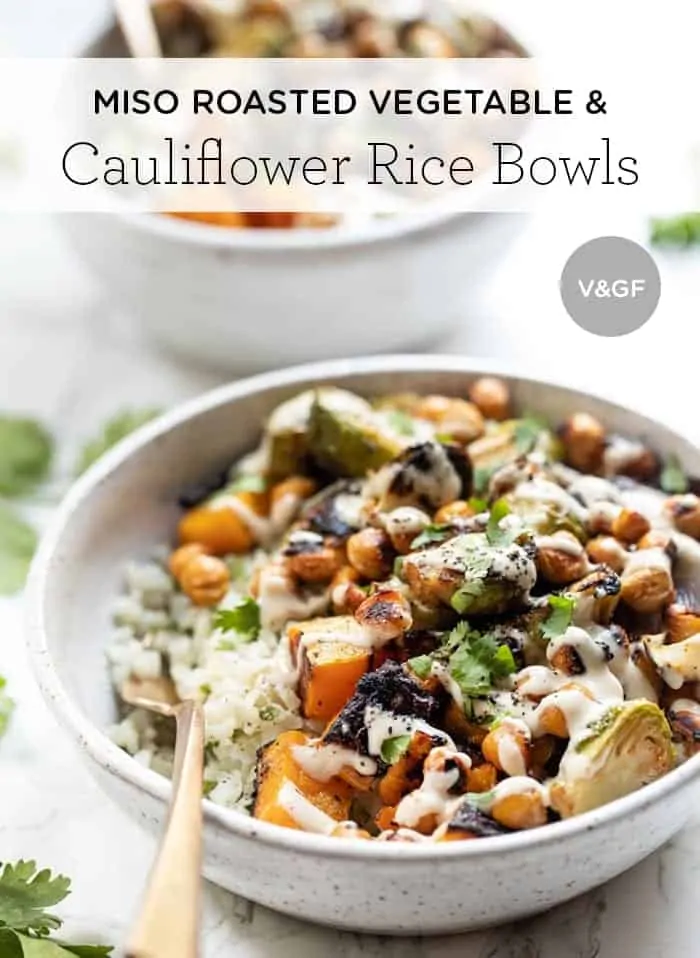 More Healthy Dinner Recipes To Try!
Miso Roasted Vegetable & Cauliflower Rice Bowls
The ultimate cauliflower rice bowls using miso roasted vegetables, crispy chickpeas and sauteed kale. These bowls are hearty, nourishing and easy to make!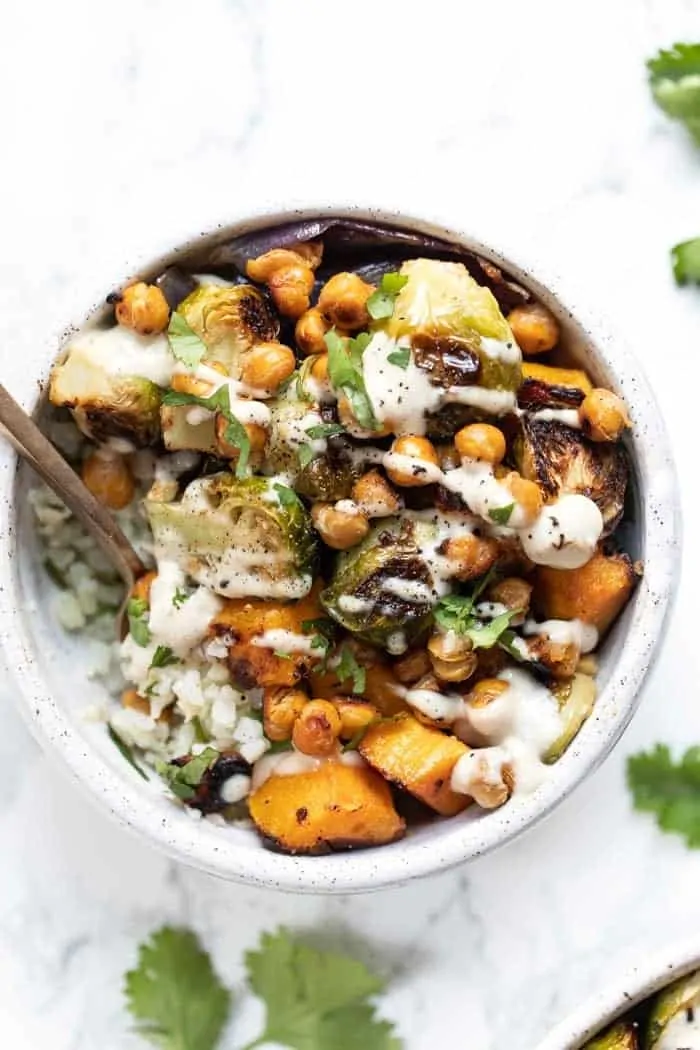 Ingredients
for the cauliflower rice:
1

package Cascadian Farm riced cauliflower

2

teaspoons

rice wine vinegar

1/4

cup

cilantro

, chopped

Salt & pepper to taste
for serving:
Tahini

(thinned with water if needed)

Cilantro
Instructions
Preheat the oven to 400ºF.

Place the vegetables and chickpeas on a baking sheet and set aside.

Make the marinade by whisking together the oil, miso and spices. Spoon the marinade onto the veggies and chickpeas (it will be thick so spread it out), then use your hands to coat everything. Bake for 25 - 30 minutes, flipping halfway through.

While the vegetables are cooking, make the rice. Add the frozen cauliflower into a pan. Turn on medium heat, cover and let cook for 8 - 9 minutes. Once cooked, stir in the rest of the ingredients.

Divide everything between four bowls. Top each with a drizzle of tahini, sprinkle with cilantro and finish with some fresh cracked pepper.
Nutrition
Calories:
224
kcal
|
Carbohydrates:
29
g
|
Protein:
7
g
|
Fat:
11
g
|
Saturated Fat:
1
g
|
Sodium:
182
mg
|
Potassium:
1133
mg
|
Fiber:
8
g
|
Sugar:
7
g
|
Vitamin A:
11725
IU
|
Vitamin C:
156.6
mg
|
Calcium:
116
mg
|
Iron:
2.4
mg
Filed Under:
This recipe is brought to you in partnership with Cascadian Farm and The Feedfeed. As always, all opinions are my own. I only share companies I love and trust, so thank you for continuing to support Simply Quinoa!