Honey roasted homemade peanut butter is a mouth-watering spread that you can make in 20 minutes. It's the perfect blend of salty and sweet, and it's much healthier than most store-bought nut butters.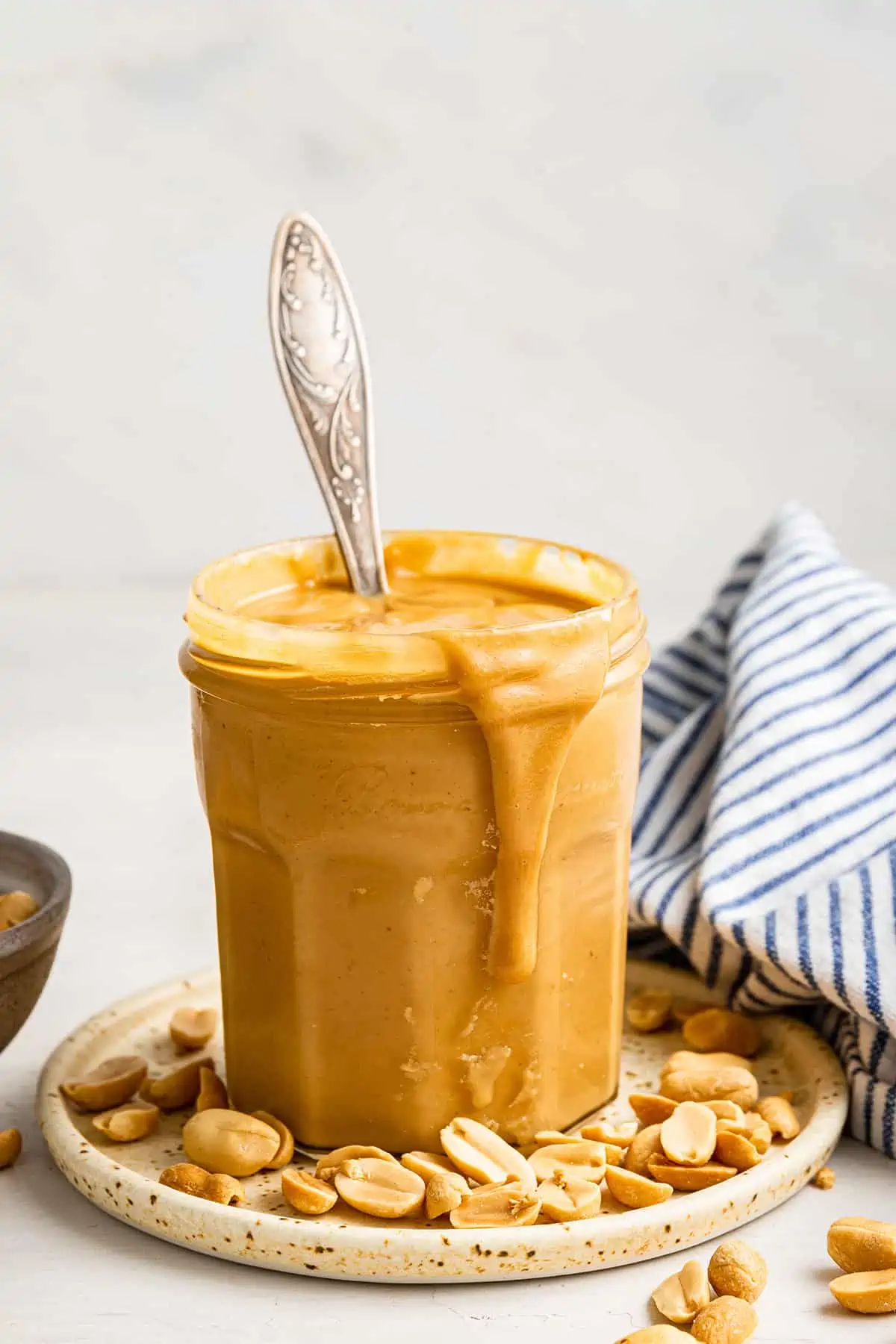 Peanut butter is one of my favorite spreads. And honey roasted peanut butter? Well, it's an even better version of the classic! With a hint of sweetness from the honey, and a rich, toasted flavor from roasting the peanuts, you'll want to put this on your toast every morning.
Add in how quick, easy, and healthy this peanut butter recipe is, and you might find yourself keeping a jar around at all times. I like to serve mine on quinoa almond flour bread, with chia seed jam.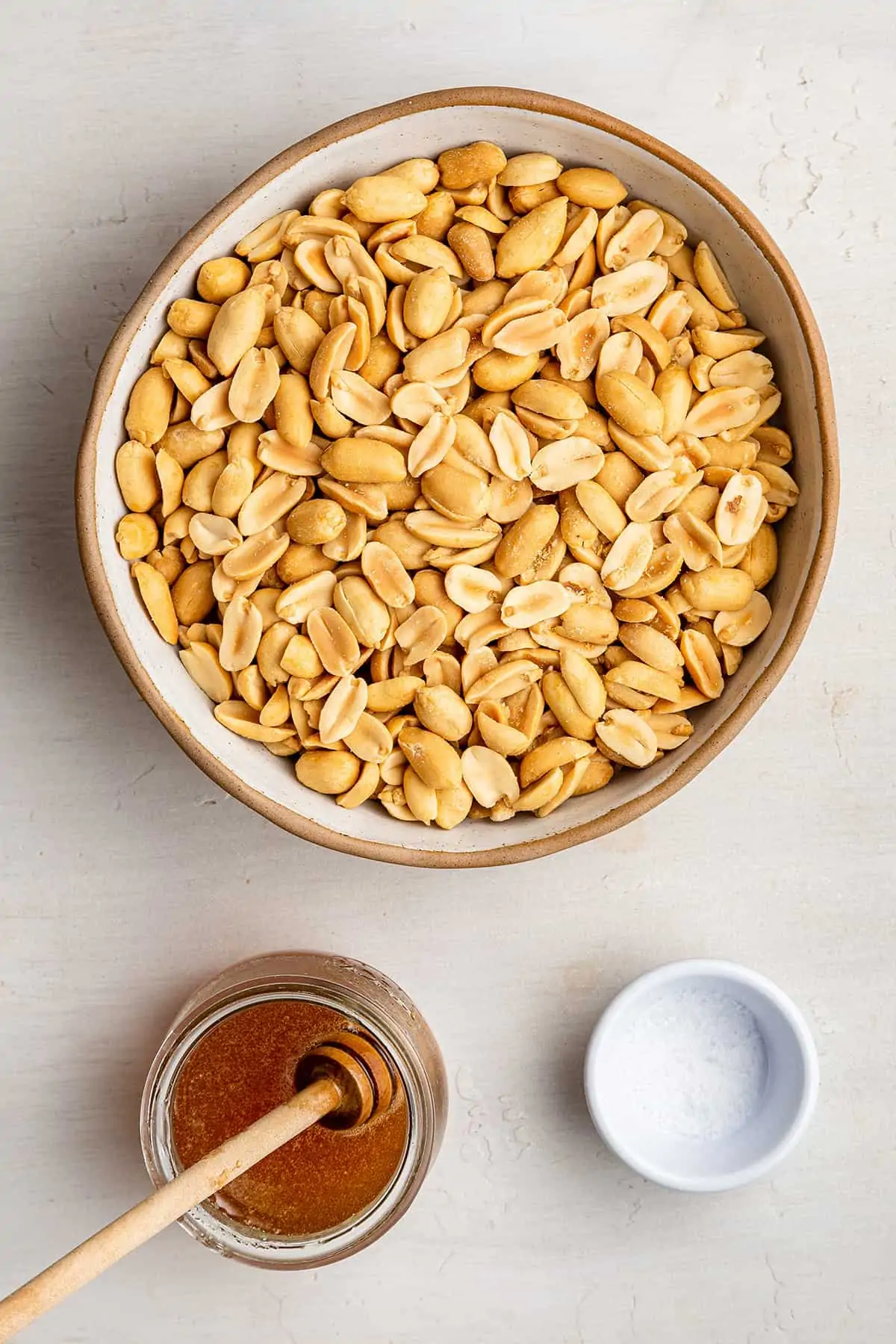 What You'll Need
This simple homemade peanut butter recipe only has a few ingredients. Be sure to scroll to the recipe card at the bottom of the article to find the exact quantities for each ingredient.
Organic peanuts
Raw honey
Salt
Coconut oil
Why Use Coconut Oil?
Coconut oil isn't always necessary with this honey roasted peanut butter recipe, but it can often help out. Sometimes peanuts, especially after roasting, don't have quite enough oil in them to make a creamy peanut butter. Adding a little coconut oil can provide the extra bit of oil needed to end up with a smooth texture.
How to Make Honey Roasted Peanut Butter
Ever wonder how to make peanut butter at home? It's easier than you think! This recipe only has a few steps, and it takes just 20 minutes to make. Here's how to do it. 
Flavor the peanuts. Put the peanuts on a baking sheet that will fit in a toaster oven. Add the honey and salt on top, and stir until everything is mixed.
Toast. Place the peanuts in a toaster oven for 5 minutes.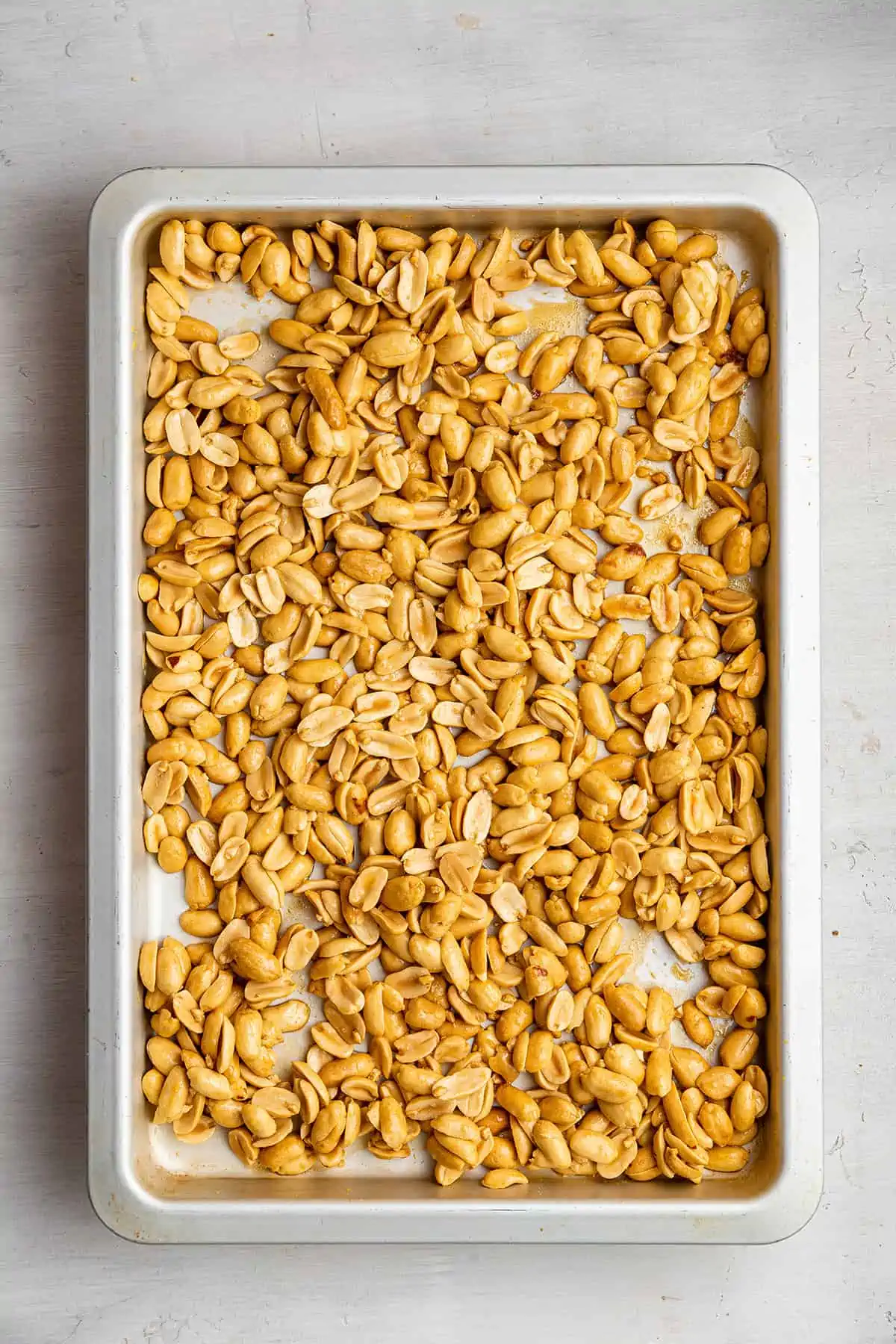 Blend. Transfer the peanuts to a food processor, and blend on a high speed until the peanut butter is completely smooth.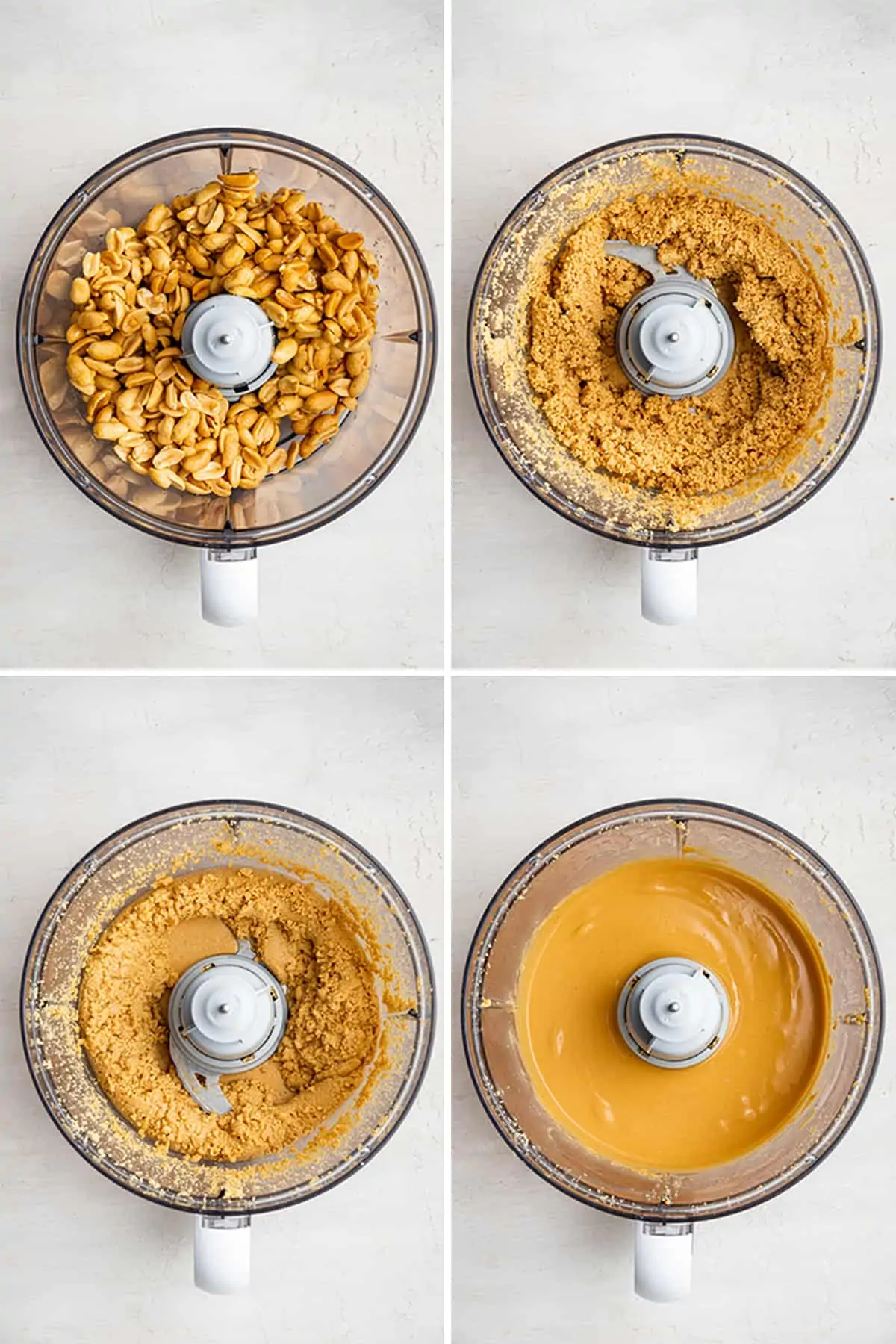 Add the oil. If the peanut butter isn't getting creamy, add the coconut oil and continue blending.
Finish. Scoop the peanut butter into a glass jar, and you're all set to eat this sweet and salty nut butter.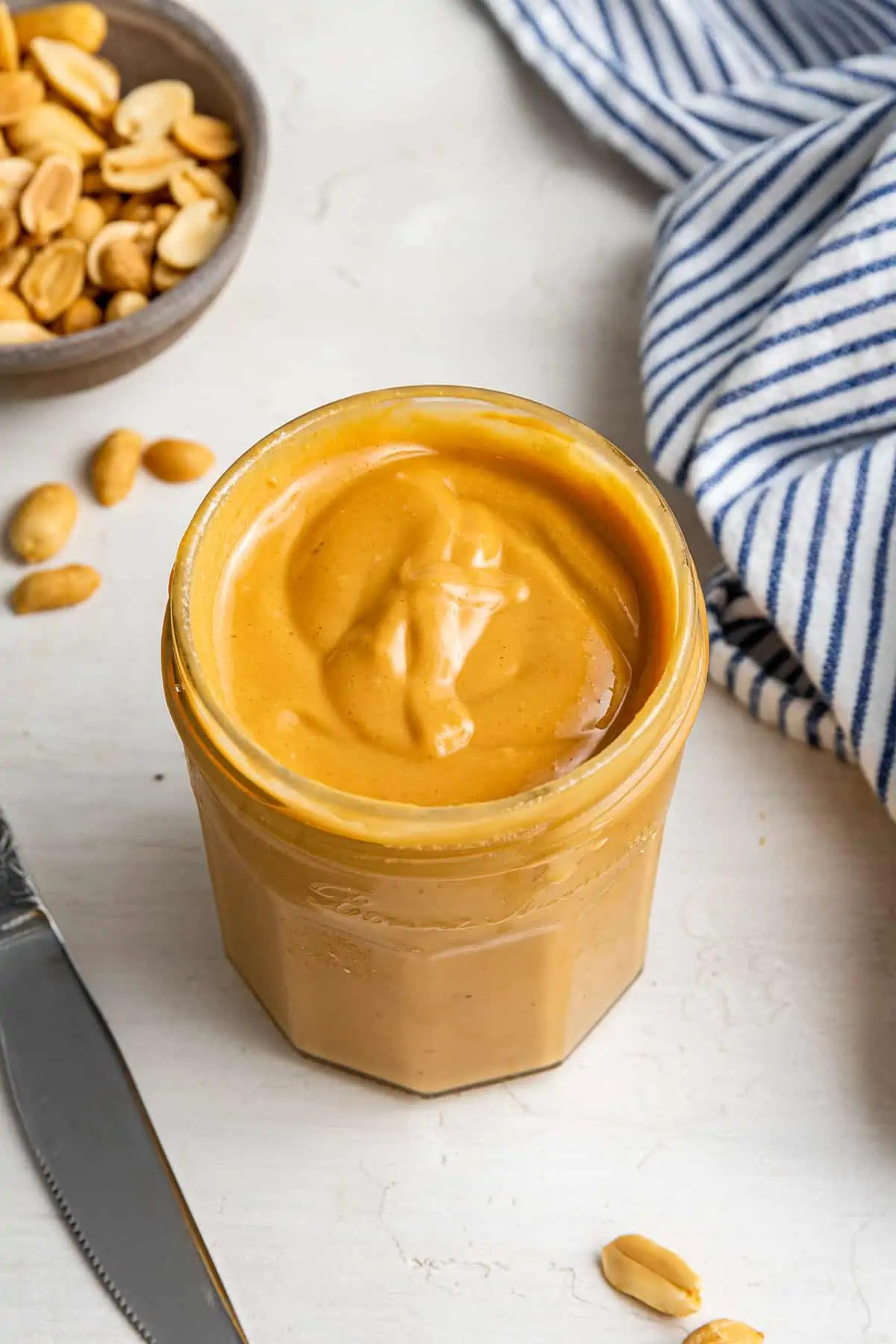 Peanut Butter Recipe Variations
This honey peanut butter is pretty perfect as is, but you can change up the recipe depending on what you're craving. Here are a few of my favorite variations on homemade peanut butter.
Agave peanut butter. Agave has a similar flavor to honey, so this is a good variation if you don't eat honey. Simply replace the honey with agave, and you're good to go.
Maple syrup peanut butter. Maple syrup has a richer, more complex flavor than honey, and it's a little bit sweeter too. If that sounds up your alley, just replace the honey in the recip with maple syrup.
Chunky peanut butter. If you prefer chunky peanut butter to creamy peanut butter, you can easily make it with this recipe. All you need to do is reserve some of the peanuts after roasting them. Chop up the reserved peanuts, and stir them into the blended ones.
Cinnamon honey roasted peanut butter. For a nice fall flavor, add a little bit of cinnamon with the salt and honey before roasting the peanuts.
Chili peanut butter. Chilis and honey go together wonderfully, and so do chilis and peanuts. For a peanut butter that has some kick, add a sprinkle of chili powder to the salt and honey before roasting the peanuts.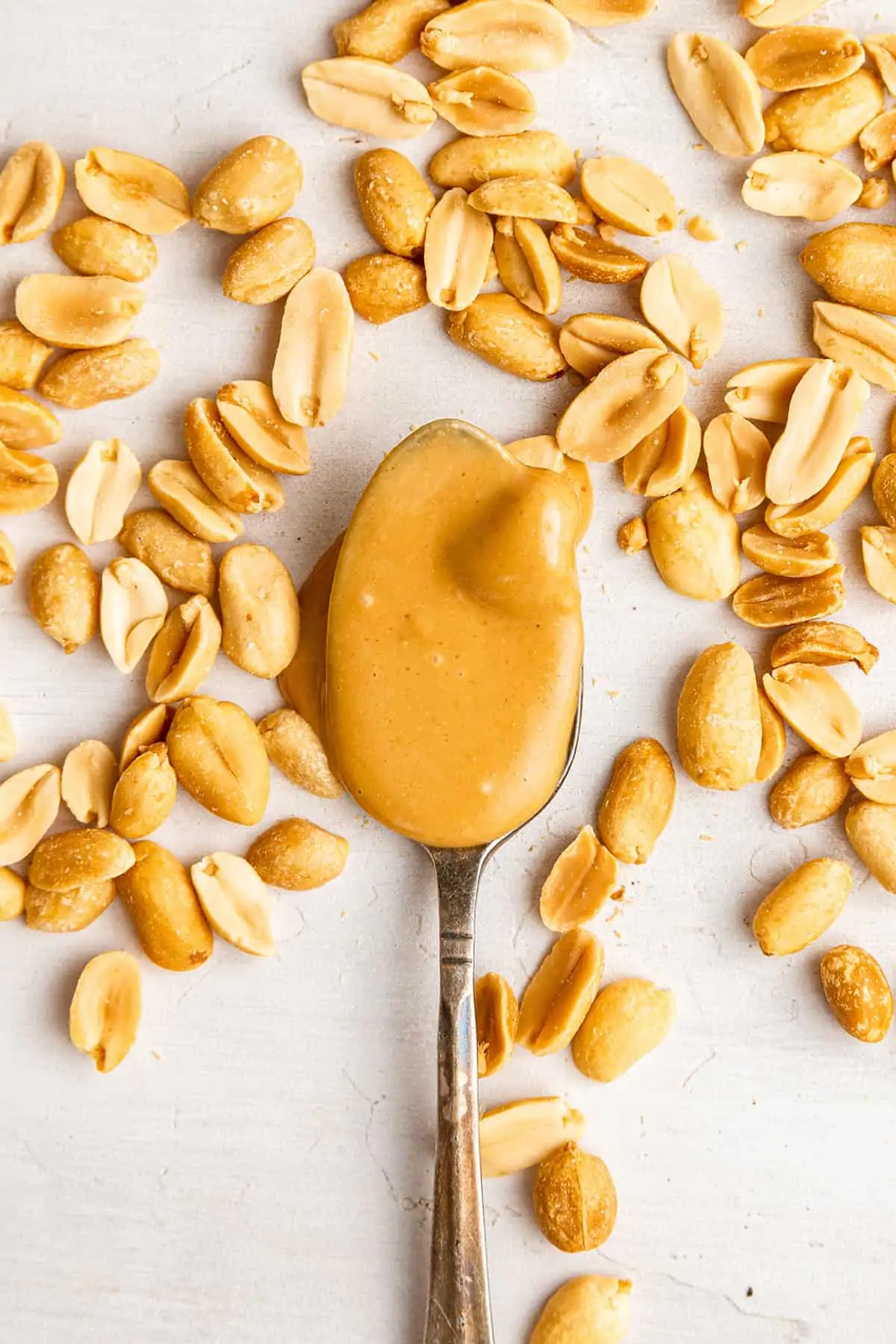 How to Use Honey Roasted Peanut Butter
There are many different ways to use this creamy, homemade peanut butter. Here are a few of my favorites.
How to Store Honey Roasted Peanut Butter
You can store this honey roasted peanut butter in an airtight jar in a cupboard for up to 1 month, or in the fridge for up to 3 months. I prefer to store it in a cupboard so that it's a little creamier.
Can This Recipe Be Frozen?
Yes! You can freeze this peanut butter in an airtight jar for up to 6 months, then thaw in the fridge or at room temperature. The texture might not be perfect, so I recommend just storing it in the pantry or fridge if you can.
Honey Roasted Peanut Butter
Honey roasted peanut butter is sweet and salty spread that only takes 20 minutes to make. Plus, it's healthier than most nut butters that you'll find at the store.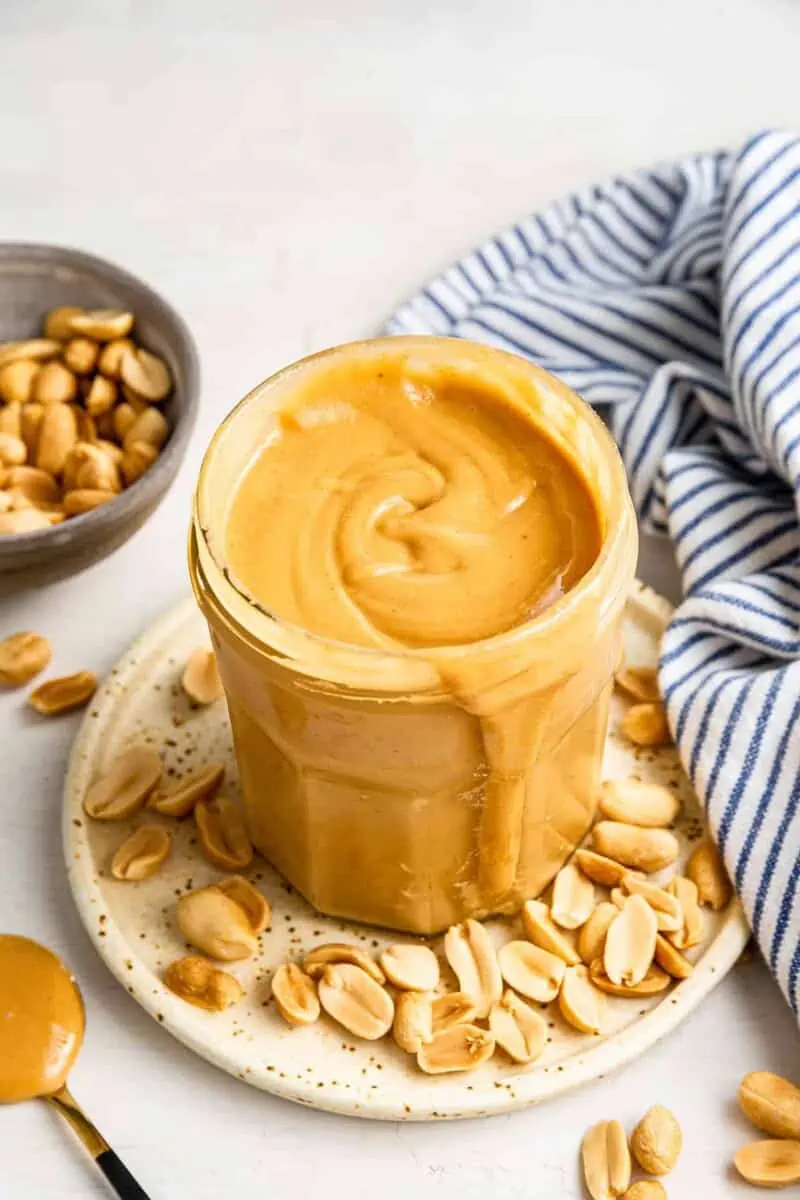 Instructions
Place peanuts on a baking sheet (I used the sheet that comes with my toaster oven). Drizzle honey on top of nuts and sprinkle with sea salt. Stir until the peanuts are coated.

Toast the nuts for 5 minutes, then transfer them to a food processor and process on high until smooth and creamy. You might have to scrape the sides down as you go to help the nuts continue to blend.

If the nuts don't get smooth, add 1 tablespoon of coconut oil and blend again.

Transfer to a glass container and store in a cool dark place.
Notes
Nutritional values are based on one cup of nut butter. 
Nutrition
Calories:
1402
kcal
|
Carbohydrates:
61
g
|
Protein:
57
g
|
Fat:
116
g
|
Saturated Fat:
23
g
|
Polyunsaturated Fat:
38
g
|
Monounsaturated Fat:
49
g
|
Sodium:
49
mg
|
Potassium:
1646
mg
|
Fiber:
21
g
|
Sugar:
26
g
|
Vitamin C:
0.2
mg
|
Calcium:
234
mg
|
Iron:
9
mg