Consider this your ultimate guide to apples! Everything you need to know about choosing, storing, and using apples in cooking and baking, including some of my favorite healthy apple recipes.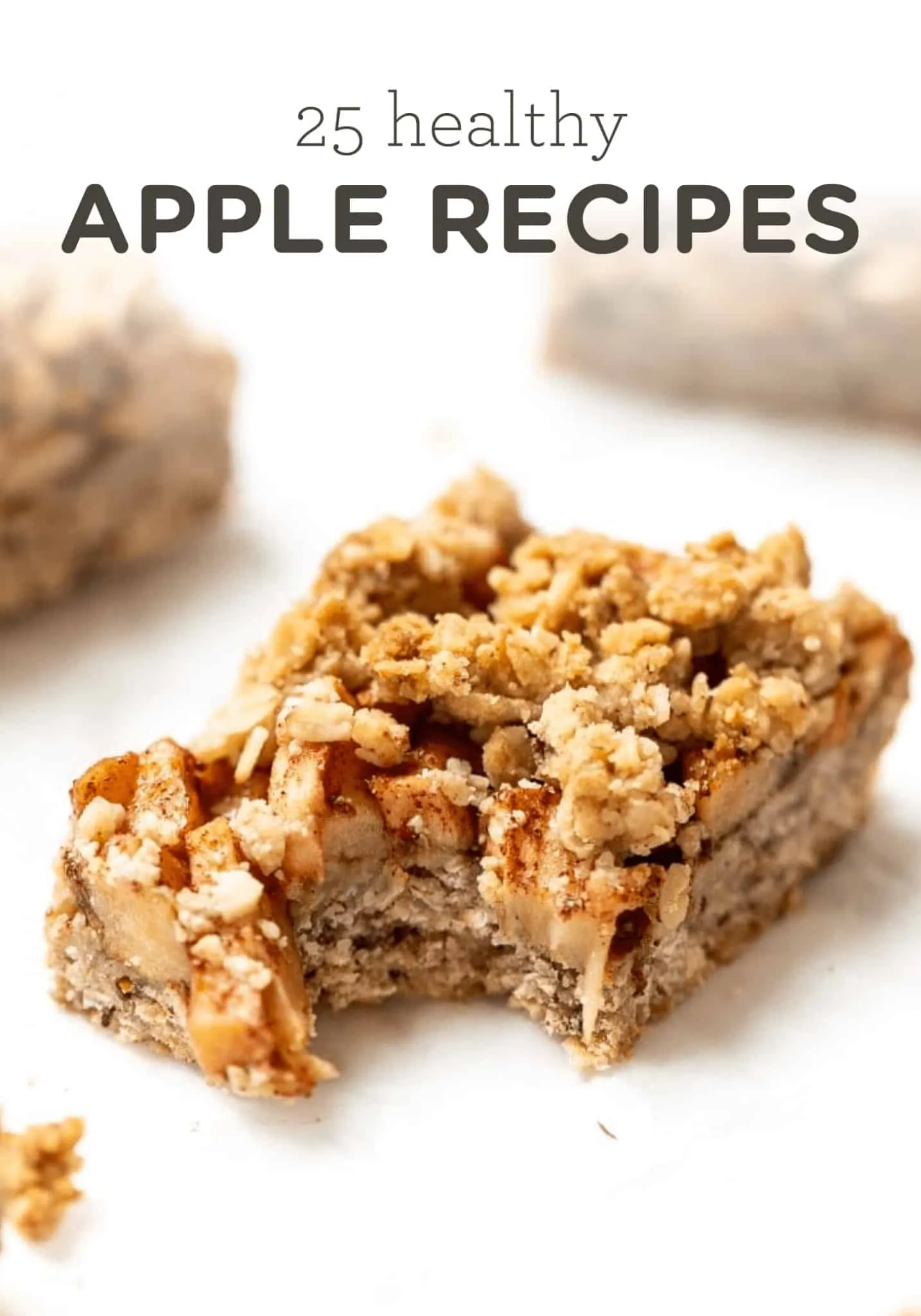 While apples are available year-round, there's something extra special about fresh, local apples picked at the peak of ripeness.
Whether you're picking them yourself or just picking up a peck at your farmers market, if you're looking for healthy apple recipes to put them to use, I have lots of ideas. But first, let's cover the basics!
How Do I Choose a Good Apple?
The rules for choosing apples are the same as the rules for most other fruit. You want an apple that feels heavy for its size, with smooth, unbruised skin, and a nice, apple-y aroma.
Where apples differ from peaches and plums is that you want fruit that feels firm, with no give when you squeeze it. Apples come in many colors, but the richer the color, the better; this means they've absorbed more sunlight and have a more robust flavor.
As far as size goes, small apples can be just as delicious as larger ones—simply look for the indicators listed above, rather than judging the apples by their size alone.
Tips for Storing Apples
Once you have the perfect apples in hand, it's important to store them properly so they remain fresh for as long as possible.
It's best to store apples in the refrigerator, but keep in mind that they release gasses that will cause other produce stored with them to ripen—and eventually spoil. Because of this, apples should be stored in a crisper drawer by themselves, or use an ethylene gas absorber in the drawer if your apples need to share space with other fruits and veggies.
Firm apples like Gala have a much longer storage life than apples like Jonagold, which have a softer texture. You can expect a firm apple to last up to 3 months, while others should be eaten (or used in one of my healthy apple recipes!) within 3 weeks.
If you've sliced or diced your apples, store them in an airtight container in the refrigerator for 3 or 4 days. You can keep them from browning by squeezing a bit of lemon juice onto the cut pieces.
The Best Apples for Cooking and Baking
When choosing apples for cooking and baking, you'll want a variety that will hold up to heat without going mushy on you. (The exception to this is if you're making applesauce; in that case, a combination of softer and firmer apples will give you a nice texture.)
The most popular baking apples include:
Granny Smith. The classic! Granny Smith is a popular choice for baking because it's tart, juicy, and holds its shape when cooked.
Honeycrisp. This sweet-tart apple has a firm texture, so it retains its shape even after being exposed to heat. If Granny Smith is a little too tart for you, Honeycrisp is a great substitute.
Golden Delicious. A milder apple than Granny Smith, this one is great for pies and other baked goods, and its sweet flavor is fabulous when paired with a more tart apple.
Pink Lady. This apple is both sweet and tangy, making it an excellent choice for desserts and applesauce.
The Best Apples for Eating Fresh
When you're looking for an apple to snack on, it's all about personal preference. What tastes great to you might not to someone else! Some popular varieties include:
Fuji. Fuji apples are crisp, sweet, and larger than many other apples, making them ideal for snacking.
Gala. Another sweet option, Gala apples are tender and juicy, with a mild flavor and thin skin that makes them easy to eat.
Ambrosia. A unique variety that's sweeter than the average apple, with lower acidity and a texture that's sometimes described as buttery. Its flavor has a hint of honey and citrus that make it a great snack choice.
Honeycrisp. We can't forget honeycrisp! Yes, it's great for baking and cooking too, but it's also an excellent option for eating out of hand thanks to its crisp texture and sweet-tart flavor. There are also a number of tasty apple varieties derived from Honeycrisp, including SweeTango, Riverbelle, and Pazazz.
My Favorite Healthy Apple Recipes
Ready to put your apples to use? Here's a collection of my favorite healthy apple recipes.
Healthy Apple Breakfast Recipes
Nutrient-Packed Apple Meal Ideas
Healthy Apple Dessert Recipes
More Recipe Collections