This kitchari recipe is easy to make and super healthy. Incorporating it into your diet will help with your gut health, digestion, and inflammation, among other things.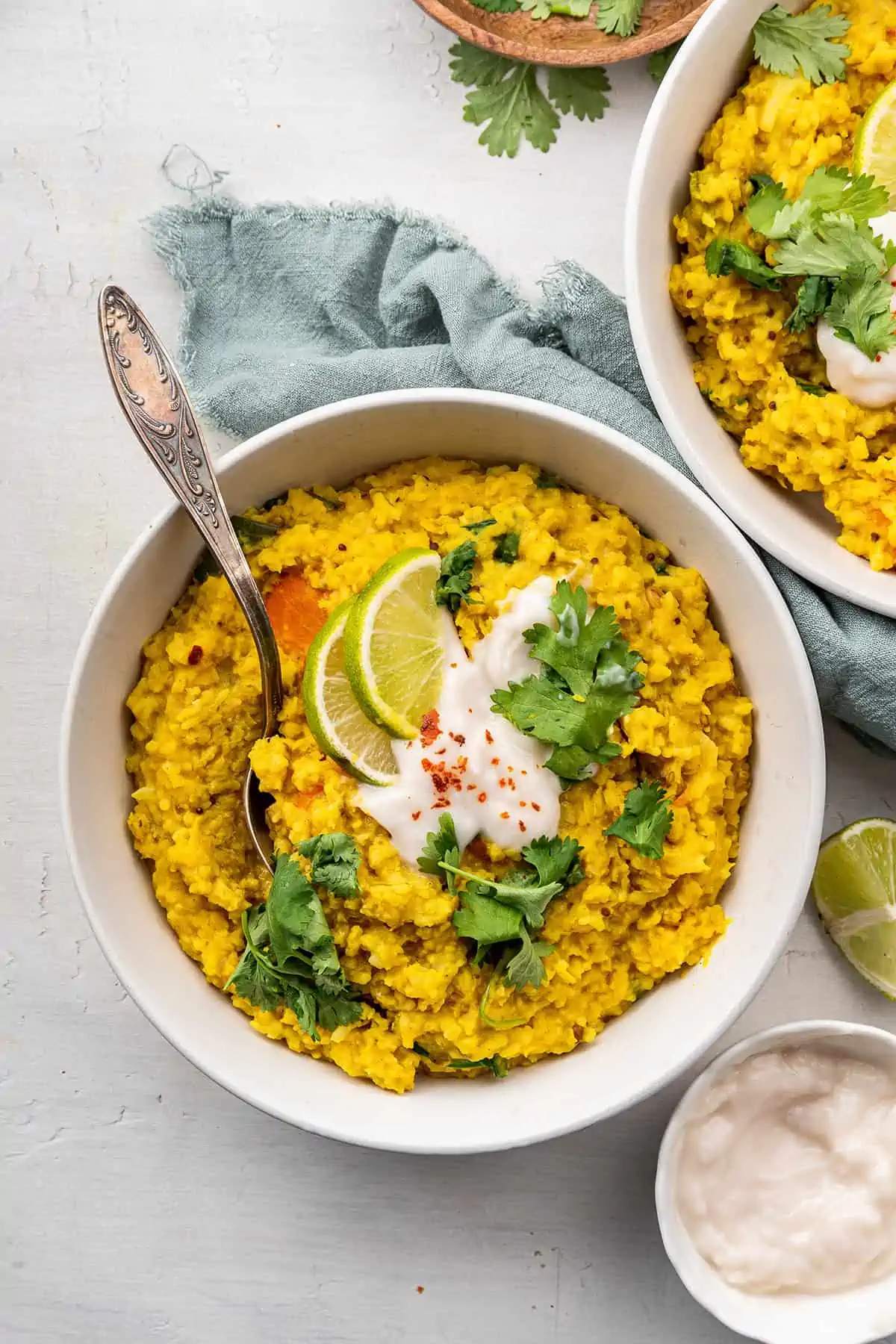 Lately I've been prioritizing taking care of my gut health. Resetting and nourishing my digestive system has been a big goal of mine, and I've noticed instant results. It's stunning how much better I feel when my gut health is being cared for.
One thing that's really helped me? Kitchari. I've worked kitchari into my diet with regularity. I have it all the time, and sometimes even do a kitchari cleanse, where I eat it for both lunch and dinner following an oatmeal breakfast.
My go-to kitchari recipe not only makes me feel healthy and peaceful, but it's delicious, too. There's so much flavor from the spices, and the dal is hearty and healing.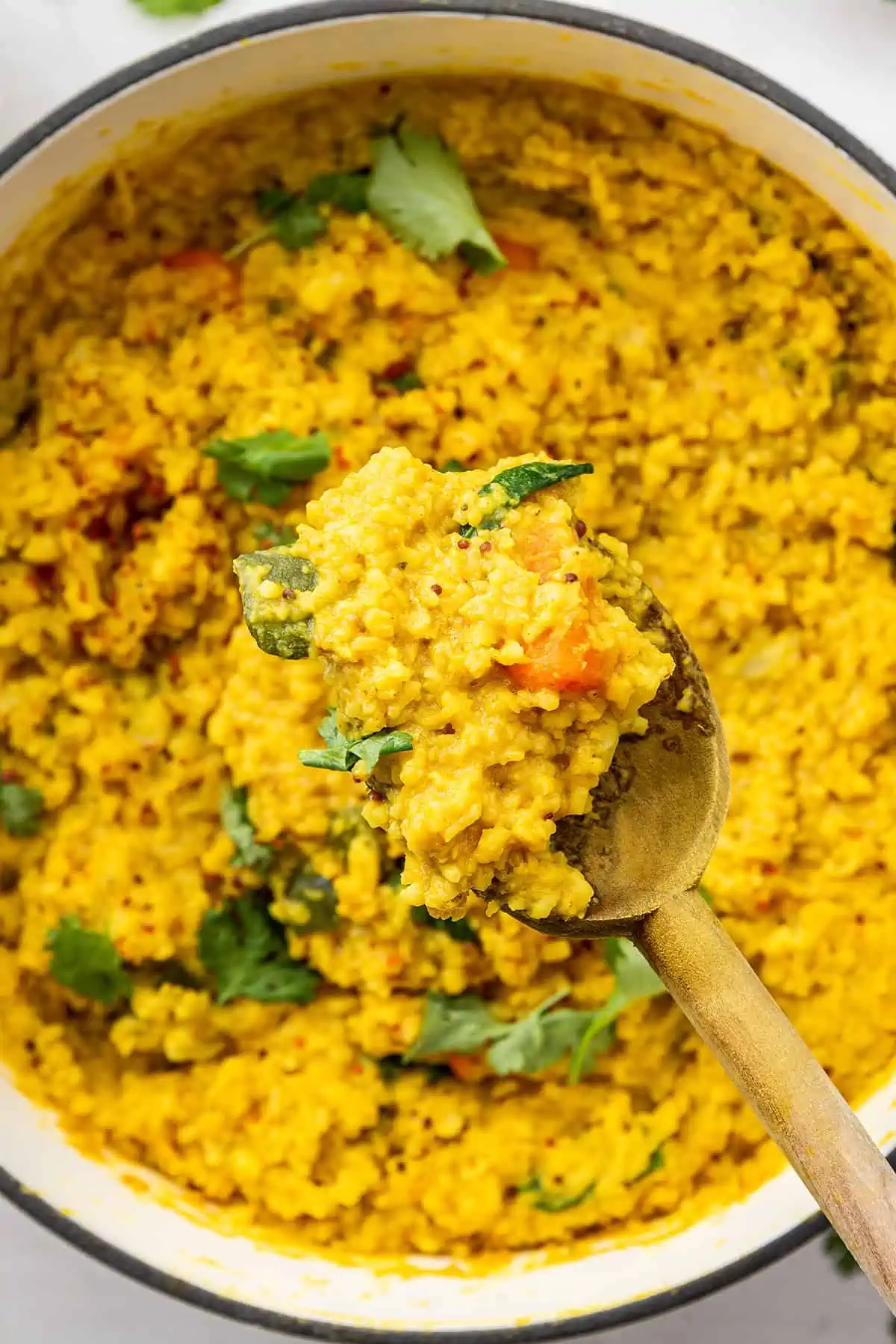 What is Kitchari?
Kitchari is an essential part of an Ayurvedic diet. It's traditionally a blend of basmati rice and mung dal, which is a split version of whole mung beans. These two hearty and comforting foods are combined with healing vegetables and lots of spices to create a dish that has balancing properties for all three doshas. Kitchari is a staple of Ayurvedic living, as it nourishes the body, mind, and spirit.
Kitchari uses a strong and unique blend of spices that are meant to not only add flavor, but also balance the doshas. A good kitchari recipe will feature warming spices, detoxifying spices, and anti-inflammatory spices … and it will taste delicious!
One of the keys to making kitchari is to use some whole spices. These add a stronger, and more fresh flavor to the dish, which has a porridge-like consistency.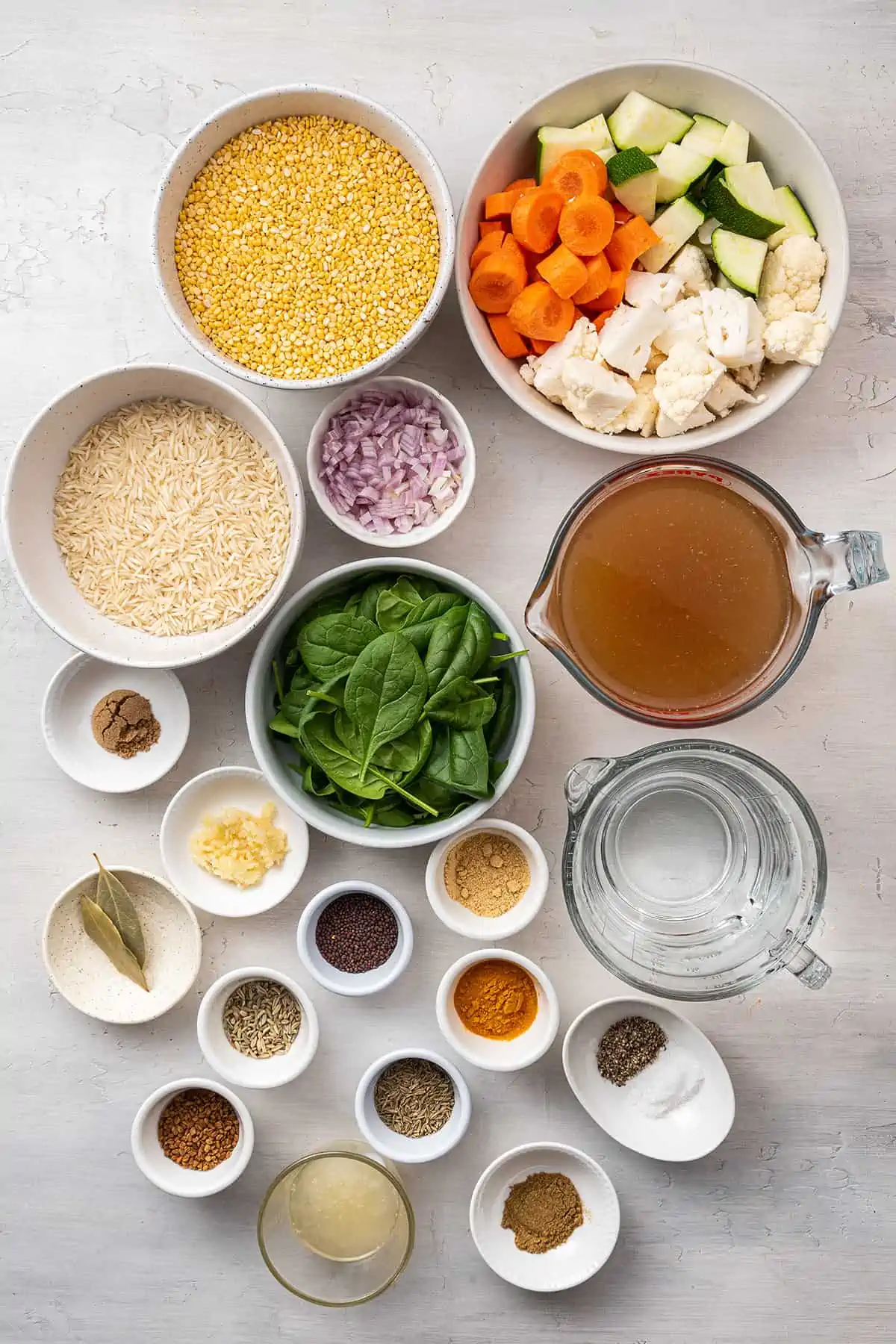 What You'll Need
Here are the ingredients you need to make this easy and healing kitchari dish. Check out the recipe card at the bottom of the article for the exact amounts of each ingredient.
Coconut oil
Brown mustard seeds
Fennel seeds
Cumin seeds
Fenugreek seeds
Ground turmeric
Ground ginger
Ground coriander
Ground cumin
Sea salt
Black pepper – For best results, use freshly-ground black pepper.
Garlic
Onion – Shallots will work fine for this recipe.
Mung dal – You can also use golden lentils if you prefer.
White basmati rice
Vegetables – Nearly any vegetables will work with this recipe.
Vegetable broth
Water
Bay leaves
Cilantro – Fresh cilantro is an optional garnish.
Coconut yogurt – Coconut yogurt is also an optional garnish.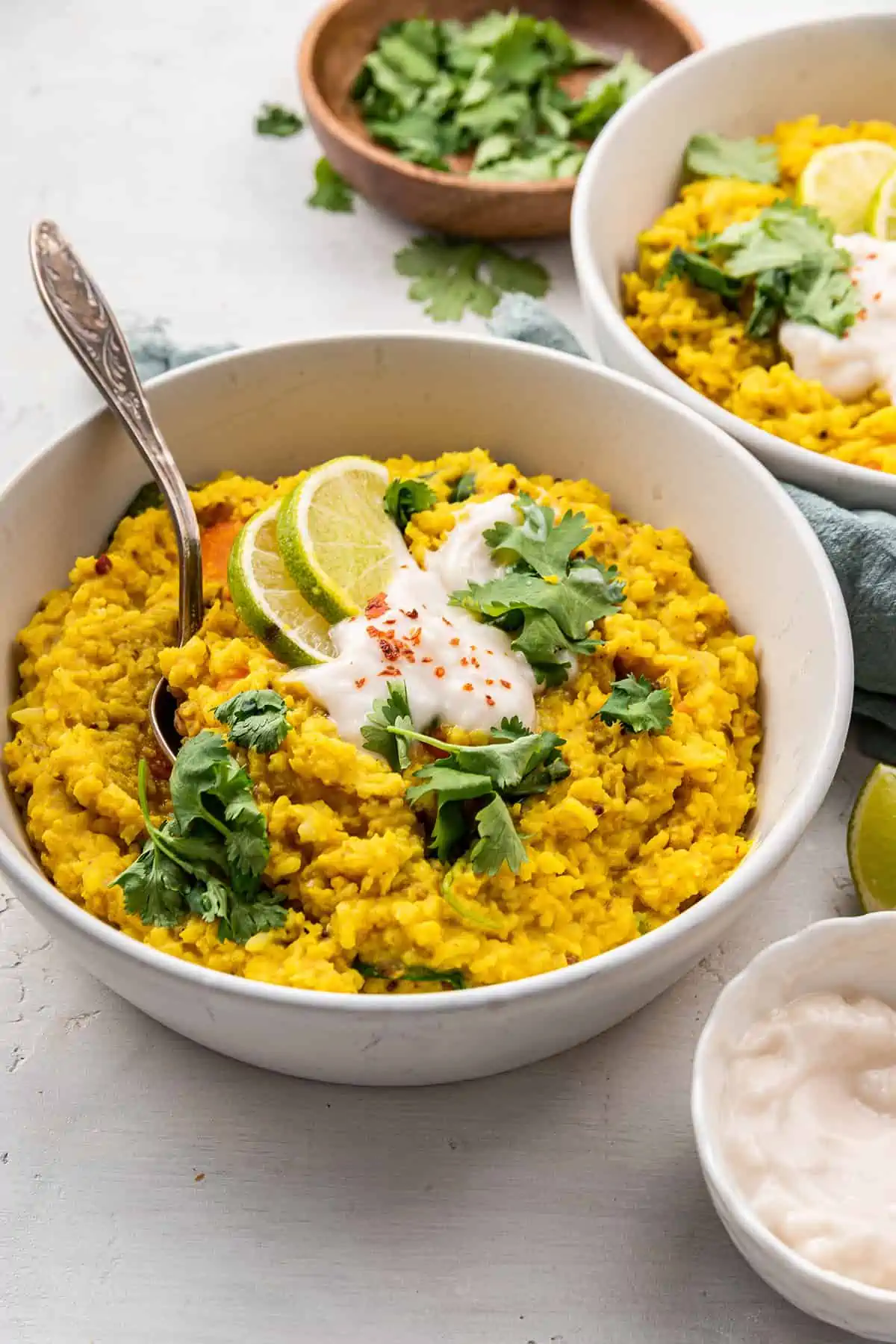 How to Make Kitchari
Here's how to make this detoxing and anti-inflammatory dish. It's very easy!
Toast the spices. Add the oil to a pot or dutch oven and heat. Add all of the spices except the bay leaves, and cook until they become aromatic, which should take 2-3 minutes.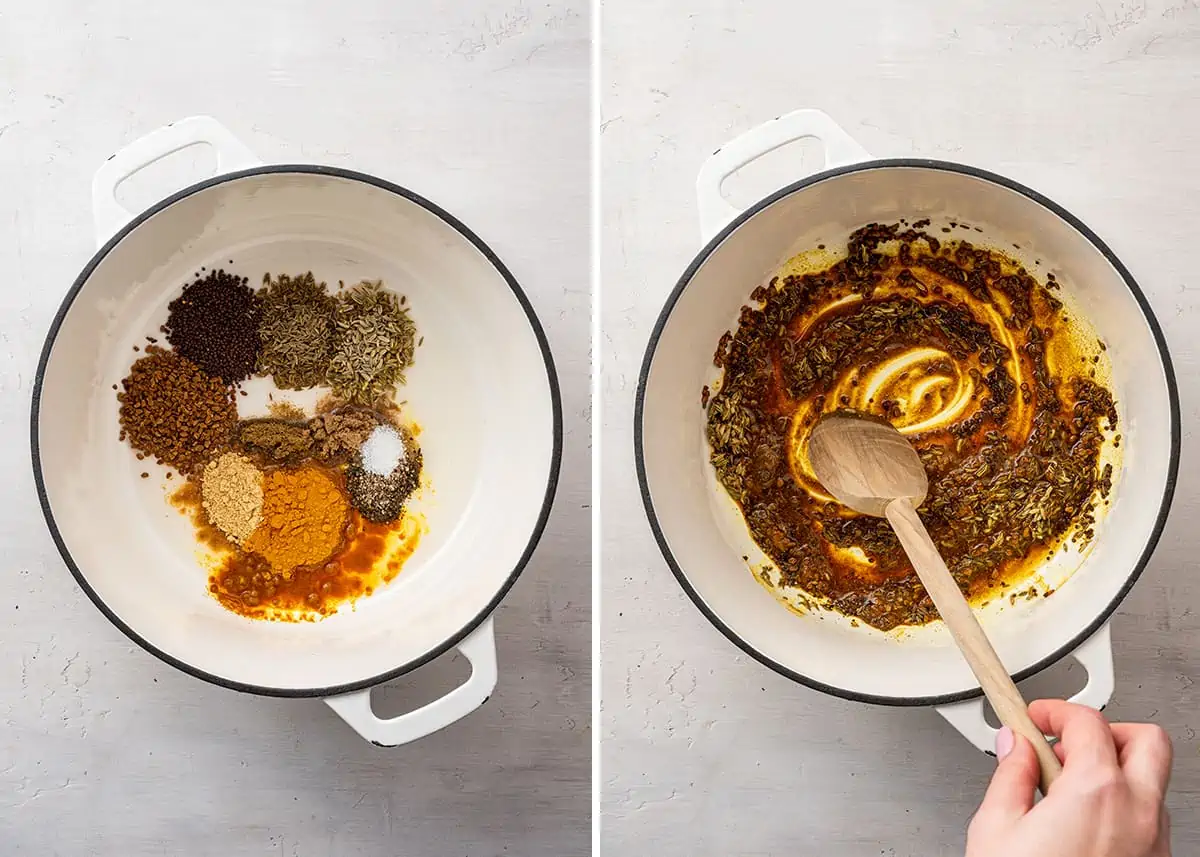 Add the onion and garlic. Add the onion and garlic to the pot, and cook for 2 more minutes.
Add the rest of the ingredients. Add the mung dal, basmati rice, and vegetables to the pot, and stir to combine with the spices. Pour in the vegetable broth and water, add the bay leaves, and stir until everything is mixed together.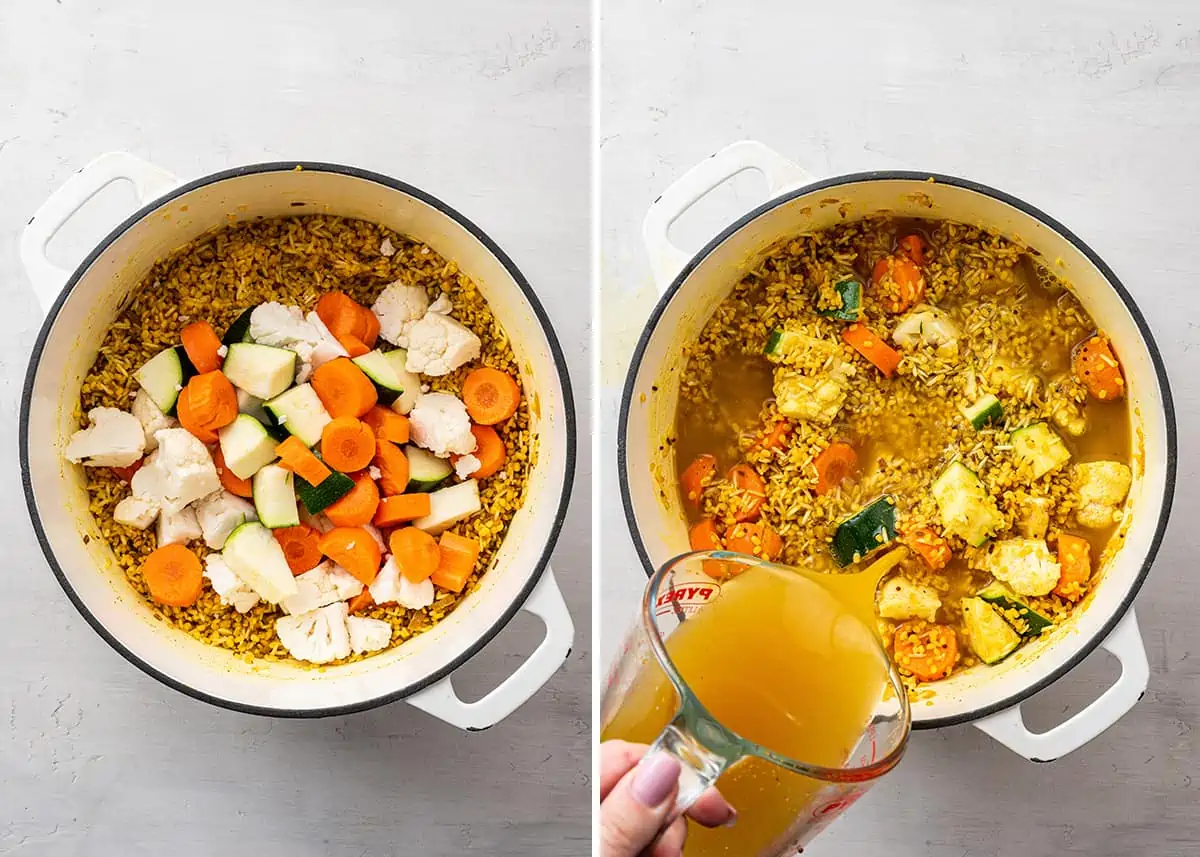 Cook. Bring the kitchari to a boil, then lower the heat and put a lid on the pot. Simmer the kitchari for about an hour.
Serve. After the hour, take the lid off the pot, stir the kitchari, check the seasonings and texture, and make any necessary adjustments. Then serve the kitchari in bowls, garnishing with optional cilantro and coconut yogurt.
Tips and Variations
Kitchari is a recipe that you can easily play with. You can adjust it to make it your own. The goal of kitchari is to be healing, balancing, and gentle on your digestive system. Here are some tips and variations that you can try' to get the most out of your recipe.
Change the vegetables. Everybody craves different vegetables, and everybody's body reacts differently to various veggies. You can use any vegetables you want in this recipe, so have fun trying new flavor combinations, and experimenting until you find the vegetables that make your gut health feel its absolute best.
Use lentils. Mung dal is the traditional base for this recipe, and it's my favorite. But it can be fun to mix it up and try making this recipe with various types of lentils instead.
Wash your rice. Make sure to wash your basmati rice before adding it to the pot. Washing the rice rinses off some of the starch, which will keep your kitchari from becoming gummy and lumpy.
Use homemade broth. You can add a boost of flavor to this recipe by making your own homemade vegetable broth. Homemade broth is always better than what you'll find in the store, and my recipe for Instant Pot mushroom vegan bone broth goes brilliantly with the spices in this kitchari.
Adjust the texture. Just as with porridge or oatmeal, everybody has a different preferred texture for kitchari. Once it's done cooking, see if you like the texture. If it's too runny for you, keep cooking it until it's the right consistency. If it's too thick for you, then add some more water or vegetable broth until it's perfect.
Use an Instant Pot. This recipe is super easy as is, but if you have an Instant Pot it can get even easier. To make kitchari in the instant pot, heat all of the spices on the sauté setting. Then add the rest of the ingredients, and pressure cook on high for 8 minutes. It's that simple!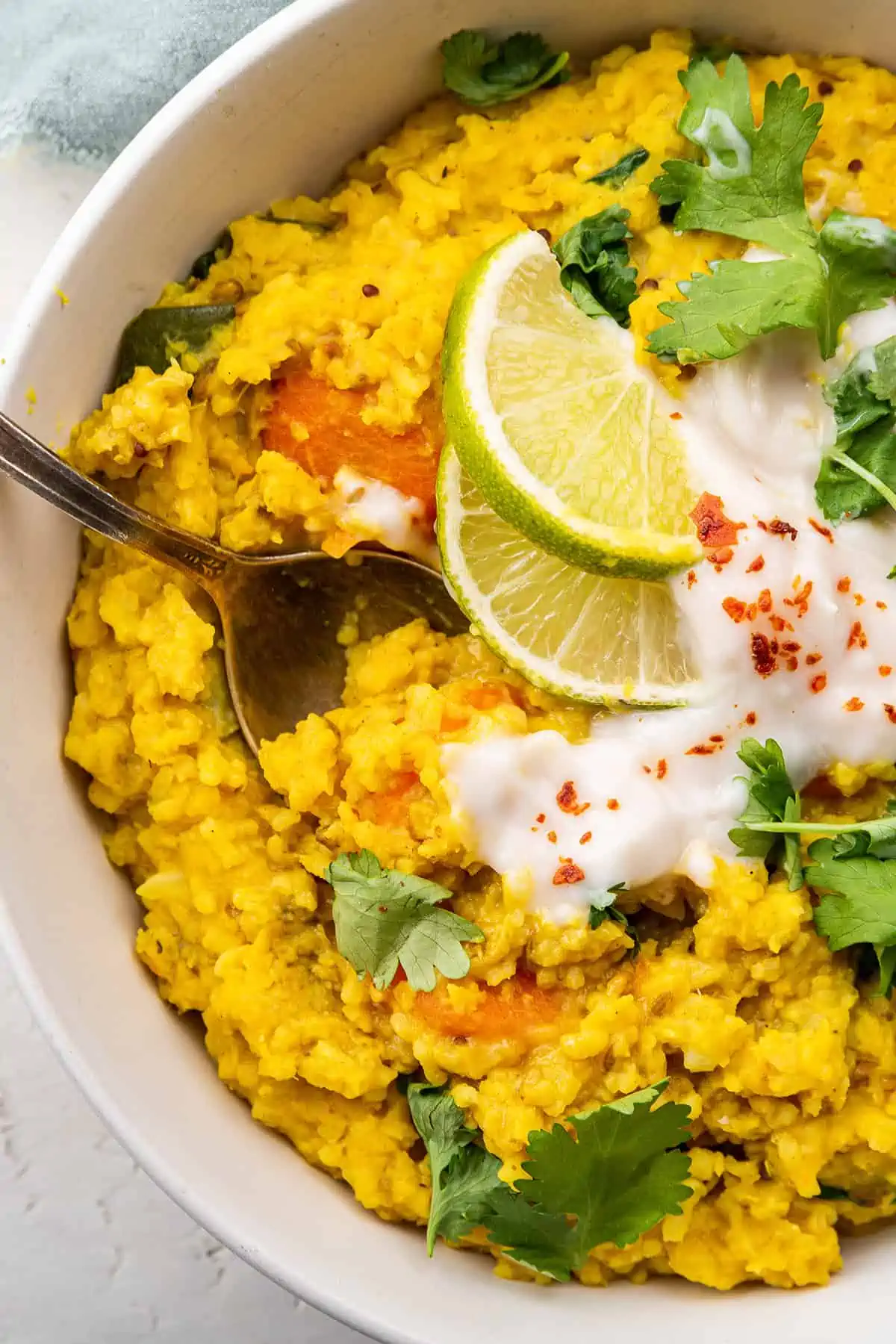 How to Store and Reheat Leftover Kitchari
Kitchari stores well and easily. Keep it in an airtight container, and it will last in the fridge for up to 4 days. You can quickly reheat it in the microwave in 30-second increments at 80% power until it's heated all the way through.
Can I Freeze This Recipe?
Yes, you can freeze kitchari to ensure that you have an amazing gut health food in your freezer whenever you need it. Store it in an airtight bag in the freezer for up to 3 months, and thaw or defrost fully before reheating.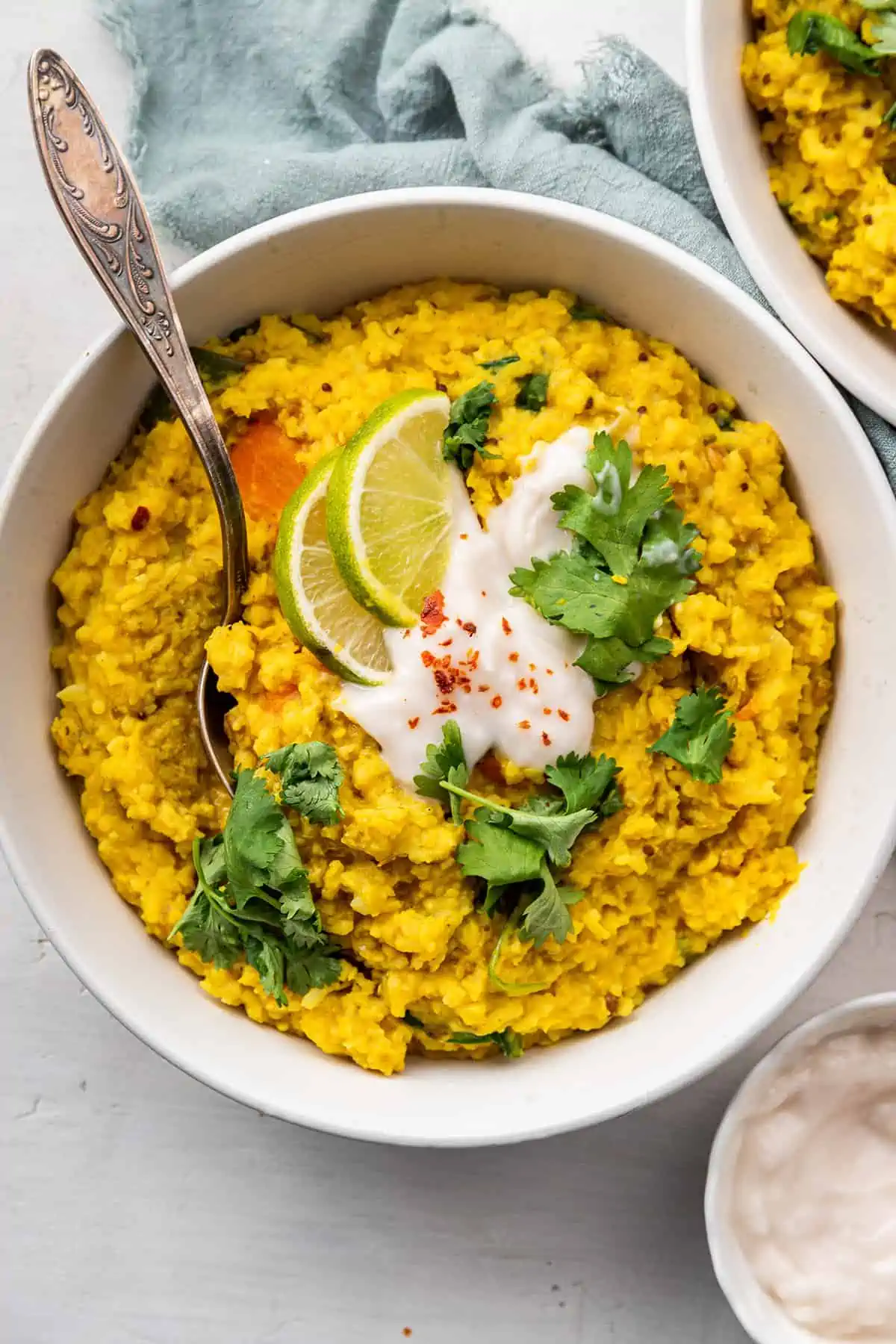 More Recipes That Are Good for Your Gut Health
Kitchari is one of my favorite recipes for taking care of my gut health. Here are a few of my other favorites.
Kitchari Recipe
This kitchari recipe is full of flavor, great for your gut health, and healing for your mind and body. It's a staple of Ayurvedic eating, and easy to make.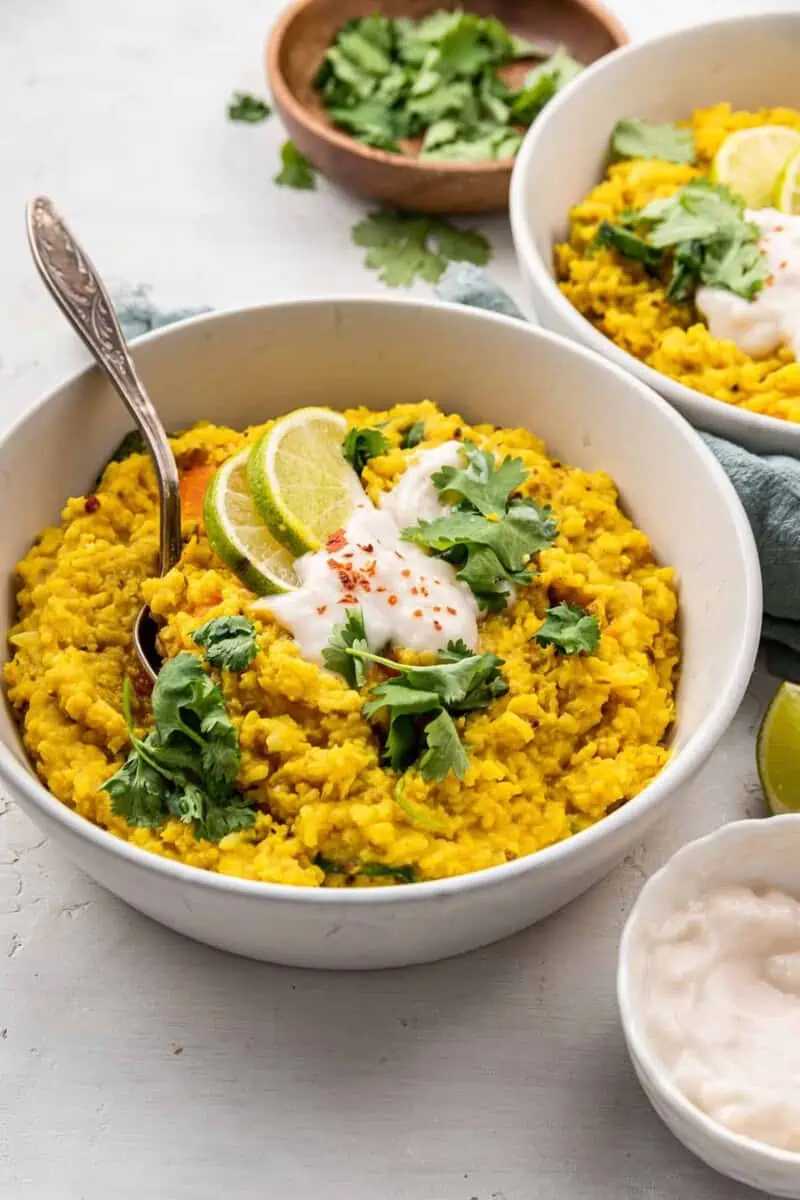 Instructions
Heat the oil in a large stockpot or dutch oven. Once melted, add the spices. Cook the spices in the oil until they start to become quite aromatic, about 2 – 3 minutes. From there add the garlic and onion/shallots and cook another 2 minutes or so.

Add the beans, rice and veggies and give it a quick stir to ensure the spices are evenly coating the rest of the ingredients. Pour in the liquids and stir in the bay leaves.

Bring the mixture to a boil, then reduce to simmer and cover and cook for about an hour. Remove the lid, give the mixture a good stir and add a touch more liquid if desired.

When ready to serve, portion out between bowls. Top with cilantro and coconut yogurt if desired.
Notes
Store the kitchari in an airtight container in the fridge for up to 4 days, or in the freezer for up to 3 months. Reheat in the microwave on 80% power in 30-second increments. 
Nutrition
Calories:
343
kcal
|
Carbohydrates:
59
g
|
Protein:
18
g
|
Fat:
5
g
|
Saturated Fat:
3
g
|
Polyunsaturated Fat:
0.2
g
|
Monounsaturated Fat:
0.5
g
|
Sodium:
346
mg
|
Potassium:
395
mg
|
Fiber:
9
g
|
Sugar:
4
g
|
Vitamin A:
113
IU
|
Vitamin C:
50
mg
|
Calcium:
73
mg
|
Iron:
4
mg