This one pot vegetable chickpea curry is as flavorful as it is good for you. It's packed full of vegetables and healthy spices, plus it's vegan!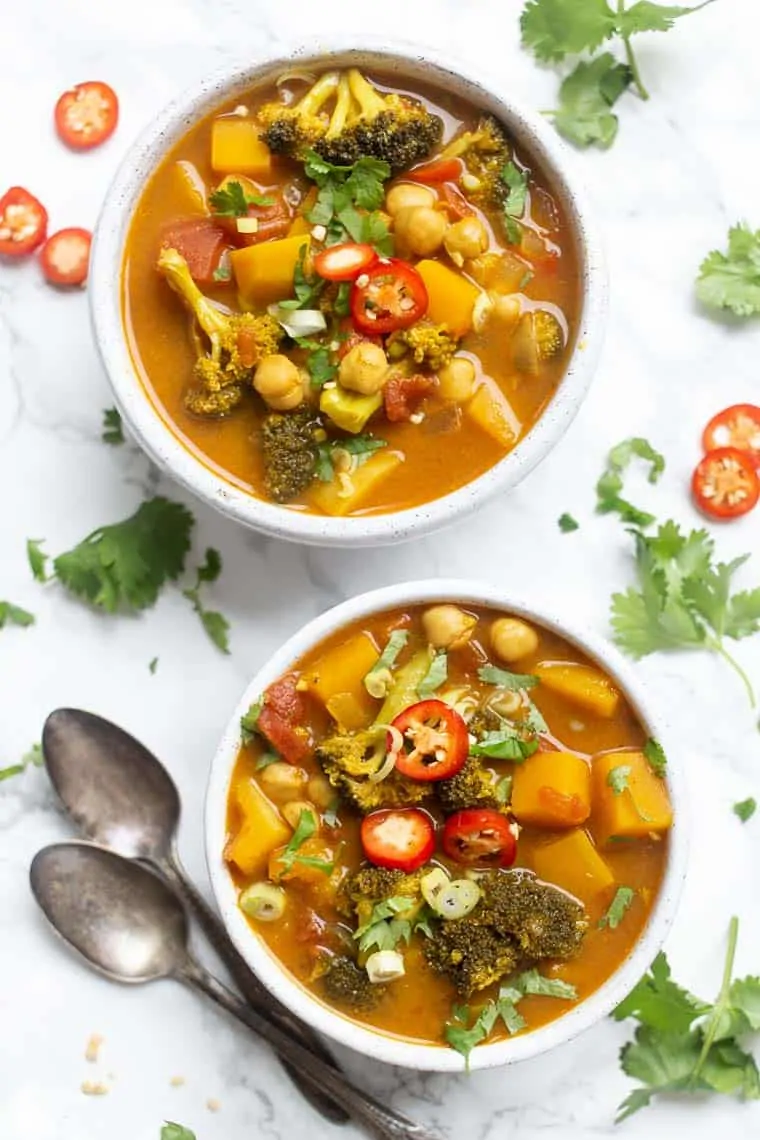 It's impossible to beat a hearty soup, stew, or curry. When the weather gets cold, all I want is a steaming bowl of strong broth and veggies. This one pot vegetable chickpea curry is one of my favorite dishes for a cold day. It's bursting with healthy vegetables, like broccoli, butternut squash, and kale. It's loaded with protein from canned chickpeas. And it's full of spices that are super healthy, and also add strong flavor to the dish, like turmeric, cinnamon, cumin, and curry powder.
This curry has a lot of different ingredients, which makes it so flavorful and healthy. But it takes less than an hour to make. And you'll only get one pot dirty! Add in that the curry is vegan, and you can see why I'm always making this recipe.
What You'll Need
Here are all the ingredients that you need to make this hearty, comforting one pot vegetable chickpea curry. Make sure to check out the recipe card at the bottom of the article to see the exact amounts for each ingredient.
Olive oil
Onion – A white onion is best for this recipe, but you can also use red or yellow onions.
Garlic
Butternut squash – You can use other types of squash if they're all you have, but butternut is definitely best.
Broccoli
Bell peppers – I usually use red bell peppers, but you can use other colors.
Diced tomatoes
Coconut milk – Lite coconut milk is best, as it keeps the curry from being too heavy.
Vegetable broth – For best results, use low-sodium veggie broth.
Canned chickpeas
Ground cumin
Ground coriander
Curry powder
Cinnamon
Turmeric
Salt
Pepper – Always use freshly ground black pepper.
Kale – Kale is an optional ingredient, but it really takes the curry to the next level. Plus, it's super healthy.
Cilantro – This is a garnish.
How to Make One Pot Vegetable Chickpea Curry
Here are the steps for making this healthy curry. It only takes about 50 minutes!
Cook the onion and garlic. Heat the oil in a large pot or dutch oven, then add the garlic and onion. Sauté until the ingredients are fragrant, which should take about 3 minutes.
Sauté the veggies. Put the broccoli, bell pepper, butternut squash, and chickpeas in the pot, and sauté for 2 more minutes.
Add the rest of the ingredients. Pour the canned tomatoes, vegetable broth, and coconut milk into the pot, and add the salt, pepper, and all the spices.
Cook. Bring the curry to a boil, then lower the heat. Put the lid on the pot, and simmer the curry until the squash is tender. This should take about 30 minutes.
Serve. When the curry is done, stir in the kale if you're using it. Then ladle the curry into bowls, garnish with cilantro, and serve while hot.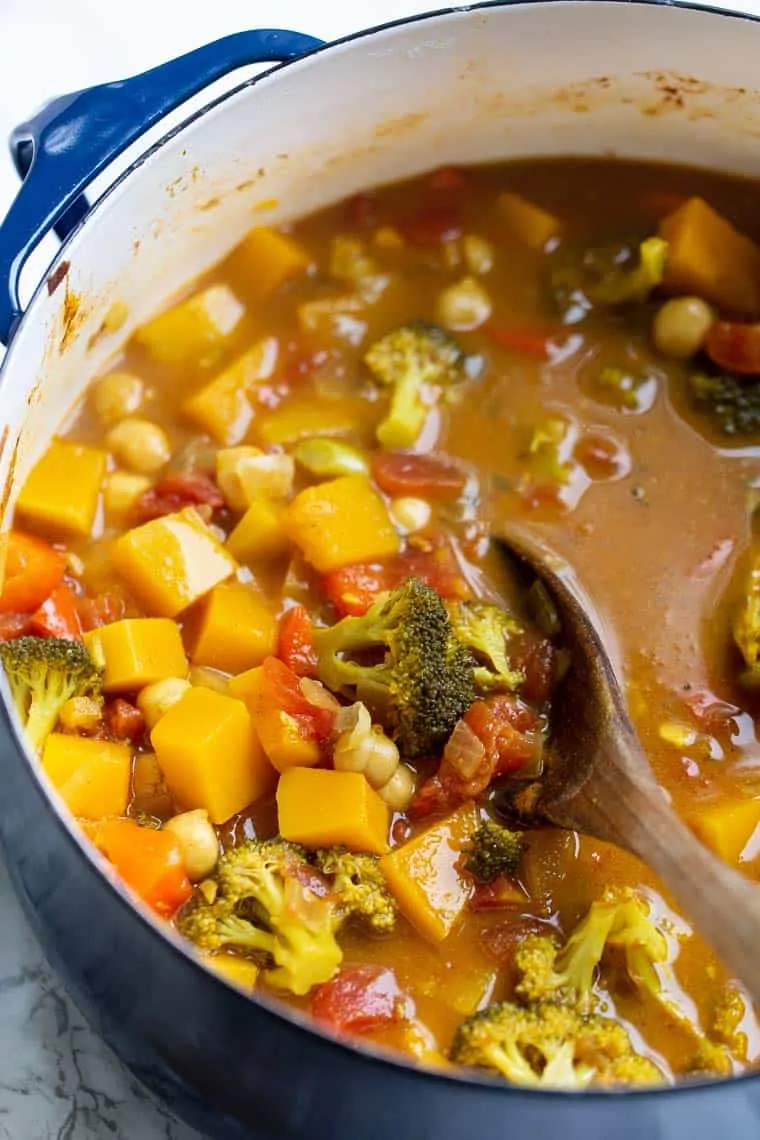 Tips for Success
Here are some tricks and tips to use when making this hearty Indian stew.
Use homemade broth. A great way to improve soups and curries is to make your own broth. Homemade stock has a lot more flavor than store-bought stock. I like to use my Instant Pot Mushroom Vegan Bone Broth for this curry recipe.
Adjust the seasoning. I like to go light on the salt when I make this recipe. The sodium levels in the curry will change depending on how long you cook it, and what type of stock you use. Just use a little salt at the start. When the soup is done cooking, taste it and adjust the seasonings.
Simmer for a long time. One of my favorite things about this recipe is how quick it is. It's done in under an hour, so it's easy to make any night of the week. But if you have extra time, I recommend cooking it a little longer, like an hour. That will only intensify the flavors.
What to Serve it With
I like to serve this easy veggie curry with a side of Cilantro Lime Rice or Curry Cauliflower Rice and Quinoa. It also goes well with Asian side dishes like Summertime Asian Quinoa Slaw, Vegan Rice Paper Dumplings, and Spicy Kimchi Quinoa Bowls.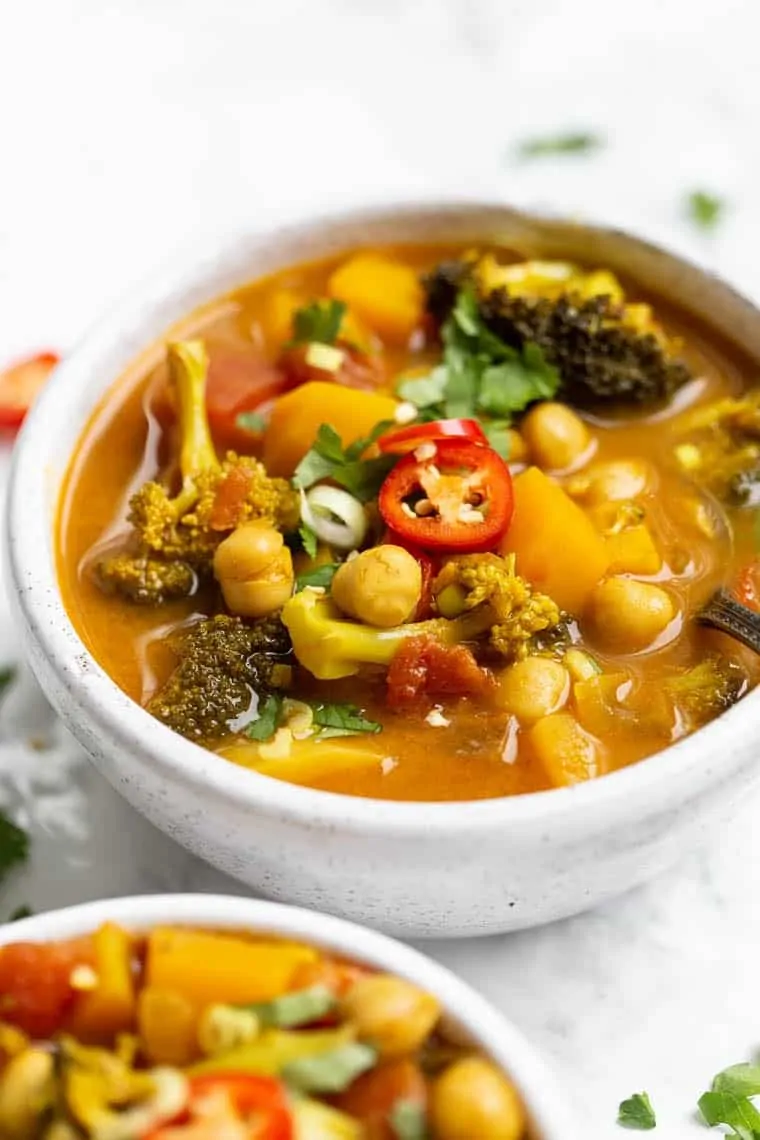 How to Store and Reheat Leftovers
You can keep this healthy curry in the fridge for up to 6 days. Store it in an airtight container. Reheat on the stove over medium heat for about 5 minutes, or in a microwave on 80% power in 20-second increments.
Can I Freeze This Healthy Curry?
You can definitely freeze this one pot vegetable chickpea curry recipe. Store it in an airtight container in the freezer for up to 5 months. Defrost or thaw completely before reheating.
More Easy Vegan Curry Recipes to Try
Curry is one of my favorite foods. If you loved this recipe, then try out some of these other great vegan curry recipes.
One Pot Vegetable Chickpea Curry
This healthy and cozy one pot vegetable chickpea curry is loaded with vegetables and spices. It's hearty, comforting, and takes less than an hour to make.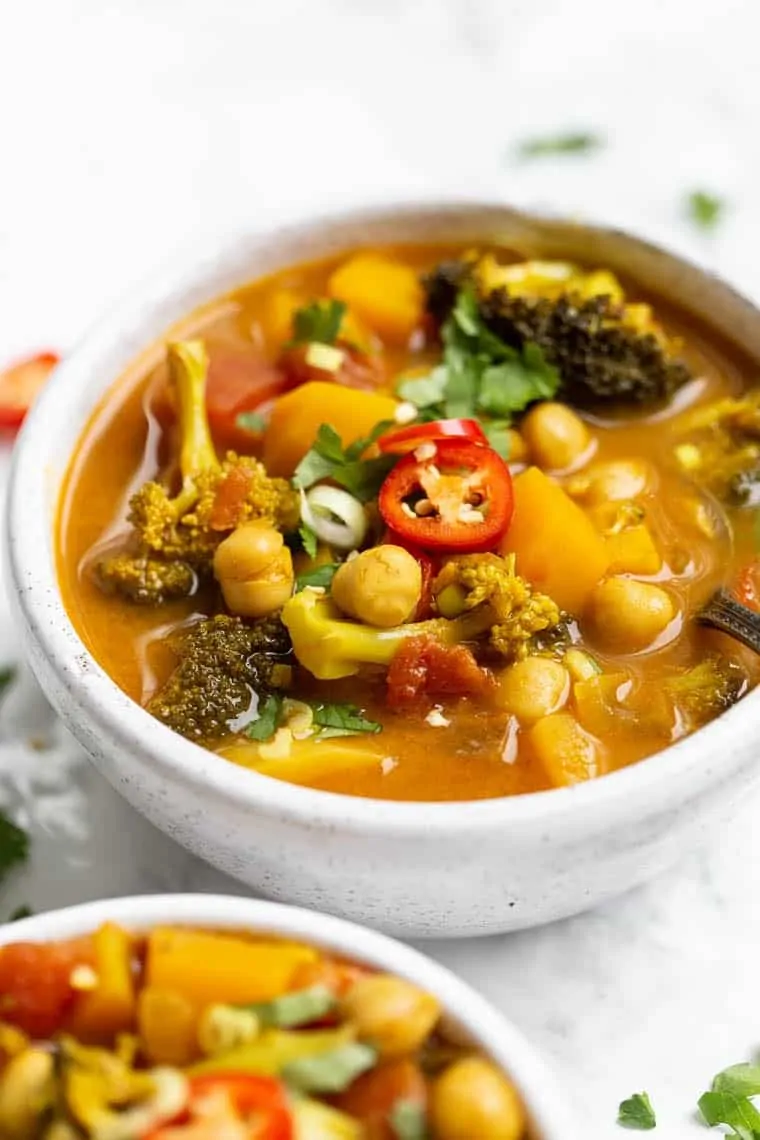 Instructions
Heat the oil in a large saucepan or dutch oven. Add the onion and garlic and sauté until fragrant, about 3 minutes. Add the squash, broccoli, pepper, and chickpeas, and sauté for another 2 minutes.

Pour in the tomatoes, coconut milk, broth, and spices, and season with salt and pepper. Bring the mixture to a boil. Once boiling, turn down to a simmer and cover, cooking until squash is tender, about 30 minutes.

When ready to serve, stir in kale (if using) and transfer into bowls. Serve with coconut lime quinoa and garnish with cilantro.
Notes
Store in an airtight container in the fridge for 6 days, or in the freezer for 5 months. Reheat on the stove over medium heat, or in a microwave on 80% power in 20-second increments.
Nutrition
Calories:
90
kcal
|
Carbohydrates:
16
g
|
Protein:
3
g
|
Fat:
3
g
|
Saturated Fat:
0.5
g
|
Polyunsaturated Fat:
0.5
g
|
Monounsaturated Fat:
2
g
|
Sodium:
492
mg
|
Potassium:
442
mg
|
Fiber:
3
g
|
Sugar:
5
g
|
Vitamin A:
8802
IU
|
Vitamin C:
84
mg
|
Calcium:
90
mg
|
Iron:
1
mg